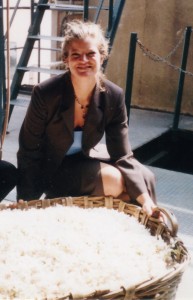 When I first began writing about fragrance in 2005 Sarah Horowitz Thran was one of my first interviews. Although we never met her story of creating oils and walking up and down with her perfume organ handing them out to everyone in the store whe worked in with Dawn Spencer Hurwitz and on the trolley in Boston), showed me that here was someone special. She created her first "Perfect" fragrance in a tiny shoppe on Newbury Street and when a customer asked to create the smell of a gardenia-Perfect Gardenia was born. Of course I had already been familiar with her fragrances as a publicist with Luckyscent, but over the years,each perfume was a scented postcard for me chronicling her life events, marriage and motherhood.
(Sarah Horowitz Thran, Sarah Baron King, Yosh Han, Maria McElroy were four of the five perfumers who began the firs Untitled series for luckyscent!)
L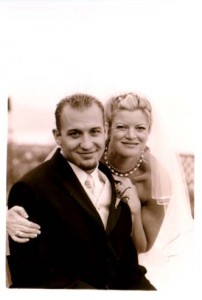 Sarah and Artist Greg Thran Wedding day-all rights reserved
I have watched how her fragrances were shaped by the events of her life (for example Perfect Bliss was created when she wed her husband). To this day one of my favorite fragrances is from her Within series-( Beauty Comes from Within) and that is a great segue way to Sarah's place in the "pantheon" of our profiles of American perfumers.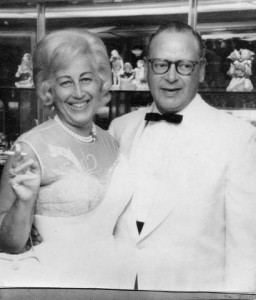 Sarah's grandparents-all rights reserved
Profile: I was born on May 7th, 1970, in the Bronx, NY. My parents. Roy and Andrea, moved to Long Island shortly after I was born, and there I was raised along with my younger brother, David.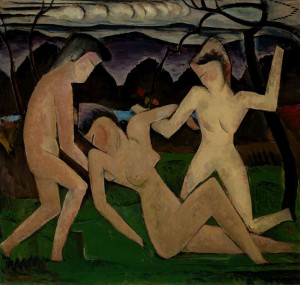 My paternal grandparents both hailed from Poland, fleeing the pogroms of Russia and in search of grater opportunity. My grandfather Phillip entered Ellis Island on April 4th, 1923. Grandpa Phil was an entrepreneur – apparently I came form a line of them! He did everything from paper routes, house painting, dance teacher – and eventually, working in a Navy shipyard during the war. He met my grandmother, Sally, for whom I was named, and together they bought a small grocery store. My father says their philosophy was that with a grocery store, at least they new they would never go hungry!
My maternal grandparents were both first generation, both from what we call Austria/Hungary. Grandpa Skipper (so called because he loved the water and had a boat) worked as a furrier, as his father did, and his father before him. He traveled extensively through Europe and Russia before WW2, but could not return after the war as he was rumored to be a spy! But that is another story for another time … My Grandmother Trudie was born in Harlem, which had a large Jewish population in the early 20th century. She was raised in Brooklyn, and met Skipper in elementary school – they were married after high school, and raised their family on LI.
My parents met in 1961 , married in 65, and left for Brussels the next day by ship for my father to finish medical school. My father became a doctor in a language he learned the summer before school started, and my mother supported him. Later, once back in America, he opened his own practice, my mom working up front – but her dreams lay elsewhere. She graduated law school the year before I graduated college – they are both a constant inspiration!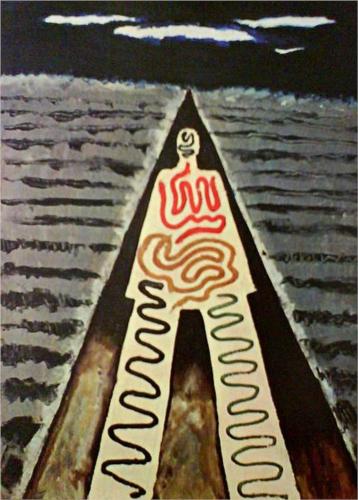 Basically, I came from a long line of risk takers, entrepreneurs, and in one instance, apparently, a spy. Which is why, I suppose, I was supported as much as I was when I pursued Perfumery. Everyone wonder what a nice Jewish girl ( the daughter of a Doctor and a lawyer, for goodness sake!) was doing hauling a sears toolbox filled with oils all over Southern California saying "may I anoint you" – but my parents encouraged me; they saw my passion. My mother always said there was the paved path, and the one you needed a machete to carve out – and I was always a machete type of girl.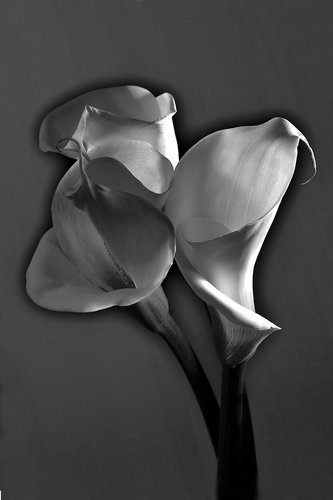 On American Perfumery –
I found perfumery in 1989 in an eclectic apothecary on Newbury Street, in Boston. The concept of customization rang true for me, and I have built my business with this still at its heart. I love connecting with customers, hearing their stories, smelling their skin, creating a fragrance inspired by an individualFor me, again, the focus here is the individual perfumer. I understand how the large house work, and am privileged to partner with many of them regularly for larger scale projects. And as large as some of these houses may be, it still comes down to a perfumer, a concept, and a palette of ingredients. One of the greatest gifts I have been given in my career was a brief apprenticeship with Jim Schmitt , an extremely talented perfumer at MANE, USA. Not only did Mane open their doors to me, but Jim has become a dear friend over the years, and taught me much about the other side of this fragrant world we both create in.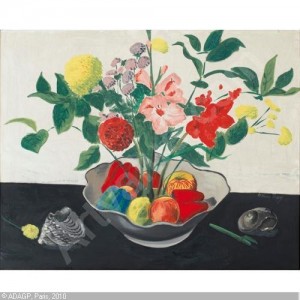 The mass market in America amazes me, as it seems there is a constant stream of new launches every day. I like to work in my bubble. I have my fragrance organ, my garden, my kids – the world around me. I love the materials that I work with; I love jasmine, Moroccan red rose, orange blossom, vanilla, the scent of the ocean in the air as I put sun tan lotion on my daughters skin. I focus on what is in front of me each day, and try to create a fragrance that resonates deeply with those who wear it.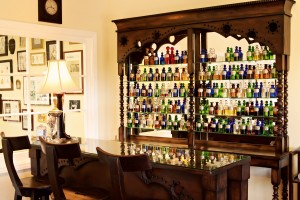 My greatest love in American perfumery is certainly the spirit that is so quintessentially "American" – to discover, to try what has not been done before, to dance to the beat of your own drum and create a business around that beat. If I had to chose a fragrance from one of my collections that I felt was the most American, I would have to say Perfect Veil (Editor's Note Rachel Zoe, Madonna and Jennifer Garner are fans of what some call the ultimate skin scent); it can go anywhere, day or night, it appeals to so broad a clientele because it is sheer and soft and luminous – and in these way, it feels free to be whatever it wants to be.
But truly, my most American creations are the custom scents I create for individuals. Unique. Special. Hopefully, inspired. The opportunity to express yourself as you truly are. To me, these are words and concepts that I love to associate with my country.
–Michelyn Camen
Editor's Note: I chose the art of Man Ray who was born Emmanuel Radnitzky in South Philadelphia, Pennsylvania, USA in 1890, the eldest child of recent Russian Jewish immigrants
Sarah is offering TWO prizes- to two commentors
One is 1.7 ounces of any of her Perfect fragrances, (Please Specify) AND one winner a custome blend perfume!!!
To be eligible leave a comment on what you learned about Sarah and choose your favorite Perfect fragrance (or one you would like to try) AND what memory or notes you would love in an One ounce custom blend perfume. Draw ends August 23, 2011 PLEASE LIKE CaFleureBon Profiles in American Perfumery because this series will run throughout the remainder of the year; and your entry will count as two.