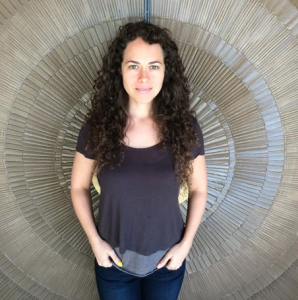 Sam Rader of Dasein Fragrance
Profile: I was a scheduled c-section infant, delivered at Cedars Sinai in Los Angeles, and frankly I wasn't ready to leave the womb. My whole life I have wanted to be enveloped by rich sensual experiences. I enjoy being smushed, swaddled, hugged and surrounded by warm bodies. I call this my claustrophilia (as opposed to claustrophobia)—a love for any experience that puts me back in the proverbial womb.
Colors, music, touch, and smells satisfy my claustrophilia. My godmother says that even as a little girl I needed to smell everything. I would close my eyes and breathe deep, getting lost in the perfumes of everyday life. I would press my whole face into a flower to feel soft petals embracing my cheeks while I inhaled their gentle fragrance. Then I would pluck the blossoms and stir them into a soup of water, bottled perfume spritzes, and anything else I could find that smelled good. I believed I was making perfume.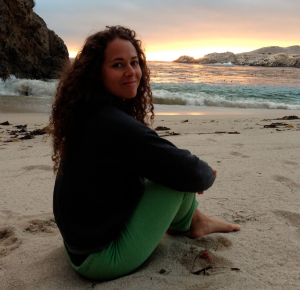 Sam on the beach at Big Sur
As an adult, I still smush my face into friends and flowers, and have a thrilling penchant for smells. In spring of 2012, I was vacationing with my fiancée in Big Sur and was overcome by the medley of saltwater, lilac blossoms, sagebrush, chimney smoke, pine, wet pavement and Deetjen's peach roses in the air. As I hungrily sniffed at the breeze I said, "I want to do this! I want to blend these things together and bottle them!" And so my life as an actual perfumer was born. I ordered heaps of natural and synthetic oils and began making concoctions, just as I had done as a child.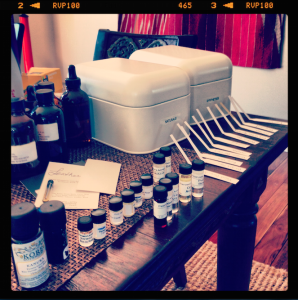 Essentials oils and Sam's Perfume Organ
I started blending at home in late 2012 and a year later I had completed the final draft of my first commercial scent—WINTER unisex fragrance. I had originally wanted to create a line of perfumes that could convey the smell of a particular location, such as Big Sur, Sunset Junction in Silverlake, Rockefeller Center at Christmastime, or Vassar College (my alma mater) in spring. What I had to accept was that drafting blends with notes like woodsmoke, wet pavement, old books, car exhaust and hipster beard oil were a little out of my league as a novice perfumer. I realized I could leave that stuff to Christopher Brosius . . . for now.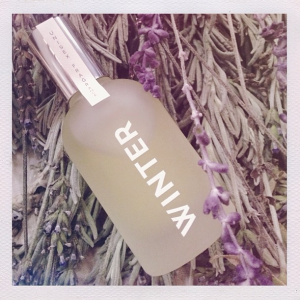 Dasein Fragrance WINTER surrounded by French lavendar
Instead I decided to create a line of seasonal fragrances. WINTER unisex fragrance launched in November 2013 with notes of blue spruce, black cardamom, forest pine and French lavender. To my surprise and delight it became a cult classic overnight in LA. Stores on the eastside of LA were selling out quicker than I could restock them. I have hand blended and bottled each small batch of WINTER in my kitchen, so it's been quite an experience and many friends have been enlisted in the process! I am so proud that less than a year after launching, WINTER is now carried 27 stores including in Australia and Canada.
Sam Rader grating fresh sandalwood at the Institute of Art and Olfaction
On American Perfumery: What I like best about being an American Perfumer is that I have the freedom to be innovative and explore the frontiers of perfume design. My perfumes are mixed media (naturals and synthetics), unisex and avant garde. I am most turned on by outside-the-box scents such as the entire Comme Des Garcons collection, and some of the Nasomatto scents. Just as in the air at Big Sur, nature and intuition can combine essences that would never be condoned in classical perfumery. Who says a perfume has to be green or floral or oriental or citrus or animalic or fruity or oceanic or spicy or woody? I imagine that a blend that combines all of the classical categories—green stems, jasmine flowers, amber, bergamot, ambergris, peaches, salt air, nutmeg and cedar—would be divine. And who says a scent has to be a perfume or cologne? As if women like only flowers and men like only spice and musk. I would want to wear a floral spicy musk. That's why all my fragrances are unisex. I'm so grateful to be an indie perfumer in the U.S. in 2014. It's like exploring the Wild Wild West—there are no rules, no formulas, and no limits to creativity and expansion.


L.A. Institute of Art and Olfaction
A great resource for me in the process of becoming a perfumer has been for LA's Institute Art and Olfaction headed by Saskia Brown. The IAO workshops and programs foster that American ideal of limitless creativity. I have grated fresh sandalwood paste there while learning about ancient Indian perfumery, sipped scented cocktails while being lectured on smells in literature, and learned how to make a rose accord with only synthetics.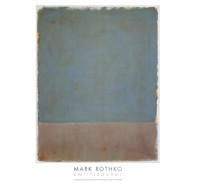 Mark Rothko Reproduction by Sam's mom
My passion for perfume design has been inspired by many artists from many places, including creative friends on the eastside of LA . . . but I have to say that the greatest American Artist who inspires me is Mark Rothko. His muted color field paintings are hypnotic and put me right back into the womb.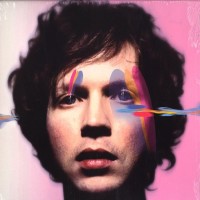 Beck Sea Change
Listening to Beck's album 'Sea Change' (another great American Artist) and staring at a Rothko is my happy place. By day I'm a psychologist in private practice in Silverlake, and I asked my artsy mother to recreate a life-sized soft grey and blue Rothko color field painting, which now hangs above the couch in my therapy office. So if I ever need comforting, holding, re-centering as I work with clients, that womb is always there for me.
–Sam Rader, Owner and Perfumer for Dasein Fragrance.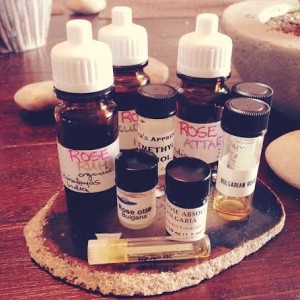 Preparing roses for SPRING
Editor's Note: Sam will be debuting SPRING fragrance with notes of vetiver, violet, sandalwood, rose, yuzu and black pepper is set to hit shelves mid-January. Since Sam Rader and Daesin Fragrance doesn't have a Facebook page or use twitter, follow her on instagram @daseinfragrance. CaFleureBon is also on instagram @cafleurebon.-Michelyn Camen, Editor in Chief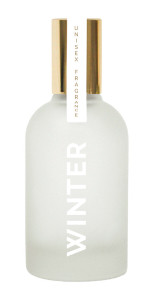 Thanks to Sam Rader we have a draw for a bottle of Winter which is hand made in small batches for our USA readers and a sample for our readers outside the USA. To be eligible, leave a comment about something fascinating you learned about Sam and indicate if you live in the USA or are an International reader. Draw closes October 11, 2014
Please like CaFleureBon Profiles in American Perfumery on Facebook and your entry will count twice.
We announce the winners on our site and on our Facebook page, so Like Cafleurebon and use our RSS option…or your dream prize wil be just spilled perfume