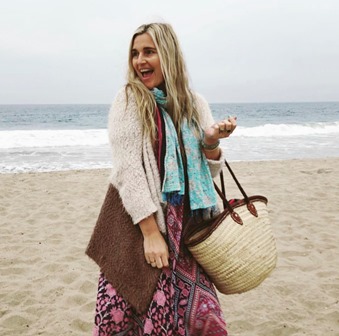 Sage Machado – The Sage Lifestyle
Profile: Taking a ride on my dad's longboard in Hawaii is how I spent most of my days as a young child, dipping my toes in the indigo blue oceans with the salty air blowing in my sun drenched blond hair.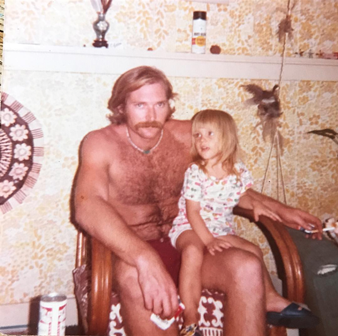 When we weren't on the beach, we were hiking through the dense, lush streams and mountains in the country, searching for tadpoles and gathering flowers. I am a 70's child through and through, raised by hippies, an artist mother and carpenter father, I had a wild and free upbringing.
]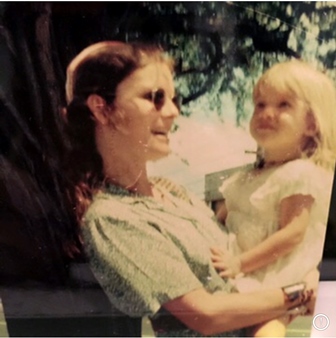 Sage Machado and her mother, Betty Lee, in Hawaii
My mother infused art in everything we did; we painted, sculpted, sewed, baked, and made all kind of crafts. We were always in nature, collecting flowers that we would dry in 100 different books, one by one, to use later in our many art projects!! I can still remember the beautiful smells of green lush ferns immersed with the rich moist soil on our many hikes. We later moved to Southern California where I continued to be a beach bunny, spending every day on the beach, soaking up the golden sun and swimming in the ocean blue. Water is incredibly healing for all my senses and I feel at total peace when I am near this majestic force of nature.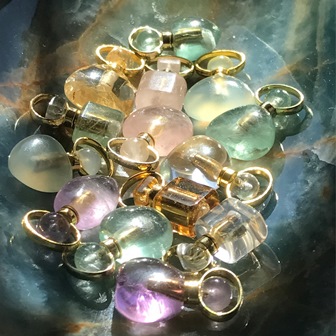 The Sage Lifestyle – Sage's Miniature Gemstone Perfume Bottles
After high school, and a trip abroad to Paris, I was inspired by the jewelry trends I saw in France. I immediately began designing my own jewelry collection, which soon became coveted by many fashionistas in Los Angeles. This led me to New York, where I landed my first big account, Barneys New York. I spent the next five years traveling and expanding globally with my one-of-a-kind treasures.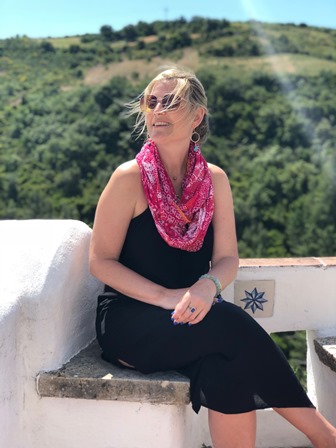 Sage Machado Inspired in Mafra, Portugual
On Being an American Perfumer: I am grateful to have discovered a niche perfume house that was willing to let me truly develop my perfumery every step of the way because if I had been forced to only use words to describe what I was feeling inside of my heart and visualizing in my mind, and not given the ability to participate fully in the development, note by note, I would not have created my perfumery. I began with only five Gemstones to launch; Amber, Amethyst, Citrine, Topaz and Jade, and slowly over the past 20 years I have grown to what is now a collection of 21 gemstone perfumes. The stones have a personality to me, not only am I seeking to embody the color of the gemstones, but also the total personality. Who is the person who seems to be attracted to these stones?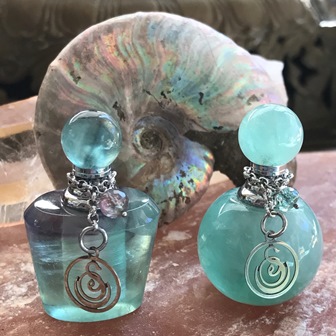 Sage's Newest Launch, Gemstone Perfume Bottles in Green Flourite
What do they look like? What is their style? Where is this gemstone mined? Can I find essences that are from the same region? All of these thoughts race through my mind with each new gemstone perfume I have set out to conquer. I have learned a lot in the past 20 years, side by side with my perfumer. I consider my untrained nose a pretty good director in the delicate dance between the perfumer's art and my wild and free approach. I think it is this unique relationship between learned and self-taught that has made for a perfumery that has a hippie heart and an artist mind. An American dream most definitely!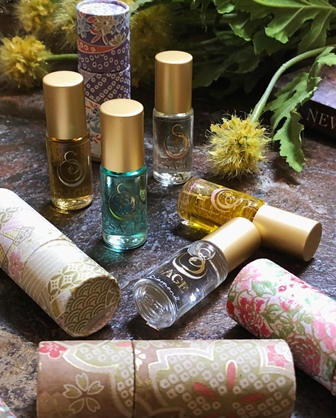 Sage Machado created her first perfume oils in 1997
I believe in wearing a perfume that embodies your essence. I am a firm believer in having a signature scent that changes with the seasons and creating a fragrance wardrobe for yourself. I chose to work with pure perfume oil because it wears closer to the skin, which keeps your scent much more intimate and personal. The Sage Lifestyle signature packaging is handmade with Japanese Washi papers, which were discovered in San Francisco at a Japanese Museum. I chose them because I wanted to have a paper which had a textile like feel to it as well as a luster that would capture the brilliance of the gemstones. No other paper compares to me; they are hand block printed on centuries old printing boards, and they truly make the perfect pairing with my perfumery.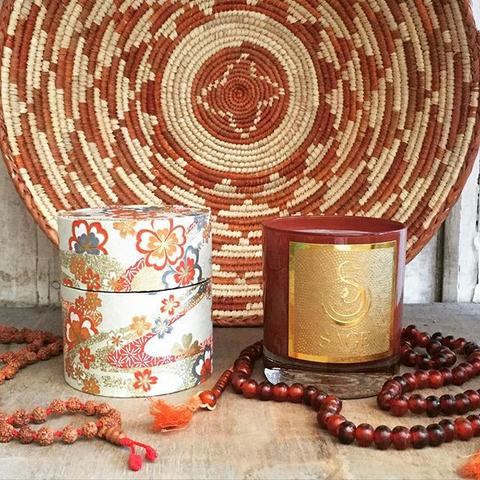 Sage's Signature Soy and Coconut Amber Candle
In the late 90's, I launched my first flagship boutique in Los Angeles, which was devoted entirely to my one-of-a-kind jewelry, gemstone perfumery, natural candles and unique items from around the globe. Over the next two decades I continued to expand; designing jewelry, perfumes, candles and one-of-a-kind apparel. Being in Los Angeles, I was able to cultivate wonderful relationships with celebrity clientele such as Julia Roberts, Nicole Kidman, Madonna, and many more. This resulted in extensive coverage of my designs in multiple magazines such as Vogue, Elle, and W. For many years, I focused on my retail and wholesale business while also developing an online presence for The Sage Lifestyle. Two years ago, I decided to close my brick and mortar store and focus exclusively on introducing my The Sage Lifestyle perfumery to the global beauty market. The results have been astounding, with interest from major domestic retailers and several countries abroad.
I'm wildly excited to announce that my The Sage Lifestyle fragrances was chosen as the only brand from the United States to present to one of the world's largest perfumeries throughout Europe. After an incredible week spent in Belgium, it has been confirmed that eight countries will be launching my The Sage Lifestyle gemstone perfumery in 2019. I feel like I'm just getting started in what is going to be an incredible new beginning in the coming years.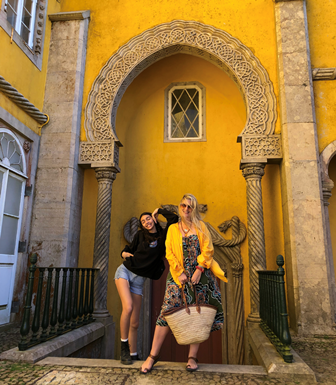 Sage with her daughter, Sophie Rose, in Sintra
I feel that I've captured a quintessential bohemian vibe in my wide variety of creations, and have built a business around my own personal vision of that lifestyle. The Sage Lifestyle embodies the classic and effortlessly chic California essence. I sit here today, 20 years later, and I'm so overwhelmed with gratitude that these beautiful gemstone perfume oils are as loved today, if not more than, they when they were first discovered by Vogue and written up as the best packaging of the year. It was an incredible year when I launched; I was invited by Sephora to the opening of the first Sephora in New York City to present my perfumes, as well as in the first Anthropologie to open in Soho. I was one of the only perfume oils inside of the first apothecary built inside Barney's NY. It has been a long and beautiful journey so far, and I can't wait to see what magic continues to unfold.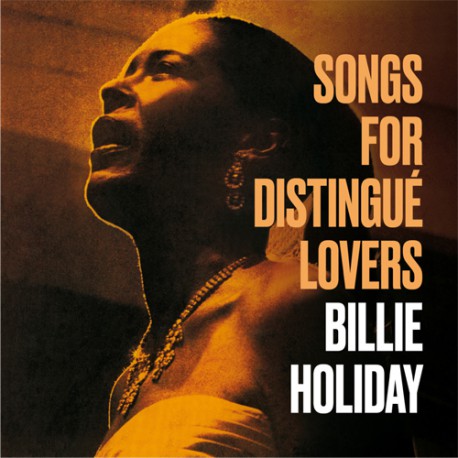 Billie Holiday – Songs for Distingue Lovers
Favorite American Artist: Billie Holiday is my favorite American artist. I remember the first time I heard her voice: I was 17, just returned home from a few months in Paris, and discovered old French and Brazilian jazz, and truly fell in love. I took an interest in learning more about Jazz and discovered her album, Songs for Distingue Lovers. My favorite song, "Ain't Nobody's Business", from that first mesmerizing introduction, captured my heart immediately. "Lady Day" has a voice that awakened me and made me curious, yearning for more. To this day, the first thing I think of on a rainy day is playing Billie Holiday, because there's nothing more magical than hearing this angel's voice accompanied by a hot cup of tea and the gentle sounds of the rain dancing outside.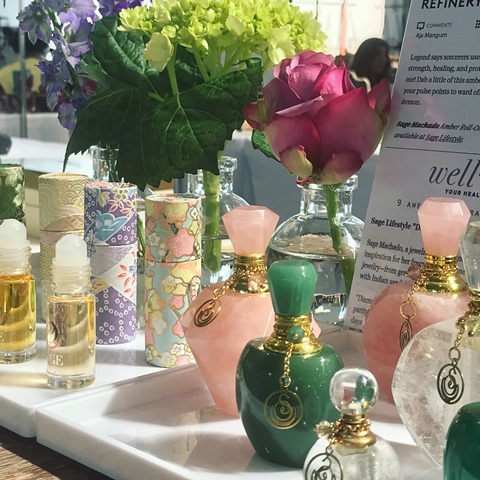 Sage's Handcarved Gemstone Perfume Bottles and Perfume Oils
In the peak of my jewelry career, struggling to keep up with the demand of my one-of-a-kind jewelry, I set out to add something to my brand. I remember thinking, "How am I going to be able to focus this new item with the gemstones? "The two had to speak to each other. Perfume it was… inspired by my love and passion of gemstones. It was something unique, and one of a kind for the time; perfume oils.
Sage Machado, Owner and Founder of The Sage Lifestyle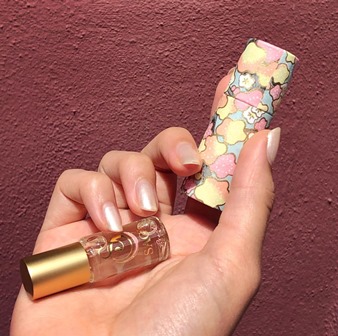 Sage Machado – The Sage Lifestyle – Pearl Perfume Oil was inspired by the birth of Sage's first daughter, Sophie Rose
Editor's Note: I bought The Sage Lifestyle Pearl in 2000 (when it was known as Sage Machado), my very first perfume oil and it is still one of my favorite pefumes. It is a creamy "your skin but better" subtle vanilla scent that befits the name…lustrous and warms on application. Notes: Green Mousse de Chene, Sandalwood, Fresh Musk, Vanilla. When Sr. Contributor Marianne Butler attended The Indie Beauty Expo she told us The Sage Lifestyle "was so crowded with fans she couldn't speak to Sage or get samples." Perfume brands come and go, but Sage Machado and The Sage Lifestyle is still top of mind for so many of us –Michelyn Camen, Editor-in-Chief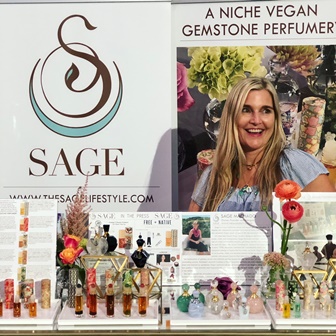 Sage at the Indie Beauty Expo in New York City, 2018 (A CaFleureBon Best of Show)
Thanks to Sage Machado of The Sage Lifestyle we are offering offer three full-size 1/8oz Roll-On Perfume Oils in the Top 3 best-selling perfumes, Diamond, Pearl and Onyx to three winners in the USA.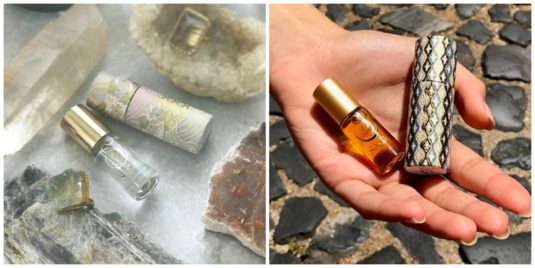 The Sage Lifestyle Diamond Perfume Oil, a subtle non-perfume and Onyx Perfume Oil – The Cult Favorite
Two of these hero products, The Sage Lifestyle Diamond and The Sage Lifestyle Onyx, were also just nominated for Best Fragrance and Best Packaging at the Indie Beauty Expo 2018. To be eligible you must be a registered reader (register here), you must be registered or your comment will not count. Tell us what you found fascinating about Sage Machado's of The Sage Lifestyle path to perfumery and which fragrance you would want should you win. Draw closes 12/3/2018
Please like CaFleurebon Profiles in American Perfumery and your entry will count twice. Please leave that in your comment.
Sage Machado of The Sage Lifestyle is the 138th American perfumer in this series. All photos belong to The Sage Lifestyle.
Follow us on Instagram @cafleurebon and @thesagelifestyle
We announce the winners on our site and our Facebook page so like Cafleurebon and use our blog feed…or your dream prize will be just spilled perfume.