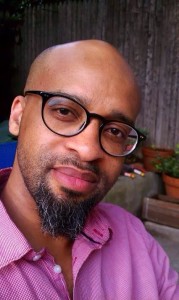 Rodney Hughes of Therapeutate Parfums
Profile: I was born in Shreveport, Louisiana to ecstatic parents, who had just about given up on having children, after eight years of trying to conceive. Both my parents were creative types, my dad a Barber and my mom a Cosmetologist. Her specialty was as a Hair Colorist; I remember the acrid smell of lye based products use in those day. My mother Frances, would sit with me for hours demonstrating how to color in my coloring books. I had books with two hundred or more pages and my mother would buy me the 64 box of Crayola Crayons. Now, whenever I smell Beeswax Absolute in reminds me of those unforgettable with her.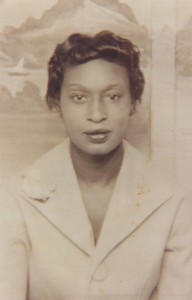 Rodney's mother Frances Louise Hughes
My fascination with art continued with my second grade teacher who taught me to write in cursive; forming of letters and script ignited a sort of fancy-full fire in me, one that I could now combine with color. This is what informed my earliest influences as an artist. By the age of eight, I had extraordinary independence for those days and had distinct aesthetics; I wouldn't allow anyone to choose my clothes and did my own ironing. Thus, I started my lifelong love affair with high fashion. Early memoires of my grandmother getting dressed for a party are still fresh in my mind. I remember all the layers of under garments- girdles, stockings, garters that went on before her pale pink silk gown. Estee Lauder's Youth Dew was her fragrance choice.
I moved from the Deep South to the Big Apple (New York City) to study Art and Design at Pratt Institute. I left the fashion industry in 2007 after more than 18 years of designing and manufacturing apparel and home goods. My experience in fashion took me to many destinations around the world and certainly those travels influence me. Having traveled to Sri Lanka and danced along the shore of the Indian Ocean inspired my love of the fragrance L'Autre by Diptyque and is very much present in my fragrance Taprobaine. Both are very usual fragrances that remind of me of the humidity, spices, sour fruit and tropical flowers encountered while in Colombo. It wasn't fashion, but the art of healing that opened the door for me into this world of perfumery. I spent much of my adult years on airplanes breathing recycled air, suffering from fatigue and jet lag, which began to affect my health and wellbeing. I read many books on aromatherapy and began to experiment with essential oils while studying Reiki. Using this knowledge was beneficial to me and to my Reiki clients who I composed synergistic bespoke blends so they could continue the healing process after our sessions. My aromatherapy teacher was a certified instructor, and a career nurse. I later discovered she had been taught the art of natural perfumery by Kathryn Degraff and was also married to a PhD Chemist. From there it was a obvious progression for me to continue my studies in natural perfumery with both Debbie and Howard Freund. I named my brand to honor the Egyptian Therapeutae, which influenced the western history of healing. The fact that we use the term "essential" is linked to The Essene Healers of Qumran who were influential in teaching Jesus Christ.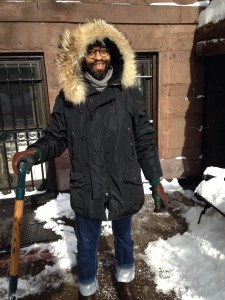 Rodney lives and creates perfumes in Bed-Stuy: Digging out of the Polar Vortex
On American Perfumery: I live and work in Bedford–Stuyvesant, Brooklyn, an eclectic neighborhood, which represents the essence of American cultural diversity. Being an artisan in America at this time I believe is essential to our relevance on the global stage. I think it's the artisans and the small merchants that will allow us to be a country coming back from the brink of ruin brought down by giant faceless corporations. It is equally important to me to be an example for my community and sharing my art and healing with those who need it most. For me this is American, to dream big, work hard to achieve whatever goals you set. Big shoes to walk in, but that is how we are "Made in America."
After Giovanni Bellini's "St. Francis in the Desert" / from the series "Black Light" Kehinde Wiley, New York Artist
Favorite American Artist: I love the painter Kehinde Wiley, his work excites me. He portrays black men and hip hop artists by framing them in a way unlike anyone on the art scene today. His art speaks to realism and past Master's works on many levels, but uses the metaphor and symbolism of floral motifs to convey other ideas. This play on realism intertwined with nature symbolism is a waft of perfume painted and caught in motion. The Art of Perfumery exists in this manner for me as a perfumer, but on the opposite spectrum, it's the unseen manifest upon our senses. Having chosen to work in Naturals speaks to the respect I have for nature and the marriage between the earth and all of us.
–Rodney Hughes, Natural Perfumer forTherapeutate Parfums
Editor's Note: Rodney is a former Natural Perfume Editor for CaFleureBon from 2010-2011 and his style was pure poetry. If you are new to Cafleurebon I encourage you to read them, including Mandy Aftel's Trevert , Anya McCoy's Moondance , Rodney was part of our founding team here and took part in the Natural Perfumers Guild Mystery of Musk Project, with this lyrical ode to Alexandra Balahoutis' entry Temple of Musk. Most memorable for me was his tribute to his Mother, Frances –Michelyn Camen, Editor in Chief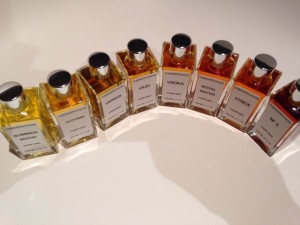 Thanks to Rodney Hughes we have a US reader's choice for ONE 30ML atomizer of these five special editions:
V5DKA, MAAT KA RE ER ATAM (MAATKARE), TAPROBAINE, OUD OR MODERN PATCHOULI
To be eligible, please leave a comment on what you found fascinating about Rodney and his path as well as your choice of fragrance. Draw ends March 3, 2014.
SUPPORT AMERICAN PERFUMERY
Please like CaFleureBon Profiles in American Perfumery on FACEBOOK ; and your entry will count as two.
We announce the winners on our site and on our Facebook page, so Like Cafleurebon and use our RSS option…or your dream prize wil be just spilled perfume