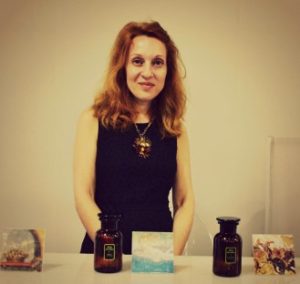 Paula Pulvino Villa of The Mysteries
Profile: I was raised in upstate New York and lived there until I graduated college with a degree in Advertising and moved to NYC. We had a large plot of land around the house where I grew up, and my Dad had a garden filled with roses, lilacs, tulips, snapdragons, poppies, geraniums, and many other types of flowers. There were pine trees, oaks, and Japanese maple trees on the property as well. Often, my Dad and I would walk around the garden together admiring the flowers and other plants and he would tell me about each of the plants and their flowers, their fragrances, when they bloomed, and how to grow them, so I had an interest in scents and the natural world at an early age.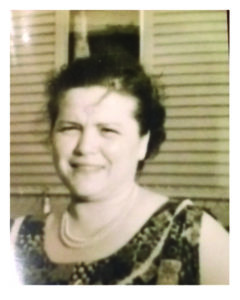 Paula's grandmother
I believe my Dad came by his appreciation for plants and their fragrances from my Grandmother— she owned an apothecary and a perfumery in her village near Naples, Italy, where she made fragrances and remedies from plants and herbs. When she came to live in the U.S. she discontinued her business as she was busy raising her children, but I remember going to her house as a child and she always had things for me to smell. There were little bottles of fragrant tinctures, and sticky brown resins and potions of all sorts in a pale blue cabinet in her kitchen, and she would take them out one at a time and let me smell them.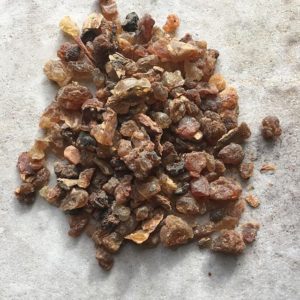 Myrhh courtesy of VOTM
Her kitchen had a vague smell of incense and something green, and that fascinated me. She would cook there of course, and then it would smell deliciously of garlic and onion and fresh tomatoes, but that mysterious cabinet always held my interest and I associated the kitchen with those smells, instead of the fragrance of garlic and tomatoes. She kept her perfume and apothecary "recipes" in a hard-bound notebook, and many years later when she passed away I was given the book as a memento. I never thought about those recipes — they were hers and I didn't see myself in relation to them— until I took a perfume class a few years ago and became curious about the notebook, which she called her "ricetti di libro," which means "recipe book" in Italian. At that time, I decided to try and see if I could replicate her formulas, and I was somewhat successful, except some of the notations she made in her book were cryptic, or referred to ingredients that I couldn't find any modern sourcing for. At that point I decided I needed to "reinterpret" them while trying to keep that link to her and, and in doing so honor her original creations.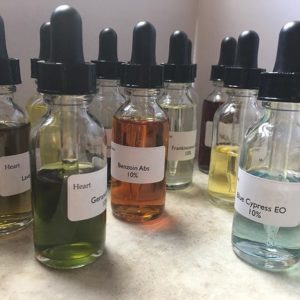 Villa of The Mysteries Essential Oils
On American Perfumery: To me, American Perfumery signifies that regardless of an American perfumer's background, whether self-taught or formally educated in scent, or whether they work on the East Coast, West Coast, or in between, they all exude an independent spirit that allows them to create unique fragrances that somehow convey exactly what it is to be an American Perfumer. I don't know quite how this happens to be, but this sense of individuality, persistence, and ingenuity shines on in all these perfumes. And at the risk of sounding mawkish, I think that these qualities also constitute part of what it means to be an American as well.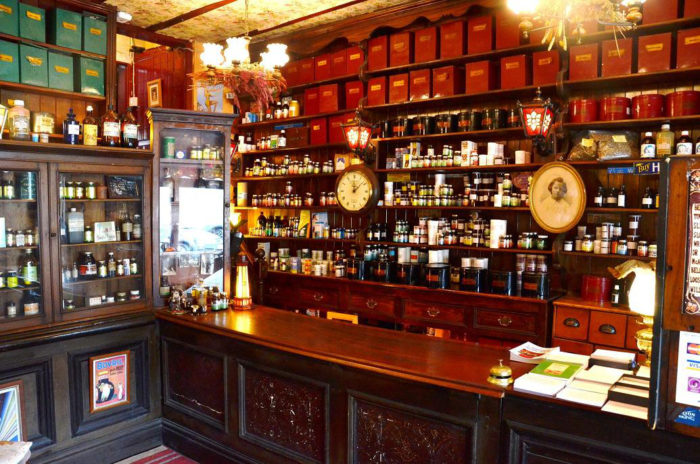 Villa of The Mysteries Apothecary
I think we're in the midst of a kind of modern Arts & Crafts movement, in the sense of valuing traditional craftsmanship and the idea that perhaps industrially-produced goods are not always the best quality-wise. And that's reflected in the "maker movement" that I've seen at flea markets, fairs, and elsewhere.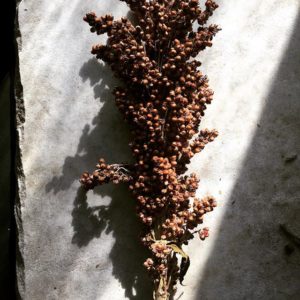 Floral from Villa of The Mysteries
People are looking inward to their own creativity and making unique, beautiful items, whether it's clothing, jewelry, art, pottery, or fragrance. Many American Perfumers are using natural ingredients and deploying their unique talent to create something that's wholly personal.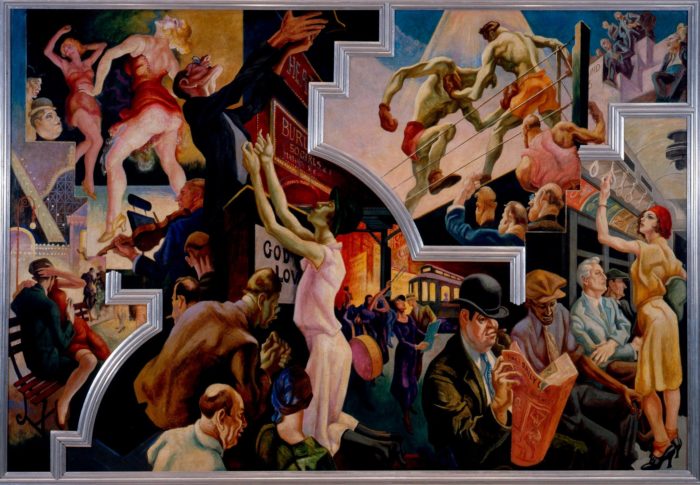 Thomas Hart Benton's 'America Today' mural (1931)
Favorite American artist: I think my favorite artist is probably Thomas Hart Benton. He was a Regionalist, and a mentor to Jackson Pollock, whose early work was influenced by Benton. Benton's paintings depicted Midwest rural and small town scenes, and he portrays the people in them in a somewhat heroic fashion. His paintings are languid, colorful, and yet somehow full of movement. That juxtaposition is what I find so interesting about them. His America Today murals, which are in New York at the Met, depict for me that sense of what it is to be an American artist.
–Paula Pulvino, Founder and Perfumer, Villa of the Mysteries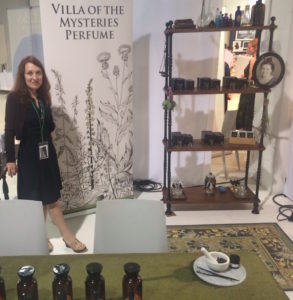 Paula at the Indie Beauty Expo in NYC
Editor's Note: Paula and Villa of The Mysteries was featured in Sr Contributor Hernando Courtright's Indie Beauty Expo report as Best in Show.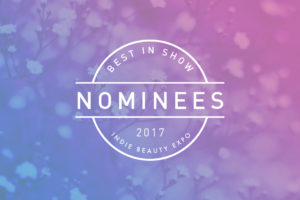 Best of Show Indie Beauty Expo© Fragrance 2017 Nominee
Villa of The Mysteries is also a Best in Show for Best Fragrance Indie Beauty Expo 2017.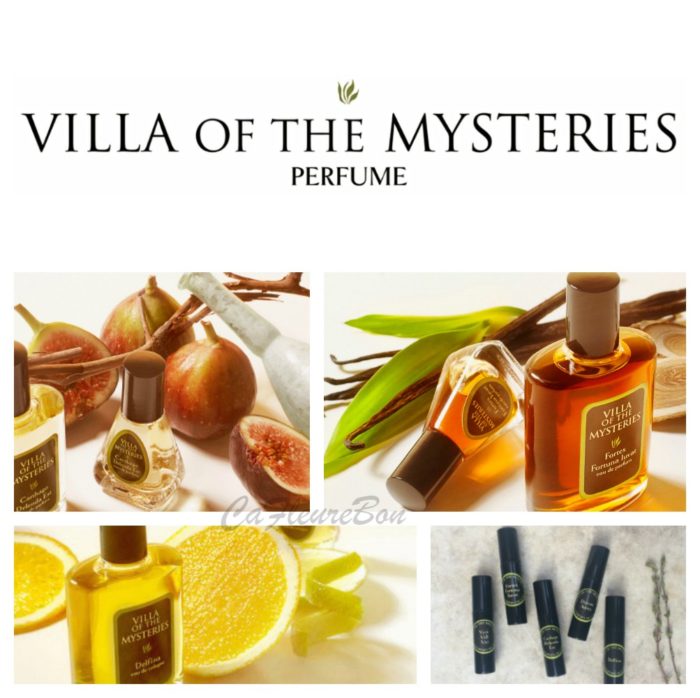 Villa of the Mysteries perfume collage by MC for Cafleurebon©
Thanks Paula Pulvino of Villa of the Mysteries there is a US/Canada draw for three registered readers (be sure to register or your comment will not count) your choice of 30 ml full-size bottles of Delfina, or Fortes Fortuna Iuvat, or Carthago Delenda Est, or 1 three sampler packs which contain 2 ml samples of the three fragrances above plus the two newest fragrances in the line, Veni Vid Vici and Domus Aurea. Please leave a comment with what you found fascinating about Paula's path to perfumery, where you live, which fragrance you think you might love and your choice should you win of the four offered. Draw closes 10/19/2017.
Please like CaFleureBon Profiles in American Perfumery and your entry will count twice by clicking here. Follow us on Instagram @cafleurebon and @votmperfume and check out The Villa of The Mysteries on FaceBook. Support your American artisan perfumers and purchase directly from them. –Michelyn Camen, Editor-in-Chief
Paula is the 128th American perfumer to be featured in our series
We announce the winners on our site and on our Facebook page so like CaFleureBon and use our RSS feed…or your dream prize will be just spilled perfume.