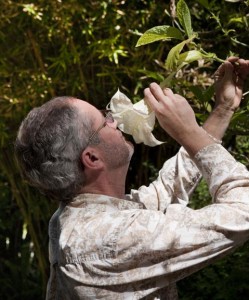 Paul Kiler , Perfumer for PK Perfumes
Profile: My family came early to California for the Gold Rush from many points in Europe and the UK. Born an Angeleno, I've lived in So. Cal all of my life, and left High School knowing I wanted to be a Commercial Photographer. I became a self-directed, self-motivated learner and proudly resonate with Sir Walter Scott: "All men who have turned out worth anything have had the chief hand in their own education." This has held true for all of my educational pursuits.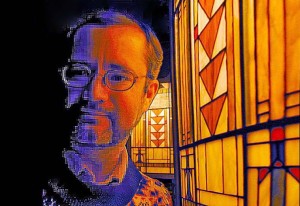 Paul and his Stain Glass Art
Photography was my first passion. I've been a Commercial Photographer for 35 years, and travelled to 22 countries. My second passion became making artworks and Design – Sculpture, Furniture, monumental Stained Glass, and large Fabric sculptures were my main output, many in a Liturgical vein.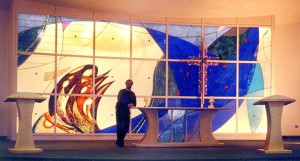 Singing Sky by Paul Kiler
The largest commission is "Singing Sky", a 700 square foot stained glass and other materials, a sculptural installation in Chandler AZ.
L: Paul and his wife Julie, R: Paul's hand painted wedding tuxedo was inspired by the art of Wasilly Kandinsky and sculptor Constantin Brancusi
I met my wife over the internet when she was a Doctor working for the UN on the tiny Indonesian island of Timor. I married her, my third passion, in Jakarta, and we honeymooned in Bali. We have two boys, Santa Fe, and Phoenix. When we moved to a hot area from the coast where we lived, I had to go inside the house to make artworks, and then I started to teach myself the Art of Perfumery in 2005. I've been a Contemplative in all aspects of my life, and certainly the Art of Real Perfumery is a contemplative exercise indeed. Listening, seeing, perceiving, are skills that I've learned to do well. Listening to what speaks to me from the realm around us brings much pleasure.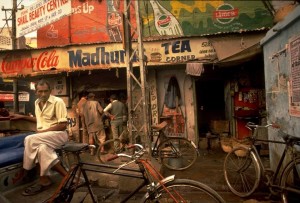 Paul has traveled all over the world. Here, his photo of Madhuras Tea Corner Delhi, India
My inspiration for Perfumery comes from many sources, from a life filled with so many experiences, eclecticism, travel, artworks and arts education. I'm dedicated to the wonder and fullness and ideals of Grace and Beauty in my artworks across the spectrum of creativity. I'm not about the taking aspect of Lust, I desire to elucidate that Love is about giving, and work these concepts into my perfumery.
.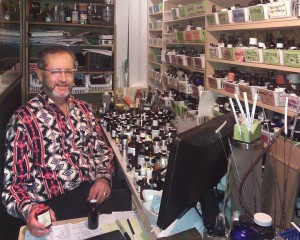 Paul and his Perfumarium
On American Perumery: I am an American, not French. I am not trying to be French, just working on being myself. America and American Perfumery can certainly stand on its own two feet. And I certainly don't want a ridiculous tyrannical foreign body like IFRA telling me what Perfumery is. IFRA is destroying Real Perfumery. IFRA is Evil. Most all perfumers feel the same, but many face getting fired if they speak up publicly about this travesty. I am my own boss, and so can make Real Perfumes and not get fired. Independent Artisanal American Perfumery is presently still free to be THE MOST BEAUTIFUL perfumery on the planet. That's what I try to make… I hope that I succeed, and that I can retain my freedom to make Beauty and Grace manifest in perfumes.
Who's Afraid of Red, Yellow and Blue" (2006), an installation by Robert Irwin.
Favorite American Artist: I'm influenced by the installation Artworks of Robert Irwin, how he explores Light, Space, and Time. In both Photography and Perfumery, Light, Space, and Time all figure as favorite subjects to work with.
-Paul Kiler, Founder and Perfumer for PK Perfumes
Editor's Note: Ere, Carissa and Gold Leather were awarded 10 silver and bronze medals in a number of categories at the recent 2013 Taste TV International Artisan Fragrance Salon. If you love floral photography, Paul offers 50 free screen savers here. -MC
Paul has graciously offered TWO CaFleureBon readers a choice of 15ml : Gold Leather, Red Leather, Lita, Carissa, Zaffron, Ere, Violet Chocolatier, Pentecost, Dirty Rose, Velvet Curacao, Zaffran , Ginger Zest de Citron or Cafe Diem.
One reader will win a Discovery sampler pack of 11 fragrances for a total of THREE international perfume prizes. Can't make up your mind? Read Sr Editor Tama Blough's choices for her favorites here. Draw closes September 6, 2013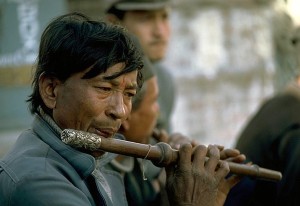 Photo by Paul Kiler "Musician In Kathmandu"
To be eligible please leave a comment about what you found fascinating about Paul Kiler and your choice of prize, a 15 ml bottle of your choice (please specify) or the sampler package(please specify).
SUPPORT AMERICAN PERFUMERY Please like CaFleureBon Profiles in American Perfumery on FACEBOOK ; and your entry will count as two..
We announce the winners only on site and on our Facebook page, so Like Cafleurebon and use our RSS option…or your dream prize will be just spilled perfume