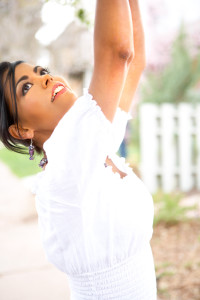 Olivia 'Livvy" Larson of La Fleur by Livvy
Profile: My name is Olivia "Livvy" Larson. I was born in Calcutta (now known as Kolkata) in India. My inspiration comes from memories of my childhood growing up in India: of Indian women in the market place with fragrant jasmine garlands in their hair. The scent of attars, rose waters, and sandalwood incense sticks wafting through the air as they burned. The various flowers that bloomed at night, the smell of earth after it rained on a hot summer day.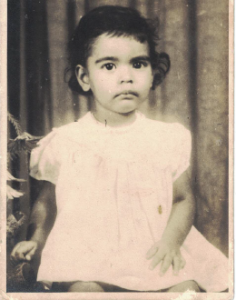 Livvy as a young child
The smell of fresh mint leaves being crushed into juice at a vendor's stall. And the frangipani (plumeria) flowers which grew right outside my grandmother's bedroom window that amazingly floated indoors to share their beautiful fragrance with me. I moved to the United States 17 years ago and Colorado has been home.  It is here that I was able to explore the fine arts.  I took a few oil painting lessons with Chris Anderson at Colorado Mountain College .

In the US, my creativity began to bloom.  It is from my study of the Impressionist artists and their floral paintings that inspired me. I became more connected to nature and started to enjoy gardening. I love flowers. I never seem to get enough of them or have enough of them and with this idea my fragrance line was born.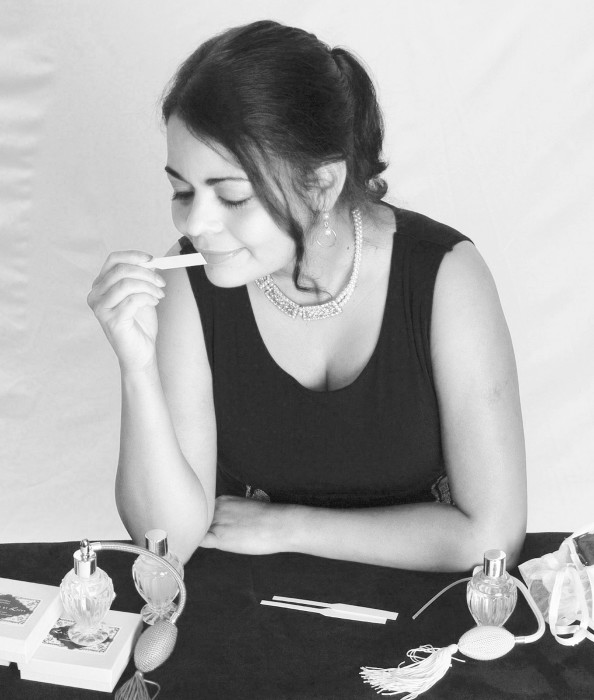 Livvy Larson of La Fleur by Livvy
My perfume line is a personal journey that I wish to share with others. My path to natural perfumery began in India where I was surrounded by tropical plants, flowers, fruits, spices and herbs. These all play an important role.. I enjoy working with natural ingredients especially essential oils, absolutes, resins and other botanical ingredients including making my own tinctures. I love to capture the exotic floral fragrances and combine these with other raw materials from the west, for example. I work with rose de mai (which is a nod to my French great grandfather) and strawberries as well as  Eastern elements such as   sandalwood and champaka. My fragrances are not intended to overwhelm the presence in the room but to compliment the person wearing it. I love when someone smells my perfumes for the first time and is immediately transported to a certain time in their life or reminded of a particular person. Scent brings memories crushing back to the forefront of the mind.   "Nothing brings to life again a forgotten memory like fragrance"… Christopher Poindexter.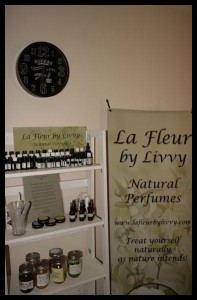 On American Perfumery: As an American Natural Perfumer I have the freedom to express myself  using botanical ingredients large companies might not allow. I don't use focus groups or complicated marketing.   My clients  sprad their love of my perfumes and I feel blessed that they share this love via word of mouth.  I came here with two suitcases.  Now  I am living the American dream  and composing  scents that touch others. Everything is possible.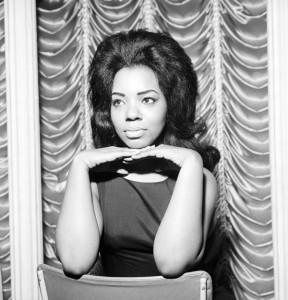 Mary Wells The Queen of Motown, 1964
Favorite American Artist: Mary Wells the "Queen of Motown". Music is food for the soul. In spite of humble beginnings and health issues she was an American singer who helped define the sound of Motown and rose to the top. I really enjoy listening to her music even though it was before my time.
–Olivia 'Livvy' Larson, Founder and Owner La Fleur by Livvy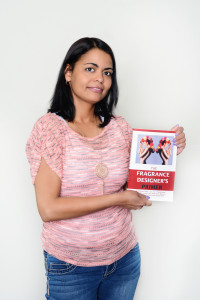 Editor's Note: Livvy was featured in The Fragrance Designer Primer: A roundtable of 14  Perfumers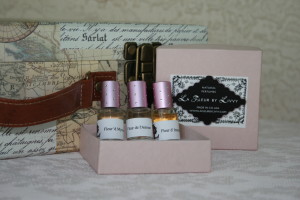 La Fleur by Livvy Mix and Match Perfume Coffret
Thanks to Livvy we have a worldwide draw for our registered readers (be sure to do this). Of a mix and match discovery kit of three 10 ml bottles of the following all natural La Fleur by Livvy perfumes; your choice of Fleur Damour, Fleur de Innocence, Fleur de Seduire, Fleur d'Aspiration, Fleur de Mystere, and a Parisian Affaire. To be eligible, please leave a comment with what you found fascinating about Livvy's path to perfumery, where you live and  which three fragrances you would like to win, Draw ends September 12, 2015
Please like CaFleureBon Profiles in American Perfumery and your entry will count twice.
Follow Fleur by Livvy on FACEBOOK  here
We announce the winners on our site and on our Facebook page, so Like Cafleurebon and use our RSS option…or your dream prize will be just spilled perfume