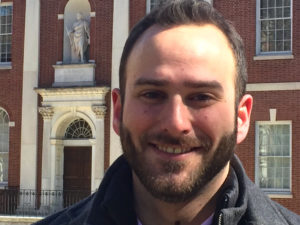 Nir Guy of Perfumology
Profile: I was born in Northern Israel and grew up in Havertown, Pennsylvania.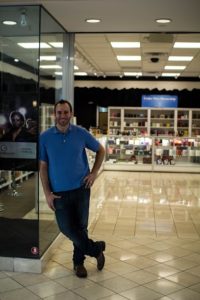 Perfumology Signature Shop
I own a perfume shop in the King of Prussia Mall about twenty miles outside of Philadelphia, and I live in Philadelphia with my wife Lyssa and two dogs, Ralph and Penelope. Growing up my family spent a lot of time traveling between our home in the States and family Israel, so my older sister and I grew up traveling quite a bit. My parents lived in Enugu, Nigeria working on irrigation infrastructure for years and traveled extensively before I came along. Traveling is in my blood. I'd get lost in the Duty Free perfume section of every airport. Each place providing me with a scent memory; growing up impacted by dewy evenings in northern Israel during the summer, dry maple leaves from the woods in Havertown, lavender fields in Provence, rich dirt and damp air in the Black Forrest, cheesiness echoing through Ghouda. The list of scent memories goes on seemingly forever, and absence of smells scars on my memory.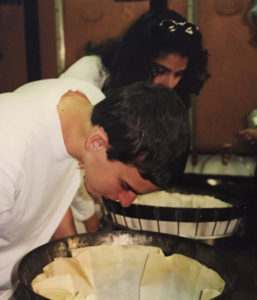 A young Nir and his sister,Yifat at Fragonard's factory, summer 2000
By the time I graduated high school I had already a few bottles from Fragonard and Gallimard, several a few custom bottles, plus my helping of commercial scents. I didn't even wear them to school, they were for my personal pleasure.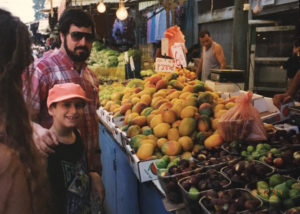 Market in Israel
I spent a lot of time in Israeli markets, with fresh fruit and vegetables. Graduating from The Fox School of Business at Temple University in the beginning of 2008 focused on finance and international business. At the time I wanted to start a career as a financial advisor, but environment at that time didn't work out for me. This period was the opposite of fragrant or exciting. Offices are always bland, scentless, afraid of offending senses, and required "phone time." I spent years studying, working with numbers and legal documents, feeling khaki in a sea of beige. My world was no longer full of color, sound and smell.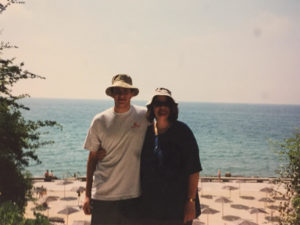 Bulgaria 2001 with Tali, Nir's mom
Me and my mom, Tali, at the Black Sea when we visited Bulgaria in 2001, when I first had the opportunity to try and take home Bulgarian rose oil. I still have it. Eventually I had to get away from offices and return to life. It was then that my mother and I landed a partnership to open our first perfume shop in 2012.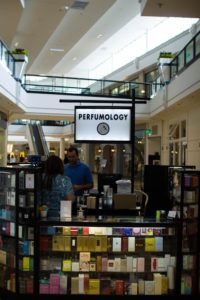 Perfumology boutique in King of Prussia, PA
Soon after I bought a few essential oils to start blending my own scents. Our customers taught me as much about fragrance as my personal studying. Everyone's taste is so different, it's like crowdfunding perfume knowledge. People would express love for one note or brand, and hate others. We hear stories about classics like Ombre Rose, Yatagon, or 4711. Everything had deeper meaning. Soon our customers asked when I'd produce my own. My passion is constantly apparent, something I like to wear on my sleeve. Sadly uncommon to the Philadelphia region for perfume salespeople. Some people really wanted my brand in their wardrobe.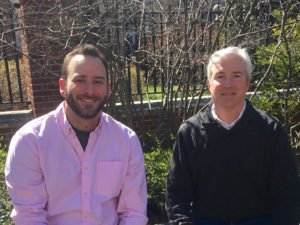 Nir Guy with Perfumer Justin Frederico of PBL Labs
Justin Frederico and I met early 2016 through a mutual friend. By trade, he's a chemist with the same scented obsession as me. We hit it off right away talking about fragrances, scents, the perfume industry, and how people around us who don't understand our sensitive noses. Justin and I spent hours discussing what we liked and did not like in perfumes, looking for perfect raw materials that fit our criteria. My wife was the inspiration for the women's fragrance, to be named Blyss, which I needed to be perfect. We started with a few designer fragrances to kick off direction. Over the course of a year we were challenged because none of our compositions fit the vision. We found the right raw materials: a perfect orange from a small orchard in Italy, rich bulgarian rose, ylang ylang and patchouli, but not the perfect formula.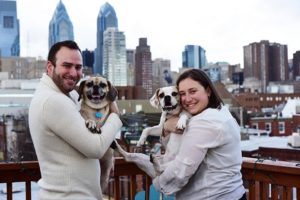 Nir and his wife Lyssa
Justin was ready to give up and referred my business to another perfumer. Naturally, I refused. We spent roughly an hour on the phone that night. I don't remember much from our conversation except my level of excitement. By some miracle, his wife showed up to my store the next morning with three magical formulas that were perfect. He had a late night blending accords that matched my descriptions. This time we added white plum, the orris root was more pronounced, kept the patchouli subtle. Blyss turned into quite the gourmand party. I took the samples home to check with my wife and she was also in love with the scent. Her eyes lit up similar to when I first gave her jewelry. We found our winner, and two other formulas for later. The opening is fun and exciting, like my wife Lyssa. Blyss opens with white plum, green apple and a clean orange from Italy. Since Lyssa is also bold Bulgarian rose dominates the composition of the heart with jasmine typically appearing right after. Holding it together at the base are ylang ylang, orris root, and patchouli. Lyssa is lovely and down to earth,yet sensual and unique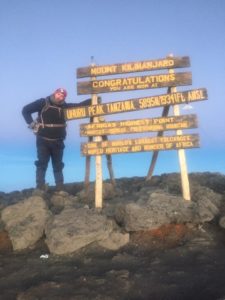 At Uhuru Peak, Kilimanjaro, Tanzania
Right after Blyss' completion I took a trip to Tanzania to climb Mount Kilimanjaro with some friends. I kept thinking about the perfume during the week long hike. My mind was consistently focused on scents, more so than previous trips. Now I'm catching the dusty cap of the inactive volcano, although difficult at altitude. Amazing to smell the dry grass in the Serengeti, the woods that surround lake Manyara, the unforgettable smell of baboons, the beach and spices of Zanzibar. When we returned home I found our formula more complete after some time macerating.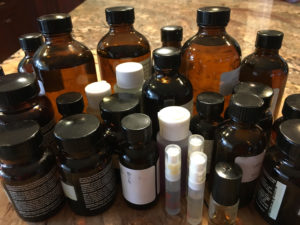 A small collection of essences and materials from Nir's personal perfume "organ,"
On being an American Perfumer: We opened Perfumology out of opportunity mixed with necessity, needing jobs and found a business partner at the right time for us. Being the creative director for my own perfumes allowed me to use my international scent memories into invisible works of art that people choose to wear. My experience leading up to creating a perfume business is uniquely American. At my store, I have the pleasure of employing good people and supporting other independent brands to supply our shop. Customers actively choose independent brands, luxury fragrances or Blyss over other more mainstream brand perfumes. Our industry and country have allowed me to build Perfumology and support incredible people in the industry.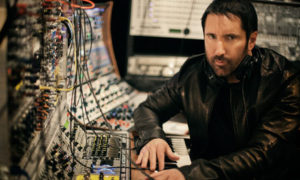 Trent Reznor in his studio, courtesy of Death and Taxes.
Favorite Artist or Musician: Trent Reznor is my favorite musician. Both music and fragrance have taught me a lot for my life. He made completely different sounds from the same instruments as others, gave me the most vivid emotions with the art of sound. Pushing my boundaries when they needed pushing and calmed me down when I needed serenity. After starting my perfume brand later in life, I see how music, travel and scent were cornerstones in my formative years.
–-Nir Guy, Founder and Creative Director of Perfumology
Perfumer for Blyss: Justin Frederico of PBL Labs
Editor's Note: Perfumology is located at 690 W Dekalb Pike, King of Prussia and carries such brands as Zoologist, Imaginary Authors, 4160 Tuesdays, Juliette Has A Gun and Eris Perfumes. You can see a listing here. This is the first CaFleureBon Profile where the boutique owner co-created their own fragrance. BLYSS was launched February 2017 as a fragrant love letter to Nir's wife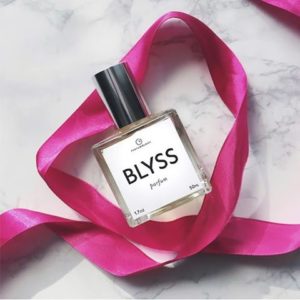 Thanks to Nir Guy we have a draw for a registered reader in the USA for a bottle of Blyss and for our international readers in the EU and Canada a 5 ml sprayer sample. To be eligible please leave a detailed comment with what you found fascinating about Nir's path to perfumery, where you live and we would love to know if you live in the Philadelphia area and which brand you might like to see at Perfumology. There is only one winner. Draw closes 3/8/2017
Please like CaFleureBon Profiles in American Perfumery and your entry will count twice.
Follow us on Instagram @cafleurebon and check out perfumologyshop
We announce the winners on our site and on our Facebook page, so Like Cafleurebon and use our RSS feed…or your dream prize will be just spilled perfume