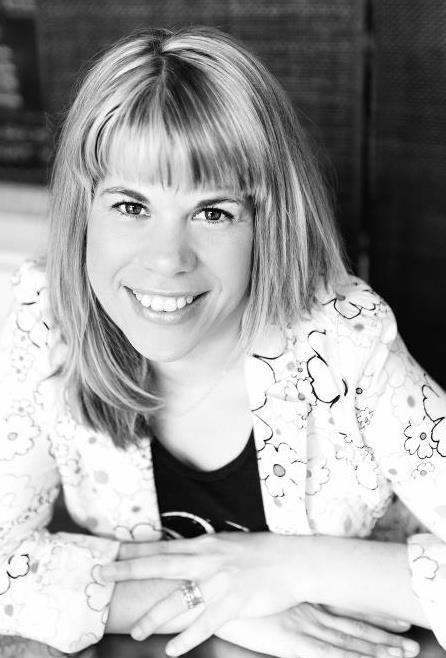 Nikk Nikki Sherritt
I am a Te xan living in Seattle, WA so that should tell you so much right there.
I was born and raised in Dallas, which is, truly, unlike the stereotypes you see played out on TV and I am not your typical Texas girl (no big hair and not much of a Texas accent). Growing up there, I spent so much time outside digging in the dirt, mixing up concoctions of mud, rocks and leaves from the trees in my grandmother's back yard; that the smells of grass, dirt, Summer rain and the roses that bloomed in my Grandmother's backyard, are very strong scent memories for me. I wasn't really introduced to the world of perfume until later in life, but I have very strong scent memories of the people with which I grew up. I remember that both my Mother and Grandmother both smelled like Powder to me. My Grandfather always had the smell of metal and sawdust from working on houses. These are the scents I remember from my childhood in Texas.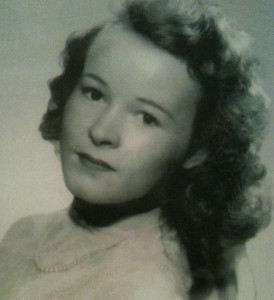 Nikki's Grandmother
My career didn't start out in the fragrant world at all. I started work at Arista Records while in College thinking I would go into the Music Business for life, but ended up working as a Freelance Film Producer on Music Videos and TV Commercials and I am still in that business. My love of all things fragrant actually started with a cooking class in a small town in Provence. I refer to it is my "fragrant light switch". I fell in love with the French style of cooking and how passionate they are about food, wine and fragrance. I returned home and started my company, Gabriel's Aunt, which is a perfumed candle line and then, Rebel & Mercury Botanical Perfumes 5 years later. I love that I can have two distinctly different careers and 2 distinctly different product lines. Gabriel's Aunt plays to the lighter, light-hearted, don't take life to seriously part of me and Rebel & Mercury plays to the more serious, passionate, intense side of me that wants to make a statement (I am a Gemini!). I love the Film Business and the creative inspiration it gives me to run my candle and perfume companies. It also taught me how to be organized and to not be timid when going for what you want (you can't be a wallflower in the Film World). I love both aspects of my life and wouldn't do things any other way.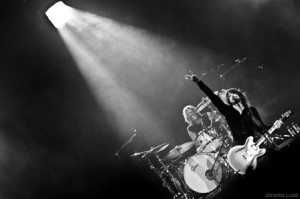 David Grohl and the Foo Fighters
American Artist: I am not drawn to a particular American Painter or Photographer (most of my obsessions in that area are French artists it seems), but my true love and inspiration comes from good ole Rock & Roll. I am a rocker at heart (hence my stint in the music business) and love the Foo Fighters. They have been the soundtrack of my 20's and 30's and music that doesn't follow anyone's rules. I love the fact that they can rock my socks off and also make me laugh. In my next life, I would be a chef during the day and a rock star at night.Most of the time, when I am not on set, I am working on my perfumes and candles while listening to bands like The Black Keys, MGMT all the way down to the greats like Billie Holiday or Louis Armstrong. It all inspires me.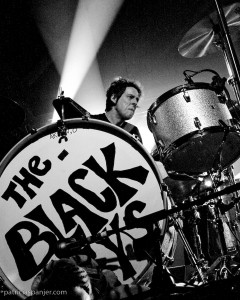 Pat Carney , the drummer for The Black Keys
Being an American Perfumer is incredibly exciting right now. There is such a buzz about niche and indie perfumers that the energy of it is palpable. I think most of us can agree that Mandy Aftel made it incredibly cool to be an Indie Perfumer and single-handedly brought the art of natural perfumery back en vogue. She did all this with grace and style and I will forever be in her debt for introducing me to this art with her books. I really feel like people want something unique and made by an artist (not in a lab). American Indie Perfumers are at the forefront of creating incredibly unique, powerful and beautiful blends that are made by their own hands. It is truly art and I love the fact that you can wear it. Many of the women I admire most are also fellow perfumers, Meredith Smith (fellow Texan) of Sweet Anthem, Janna Sheehan of Trance Essence, Charna Ethier of Providence Perfume and so many others. The list is long and I am proud to be in their company.
–Nikki Sherritt, Founder and Owner of Gabriel's Aunt and Rebel & Mercury Botantical Perfumes


For our draw, there is a reader's choice of one of twelve Perfume oil Roll ons.
To be eligible: Leave a comment about what you found interesting about Nikki 's perfumed path and your choice of a 9ml natural perfume oil. Draw ends July 2, 2012
We announce the winners only on site and on our Facebook page, so Like Cafleurebon and use our RSS option…or your dream prize will be just spilt perfume.