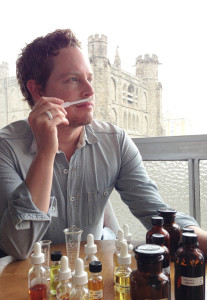 *Image: Mik in his San Francisco Studio in Japantown
Profile: I was born a shy country mouse of Russian and Irish origin in upstate New York. I spent much of my youth exploring the natural world in the lush forests and fields where I grew up.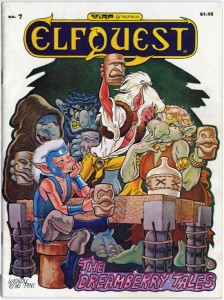 *Image: Elfquest Comic cover
To entertain myself, I created a rich dream world based on comic books and graphic novels. I counted a number of elves and superheroes as some of my closest friends right up until high school.
*Image: Young Mik at 4 years old
The introduction to foreign language classes inspired dreams of travel. Until my first trip abroad, that dream came in the form of a bottle of Coco by Chanel. At the time, I didn't see why a young guy couldn't wear such a glamorous French fragrance but alas, I was not in the mainstream, not then or now. That bottle became an artifact of my adolescence and one I managed to hold onto and keep a secret for close to a decade. San Francisco is a city that represents diversity and tolerance. Upon moving here I supplemented the bottle of Chanel with a custom blend of amber and spiced oils and immersed myself in the city's variety of subcultures and creative movements. I began a unique career in a field that brings together diverse backgrounds to leverage multicultural perspectives and foster innovation. Several years into my work I was drawn to London for graduate school to further my studies.
*Image: Former Spice Warehouses along the Shad Thames, London

London is a global crossroads where I would encounter even more examples of diversity and cultural reference. I landed in a Shad Thames neighborhood flat surrounded by former warehouses from the ancient spice trade. Cardamom Building, Tamarind Court and Cinnamon Wharf were my neighbors; Vanilla and Sesame Courts were just around the corner. Following a metaphoric path I moved from London to Asia to write my thesis and explore the spice trade route firsthand. I eventually called Bangkok and Hong Kong home, learning their secrets and celebrating their rich traditions. It is from these travels I created some of my initial handmade fragrances.

From travel and shared experiences I have come to appreciate origins and dreams as the foundation of my inspiration. Aromatics, much like people, all have a source – a geographic reference to a time and a place. Variations and combinations of these ingredients and perspectives are my inspiration which convey a dream, transport and inspire.
* Image Mik at the 2nd Artisan Fragrance Salon
On American Perfumery: As an American perfumer I appreciate the artistic freedom and a spirit of inclusion. The name of my brand is a combination of my nickname Mik and the French word 'moi' (pronounced 'muah'), meaning 'me'. MIKMOI represents individuality and promotes the permission to be different and unique. I have seen the transformative power that a broader perspective and individual expression have, both in myself and in others. I relish the freedom to role model those values. My work is rooted in themes that challenge stereotypes, conventions and perspectives, as well as, an emphasis on natural and authentic ingredients that are culturally significant and the finest in the world. When I made the connection to fragrance, the invisible companion who has been with me across dreams and journeys, my decision to become a perfumer and entrepreneur was as logical as taking my next breath. I found the perfect art form to convey my stories and to inspire others to reach their dreams and possibilities.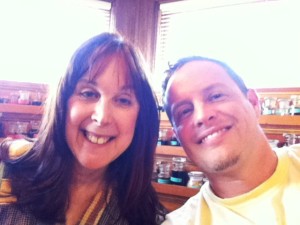 *Image Natural Perfumer Mandy Aftel and Mik
Here on the West Coast, I appreciate the sense of community that exists among perfumers. There is room for all styles and expressions. I have been fortunate to find the best teachers in the world here. I have studied the art of natural perfumery with Mandy Aftel and the energy of Aromascapes with Yosh Han. In late March I launched my line at the San Francisco Artisanal Fragrance salon. The experience and reception I have received have been incredible. I will be at the Seattle Artisan Fragrance Salon on May the 5th and at FRAG-ments, a new event (organized by Maggie Mahboubian) in Los Angeles, on June the 22nd.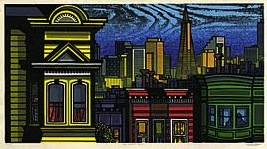 *Image: Karhu San Francisco
Favorite American Artist: My favorite American artist is Clifton Karhu (1927-2007). Karhu was an expat in Japan, first a soldier, then a missionary who rediscovered his passion for art which eventually led him to a post as head of the Kyoto branch of the Japan Print Society. Once he embraced his passion and found his peace in Japan he transcended cultural barriers and stereotypes to reach amazing heights.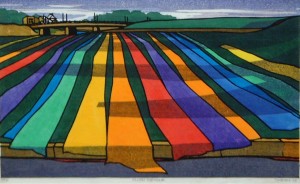 *Image: Karhu ClothDrying
Karhu was known for a modern use of illumination and color in the traditional medium of woodblock printing. His work reminds me of colorful elements of the reading material of my youth, the hues of essential oils and light traveling through glass. His subject matter inspires me to more journeys and moments I feel I have yet to take, experience and share.
–Michael "Mik" Coyle, Founder and Perfumer of MIKMOI San Francisco
Editor's Note: Mik is tri-lingual- English, French and Japanese as you will see by visiting his website
Read Sr. Editor Tama Blough's review of the line here
*images property of MIKMOI
Thanks to Mik we have an international draw for 50 ml of a reader's choice Aldwych, Ao, Vesper or Itoh. To be eligible please leave a comment noting what you found fascinating about Mik and the fragrance you would like to win. Draw ends May 2, 2013
Please like CaFleureBon Profiles in American Perfumery and your entry will count twice.
We announce the winners on our site and on our Facebook page, so Like Cafleurebon and use our RSS option…or your dream prize wil be just spilled perfume