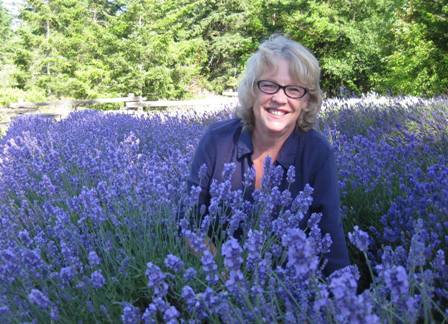 Mesha Munyan, natural perfumer in her lavender field
Profile: I was born into a pioneering family in Santa Barbara, California. My grandparents arrived by train in 1915 from Boston. Recruited to teach wood shop in the new Santa Barbara High School, grandfather also built his home, furniture and gardens. Both a photographer and oil painter, he was truly a renaissance man in my eyes. My mother was born in Santa Barbara, as were all four of us girls.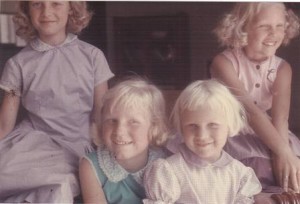 The Munyan sisters, Mesha on right
A mysterious gift of cute little bottles of colored liquid called "Toilette Water" arrived to four enchanted little girls. Concluding that it must be perfume for the toilet, we dispensed it with ceremony! An education followed when mother explained the French word an allowed us to try her perfume, Blue Carnation by Roger & Gallet. I remember being charmed that the fleeting scent of a short-lived flower could be captured and continue live in a bottle. Magic!
As a child, I would get lost in the backyard garden of delights, both smelling flowers and sampling the edibles. I relish the memory of being overwhelmed by its size, odors and colors. Grandfather skillfully shaped exotic woods for furniture and frames for his paintings. Each type of wood smelled different. He crafted wood pallettes to hold colorful oils to blend. Intrigued by the artwork of both, grandfather and mother, my color and mixing interests engaged. I kept the tradition by a collecting art degrees and teaching high school art classes in Southern California.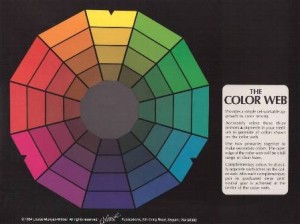 Color Web
It was only at the graduate level that I realized I was a "colorist" at heart, leading me to explore the fascinating works of color theorists. When I realized that no color wheel was available to illustrate the new colorfast pigments of cyan and magenta, I published the "Color Web". Color mixing with true primaries to create new secondary colors and a full range of desaturated hues is akin to utilizing scented raw materials to create accords. When I design perfume, I believe these materials have specific personalities, colors and sounds. I compose perfumes to let them sing new songs.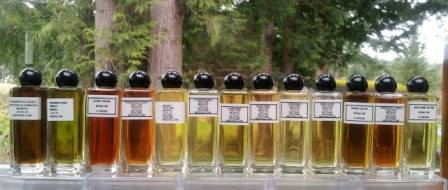 Collection of tinctures
My scent journey unfolded with a move to Sequim, Washington. Here I have acreage to grow a variety of lavender cultivars in shades of blue, purple, pink and white. I grow specifically for perfuming excellence. There are hundreds of lavenders with unique aromatic characteristics that most have never sampled. It has become a personal mission to break stereotypical profiles about this mass-marketed, often adulterated oil. Authenticity and integrity are key to my natural perfuming pursuits. Perfuming from the ground up includes both distillation and tincturing of plant materials. From edible tinctures, I also enjoy crafting fragrant and tasty cocktails.
Copper Alembic still with essential oil floating on hydrosol
In 2007, I was asked to present a glimpse of the American lavender industry at the New Zealand Lavender Conference. It was during their lavender oil judging session that I realized the value of my oils in perfumery. Traveling to many countries to research and learn about scented materials used in perfumery has been foundational to my perfume business. Highlights include visits to Grasse, France to explore high altitude lavender harvests and oil distillations. Blossoms from the Bitter Orange tree and Centifolia Roses were harvested and distilled on copper alembic stills. Meeting perfumer, Jessica September Buchanan, in Grasse, further inspired me to follow my nose.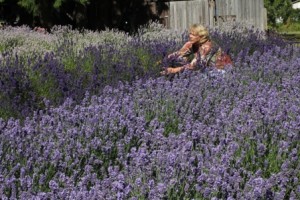 Mesha harvesting lavandula angustifolia
After nearly 20 years of growing, distilling and collecting hundreds of lavender oils from around the globe, I have developed a "Lavender Sommelier", nose-training program. The purpose is to educate and establish lavender oil judging in America. Much like the study and sampling of grape varietals in the wine industry, quality oils, true to cultivar, can also be identified. These programs will be valuable to the farmer/distiller as well as the perfume industry.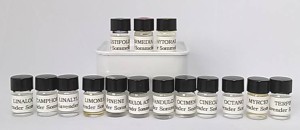 Lavender Sommelier nose training components
On American Perfumery: I am fortunate to be an American Perfumer in this new and exciting frontier of natural perfumery. Many raw materials are available, experimental uses are encouraged. Credit is given to many who have paved the way by books and teachings. Mandy Aftel offered a course at Esalen that inspired my official launch of Meshaz Natural Perfumes in Seattle, 2013. Fertile ground for creativity has been established by the swelling Indie perfume movement happening here on the west coast. My art background prepped me for the adventurous playground of scent by stimulating the interactive component found in any good artisanal work. The perfume art unfolds on the wearer and beauty is housed by the skin. Personal variables trigger memory and tickle other sensory dimensions. The "juice" sits quietly awaiting participation. Artisanal perfumery seems to be blooming in America. Liberty to create with few restrictions seems to foster our pioneering sensibilities.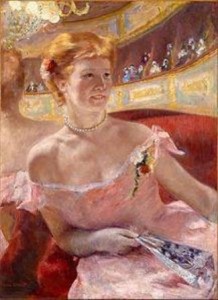 Mary Cassatt, Woman with Pearl Necklace
Favorite American Artist: Mary Cassatt was an American-born impressionist. She spent much of her life in France, involved with other important Impressionists. They were considered rebels by breaking with salon tradition and handling pigment as light. Techniques of application were bold, colorful and somewhat abstract, causing the mix to occur in the eye of the beholder. This painterly application of pigment reminds me to savor the little pleasures of daily living through my senses. Scent is an invitation to enjoy life in the moment.
– Mesha Munyan, Perfumer, Distiller and Founder of Meshaz Natural Perfumes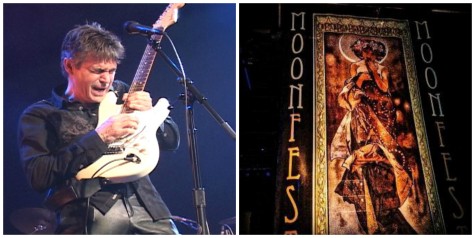 Roger Fisher Rock and Roll Hall of Famer and Former Lead Guitarist for Heart produces Moonfest
Editor's Note: Mesha is renowned in the artisan community for her lavender distillations. She is a member of the US Lavender Growers Association, and is one of the 18 participants in the third edition of FRAGments 2015 Underground and Artisan Exhibition May 30, hosted by Maggie Mahboubian of Parfums LaLun (Maggie is both a 2015 Fragrance Foundation USA and a Jasmine Award Finalist). Mesha's perfume Moonfest, was created for "MoonFest" the outdoor music event in Quilcene, WA produced by Rock and Roll Hall of Fame and former lead guitarist for Heart, Roger Fisher in August. Former Managing Editor Tama Blough first brought Mesha to my attention, (Tama was always an advocate and at the forefront of the West Coast Artisan Community, which makes this profile especially meaningful to me) Meshaz perfumes have been featured in the Huffington Post and have won several Taste TV Artisan awards.- Michelyn Camen, Editor in Chief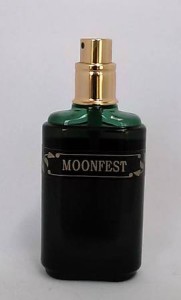 Thanks to Mesha we have a draw for a registered (you must do this or you are not eligible here) reader in the USA or Canada for your choice of Meshaz Perfumes 2 oz bottle of Lavender angustifolia essential oil from a pink cultivar. 35 ml Moonfest: Notes: Tarragon, Coriander, Black Pepper, Lavender, Clary Sage, Jasmine, Fir, Tobacco, Vetiver & Cannabis ) or Meshaz natural perfume sample collection (8x 1ml of Meshaz Natural Perfumes (Moonfest, Ozmanthus, Yuzzu, Blackbird, Zauvage, Abzinthe, Mimoza and Lavender Essential oil). If you are an International reader Mesha is offering 5 ml of Lavender Essential Oil
Please leave a comment with what you found fascinating about Mesha Munyan's path to perfumery, your choice of fragrance (or a sample set of all 8). A remarkable story, Like Mesha Natural Perfumes on FaceBook. Draw closes 5/20/2015
Please like CaFleureBon Profiles in American Perfumery and your entry will count twice.
We announce the winners on our site and on our Facebook page, so Like Cafleurebon and use our RSS option…or your dream prize will be just spilled perfume