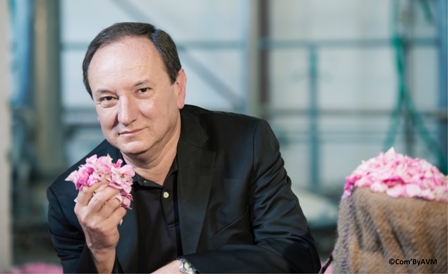 It is an honor to once again feature Master Perfumer Harry Fremont of Firmenich (the world's largest privately owned Fragrance & Flavor company), the multi FiFi award winning perfumer, who we last met in 2011 as part of CaFleureBon's Behind the Bottle series . Over the past three years, CaFleureBon Profiles In American Perfumery has brought our readers essays about the lives of many American Perfumers who are changing the olfactive landscape. Harry Fremont stands out from all others for the breadth and depth of his multi-faceted work. His career has spanned 26 years and he has composed over 234 fragrances, across many genres and price points. Fragrance Expert Michael Edwards greatly admires Mr. Fremont and told me, "Harry Frémont is one of perfumery's most prolific perfumers. From the start, Harry broke rules: his very first fragrance, NEW WEST FOR HIM, pioneered the Water family. From his imagination have come such blockbusters as ck ONE, Ralph Lauren's ROMANCE, VERA WANG, JUICY COUTURE and MODERN MUSE".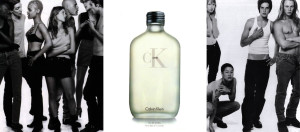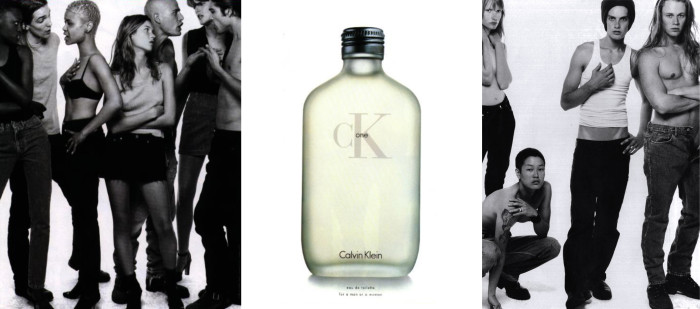 Harry Fremont composed ck One in 1994 which is considered to be the first "shared fragrance for men and women"
His perfumes range from mainstream (New West for Him for Aramis, his first fragrance in 1988, The 2011 FIFI award winning Twilight Woods for Bath and Body Works 2009), to Celebrity (Power by 50 Cent (2009), My Glow for Jennifer Lopez (2009), the 2014 UK Fifi Award-winning Rihanna Nude (2012), Taylor for Taylor Swift (2013); to Designer (Polo Sport, (1993), ck ONE (1994), Cacharel Noa (1998), Ralph Lauren Romance (1998), Vera Wang (2002) Giorgio Armani Sensi (2002), Juicy Couture (2006), Coach (2007), David Yurman the Essence Collection (2011); to Luxury (Estee Lauder Private Collection Tuberose Gardenia (2007), Tom Ford Private Blend Noir de Noir (2007) Tom Ford Private Blend Tuscan Leather (2007), and include Estee Lauder's Modern Muse (2013) and Aerin Lilac Path(2013) to highlight just a few*. His latest fragrances are a collaboration with Australian Nomad Two Worlds, founded by renowned Fashion Photographer and global activist Russell James . Mr. Fremont has lived in New York City for over 20 years and continues to engage and delight millions of fragrance lovers.- Michelyn Camen, Editor in Chief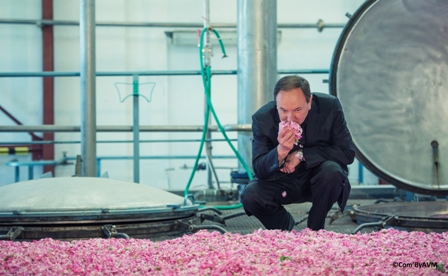 Profile: I was born in Cannes in South of France with its incredible weather and beautiful scenery. My Mom always tried to make me discover and appreciate the infinite beauty of nature. My Dad's extreme talent with his hands for building anything, sculpting, painting…taught me what you can achieve when you are working hard; that anything is possible to create as long as you have the will and the imagination to do it.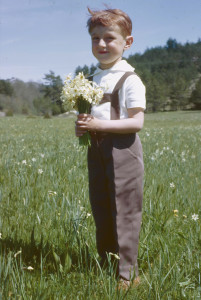 Harry Fremont as a young boy
From the age of five I discovered gardening and the fascination of growing plants and understanding nature, flowers, trees…I discovered the art of creating fragrances a little bit by coincidence in my twenties but today I realize everything was connected by my love of nature. This is the heart of perfumery: nature, imagination and will. I don't see fragrance as intellectual or hard to appreciate. My supreme goal is to create luminous, optimistic fragrances with quality ingredients that men and women will love to wear; to create fragrances that will make them feel good about themselves and that people around them will enjoy smelling.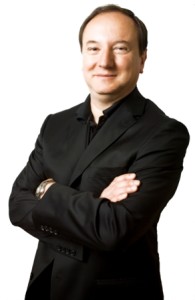 Master Perfumer Harry Fremont
On American Perfumery: American perfumery is full of contradictions. Although America does not have the long fragrance heritage that Europe has, American fragrance lovers have a much more discerning nose to desire a fragrance that fits and enhances their personal style. They choose fragrances that integrate with their own lifestyles, as well as the lifestyles of their friends and colleagues. This makes the American perfumery much more interesting and challenging for a perfumer.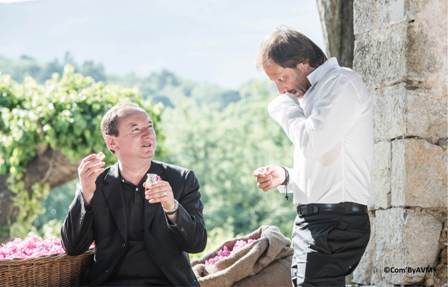 Harry Fremont with Fabrice Pellegrin, Perfumer Firmenich Paris
It is more about creating scent that people may relate to and may use to enrich their personality, rather than creating perfumes that make them stick out from the crowd. It is a more convivial culture and we create to enhance one's personality rather than try to create a new personality that is different from their own. As a perfumer working in the American market, I have the fortunate opportunity to work with a widely diverse group of clientele: from designer to commercial to celebrity to hyper-luxury….and of course niche and Indie. My main source of inspiration is Nature but I believe I have the eclectic, creative mind needed to be as wildly independent in my perfumery as my clients would like me to be!

Bijou Vert Nomad Two Worlds
Indie perfumery is a state of mind and a new reflection on craftsmanship and the amazing quality raw materials that are available today in the perfumer palette. For Nomad Two Worlds, for example, I focused 100% on Vetyver Haiti Oil in order to create Bijou Vert and Citadelle. The N2W team gave total freedom to use this fascinating material, with its raw, earthy, sleek and refined scent, in two different simple and powerful interpretations that were free from the limitations of the marketplace. They approached the project with the ideal to let me valorize what was indigenous to the very nature of the Haitian Vetyver. The olfactive creations of these 2 scents feature the Vetyver oil in overdosed quantities that amplify the singular beauty of this natural ingredient.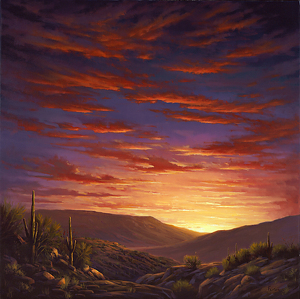 Desert Mountain Sunset by David Flitner
Favorite American Artist: David Flitner, an oil painter that studies the beauty of nature's landscape, particularly the American Southwest. Ever since I came to the USA 24 years ago, and may be before that through movies I saw growing up abroad, I have been fascinated by the American West landscape. David has this amazing gift for capturing fabulous desert scenes with the vegetation, the rocks, the remarkable light, in a very simple, serene and magical way. I find this very inspiring and it makes me happy to live in this breathtaking country.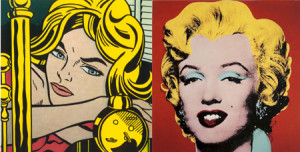 Roy Lichtenstein (L) Andy Warhol's Marilyn Monroe, 1962 (R)
Other American artists that I admire are Roy Lichtenstein, along with Andy Warhol…the ultimate Pop Artists. I love the notion of Pop Art: easy to love and understand, with an unmistakable signature, very precise and not serious. American DNA has this very strong dimension of entertainment which explains, for example, the success of Hollywood globally. I think this dimension may be applied in many fields.
–Harry Fremont, Master Perfumer for Firmenich
* A complete listing of Mister Fremont's 234 fragrances was provided to me by Firmenich and are included, by fragrance category, in Michael Edwards Fragrances Of The World Database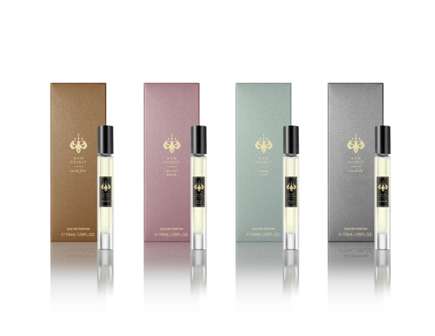 Nomad Two Worlds Raw Spirit: Wildfire, Desert Blush, Bijou Vert and Citadelle
Thanks to the wonderful folks at Nomad Two Worlds, we have a USA reader's choice of one of the four Nomad Two Worlds Raw Spirit Fragrances (7.5 ml rollerball) composed by Harry Fremont. Wildfire which features Australian Sandalwood, Citadelle with Haitian Vetiver, Bijou Vert with Haitian Vetiver or Desert Blush featuring Australian Boronia. To be eligible, please leave a comment about what you found fascinating about Mr. Fremont's Profile and your choice of perfume from the four above. This is USA only. Draw closes 5/22/2014.
To learn more about Nomad Two Worlds' artistic collaborations and global philanthropic initiatives that include working with Firmenich and President Bill Clinton click here
SUPPORT AMERICAN PERFUMERY
Please like CaFleureBon Profiles in American Perfumery on FACEBOOK ; and your entry will count as two.
We announce the winners on our site and on our Facebook page, so Like Cafleurebon and use our RSS option…or your dream prize wil be just spilled perfume