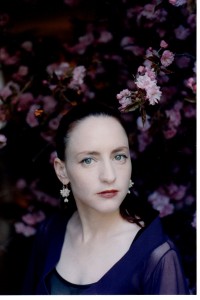 I fell in love with Aroma M O-cha when I was a publicist at Luckyscent; o-cha is the Japanese word for tea (お茶, ocha). But the scent is much more; it is luminous and delicate, with notes of clary sage and sweet orange- unlike anything I had smelled before or since.The flacon, is a work of art in itself packaged in a pouch that used fabric from Japanese kimonos (I still keep my passport in it after all these years). We lived three blocks away from each other, so I met Maria McElroy at the Grammercy Hotel's Rose Bar from time to time. I was struck by her beauty, intelligence, and singualr style. We chatted for hours about men, art, and literature and of course our mutual passion for perfumerycalled (kodo) in Japanese. I marveled that this young woman ran every facet of her business which had taken on cult status with perfumistas since its debut in the 1990s. When I hear the words 'Indie perfumer', I remember Maria telling me that when she launched Aroma M the word 'niche' didn't even exist !
Her latest fragrance Geisha O-Cha oil was one of my favorite spring scents of 2010. Maria is also a co founder of Cherry Bomb Killer
photos are from Maria McElroy all rights reserved
Profile:"My mother was of Greek heritage; therefore I was raised in a home, rich with the customs and traditions of the Mediterranean. As a little girl, I remember the wonderful smells wafting from my mother and grandmothers kitchens, especially when baking was being done for a party. I have memories of our dinning room table set with embroidered linens, fragrant bouquets of flowers, candles and sweet delicacies that tasted as good as they looked. The room would begin to fill with numerous relatives, followed by story telling and much laughter".
My grandfather came to the United States from Greece at the turn of the century and settle in a small town in Nevada. He opened a dry goods store, grocery store and furniture store. My grandmother joined him after he was settled, making the long boat journey from Athens with a lady in waiting. My grandparents took care of many in the community and also back home in Greece. My grandfather was truly a self made man, learning to speak and write beautiful English. He was known as the perfect gentleman and greatly influenced many lives. His spirit lives on in our family and boosts many entrepreneurs.
Looking back on my childhood, and the many wonderful trips to Greece and other areas of the Mediterranean since, I see how much our home was influenced by our Mediterranean family history.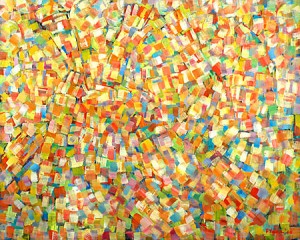 On American perfumery
I feel very lucky to be involved in the perfume industry for over fifteen years. As Americans, we all come from such diverse backgrounds and I believe this adds richness to the creativity and awareness in our specific "indie" industry. Additionally, being a perfumer in the modern age, in which the world is so accessible and where we are able to travel with such ease, is amazing. The influences and experiences connected to perfume are limitless. Specifically in my case, spending so many years in Japan has influenced my sensibility, and in turn, my view of scent in a truly deep way. It is a fascinating industry that continues to grow and evolve with ingenuity and talent.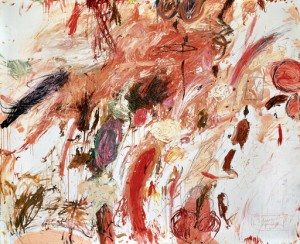 One of the American artists that I have adored since my days in art school is Cy Twombly. I used to sit in front of his painting for hours at the San Francisco Museum of Modern Art. I was entranced with his work. It was like experiencing illusions, abstract calligraphy. He somehow captured time like a narrative writer. I have followed his work through the years and continued to find it lyrical and poetic. I was so sad to hear of his passing this year I will miss his inspiration.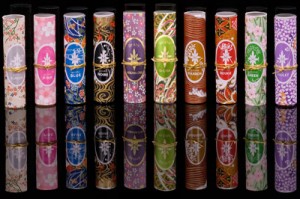 For our draw leave a comment about something fascinating you learned about Maria and log on to www.aromam.com and one commentor will be eligible for an AromaM oil. Please name the Geisha Oil in your comment. Draw closes August 17, 2011.
–Michelyn Camen, Editor in Chief
Editor's Note: Maria performed in a traditional Koto concert, but alas the photo did not load. If you use this as something interesting you learned about Maria, your entry won't count!