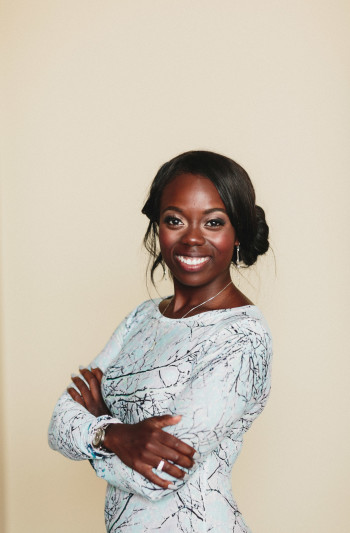 Mair Emenogu of Mair Fragrances
Profile: My parents came to America in their early 20's from Nigeria with hearts filled of hope at getting a better education and starting a new life. Both of my parents constantly emphasized education as the ticket to opportunity to me and my four siblings. I was born and raised in Houston, TX and for as long as I can remember have always been the jovial kid that could not keep quiet or stop laughing. My nickname from elementary to high school was "giggle box".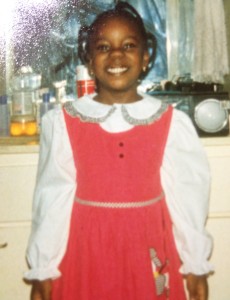 Mair Emenogu in Kindergarten
As a kid I was more interested in performing arts than my classmates were. I started playing violin in second grade and joined the school choir the following year. In my teenage years, I taught myself piano and would let my fingers roam free on the ivories for hours. In my mind I always thought the most amazing thing I would ever become was a singer. Growing up my role model was my father. When I was 16 I made a wild, ambitious bet with him wagering that I could graduate college with a Bachelor's degree in 2 years. Shortly after that he died of an incurable cancer. I made good on my promise to him and graduated when I was 20 from the University of Houston with a concentration in Corporate Communications and Marketing. My corporate jobs were all in marketing for primarily oil and gas companies.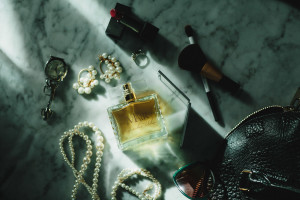 Mair's favorite things: Pearls, Mair Perfume, a Great Handbag, Sunglasses and Red Lipstick (we love her already)
I got started in the art of perfumery from my signature. I had a tendency to sign documents with my initials (ME). I was working at the front desk of an engineering firm shortly after graduating college and my initials offended a delivery guy to the point where I had to prove those were my initials by pulling out my driver's license. After that incident I decided to finally come up with a signature. The minute I created one I liked a Vice President of the company named Van Wilson walked through the doors, saw it and said, "Mair, I can see this on a perfume bottle," in the moment nothing special happened, but three days to a week later every time someone would say my name I would hear perfume instead. For three years that mental association kept occurring until I decided to actually take a leap of faith and dive head on into perfume making.
I went to all the local grocery stores in my area that had essential oil aisles and would stand there and smell all the oils noting which scents I liked and which I did not. I drew a lot of my inspiration from my travels in the US and life experiences. I was not formerly trained in perfume nor does it run in my blood line, I learned to blend scents from simple web searches and online videos. Prior to me diving into perfume making I was a perfume addict and avid lover of fine fragrances. When I would walk into a department store my first stop was usually always the fragrance counter.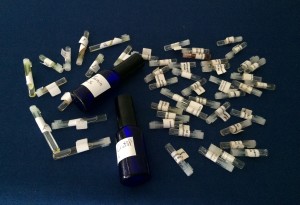 The many different samples(57!!!) that Mair tested before she dedided on the final fragrance Remember When
57 is the magic number when I think of my fragrance. That's how many revisions and different blend mixtures had to happen before locking down on the scent of what is now Remember When.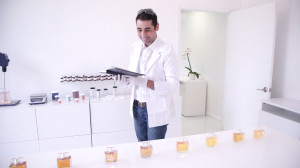 Perfumer Fred Cohen worked with Mair on her new fragrance
In hindsight, I did not care about the number revisions getting so high; I cared about putting out a scent that was something I could wear. I did not create the scent with "them" in mind, but "me". It is a scent I wear daily and currently I just cannot spray anything else on because I am that in love with the unique fresh blending of citrus and floral notes (Italian Bergamot, Jasmine and Amber) my Perfumer, Fred Cohen and I conceived.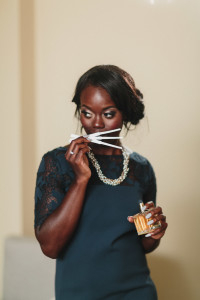 Mair Emenogu Mair Fragrances
On American Perfumery: To me, being a niche perfumer means taking the wearer of my scent on an enjoyable olfactory journey through rich, notes that they are familiar with while sprinkling in a few notes that are not as common. However as a perfumer, I personally think that how a person feels while wearing the scent is equally important as the creativity of the scent.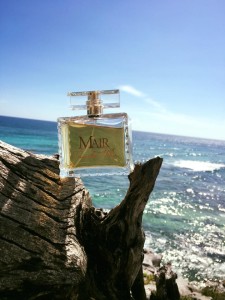 T Miami Beach was a source of inspiration
My inspirations for my first scent, Remember When came from my trip to Miami, Florida and the strong relationship between scent and memory. Miami Beach has a particular scent and when I got back to Houston I was walking past a store in the mall and the scent of the store immediately took me back to my time spent in Miami, hence the name Remember When.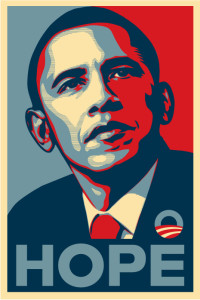 HOPE Frank Shepard Fairey
Favorite Artist: Frank Shepard Fairey, We are all familiar with Fairey's HOPE poster in support of the Obama campaign.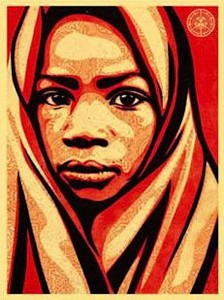 Frank Shepard Fairey Uganda
But his work inspires me, not for who he paints, but rather the heart behind it. I feel connected to the emotion of his portraiture work; he paints them in such a way that you instantly feel what the person was feeling in that moment
–Mair Emenogu, Founder of Mair Fragrances
Editor's Note: We first learned of Mair when Contributor Sebastian Jara interviewed her in his video for C Looking Feeling Smelling Great, Meet the Artisans at the 5th Annual Artisan Fragrance Salon. We are thrilled that Mair is our 96th American perfumer to be featured in ÇaFleureBon Profiles aFleureBon and for his YouTube Channel in American Perfumery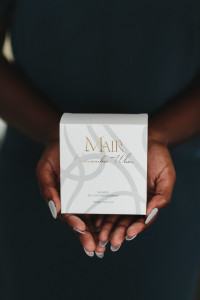 Remember When Mair Fragrances
Thanks to Mair we have a Worldwide Draw for a registered reader (you must do this..or your entry is not valid) for a sample of Remember When and 100 ml bottle for a US reader
To be eligible please leave a comment with what you found fascinating about Mair Emenogu's path to perfumery, her life, and where you live. Draw closes 3/19/2016
Please like CaFleureBon Profiles in American Perfumery and your entry will count twice.
You can follow Mair @mairfragrance on Instagram and follow us @cafleurebon
We announce the winners on our site and on our Facebook page, so Like Cafleurebon and use our RSS option…or your dream prize will be just spilled perfume