Loreto Remsing of L'Aromatica
Profile: I remember it all vividly, the scorching central valley heat, juicy homegrown tomatoes, the sound of trains on warm nights that smelled like dry grass. I was 18-months old. It wasn't a glamorous place to land, but we were lucky to escape the clutches of the military regime which had seized control of Chile in 1973 and imprisoned my father for political reasons. My mother told me I was conceived during a conjugal visit, and that her pregnancy led to my father's eventual release. When I drive through the central valley at night, I always roll down the windows. The warm night breeze carries my earliest childhood memories of our first years in California.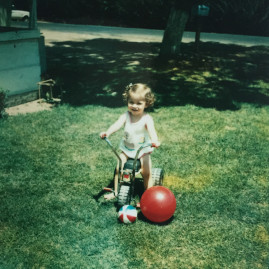 Loreto, Age 2 in Central Valley
My father is an agronomist and my mother is an instructional aide. I am the eldest of four children. After our brief stint in the central valley, we relocated to Steinbeck Country, which is where my parents still reside. I grew up mostly on and around farms. We didn't have much growing up but my parents managed to take us camping and on the occasional road-trip (some even as far as Baja). They were the kind of parents that encouraged us to play in the mud, stay outside all day and even when we lived in tiny apartments, they always grew their own food. My dad taught me to respect nature. My mom passed on her herbal folk wisdom and green thumb.
My first year of community college, I was convinced I wanted to study cultural anthropology. I dreamed about living and working in the bush as an ethno-botanist. Instead, I enrolled at the Academy of Art University in San Francisco, in 1995 to pursue my other passion, graphic design. My early years as a single mother at the Academy were brutal. I was burning the candle at both ends and my health began to deteriorate. On a fateful trip to Santa Cruz, I discovered a book on Aromatherapy and began learning about the therapeutic properties of essential oils. As my health improved, so did my mental and spiritual wellbeing. My essential oil collection soon began to grow. A single drop of Mysore sandalwood oil, turned a hot bath into a sublime, life-changing experience. Suddenly, one of life's greatest mysteries was unfolding before me.
When I was 9, I tried boiling rose petals to make rose "perfume" but was frustrated with the results. I was always fascinated with perfume but had never unlocked the door to that world. I had not imagined that I could ever make perfume, until I started teaching myself natural perfumery with essential oils. In 1998, I moved back home and got a part-time job at a bookshop in Carmel. There was a lovely new age section in the back where I released my first line of aromatherapy products which included massage oils, lotions, room mists and dream oils. I eventually moved back to San Francisco to finish my degree and put my aromatherapy line on hold indefinitely.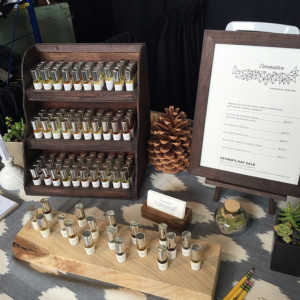 L'Aromatica at West Coast Craft in San Francisco
Many years later, after burning out as a graphic designer in the corporate sector, I decided to take a year off to figure out what I wanted to do. I decided that one of the things that makes me the happiest is making perfume, so I decided to try to turn my hobby into a career. I opened an Etsy shop in 2005 and the shop took off. Loreto Aromatica had made 1000 sales in less than a year. Around the time I got pregnant with my second child, I closed the shop but re-opened it after my son was born with a new look, new philosophy and new name: L'Aromatica. My intention with the new brand was to make a higher-quality product, so I completely abandoned fragrance oils and began learning to make key accords using aroma chemicals. The packaging was re-designed with a rustic and gender-neutral vibe. I began selling L'Aromatica at local craft fairs and wholesaling to small shops.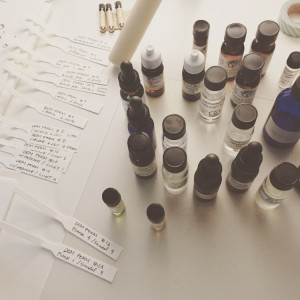 L'Aromatica studio perfume oils and essences
L'Aromatica Perfume is made in small batches where I live in the San Francisco Bay Area. Much of the line is all-natural, I create hand tinctures, and use organic grain alcohol but some of my perfumes also contain synthetic materials. For instance, I love musk, but I don't currently use any animal-derived ingredients in my products. My inspiration comes from places, people, flowers, and even food and drink. I would say that my blends are complex and every perfume contains a broad assortment of rare and precious ingredients.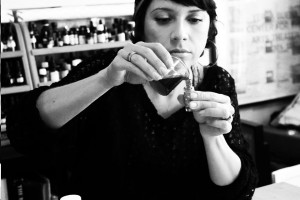 Loreto blending essential oils in her studio
On American Perfumery: Being an Indie American Perfumer means being a part of a movement that is helping shape the landscape of American perfumery. I think there is a large number of people that have never been interested in perfume who are starting to discover and enjoy fragrance thanks to indie brands. Walking into a large, brightly-lit department store to choose a perfume can be intimidating for some. Discovering a niche brand at your favorite local boutique or while on vacation, is like discovering a hidden treasure. There is something about indie brands that is intimate and personal.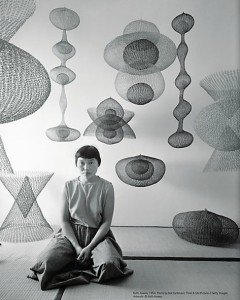 San Francisco Artist Ruth Asawa in her studio
Favorite American Artist: My favorite American artist is Ruth Asawa, a San Francisco-based artist who sadly passed away on my birthday, three years ago. Asawa was a sculptor best known for her woven wire sculptures and fountains all over San Francisco. Her humble beginnings as one of seven children of a farming family who were interned in the 40s speaks of overcoming hardship and making your own way in the world. After a successful career as an artist and sculptor, she was committed to making public art education accessible to children.
Loreto Remsing, Founder and Perfumer of L'Aromatica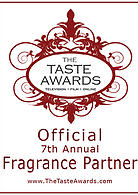 Editor's Note: L'Aromatica Perfume: Animus was awarded a silver medal in the 2015 Taste TV Artisan Fragrance Salon and is an official Artisan Fragrance Salon 2015 partner. I am thrilled that Loreto is now featured in our American Perfumer series, as now every American artisan perfumer winner since the inception of the Taste TV Artisan France Awards in 2012 has been included
Thanks to Loreto we have a worldwide draw for a registered readeryou must do this or your comment will not count) as follows: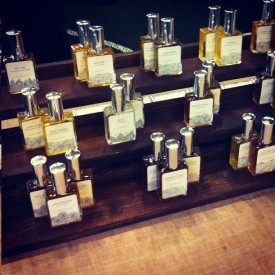 L'Aromatica 30 ml perfumes
USA: Your choice of a 30 ml atomizer of the award winning Animus, Big Sur (all natural), Desert Man, Kulfi, Chanteuse (all-natural) or Yellow Rose (all-natural) or a sampler set of all six.
Worldwide: Sampler set of Animus, Big Sur (all natural), Desert Man, Kulfi, Chanteuse (all-natural) or Yellow Rose (all-natural)
To be eligible please leave a comment with what you found fascinating about Loreta Remsing's path to perfumery, where you live and your choice of fragrance should you win. There will be one winner. Draw closes October 22, 2015
Please like CaFleureBon Profiles in American Perfumery and your entry will count twice.
You can follow L'Aromatica on Facebook here and on Twitter @laromaticascent
We announce the winners on our site and on our Facebook page, so Like Cafleurebon and use our RSS option…or your dream prize will be just spilled perfume