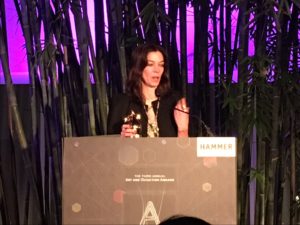 Lesli Wood accepting the Golden Pear for Incendo at Art and Olfaction Awards 2016 ceremony (Photo: Maggie Mahboubian)
For our 105th American perfumer we are thrilled to introduce Lesli Wood Peterson of La Curie Perfumes, the Tuscon Arizona based artisan perumer behind Incendo, the 2016 Art and Olfaction Award winning fragrance in the Artisan category.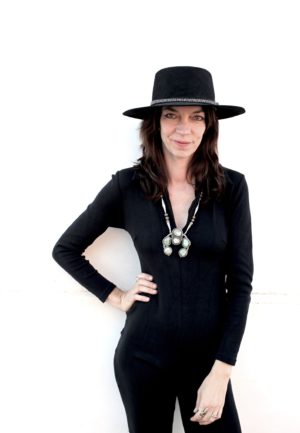 Lesli Wood of La Curie Perfumes
Profile: I was born and raised in Dallas Texas and surrounding area. I was one of those kids who was fascinated with nature and had collections of nuts, bugs, leaves, rocks and whatever else I could find in the yard. I would follow a snail or trail of ants happily for hours by myself. I was more excited by a new specimen than a new toy. I spent a lot of time day-dreaming under my favorite trees; a weeping willow, a huge oak and magnolia. The scent of the willow tree on a rainy day is still a distinct and pleasantly haunting memory from Texas.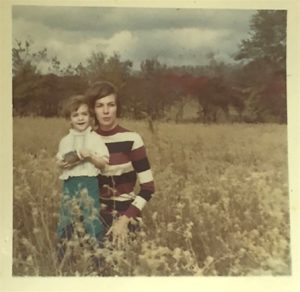 Lesli Wood and her mom Texas
We moved to Washington DC when I was in high school. I quickly discovered a huge variety of culturally diverse street vendors with their scented oils and incense from all over the world. Instead of bugs and leafs, I was collecting scents and sniffing my way through parts of the world I had only dreamed of. I remember trying to smear amber resin on my arm to wear it as perfume. It kinda hurts but it can be done.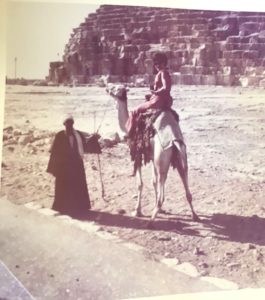 Lesli's grandmother "Nanny was an intredpid explorer; here she was in Egypt
After high school I moved to the Bay Area and enrolled in community college. Still fascinated with other cultures, I pictured myself as the archeologist I used to see in National Geographics magazine. I wanted to wear sand colored linens and silver jewelry from the Masai tribe while picking through rocks and discussing ancient civilizations. I spent the next few years making my way through every anthropology, ecology, biology, religion, ethics, philosophy class I could find. I scent memory I have from this time is a trip to Muir woods. To me, it was like sniffing into one of my old jars of decaying leaves and bark.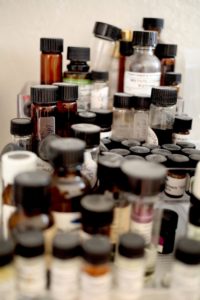 Lesli's jars of oils and perfumes
Through a conversation in line at a coffee shop one day, I found out about the Exploratorium museum in San Francisco. After a first visit, I spent the next several months going to interviews and convincing them to hire me. My determination paid off and they finally did give me a chance. I spent the next seven years learning and acquiring skills as a science/art programs developer. Mostly, I couldn't believe I got paid to work there every day. I learned so much about perception and the importance of experimentation. I learned that failing is as important as succeeding and can often lead to amazing things.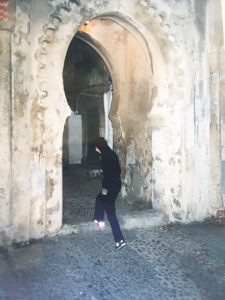 Lesli Wood in Morocco 2000
I left the museum to move to Tucson Arizona mostly to escape the fog and try something new. After a couple of years of falling in love with the southwest, I moved to Los Angeles to live with my best friend and in contrast to the desert, was surrounded by the flora and smog of L.A. It's there on our coffee table that I first sat down and really tried to make a perfume. A combination of my curiosity and a few inspiring scent encounters led to that point. Among them were a scented candle that smelled like Hinoki wood, Santa Maria novella potpourri, and the tons of citrus blossoms that would erupt in the neighborhood. One night I walked past one of the trees in bloom while wearing my favorite vintage leather jacket and stood there transfixed at the combined scent. That's when I started to develop an idea of what kinds of perfumes I would want to make.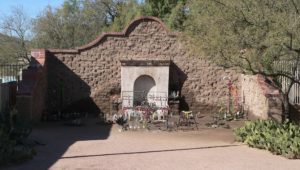 El Tiradito shrine(Tucson, Arizona)
I kept playing with ingredients, reading and sourcing for another year. When I met my soon to be husband, it was time to move back to Tucson. There is a little shrine near my house called El Tiradito. It's filled with years upon years of notes stuffed in the ancient adobe walls. It smells like candle wax, wilted flowers and a bit of Mesquite bark and dust. After again, being so moved and seduced by an ancient place, I realized what LA CURIE would be. I set out to mix ancient with modern and to not compromise.
Brightblack Morning Light Miwok Shapes
I spend a lot of time researching and immersing myself in the theme/names of the perfumes. I collect images, music and literature to inspire me while working on a formula. For Faunus, it was marble statues, the roman poet Horace and a soundtrack of Brightblack Morning Light.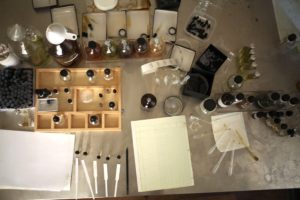 Lesli's Workspace and perfume organ
I chose to make my perfumes unisex because they are based on culture, myth and place and those can be poignant to any person. I want my perfumes to be quietly alluring when worn, so they are designed to live close to the skin. I love when someone points or raises their arm and you get just a tiny whiff and then spend the next few minutes, or entire night! trying to smell it again. I want people to experience that moment of finding something they've never experienced before.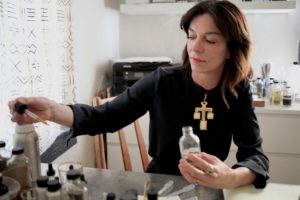 On American Perfumery: Being an American perfumer for me is the ultimate experiment and the ultimate way to express my love of nature, diversity and discovery. I'm happy to be in the company of other creators and artists that are either pushing back or building upon the past. Being independent, you get to make the rules yourself but then you are alone on your own path and that can feel a little scary or lonely at times. I'm so grateful to the Institute for Art and Olfaction for their work promoting indie and artisan perfumers and helping us become relevant and 'discovered'.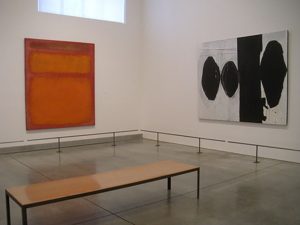 Mark Rothko Red, Orange and Yellow 1961 and Robert Motherwell Iberia 18 1958
Favorite American Artist: I remember seeing a Rothko painting for the first time. I was so moved by how emotional I felt while looking at it. It was two colors on a canvas and I was surprised that it could it be so complex with so little painted to look at. There were no nymphs or ladies or detritus, just color and shape. To us, art is an adventure into an unknown world of the imagination which is fancy-free and violently opposed to common sense. -Adolf Gottlieb, Barnett Newman, and Mark Rothko (Abstract Expressionists Movement)
–LESLI WOOD PETERSON – OWNER, LA CURIE ARTISAN PERFUME
Editor's Note: If you missed our Behind the Bottle with Auphorie Miyako with Eugene and Emyrs Au, who also won the Art and Olfaction award in the Artisan Category for Miyako…please click here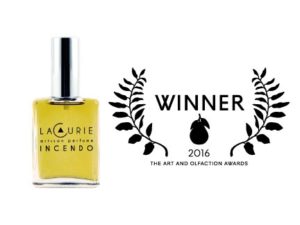 Thanks to Lesli we have a 30 ml bottle of La Curie Perfumes Incendo which was inspired by primoridal fire and the Mark Frost and David Lynch seriesTwin Peaks; the finale just celebrated its 25th anniversary "How's Annie, How's Annie ( MC: I am a big time fan of the show)
or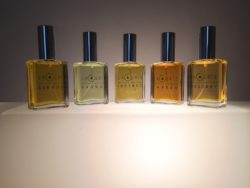 a sampler set of all Lesli's scents Ossuary, Incendo, Larrea, and Faunus for a registered reader (click that link!!!) in the USA or with a USA adress. To be eligible please leave a comment with what you enjoyed reading about Lesli's Path to Perfumery, include a quote or something you will remember, where you live and your choice of prize should you win. Draw closes 6/15/2016
Please like CaFleureBon Profiles in American Perfumery and your entry will count twice. Please leave that in your comment. You can follow La Curie on Instagram @la_curie and follow us @cafleurebon
We announce the winners on our site and on our Facebook page, so Like Cafleurebon and use our RSS option…or your dream prize will be just spilled perfume