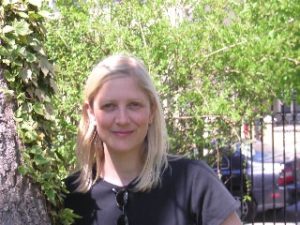 Julianne Zaleta of Alchemologie Natural Perfumes in front of Brooklyn's Green Community Garden where she tends her vegetable patch and oversees the communal herb garden.
I was born on the 29th of August, 1960, in Chicago, IL. My father worked for the railroad, starting as an office boy at 19 years old and working his way up until he retired as Vice President. His career advancements always included a transfer, always between Chicago and Detroit. I'm the youngest in my family and, although the rest of them identify as Chicagoans, when asked I say I'm from Detroit. I love Detroit, love the unpretentiousness and the underdog it identifies itself as.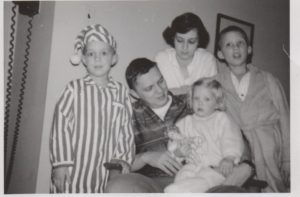 Christmas Eve 1960 Julianne on her dad's lap with her family
When I was a child my mother always had a huge garden and was very generous with it and pretty much let me do whatever I wanted in it. I have fond memories of wandering off with the salt shaker and sitting on the garden path biting into fresh tomatoes right off the vine and sprinkling them with salt. I remember making daisy chains and lavender sachets and floating flower petals in jars of water in the sun. While other children were learning the names of colors and body parts I learned the names of the flowers.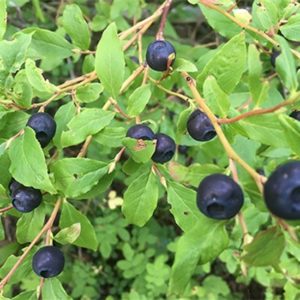 Foraging wild huckleberries
I went to college in northern Michigan and had an older, wiser friend who used to take me foraging out in the woods. She helped me learn to identify many wildflowers, herbs and sources of food and started me down a path I've embraced my entire adult life. I bought wildflower guides and herbal guides and started to cross reference and taught myself herbal medicine.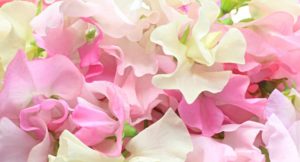 sweet peas
For a while after college while living in Cambridge, MA, I became a floral designer. I loved spending my days surrounded by flowers with the sole purpose of creating beauty. I recall burying my face in huge bunches of snapdragons and drinking in their scent. One particularly strong memory is a day when I opened a box of flowers from the market and it was filled with sweet peas. I spent a good while just taking in that sight and holding bunches to my nose and inhaling that sweet, subtle freshness. I loved it when friends used to tell me I smelled like flowers and left a trail of scent wherever I went.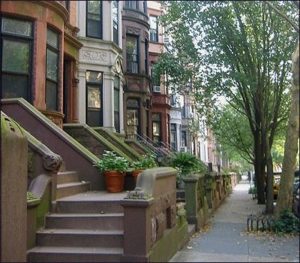 Julianne's Brownstone in Park Slope where she lives, works and teaches classes
In 1986 I moved to New York and after two years in a loft in Hell's Kitchen I moved to the historic brownstone neighborhood of Park Slope in Brooklyn, where I live to this day. In the early '90s I became a massage therapist, which led me to aromatherapy. I took a certification course and started to collect oils.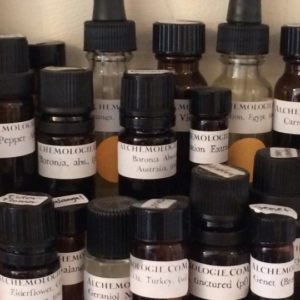 Alchemologie essential oils
I had a full-circle moment when I realized that the flowers from my mother's garden, the foraged plants from the northern woods of Michigan and the flowers from that Cambridge shop were all represented in those tiny bottles. I started a little apothecary, creating herbal and aromatherapeutic remedies, and continued to study and learn about the oils.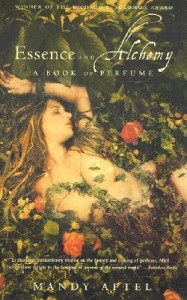 Essence and Alchemy by Mandy Aftel (Michelyn's copy)
Gradually I drifted into perfumery and started experimenting. I took a blending class with aromatherapist Jeanne Rose but it wasn't until I read "Essence and Alchemy" by Mandy Aftel that I set my intention on creating perfumes. I experimented for a few years and tentatively sold some perfumes online and locally at craft sales and flea markets. It wasn't until I actually met Mandy and went to her sun-drenched Berkeley studio to study with her that I began to understand formulation and feel more confident launching a few perfumes out into the world. Blessings and salutations to Mandy for her mentorship.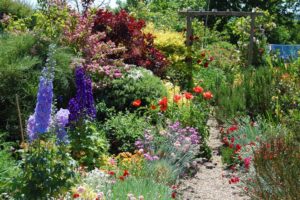 Julianne's garden
My career path has led me straight back to where I started – making things out of my garden.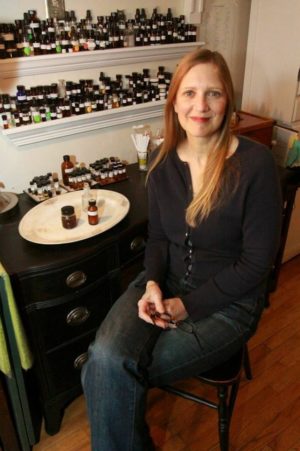 Julianne Zaleta of Alchemologie at her perfume organ
On American Perfumery – America has a deep cultural heritage and is a vast source of inspiration. A lot of my inspiration comes from location.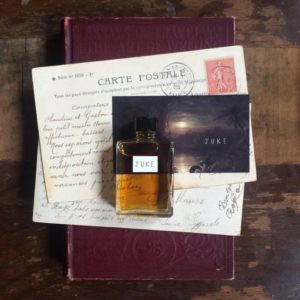 Juke EDP by Alchemologie
Juke is a story I told in scent of warm, humid nights, moonlight on water, nightbugs singing, hot jazz in the distance. The air is heady with magnolia flowers releasing their scent into the darkness. Tucked into the bayou is a juke joint, music spilling out. A woman is dancing with a drink in her hand, perfume on her wrist. It's an American story.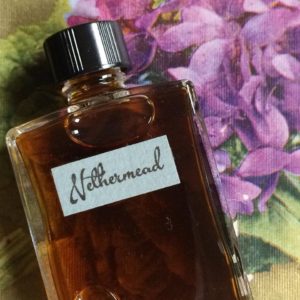 Nethermead was inspired by a meadow in Prospect Park Brooklyn
Foret de la Mer is a fougere I created while in California last year. I wanted to capture the expansive coastline rimmed with forests. The smoky maritime essence of choya nak rests in a mossy bed with luscious florals and fresh citruses. My latest perfume, Nethermead, a violet fragrance, is based on a meadow located in the center of Brooklyn's Prospect Park. It is a celebration of the violet (the note my mother wore) and an homage to the borough I've come to call home. Brooklyn is dear to my heart and I'm proud to represent it.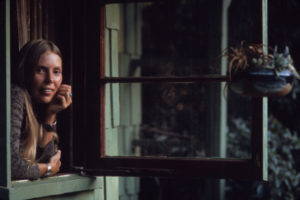 Joni Mitchell 1970, in her home in Hollywood Hills (photo Henry Diltz)
Favorite American Artist – A lot of perfumers use color as a synesthetic guide. That doesn't work for me at all. I hear music. There is a very happening local music scene here in New York and I've had the pleasure of working with some musicians to attempt to create a fragrance based on a song (notably Tourmaline, a "duet" between myself and chanteuse Rachelle Garniez). I hear live music at least once per week; I think there is nothing in this world like being entertained by live players. That being said I would have to say that my favorite American musical artist is Joni Mitchell. She sang to my teenage heart in a way that has guided me through life. There's an introspection there that I learned from her, a desire to look deeper, to understand that difficulty and darkness have value and are meant to be explored and not turned away from. Only then can you see the light.
–Julianne Zaleta, Founder and Natural Perfumer of Alchemologie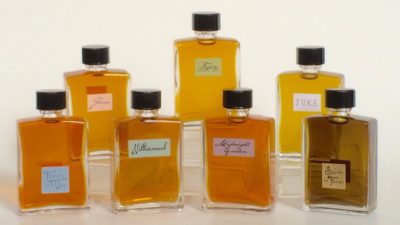 Thanks to Julianne Zaleta have a draw for a USA and Canada registered reader for your choice of full bottles of Juke, Foret de la Mer, Flora, Garden Walk or Topiary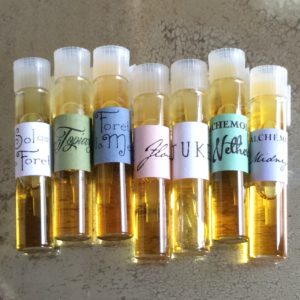 or a sampler of all seven fragrances
Editor's Note: Julianne is our 113 American Perfumer
You can follow Julianne on Instagram @alchemologie and follow us @cafleurebon
To be eligible please leave a comment with what you found fascinating about Julianne's path to perfumery and which fragrance you would like to win. Draw closes 10/24/2016
Please like CaFleureBon Profiles in American Perfumery and your entry will count twice.
We announce the winners on our site and on our Facebook page, so Like Cafleurebon and use our RSS option…or your dream prize will be just spilled perfume