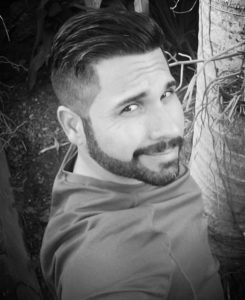 Juan M Perez of the Exotic Island Perfumer
Profile: I was born in the Caribbean island of Puerto Rico in 1976, in the town of Lares, a small mountain municipality located in Puerto Rico's central-western area. It's a quiet town in the mountains, full of lush vegetation, giving the mountains their many different shades of green. The weather is very mild and tropical with very frequent rainfall and very little seasonal changes. The region is devoted mostly to agriculture. Its mountains are full of coffee, banana and citrus fields.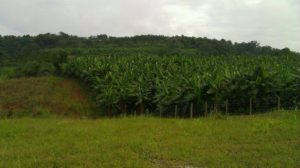 Banana Plants in Lares
To give you a very brief history of my hometown and Puerto Rico, Lares was founded in 1827 and like most of the other municipalities of central Puerto Rico the population much earlier in history were the Taíno Indians which together with the Spanish immigrants mostly from Andalusia and the Canary Islands that settled in the mountains, gave form to the "Jíbaro" or the mountain-dwelling peasants. Taínos, Spanish and African races joined together in Puerto Rico, contributing their blood and their cultural heritage full of contrasts to the formation of Puerto Rico's rich culture. You can see such cultural contrasts in our architecture, music, food and traditions. Since 1898 to this day Puerto Rico is a territory of the United States.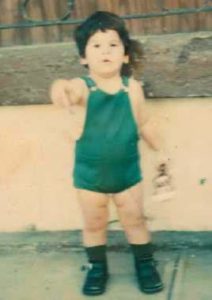 Juan as a very young child.
My love for fragrances started very early in my childhood, but not for perfumes and colognes at all in the beginning. I grew with the scents of roasted coffee, coffee flowers and orange blossoms in the air. I was more fascinated by the fragrances of my natural surroundings. I loved to grow and collect plants, in special plants with very fragrant flowers, which is something I still do today. As my love for fragrances grow I became obsessed about knowing why certain flower, fruit or herb smell the way it smells, comparing the natural scents with the synthetic versions available in household cleaning products, air fresheners and candles. I enjoyed going to the store with my parents just to check such products. It was a constant search out of cheap cleaning and house fragrance products for the best tropical flowers like frangipani, tuberose, gardenia, etc. Most of the time I was disappointed by such synthetics imitations.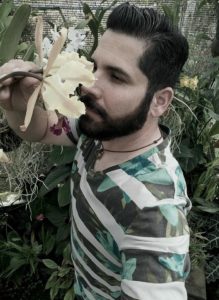 Juan in his Orchid Greenhouse
I am a self taught perfumer. My professional studies are in plant sciences. During my college years in a chemistry class, we synthesized a few basic aromachemicals found in pineapple and banana. I also learned some basic chemistry to make soap. I was so fascinated that I begin to consider making scented soaps, so I started reading a lot of books and gathering information on the internet to learn how to make soap and other complementary scented products.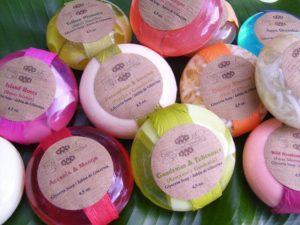 Scented Glycerin Soap; Juan began with a ,Bodyand Home FragranceLine
After a few years of trial and error developing the correct formulas for my products, in 2005 my little local bath and body business "Exotic Island Aromatics" was born. At first, the scents I used were from fragrance and essential oils available at soap making suppliers. I still wanted the scents of my products to be more unique, so I started blending the available fragrance and essential oils into more original combinations.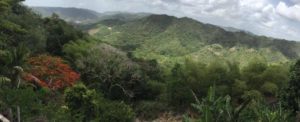 Mountains of Central Puerto Rico
Later my fellow perfumista friends introduced me into fine perfumes and my obsession with fragrances kept growing so I started researching how professionals make the fragrances from scratch, reading books, joining perfumery oriented groups, building my perfumer's organ and memorizing theodors of several natural and synthetic perfume ingredients. In 2012, my perfume journey evolved into The Exotic Island Perfumer line, which is my artisanal fragrance line composed with some of the best natural and synthetic ingredients available in perfumery.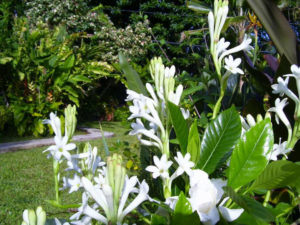 Tuberose and gardenias from Juan's Garden
Most of my inspiration is taken from my tropical surroundings, the wonderful smell of the island flora and the beauty of the tropics. I think florals are my signature. Maybe my love for floral notes is tied to my horticulturist profession but as I evolve as a perfumer my style and tastes evolve in the process too. I also enjoy designing perfumes inspired by historical fragrances and ingredients. If I feel inspired by certain aromatic ingredient I make an extensive research about its origins, history, its nature and traditional cultural uses. My imagination travels back in time to bring a fragrant moment from the past translated into a fragrance.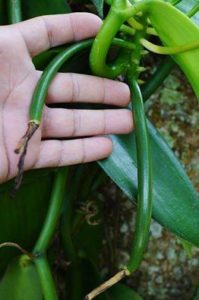 Vanilla pods growing in Juan's garden
That was what I did in the making of Flor Azteca, Oudh Nawab and Waters of Aswan. Using high quality ingredients is a must for me. I'm very picky about what I use in my perfumes, with special attention to the natural ingredients. Although my perfume formulas have a high amount of natural ingredients I do mixed media perfumery. There are many synthetic ingredients that I just can't live without like Hedione, certain lactones and musks for example. I haven't found natural substitutes for the specific novel effects these ingredients do in a perfume.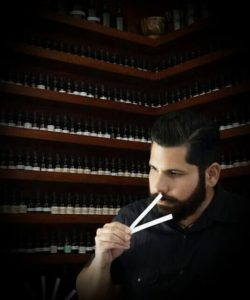 Juan at his Perfume Organ
On American Perfumery: Being an American indie perfumer means spending many hours devoted to research and learning. Since many of us don't have a formal professional background in perfumery, we have to learn everything on our own or with a mentor… which requires the passion and the discipline to keep learning as much as we can about aromatic ingredients, their odor profiles and chemistry. So much time is spent on experimenting, a lot of trial and error. We have to master the art of patience to achieve the desired results. Yes there are of failed attempts and many small bottles of modified formulas on the shelves!. Many times we have to be more intuitive than technical and rely a lot on our creativity.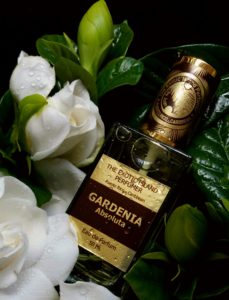 Juan's highly awaited new fragrance Gardenia Absoluta
You can find an infinite array of perfume styles in indie perfumery due to the diverse professional and artistic backgrounds of the perfumers, shaping their unique perfume style and image. Indie perfumers have to be multi taskers. Most likely we don't have a work team, we are our own team. We have to develop the concept, create the perfume, chose the bottles, the packaging and labels out very limited resources. For me that's even more complicated due to the very limited local resources. Having achieved all that then we'll have to go out there and promoting our brand, knocking many doors. Being so closely involved in the process results in a brand image that is very much a reflection of our personality. It may be a lot of work, but I love my work!.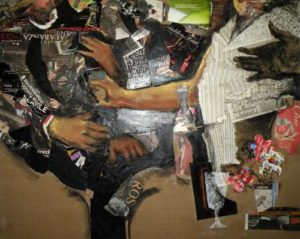 mixed media collage painting Antonio Martorell.
My favorite American Artist: Antonio Martorell. He is a Puerto Rican creative artist in multiple areas. He is a painter, graphic artist, scenographer and writer to mention a few. His artistic work reflects his amazing talent, with countless awards and accolades during his long career. He is a very hard worker and an exceptional communicator through many different forms of art. He have an incredible ability to see beauty and art from everything. He creates beauty even out of tragedy. A few years ago his home burned, destroying many of his artwork and other historical possessions of incalculable value. Instead of seeing it as a tragedy he learned from the fire. He saw its destructive power and the beauty it can create. He transformed many of his burned artwork and other objects into new works of art. Since then he added fire as an element in his artwork. Martorell's wealth of knowledge and wisdom, perseverance and resilient spirit in the face of adversity are of so much inspiration for myself.
–Juan M. Pérez Feliciano, Founder, Perfumer, Creative Director of The Exotic Island Perfumer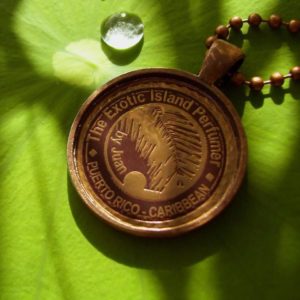 Editor's Note: We are so proud to feature Juan as our 103rd American Perfumer and the first from Puerto Rico. Reader may remember he has collaborated with Shelley Waddington on a project that took us to the Caribbean in 2011 with Nectar des Isles. CaFleureBon was the first to review this gorgeous scent.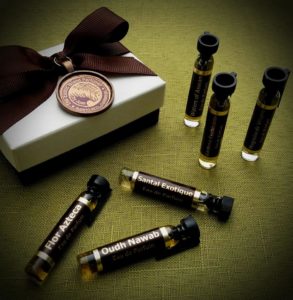 The New sample set includes Gardenia Absoluta and Orchidea Absoluta which as not been released yet!!
Thanks to Juan we have USA and Canada a sampler set with all his seven fragrances including the new Gardenia Absoluta and Orchidea Absoluta for a for a registered reader (click that link!!!). To be eligible please leave a comment with what you enjoyed reading about Juan's Path to Perfumery include a quote or something you will remember. Draw closes 6/7/2016
Please like CaFleureBon Profiles in American Perfumery and your entry will count twice .Please leave that in your comment.
We announce the winners on our site and on our Facebook page, so Like Cafleurebon and use our RSS option…or your dream prize will be just spilled perfume