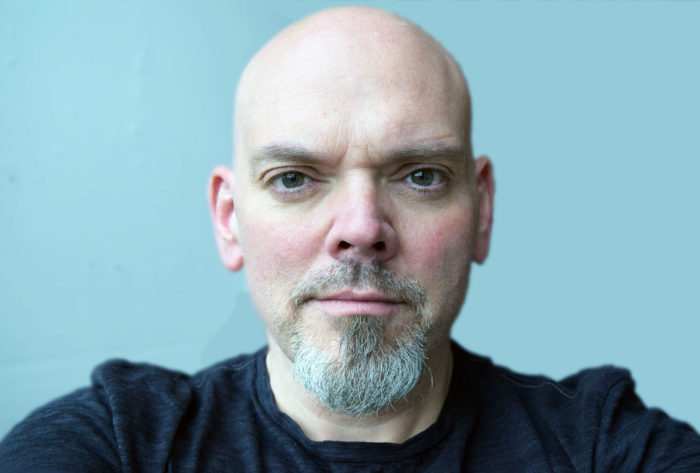 John Biebel May 2017
Profile: It can be easy to get lost in one's childhood, but as I get older, I find myself fumbling backward because I see how much my young years influenced the current person I am now. Growing up was not particularly easy for me, so I immersed myself in books and drawing and wandering the landscape. Someone later remarked to me that I'd "developed a rich inner world," although at the time it was more of an escape. That escape was steeped in mythology, fables, fairy tales and a vivid imagination. I think this is something we all have, but it took particular hold for me, and proved a vital point; that our imagined world is a very fertile place from which we can create just about anything.
My father was the caretaker and landscaper for a large public park and that meant I was able to spend time in the greenhouse quite a bit. The smells in this greenhouse are probably the deepest triggers of scent-memory for me, particularly the smell of peat and loam and potting soil. It was kept very warm and humid in the greenhouse, to the point where smell and sensation on the skin where completely linked. I grew scented geraniums in this greenhouse one year; I still think scented geraniums are something of a secret, a lot of people don't know they even exist: apple, chocolate, coconut, pepper, lemon geraniums. When you've rubbed your fingers on the leaves of a nutmeg geranium, you are truly experiencing a whole new level of beauty.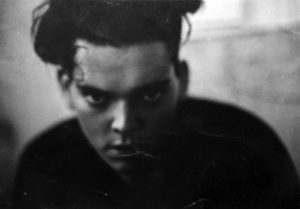 John at an artist's studio during college, 2nd St. and Avenue B, New York City, summer 1987.
I got my BFA from The Cooper Union in New York City focusing mostly on painting and photography. Cooper is a tough school with a mix of many requirements (on one hand) and total freedom on the other, so you're both guided and left to wander. This became a perfect place for me to study because I desperately need both components in order to create anything. I now know why fragrance is such an enormous draw to certain minds because it is like this too: this dual world of freedom and rules, creativity and science. Having solid boundaries makes for explosive creativity, because it dictates that you have "x" colors on a palette, and the question is now "What will you do with those colors?"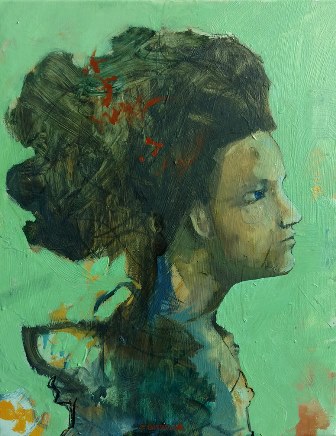 Imaginary Portraits: Dutch Trader's Wife" oil on canvas by John Biebel
An awful lot of wandering happens after college, and many artists like myself were blessed by a strange invention known as the internet. It provided a means of sustenance when we could not live strictly from our creative ventures. I lived in different places, residing for a few years in London, UK and eventually moving to Boston, Massachusetts. As I worked deeper in web writing, I found a great love for UX (User Experience) design in software and web applications, and I leaped into this career with only a small portfolio but a lot of enthusiasm. It was a great fit, and it has so many parallels to the perfuming process. When you work in UX, your greatest concern is empathy with a user – so, understanding what their needs are, what they're trying to accomplish. It means you're continually creating and then shifting to the other side to see how something would look or feel from their point of view. Making perfume is identical: What is this to me, how would this be perceived by someone else? Creating with empathy is a powerful place from which to work and helps to reduce the idea that it's autobiography. It's not – it's creating a scent beyond the "self".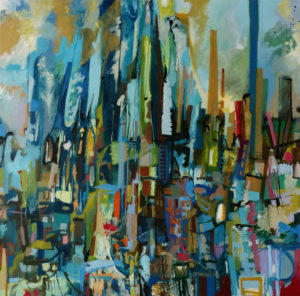 City of Fog by John Biebel ©
Perfume also relates a great deal to painting. I paint in a fairly slow and deliberate manner, with many layers, spread out over a long period of time, often working on a few canvasses at a time. Perfume is usually like this too, as there are so many in-between stages where one has to smell, adjust, smell again, reform, make calculations, mix, smell, adjust. There is a lot of contemplation built in. The processes complement each other in that they both involve small components that make up a whole, and a long process of evaluation, and then more work.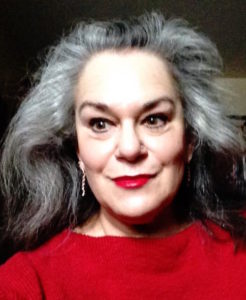 Ida Meister, John's Friend and Sr Editor of CaFleureBon
I came to perfume after I worked as a freelance writer for Fragrantica for a number of years. My questions about "what makes up perfume" just grew and grew, and I finally had to explore this for myself. Curiosity is an enormous driver for me, and I recall some perfumes that writer Ida Meister had given me to sample which made a huge impression, specifically Christian Dior's Eau Noire. That was a tipping point – what could possibly have made that smell? I also interviewed some perfumers that had such a wonderful, inventive spirit that I could understand what drove them to create these concoctions.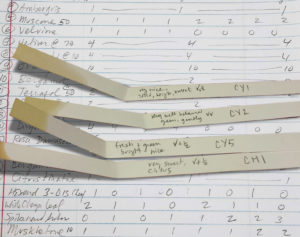 John's Smelling Strips and Formulas
What is fantastic about perfume study is that you can enter it at any place and soon you'll discover what you need to learn, so there is no "one way" to learn. You will soon see your deficiencies and work toward solving them. That also allows you to gravitate toward scent areas to which you have a particular affinity. For example, I've found the study of roses to be an endless fascination. One could work with roses and rose perfumes for his entire life and still have room to learn more. This trajectory, that you could study this field endlessly, is so appealing to me. It means that you can be a student indefinitely, always having room to expand your knowledge in front of you, always expand your circle.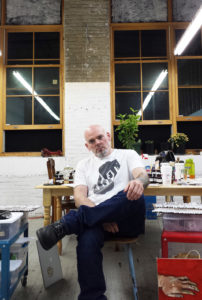 John in his studio in Waltham Ma
On American Perfumery: Since I've been writing about perfumery in the past five years or so, I've been exposed to more and more perfume makers in the US. The growth of the independent perfume maker's space has been exponential in the US. It reminds me sometimes of the way some arts gain root in a new soil and thrive. We saw it happen in literature in colonial Africa as incredible novels appeared from Chinua Achebe, and the poet Aimé Césaire in Martinique.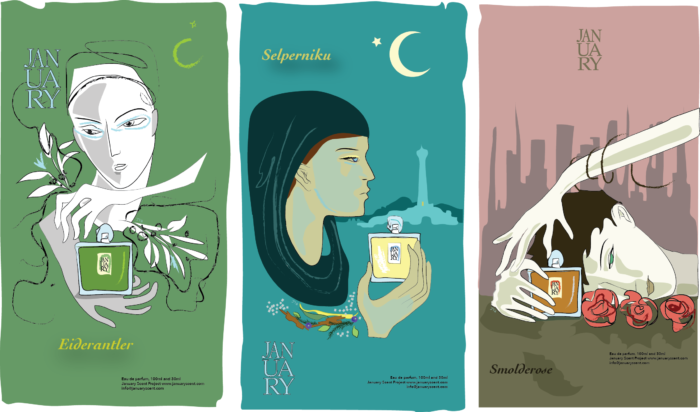 John's original Art for The January Scent Project Perfumes© I love the vintage style illustrations that remind me of the great classic ads
The American creative spirit is always inventive, pragmatic, even imitative, but in the process, distinctly bold. Some perfume makers have struck out in such specific personal territories, it's fascinating to watch their individual progress, like the development of an artist or novelist. I think of fragrance makers like Imaginary Authors, Dawn Spencer Hurwitz, Kerosene, Providence Perfume Co, Smell Bent – such an enormous variety of work, from serious to playful. So we could say that American perfume has shifted a lot, from an early triumph like Estée Lauder's Youth Dew to a modern wonder like Charna Ethier's Rose Boheme. To join into this spirit of work is different than an academic exercise, it's more like joining up with the crew of a ship in a Horatio Alger story. It has that kind of sense of adventure, daring and "Lewis and Clark" wonder to it. You could almost say it's non-academic, where one's learning is done by trial and error and not traditional study.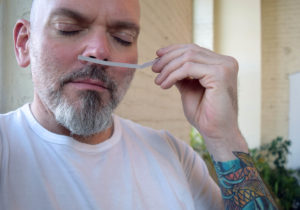 John Biebel Perfumer
I am relatively new to this arena of creative work but have found out a great deal. Right now, those of us involved in perfume have access to an astounding array of materials that were for centuries only available to a few. So there is both democracy of access, and a meritocracy where (hopefully) the best of creations will rise based on their quality. This doesn't happen in many creative fields, which means we should seize it and run with it as far and fast as we can. Social media, for all its flaws, has opened up a big discussion in which perfumers can speak directly with the people who are interested in what they make. It's a dynamic process of giving and taking information.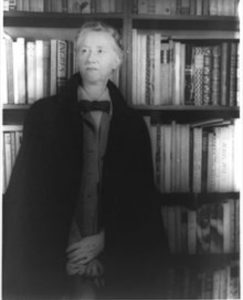 Marianne Moore Modernist Poet
Favorite American Artist: There are many American artists that deserve mention here, but one makes most sense in this context. Poet Marianne Moore has struck at parts of my brain that no other artist ever has. Her use of language is much like that of Cézanne with paint – dense, rich, ordered but utterly beautiful. Reading through her work is not a light or easy affair, in fact, some of her poems are downright bubbling over with words that you have to take them off the stove or they'll explode. But the endless variety of what she sees, what she reads, what she shares in her work portrays such a vivid world that it is a wonder to behold. I give you as example this passage from her poem Virginia Britannia (1935):
"Pale sand edges England's Old Dominion.
The air is soft, warm, hot above the cedar-dotted emerald shore
known to the red-bird, the red-coated musketeer,
the trumpet-flower, the cavalier, the parson, and the wild parishioner.
A deer- track in a church-floor brick, and a fine pavement tomb with engraved top, remain.
The now tremendous vine-encompassed hackberry, starred with the ivy-flower, shades the tall tower;
And a great sinner lyeth here under the sycamore."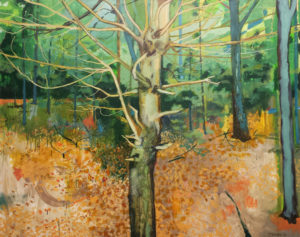 Portrait of a Tree (Waltham) by John Biebel©
There is a frenzy of the eyes passing over so many objects, animals, plants, places that her writing is much like what the Lewis and Clark expedition must have been like striking their way through the interior of the US, trying to take in all this immense beauty, chaos and natural wonder.
John Biebel, Founder and Perfumer of The January Scent Project
Editor's Note: I don't think John needs an introduction to many fragrance lovers as he is a beloved perfume writer, a great friend to many and an artistic soul. It is with great pleasure that John is the 125th American Perfumer in our series and joins some of his favorite American olfactive artists that have been also featured in the series. You can purchase his fragrances at Indigo Perfumery and at Tigerlily. Support your artisan perfumers and purchase directly from them. Samples are less then a Starbucks coffee!!-Michelyn Camen, Editor-in-Chief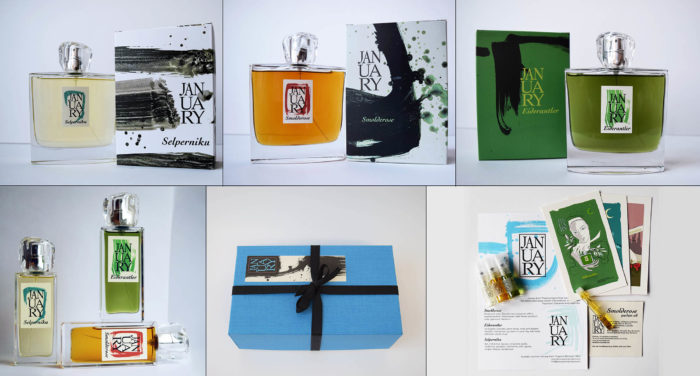 Thanks to The January Scent Project we have a worldwide draw for three registered readers for Smolderose 100 ml, Eiderantler 100 ml, Selperniku 100 ml, or Discovery set of 3 30 ml of all three perfumes. In addition three random winners will receive 3 ml sprays of all perfumes, perfume oil sample and a set of vintage mini-posters, so that is 6 winners in all!!! For Notes and composition please go to http://www.januaryscent.com/
To be eligible be sure you register here. Please leave a comment with what you found fascinating about John's path to perfumery, where you live, which fragrance you think you might love and your choice should you win. Also, if you have read his reviews or know John, please leave that in your comment. Draw closes 6/16/2017.
Please like CaFleureBon Profiles in American Perfumery and your entry will count twice by clicking here. Follow us on Instagram @cafleurebon and @januaryscentproject and check out The January Project on Facebook.
We announce the winners on our site and on our Facebook page so like CaFleureBon and use our RSS feed…or your dream prize will be just spilled perfume.