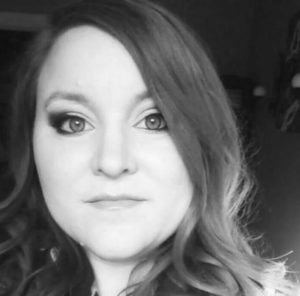 Joelle Nealy of Poesie Perfume
Profile: I grew up in a family of strong Southern women.
Joelle's maternal grandmother, Patsy Ruth Parker, high school graduation
My maternal grandmother grew up dirt poor on a farm with no running water. With no education beyond high school, she went on to sell over $1 million in real estate and to buy herself her dream car — a Cadillac. When she retired, she went back to school to take writing classes, leaving us with simple but compelling stories about her life.
Joelle's paternal grandparents Beth & Harry Nealy
My paternal grandmother was a teacher who passed down her love of reading, and who — much to my chagrin — forced her grandchildren to do math worksheets during the long summer months away from school so that we wouldn't forget what we'd learned in class. She never lost her love for adventure, surprising us all by leaving her home of forty years to move to Montana after falling in love with it while traveling.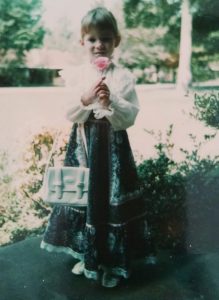 Joelle Nealy has a young girl
In my hometown in south Louisiana, parents were always sending their kids outside to play. I wanted to stay indoors, away from the humidity and mosquitos with a good book, but there was one long bike ride that I loved to take, the four mile round trip ride to a large drug store, where I would peruse the aisles of the beauty department. The unattainable rows of plastic shelled lipsticks and shiny powder compacts were a source of endless fascination.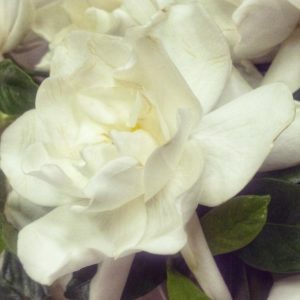 Gardenia
But the part of my journey that evoked the most visceral feelings of joy and longing was the fragrance area, where I religiously inhaled the intoxicating tuberose/gardenia notes of Coty Sand & Sable.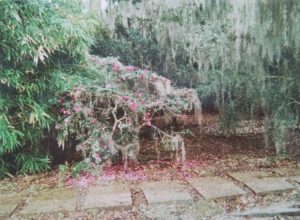 South Louisiana Camellia and Spanish moss
I'd pedal home happily, dreaming of the day I'd be grown up enough to wear such a scent.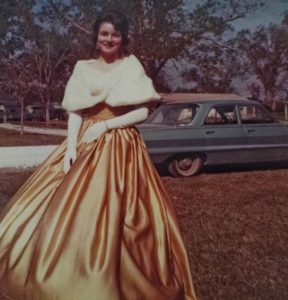 Joelle's mom Donna Nealy, Homecoming
The most hallowed shrine to glamour in my home as a kid was my mother's vanity table, a trademark of the quintessential Southern woman. Its glass top supported a crowd of brushes and gold capped bottles, crystal dishes that held cosmetics, and a mirror that could show you your face in daylight or candlelight. Her collection of perfumes was a study in contrast. The dark juice of Tabu, a dangerous spicy civet bomb — my dad's choice for my mom. And its angelic counterpart, L'Air du Temps with its intertwined doves, a scent of untouchable ladylike refinement — my mother's choice for herself. I was captivated even then by the idea that you could create a persona of your choosing with a different lipstick color or a fragrance.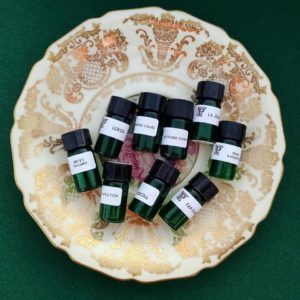 Poesie Perfumes
The road from loving perfume to creating it was a long and winding one that now feels as inevitable as putting one foot in front of the other. As I grew up, I graduated from Coty Sand & Sable to seek out vintage perfumes like Piguet Bandit. In my circle of friends, I was the one who did makeup for special occasions, who gave brutally honest fashion advice, and who always wore perfume. When a friend gave me a set of perfume oils for designing your own fragrance, it unveiled new possibilities for my love of scent. Soon I had a new obsession, scouring the internet for everything I could read about perfumery, ordering aromachemicals, absolutes and essential oils, and spending hours with my scent strips smelling, writing down my thoughts, experimenting. I came home from long days at my job and was immediately reenergized by the potential inherent in those little bottles. Whether through naiveté or confidence, I trusted my nose enough to share my favorite creations with friends. Their positive response emboldened me to open my online store in 2015, while I continued to work full-time at a nonprofit organization. For more than a year, I spent my days working on behalf of artisans in developing countries and my nights developing as an artisan myself. Eventually I realized that although my passion for social justice was still in full force, I was weary of balancing the two jobs, and I was ready to take the next step. The bold women I knew and admired were the ones who followed their passions, who did more than think and talk, who took action. As scary as it was to leave the comfortable safety of my career where I was surrounded by supportive, like-minded people and knew what I was doing, in 2016 I quit my job to focus on Poesie full-time. In doing this, I found not only the creative fulfillment I sought, but another community of collaborators, mentors, and friends.
Testing new scents
On American Perfumery: Being an American perfumer operating an independent business takes passion and a willingness to pursue your obsession. The absence of corporate structure or institutionalized learning makes it feel like a bit of a freefall, but also like you can let your own intuition take you wherever it may. You have no one to please but yourself and your customers, and you can take them with you on a riotous journey, introducing them to personal adventures in fragrance that open up a whole world beyond the department store perfume counter.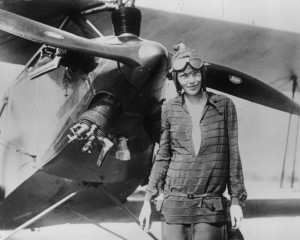 Amelia Earhart with Bi-Plane June 14, 1928
Poesie fragrances are inspired by art and history, filtered through the perspective of iconic women who have navigated the world with audacity and aplomb, boldly creating their own paths.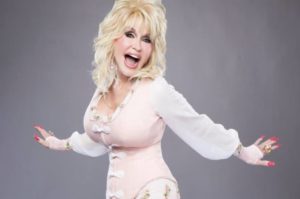 Dolly Parton
Favorite American Artist: Although it might be somewhat unexpected from someone whose most recent collection was inspired by Charlotte Brontë's Jane Eyre, I have to say Dolly Parton is one of my favorite American artists. She embodies the irrepressible Southern glamour that rejects minimalism and embraces a "more is more" philosophy, with a wig for whichever hairstyle she fancies in the moment and an unabashed love for lipstick. But underneath those eyelashes and rhinestones is a trailblazing woman who has composed over 3,000 songs, and who came from nothing to become one of the best-selling recording artists of all time. She did it all with her sheer talent and fearless perseverance. Dolly is not afraid to be herself — or anyone else she wants to be.
Joelle Nealy, Perfumer and Founder of Poesie Perfume
Editor's Note: "Well-behaved women seldom make history"-Joelle
Joelle has an extensive scent catalog so check out Miss Behave, her Jayne Eyre Thornwood Collection or her Core Collection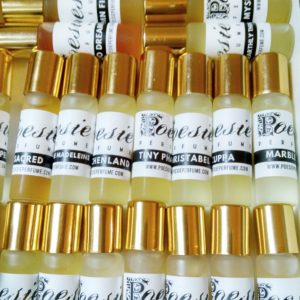 Thanks to Poesie Perfume, we have two fantastic draws for two registered readers (you must be registered). One draw will be offered to a US reader and an identical draw offered to a reader anywhere in the world: each winner will receive three 5 ml perfume oils of their choice. To be eligible please leave a comment with what you found fascinating about Joelle's path to perfumery, where you live and which three Poesie fragrances appeals to you most. What iconic woman is your heroine? Draw ends November 10, 2017
Joelle is our 129th American Perfumer in this series and I just adored this !!!-MC
Please like CaFleureBon Profiles in American Perfumery and your entry will count twice.
Follow us on Instagram @cafleurebon and @poesieperfume and check out Poesie Perfume on Facebook.
We announce the winners on our site and on our Facebook page, so Like Cafleurebon and use our RSS FEED…or your dream prize will be just spilled perfume