Jessica Hannah, award winning natural perfumer
Profile: I was born in the heat of a Missouri summer, the daughter of a minister and a schoolteacher. My two older brothers agreed the best names for me would be Rapunzel or Frankenstein, though to my good fortune the family settled on the name Jessica.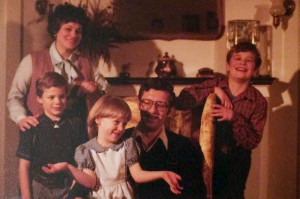 Jessica on her dad's lap, her mom and two brothers
Much of my childhood was spent climbing trees and tagging along with these two boys. I was a jovial energized kid that loved to ride my bike all over town, stopping to smell and eat honeysuckle nectar. In the summer evenings my mother would take us for walks in the neighborhood, stopping to ask elderly neighbors if we could sniff their rose gardens. My memory of this time is stained with golden midwestern summer sunsets and the chirping of evening cicadas.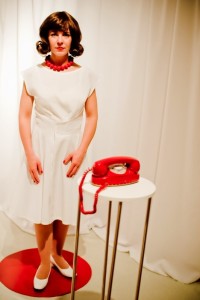 Jessica Hannah, Showroom Number 6 by Jessica Hannah
In my undergraduate years of college I pursued acting and film, and later continued into an interdisciplinary art masters program at Columbia College Chicago. I studied alongside bookmakers, painters, video editors, performers, and many other experimental makers. This time was an artistic awakening for me to see the possibilities of engaging the senses through art. My thesis was a showroom of robotic housewives incorporating interactive performance and video. I wanted desperately to include scent in this work but there simply wasn't enough time.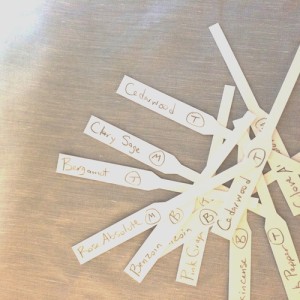 Perfume scent blotters Jessica Hannah
So after graduating I dove into learning about natural perfume. I read everything I could get my hands on, took various classes, and made a lot of horrible perfumes in the process. The game changing moment was in a class with Mandy Aftel. At this point I had perfumed for a few years and I was already teaching workshops but this class was a lightening bolt of direction and I realized this is my path. Mandy's words were simple: "Build a divine relationship with the materials and hold yourself to a high standard." Something clicked. I am forever grateful to Mandy for being my guiding light, through her teaching and books.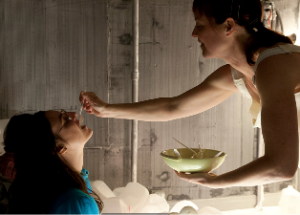 Food and Performance Artist Janet Schmid
In all my time creating I continue to find experiential artwork that engages the senses to be my favorite. So in an effort to create a platform for such work I teamed up with Ania Greiner co-curating Food & Performance in Chicago. This showcase of performance art involving edibles brought out some incredible creative minds during the three years it ran.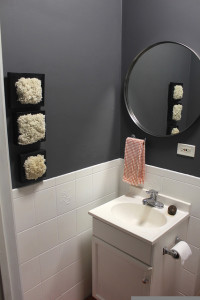 Slow Gallery, Chicago IL, Artist Jessica Hannah
I make scented artworks as well including a performance a few years back at Chicago's Rhino Fest, a short play about a futuristic society where scent was utilized for time travel. Audience members were given scent strips to smell along. This year I installed scented framed shag panels, Pure Fume, in Loo at Slow gallery in Chicago. Loo is the bathroom gallery of Slow and I was thrilled to stink it up, honoring the greater bathroom by including some Africa Stone tincture in the fragrance.
Jessic Hannah and a Natalie Davis owner of Canoe
On American Perfumery: I recently had the pleasure to blend a perfume for Natalie Davis, owner of Canoe, a leather company in Austin TX. Our goal was to capture her sundrenched studio, animalistic with hints of freshly brewed tea.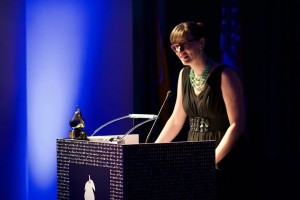 Jessica accepting her Golden Pear at the Art and Olfaction Ceremony held in L.A. April 17, 2015
Skive is the resulting perfume which won the Art and Olfaction Award in the Independent category this year. I could not be more honored! This organization, founded by the passionate Saskia Wilson-Brown, is doing such important work and the unpretentious award ceremony was chalked full of established and emerging perfumers. It's a movement and there is room for everyone. I am soon to move from Austin to San Francisco and I am thrilled to join the West Coast perfume community, which is an epicenter of olfactory practitioners. Being an American perfumer is all about the independent makers taking risks and this can be found in bottles through out the states.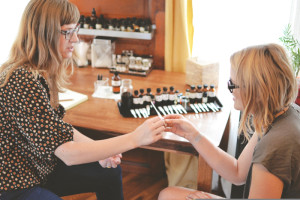 Jessica Hannah and blogger Kirsten Stoddard
For me being an American natural perfumer has allowed me to be a tour guide and curator. I often meet people in my workshops that are unable to experience the luxury of international travel. It's a gift to share places like Morocco, Spain, France, Oman, India distilled in little bottles, like passports to exotic and mysterious lands.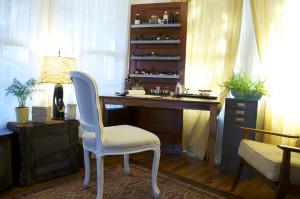 Jessica's Studio
My work then is crafting these essences in a way that finds home in the bottle. My perfumes are still quiet voices saying, "Come in close, we need to talk."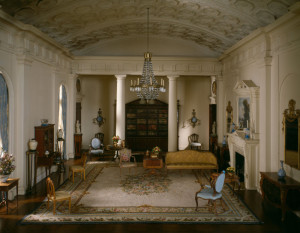 Thorne Room at the Chicago Art Institute
Favorite American Artist: The Thorne Miniature room at the Chicago Art Institute has always been a favorite place. The miniature rooms were conceived by Mrs. James Ward Thorne and constructed between 1932-1940. I love that they capture domestic spaces and allow for a bit of time travel in every box. I feel that perfume can do that too, allowing a person to get whisked away to another place with ever sniff.
Jessica Hannah, Owner and Perfumer for J.Hannah and Co.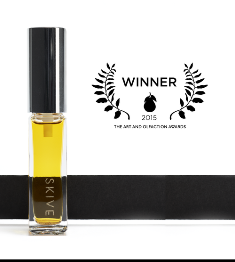 Editor's Note: Jessica is an all natural perfumer and once again, for the second consecutive year, a natural perfume was blind tested and given a first prize "the Golden Pear", this time in the Independent category ( Skive was created for CanoeGoods in Austin). As many of our readers know Calling All Angels, Tanja Bochnig, won in the Artisan Category 2014 . So for those who continue to insist that natural perfumery is not an art, take note.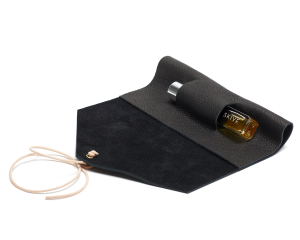 Skive eau de parfum is encased in leather
Thanks to Jessica we have a draw as follows: For a US registered reader we have .25 oz. ($52) of Skive ( Ambrette (botanical musk), Atlas Cedarwood, Castorium, Choya Loban, Clary Sage, Myrrh, Nutmeg, Saffron, Tobacco, Vetiver) and for two registered international readers we have two generous samples (.0825/$22). To be eligible please leave a comment with what you found fascinating about Jessica Hannah, if you have followed the Art and Olfaction Awards and where you live. Draw closes May 4, 2014
Please like CaFleureBon Profiles in American Perfumery and your entry will count twice.
You can follow Jessica on instagram @jhannahco
We announce the winners on our site and on our Facebook page, so Like Cafleurebon and use our RSS option…or your dream prize will be just spilled perfume