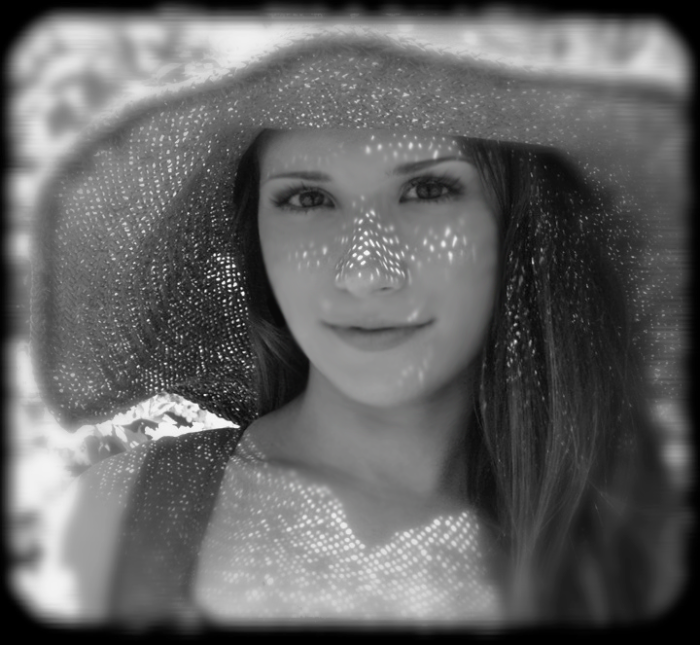 Jennifer Botto Natural Perfumer
Profile: Growing up on a farm in northern NY instilled in me a deep attachment to the natural world. Before my parents bought the land, it had been a large peony farm and we were lucky to have sprinklings of heirloom peony bushes around our house and property. One of my fondest memories was running outside on a warm late spring day to sniff these beauties in their full flower, pausing at each one like a little buzzing bee just out of the hive. I'd stick my nose in blooms as big as my head, and marveled at the miniature fragrant world of ants and petals. Each season on the farm brought with it olfactory gifts as glorious as the spring peonies. Summer exhaled sour wild strawberries and sun-scorched earth. Autumn brought musty mounds of leaves and ancient apple trees hidden in forgotten hedgerows. Winter whispered plumed of smoke from spent fires and boiling sap amongst the evergreens.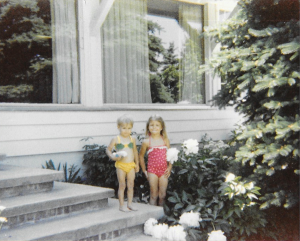 'Jennifer (left) and sister with giant peonies'
I currently live in Boston and although it's an amazing city, I often find myself lost in deep nostalgia for the sensory experiences that shaped my world. This desire for connection led me to start experimenting with scent as a means to transport myself outside the city's boundaries, and into the great outdoors of my youth. Reveling in scent can be the perfect way to escape; it can bring you full blooms in a frozen tundra, fresh grass in a sea of pavement, or a lover's musk when you're all alone.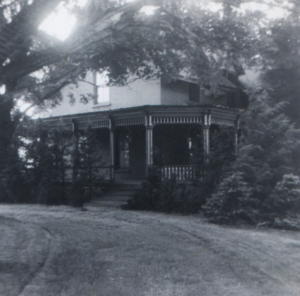 'Old Farmhouse circa 1967
My love for craftsmanship and natural materials stems from watching my parents work their land and house. Both my mother and father were raised on farms. From Scottish immigrants who settled into a rich dairy farming culture in Vermont, to Italian immigrants who farmed vegetables in Long Island, my family history of land stewardship is long and deeply ingrained. Watching my father master skills such as farming, carpentry, mechanics and taxidermy instilled in me a sense of pride in manual labor. My mother's talents in woodworking, horticulture, stone masonry, cooking and knitting gave me confidence that as a woman I could do anything.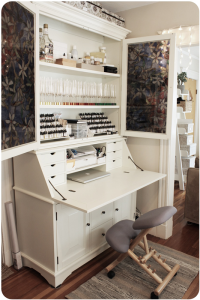 'Perfume Organ'
On American Perfumery: I love witnessing the revitalization of all things craft and artisan in recent American history. It's so exciting to be a part of a movement that values innovation, craftsmanship, slow-work and local production. For me, it represents a deep longing for historical and cultural connection for which many Americans yearn and a backlash against the current climate of instant gratification, rampant consumerism and frenetic growth. I find it so encouraging that people are slowing down to look at the past and other cultures for inspiration and guidance, borrowing techniques, materials and notions to make their work more authentic and meaningful. I see American Perfumery as a spoke on the wheel of this American-Made movement, along with other micro-enterprises such as breweries, distilleries, dairies, etc. In the center of this wheel are the procurers of raw materials, the farmers and wild-crafters. Looking at it this way, I see the hub of the wheel as the most important aspect of production. Because of my farming background, I value the procurement and processing of raw materials just as much as I value the more detailed refinement and blending of these materials. Artisan producers tend to have a hand in every aspect of production and know that – from raw material to finished product – every little detail matters. This interconnectedness of production points ensures the highest quality of goods and allows the maker to preserve time-honored methods of production that would otherwise fade away. One reason I choose to work with natural materials when I make perfume is that I want to support farmers and processors of these raw materials so that these methods (and ultimately the raw materials themselves) are not forgotten.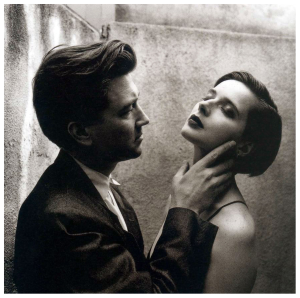 David Lynch and Isabella Rossellini by Helmut Newton for Vanity Fair, 1986'
My Favorite American Artist: I've always been a huge fan of David Lynch. He has this great way of pairing the familiar with the disturbing in order to provoke an intense emotional reaction. His juxtaposition of the mundanely beautiful and the eerily strange give the viewer a sense that danger lurks just beneath the surface. He peels away layers of surreal perfection to reveal a rotten core of corruption and decay. In this way, his work mirrors life; it represents the wide spectrum of human experience, both good and bad, albeit exaggerated and distorted.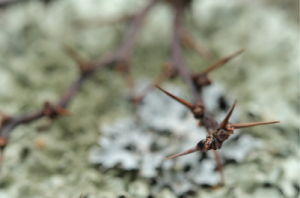 'Thorns' by Jennifer Botto
In my life and my work, I keep coming back to the yin & yang theme. The name Thorn & Bloom Perfume refers to this duality in natural perfume, as botanical fragrance is often filled with unique jolie laide nuances, which to some can be an acquired taste. I look upon these nuances as essential elements, knowing they'll impart depth and character to an otherwise mundane blend. I love the holistic notion that life is full of both imperfection and radiance, and experiencing the two simultaneously can be very powerful. "But he who dares not grasp the thorn should never crave the rose" -Anne Brontë
–Jennifer Botto, Natural Perfumer and Founder of Thorn & Bloom
Editor's Note:Thorn & Bloom Natural Perfume will launch on June 15th 2015. All Jennifer's perfumes are 100 percent botanical, created in small batches,using essential oils, tinctures and co2. They are Eau de Parfum Strength. We are thrilled to introduce you to a new perfumer.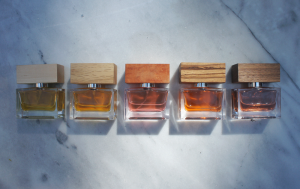 Thorn & Bloom Perfume's bottles with locally made wood caps' by Jennifer Botto
Thanks to Jennifer we have a draw for a registered (you must do this or you are not eligible here) reader in the USA for 30 ml Savage Garden, Stranger in the Cherry Grove Birds of Paradise Wild Rose or Orange Blossom. Please leave a comment with what you found fascinating about Jennifer Botto's path to perfumery , your choice of fragrance (or a sample set of all 5) and Like Thorn & Bloom on FaceBook or follow on twitter.
Please like CaFleureBon Profiles in American Perfumery and your entry will count twice.
We announce the winners on our site and on our Facebook page, so Like Cafleurebon and use our RSS option…or your dream prize wil be just spilled perfume