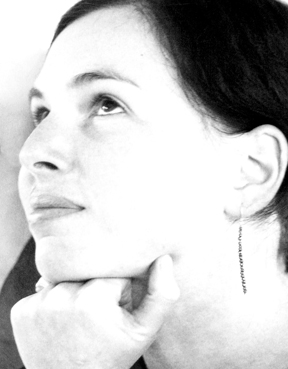 Irina Adam of Phoenix Botanicals
Profile: I was born in Bucuresti, Romania, a bustling city full of parks, markets, theaters, with ample opportunity for wandering and people watching after school before parents got home. Our home was filled with books and I grew up on Grimm fairytales, Greek myths, and poetry. When not reading, my hands were busy drawing, painting, writing or crocheting, always amazed at the process of making something come to life
Irina Adam at 6
My nose owes its confidence to my mom. She was repeatedly astounded at my ability to smell the cake the precise moment it was ready, sprinting to the kitchen from several rooms over. My nose became so trusty around the house that she'd ask me to wake her up from a nap when the baking was done. Yes, I also became the sour milk, etc. sniffer. Some early smell memories are those of my mom, then dad, both smelling unique, and best. The aromatic world of books.
Irina's Mom Stela
Dinner guests, with perfumes over scents of their homes clinging about. The smells of sweetness, illness, even loneliness in older folks' hugs. The dizzying aromas of the Linden on our block in the summer, and the dark, fascinating stench of locust pods covering park paths in fall.

The woods, river and meadows of Transylvania that inspired Meadow & Fir
Many summer and winter breaks were spent in the wild Transylvanian mountains, under the roof, and stern loving care of Frau Emi. She instilled us kids with gruesome fears of bear and wolf, yet somehow still allowed me to wander the woods on my own- the only condition being I return before dark. At dusk I'd often find myself utterly lost in the darkening pines, having followed deer paths, sun rays, birds for hours.

Bucuresti: parks, Irinas apartment building with Linden and Locust trees
I'd pray with all my might to find my way back on time, and somehow always did, gasping for breath at the door and believing a little more in magic. The healing 'magic' of nature became very real in my teens. My family moved suddenly, to Bloomington, Indiana when I was 12. Across the highway was the sprawling forest that I explored, notebook in hand, and each time, found solace and inspiration among the trees and elements, and space to be myself. My passion for plants and nature solidified, as well as a deep dedication to the Earth. I earned my Bachelor of Fine Arts at IU, with a Botany minor. My artwork delved into all kinds of human/nature interaction. New York City was next. Unexpectedly, I found my plant lovers' community here and apprenticed several years with local herbalists, while working in ethnobotany research at the NY Botanical Garden. Delving into the powerful healing 'weeds' at our doorstep I fell in love with plant medicine. An hour or three outside the city, are the pristine forested Catskill mountains, and wild ocean frontiers of Long Island: my new wandering terrains.

Tincture of Beach Roses. Enfleurage of Plumeria, Tiare, Jasmine, Ginger Lily. Vanilla infused oil.
Phoenix Botanicals was born in 2005, named after the feeling of renewal after a day spent in nature- like a Phoenix! It started with fresh plant infused balms and potions, and soon perfume became my focus. Not unlike short films I was working on, I found botanical blends to be an intriguingly sensual medium for time-based storytelling, embodied through the transformation of the plant essences.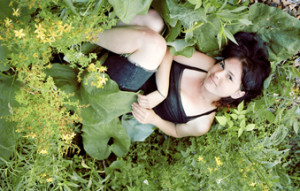 Irina surounded by green plants and flowers
The intimacy with nature and plants experienced as a wildcrafter and woods wanderer has given me inspiration for many of my perfume compositions. I love delving into the subtleties of scent and feeling, of a midnight harvest of linden flowers, dawn wild roses, the tall meadow between forest edge and river, or an owl encounter under the stars. I work with botanical ingredients only, finding them most sensual, complex and transformative. I have an affinity for plants and sometimes the perfect ingredient appears in a dream. I love experimenting and preparing my own tinctures, infused oils and enfleurage. Some favorite combinations juxtapose sumptous florals such as Tuberose, Boronia or Jasmine, with incense-like resins or strange, bitter roots.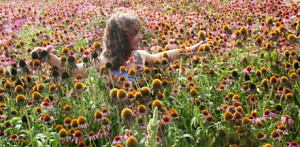 Irina Adam in Echinacea Field
Whatever the inspiration, a perfume takes a life of its own throughout the blending process, turning into a wearable, gem-like work of art. I aspire for my perfumes to be talismans, evocations of nature's wonder, meaningful adornments that awaken sensuality. Upcoming releases are inspired by ripening fruit, community gardens, animal nests. This year I have started working with alcohol, in addition to oils and spent all summer tincturing flowers with a few ideas up my sleeve.
Creative environments. Blending desk/ organ. View from under glass desk. Blending in progress: Bed of Roses.
On American Perfumery There is a vibrant, collaborative community of creators, buyers, reviewers. Brilliant writers have made me re-experience my perfumes after reading their takes. I am especially grateful to those who appreciate naturals, and supportive mentors particularly Mandy Aftel. Anything goes in the perfume world! And with this come challenges such as educating about true naturals. Big brands will use words 'all natural' unchecked, so I encourage perfume buyers to research health risk studies, and check the full ingredients list. The term 'fragrance' means synthetics. As an indie botanical perfumer, I cherish being a voice for the plants, and the gift of this beautiful art form to connect myself and others to nature.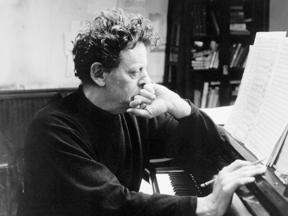 Philip Glass (photo credit Reuters)
Favorite American Artist: I wonder at times, if making things may be an excuse for hours of good music… When listening to Philip Glass, I immediately find myself in a story, on a journey. I keep coming back to this captivating composer. Earlier this year I saw him in live performance for the first time, and couldn't keep my eyes off those fingers on the piano!
–Irina Adam, Founder and Perfumer for Phoenix Botanicals

For our draw we will have two winners:
USA Registered readers (you must do this or your comment will not count) ONLY: 5ml Bed of Roses, 5ml Meadow & Fir, 5ml of Night Bloom, 5 ml bottle Ka Pueo, or 5 ml Triple Vanilla or 5 x1 ml of each
WORLDWIDE: Registered readers (you must do this or your comment will not count) 5 X 1 ml of Bed of Roses Meadow & Fir Night Bloom Ka Pueo and Triple Vanilla
To be eligible please leave a comment noting what you found fascinating about Irina's path to perfumery, where you live and the fragrance you would like to win. Draw ends October 15, 2015
Please like CaFleureBon Profiles in American Perfumery and your entry will count twice.
We announce the winners on our site and on our Facebook page, so Like Cafleurebon and use our RSS option…or your dream prize wil be just spilled perfume