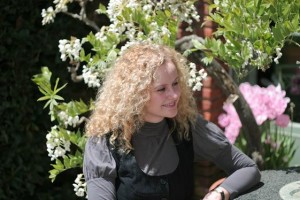 Our series on Profiles in American perfumery continues, with one of San Francisco's "golden" lights—Ineke Rühland. I "met" Ineke in 2006 via email, (the year letter "A" (After my own Heart ) debuted) and in person in 2008 at Sniffapalooza; I see Ineke once a year in New York at either Sniffa or Elements Showcase .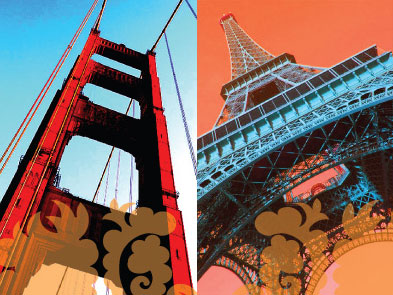 Profile: Ineke Rühland has lived in San Francisco for the past ten years, after growing up in Canada and then living in Europe for 12 years and much of her time in Paris. She married American Bill O'Such who is her partner in love and a huge supporter of her artisanal indie business. Ineke's background is Dutch and Candadian and her parents still live in Canada. According to Ineke , "I had a crazy, long honeymoon period after I arrived in San Francisco – I would say it lasted at least five years! Every morning I would walk out onto the street with the sun shining in the piercing blue sky, and my heart would skip a beat. Now it still feels great, but I'm used to it.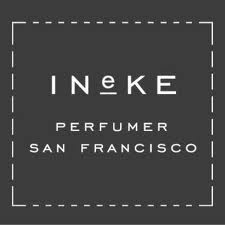 On American perfumery: "I think living in San Francisco opened the door to working as an independent perfumer. First of all, the perfume supply industry in the US is all on the East Coast, so it became a necessity to be entrepreneurial if I wanted to work as a perfumer. But more importantly, the Bay Area has a lot of artisans (cheesemakers, winemakers, chocolatiers etc.) and an entrepreneurial spirit. It's not difficult to find encouragement and support for small businesses".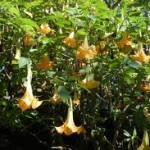 Evening Edged in Gold, which features the scent of the Angel's Trumpet (Brugmansia) that grows in front of our house here in San Francisco. Angel's Trumpet thrives in the San Francisco climate so you see one on almost every block here, although we've rarely seen it outside of the Bay Area. Evening Edged in Gold is a woody oriental whose warm spice and sandalwood notes help combat the cool breezes (and possible fog) that we may well encounter on summer evenings in San Francisco.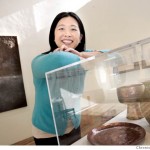 I get together once in a while with the other niche perfumers in the Bay Area and exchange tips and camaraderie. I've become particularly good friends with Yosh Han. In fact, probably my favorite thing about the US is the positive attitude of the people. Nowhere else are people as friendly and hospitable.
Of all Ineke's fragrances, I adore Chemical Bonding which doesn't get the respect it deserves. The fragrance is a citrus melange with a twist. First juicy black berry opens and stays on my skin as I smell orange, lemon and at times, grapefruit. There is a distinctive refreshing tea note evoking the perfect frosty glass of fruity iced tea with orange and lemon slices (if it wasn't a fragrance you would want to drink it). But unlike most 'citrus' fragrances Ineke adds an element of surprise, an unexpected heart of rosy peony in full bloom that brings a pale watery note; its a reminder of a temperate San Francisco Spring as we enter the heat and humidity of an East Coast summer. The base is complex and on my skin the drydown is powdery with a faint trace of clean musk and a walk through the woods. The sillage is excellent and hopefully after my review you will give it a try.(Full disclosure, according to Ineke its not a great seller. She thinks its the name let's try Chemical Attraction).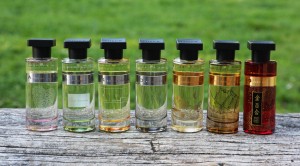 Photo: CR INeKE Bill O'Such
We know there are many INeKE fans among our readers, so we want you to have a choice from A-G. To be eligible click on to www.ineke.com, select your fragrance and you will see a one sentence quote written on the right hand side. Draw ends Sunday 10am EST July 9, 2011. Yes, we know it will probally be a balmy day on Sunday; you are going to the beach, or a barb-q ,so get your comment in early. Remember to specify your choice and write in the quote. PLEASE LIKE CaFleureBon Profiles in American Perfumery because this series will run throughout the remainder of the year .And your entry will count as two.
–Michelyn Camen, Editor in Chief