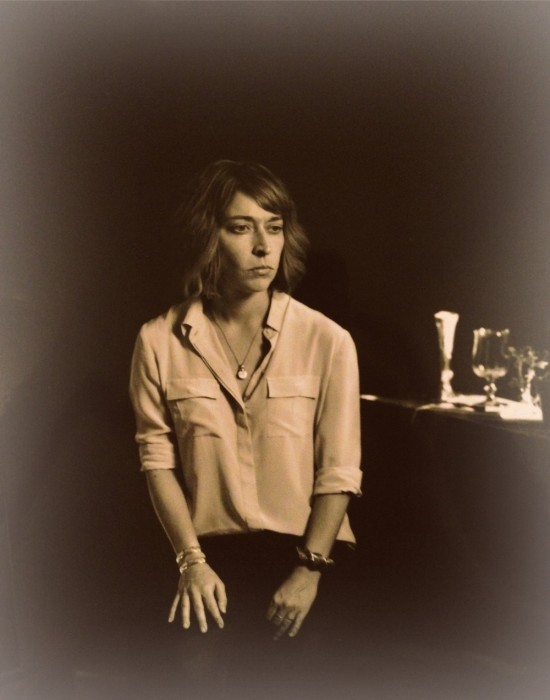 Holladay Saltz of Apoteker Tepe
Profile: I was born somewhere in North Carolina, adopted in infancy, and grew up in North Carolina, Florida, and Mississippi as a part of a sprawling extended family sprinkled up and down the Southern coastline from Wilmington to Houston.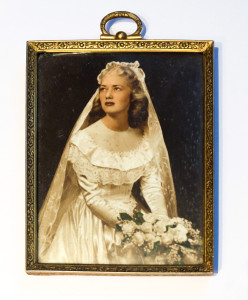 My grandmother Ruth on her wedding day
Unlike me, they were tall, all impossibly attractive with an easy grace, a Southern version of the Kennedys anchored around my grandmother, the 'Grace Kelly of Montgomery', who allowed me as the first of eleven grandchildren to christen her 'Ma', though she had told my mother she preferred not to have a nickname at all.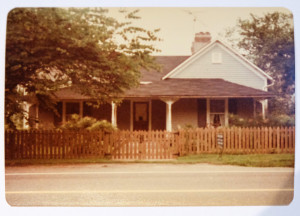 The little house in North Carolina where I first lived with my parents
What I remember most about those years was the mingled smell of water, earth, and heat; the humidity that settles over everything at the end of summer days, vapor clinging to the gently rolling ground. Everything damp, everything green— flowers, palms, the flashing reflections of light on water, the red clay dirt that clung to every surface and wouldn't wash out of our clothes. The South has caught up with me over the years. I hated it at times, ran from it as a teenager eager to pass for a Yankee, and yet I couldn't help but look for it everywhere, feel it both as a mark of distinction and a tether.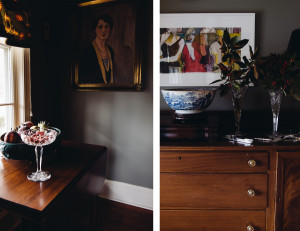 Scenes from my parents' house in Mississippi
To be Southern is to be intimately familiar with longing, with the feeling the Portuguese call saudade— an ache for something or someone much loved but missing, something waylaid or misplaced, something you wait for but know will never arrive, a cherished memory you keep turning over, embellishing it over the years until it bears only the faintest resemblance to actual events. More than anything that came after, I credit the South with awakening my interest in the good things of life, the real things– food, people, art, writing, place, and the peculiar way that smell and scent undergird all these things, contextualize them and weave them into a pattern of memory.
I went on to study printmaking, photography, fashion design, and programming, and to work at various jobs, most of them not very fulfilling. The best I understand myself I gravitate to methods of creation that are highly process-oriented and that require exhaustive amounts of research and rigor to produce anything, even better if they are based on some kind of archaic, even secretive knowledge that most people don't care about. This is admittedly not a very efficient way to go about a career, let alone a way to not drive people who care about you kind of crazy, but there you have it. It was really only a matter of time before fragrance found me.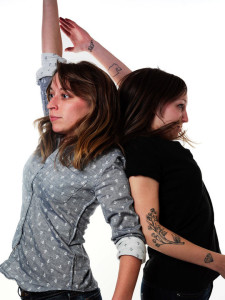 Holladay was a DJ with her friend the photographer Shay Platz
When I moved to New York after college in 2003 it was with no real idea of what I wanted to do there. I missed my friends and though it was my original intention to go to New Orleans, I gave up after a few months of lonely mooning and moved up to share a single room with one of my best friends. I'd worn Christopher Brosius's Demeter line in college, but it wasn't until I stumbled into Aedes de Venustas in the West Village one day that I had any idea about the scope of what was being done in perfume. It seemed like magic, this weird little jewel box store with a taxidermy peacock in the window in the middle of a block of hippie shops and dusty bodegas. I had no money, was freezing cold that winter and mostly miserable and scared out of my wits by how huge and inhuman New York seemed, but what little pocket money I had I spent on perfume.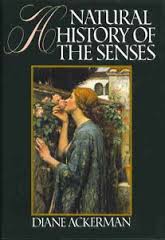 Ackerman's A Natural History of the Senses 1990
Comme des Garçons Odeur 41, a dozen CB I Hate Perfume individual notes in their little amber bottles, the old Dyptique L'Autre and Virgilio– those were my anchors, the things I could carry around with me as an invisible cloud of protection and safety, but it wasn't until I read a copy of Diane Ackerman's A Natural History of the Senses that I thought of trying my own hand at it. The chapter on scent was the most fascinating thing I'd read in a long time, and though I've often thought that if I knew how hard it would be, how much work I was in for, maybe I wouldn't have started, I feel like the best gift New York gave me besides my husband and friends was a kick in the pants to start studying fragrance, and then to really do it, create something real. I found that book in a cardboard box on First Avenue labeled 'free'.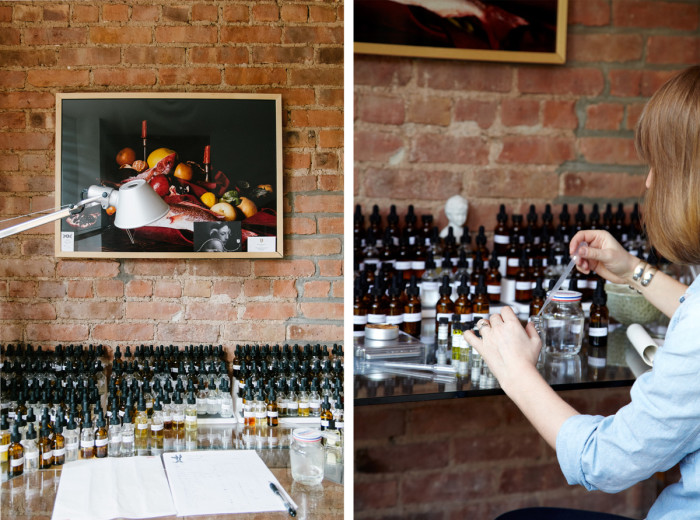 Halloday Salz at her Perfume Organ
On American Perfumery: Independence; I don't have to follow a brief or a client's wishes, that I'm not tied to shareholders, a board, VCs, or even "the industr"y as it's commonly interpreted. Having worked for a very long time as a designer this is incredibly refreshing, but I've definitely made mistakes precisely because of this freedom. I've tried to look outside traditional points of reference mostly because I find it interesting, though a symbol (which perfume often is) is only as comprehensible as the thing to which it refers. There are things I'm interested in creating that would not fall under the rubric of perfume, and I have to pull myself back a lot, to be patient, work methodically and not go too far outside a frame of reference until I have given that frame its due. As Jean-Claude Ellena says "I do not have an actual job, but I practice a craft. Unlike a 'proper' job, which is quantifiable, a craft is always extending, pushing the boundaries of the craftsman's abilities ever further. Inventing means renewing, growing." America in the 21st century has largely lost this understanding of craft, relegating it to the status of hobby, but there is something inherently dignifying and human about producing a tangible object that is destined for other people, especially one as complex and potentially meaningful as perfume. The American independent perfumers I have met all share this view to varying degrees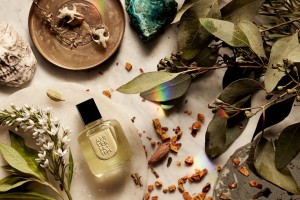 Regarding compositions, I try to keep an historical point of reference while maintaining a contemporary slant that is less about any specific image than it is about evoking a particular range of associations and emotions. I also want to assert the primacy and quality of the materials, and of course to make sure the darn thing is wearable. Through traditional processes, things that have meaning for others and are not purely quick fix technological 'solutions' to problems that arguably don't exist.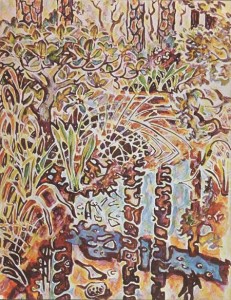 Reflection in a Pool of Water by Walter Inglis Anderson
Favorite American Artist: Though there are so many artists, designers, writers, and musicians that inspire me, I think that I have to single out the artist Walter Inglis Anderson. Since he is from and created most of his work in and about Mississippi, I grew up with his paintings and prints everywhere I went, but as soon as I left I realized how little he's known outside the South. His family owned and operated a ceramics company in Ocean Springs, Mississippi where he worked for most of his life, but he also produced a prodigious amount of work— watercolors and oils, drawings, murals, and prints of Mississippi wildlife and nature.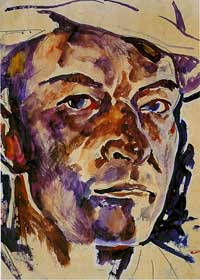 Walter Inglis Anderson Self portrait
Though he struggled with mental illness and alcoholism throughout his life, he took refuge in the forms and beauty surrounding him, rowing out to remote and uninhabited coastal islands to observe and paint wildlife, walking and bicycling in long, solitary journeys, all in pursuit of some kind of realization, of transcendence through the process of art.
–Holladay Saltz, Perfumer and Founder of Apoteker Tepe
Editor's Note: Since July 3, 2011 (Indepedence day eve) we have celebrated American Perfumery with our Profiles series. Aptoker Tepe is located in Harlem, NYC. In New York, Apoteker Teper is sold at Twisted Lily where is how we first learned of Halloday. –Michelyn Camen, Editor in Chief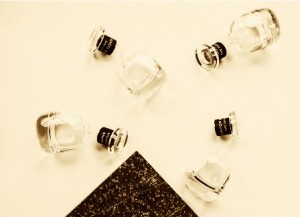 Thanks to Holladay Saltz of Apoteker Tepe, we have a draw as follows: For a US registered reader we have a reader's choice of: 50 ml of The Pardam ('Pams review here) 50 ml of After the Flood, 50ml of Anabisis or The Holy Mountain and for a registered international reader we have a sampler set of all five. (This option is open to our USA readers as well) To be eligible please leave a comment with what you found fascinating about Holladay, her path to perfumery, your choice of fragrance and where you live. Draw closes July 5, 2014
Please like CaFleureBon Profiles in American Perfumery and your entry will count twice.
You can follow Holladay on instagram @APOTEKERTEPE
We announce the winners on our site and on our Facebook page, so Like Cafleurebon and use our RSS option…or your dream prize will be just spilled perfume