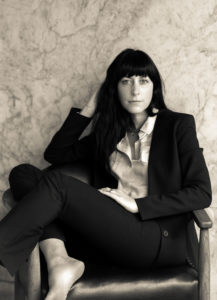 Heather D'Angelo of Carta Fragrances
Profile: Like many other perfumers, my personal history also spans an uncommon terrain comprised of twists and turns down alleys revealed through uncanny alliances between curiosity, luck, and serendipity – my three guardian angels. With each retelling of this story, the less I find any of it makes sense, and the less I feel emboldened to self-title as "perfumer" when "artist" may be a more fitting designation. Time will have to decide.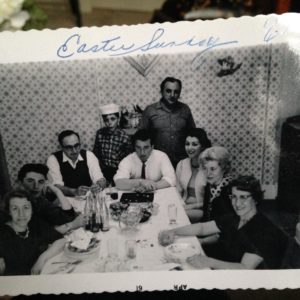 Heather D'Angelo of Carta Fragrance with her family in Brooklyn
My nascent olfactory yearnings first stirred within my Italian-American girlhood. Those memories are imbued by the heady aroma of my Great-Grandmother's stewed tomatoes, the sweet garden bouquets of roses and Lily of the valley stems gathered for me and wrapped in wet newsprint by my Grandfather, and the buxom fragrances worn by the cosmopolitan women in my family, most famously, an Aunt who looked like a Sicilian Elizabeth Taylor – shining black coiffed hair, perpetually red lips, and a cloud around her of something both animalic and balsamic, Catholic and naughty. Such overwrought sensuality did impart to me a keen appreciation for creating and consuming beautiful things that I've woven into every aspect of my life.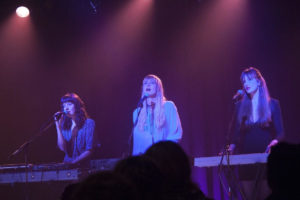 Au Revoir Simone: performing in Twin Peaks The Return-Heather D'Angelo of Carta Fragrances on the left, Erika Spring (middle) and Annie Hart (right). Photo credit Showtime
At 18 years old, I set out to become a photographer, but fate deemed I would spend the greater part of my professional life working as a musician and composer with Au Revoir Simone, a band I founded in the early aughts along with Annie Hart and Erica Forster in Brooklyn, New York. My career in music granted me the wings to travel the world and soak up its rich influences. During this same period of time, I also became fascinated by the field of tropical ecology and enrolled at Columbia University to obtain a BS in Environmental Biology. The simultaneous pursuit of both music and science split me in unexpected ways – while my body was either on stage or racing through Europe in a van to get to the next venue in time, my mind was often in the tropics.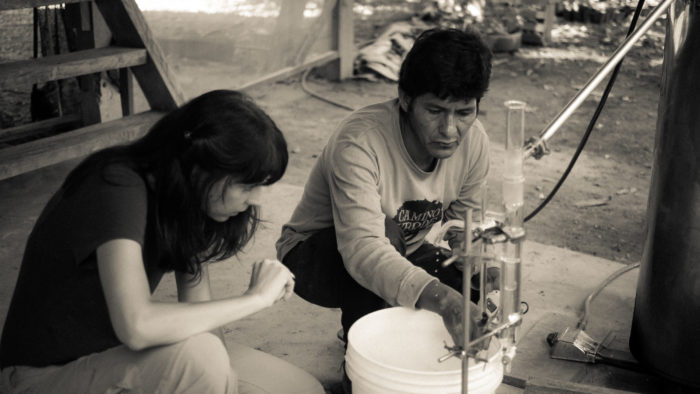 Heather D'Angelo of Carta Fragrances and Don Juan at Camino Verde in Peru, distilling essential oil for Carta's premier fragrance, Moena 1269
My research at Columbia focused on Malaysian rainforests, and gathering data for this scientific study required long sweaty weeks spent plunging sampling cores into the earth and stuffing fistfuls of musty leaves into plastic bags. It was backbreaking work when the equatorial sun showed no mercy, and temperatures reached 100 degrees, only periodically refreshed by the afternoon deluges that always seemed to catch me while straddling the side of a hilltop.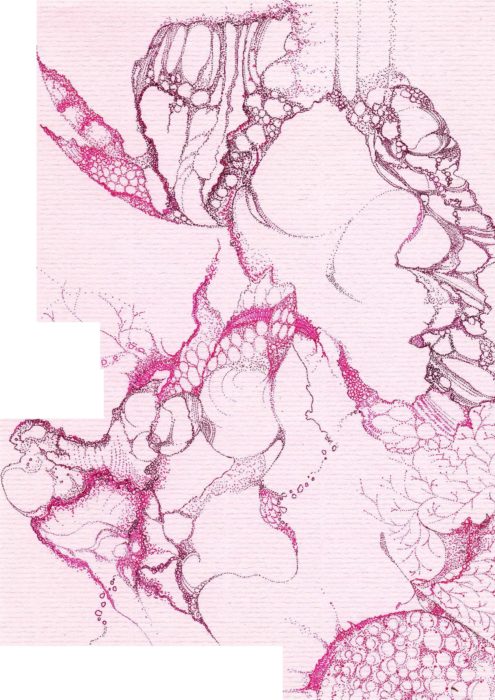 Heather D'Angelo of Carta Fragrances is a fine artist, her painting entitled "Jungle Jewel"
During that time, I cursed a lot and fantasized about being back on the road as a musician. But once home, I missed the sharp, ozonic aroma of oncoming rain and couldn't forget the acrid scent of burning woods drifting through the air, singing the sweet fragrance of ripe blooms. I wished I could have bottled it—the essence of that place. This desire was the impetus for Carta Fragrances, which means "maps" in Italian.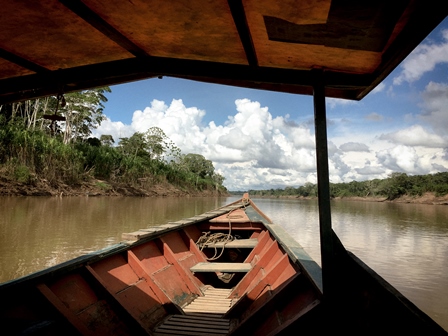 Heather D'Angelo of Carta Traveling up the Tambopata River in Peru by Shahrzade Ehya
I didn't know at first that I could make perfume – why would I? But my obsession to bottle the scent of a place – the tropics – was resilient enough to surmount the steep learning curve of chemistry. This intellectually-driven quest to draft a 'scent map' required something unexpected of me to come to fruition– the concentric mapping of the deeply personal, intimate, and emotional place I access through musical composition. In fact, my early experimentations with perfume craft quickly proved to me that there is no stronger analog for musical composition than perfume composition. Musical notes and fragrance notes are one in the same, meditative tools that allow me to dive within and access the psychic space of universal connection. Like a traveler in a foreign land, I seek to retrieve a souvenir from that space – a song, a drawing, and now, perfume. Both tell the story of where I've been, established at first with a beat and layered with textures and meaning. Both want a beginning, a climactic middle, and an end to be worth telling.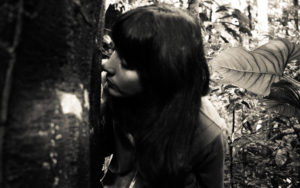 Heather smelling tropical tree bark
On American Perfumery: American perfumery is like an irreverent child dancing in the mud in defiance of its ancestor's puritanical cleanliness and rigid rules. Anyone around is invited to come and play.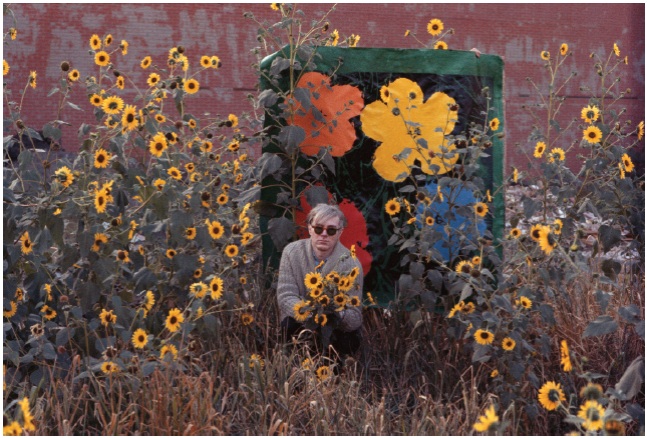 Warhol in a field of black-eyed Susans with an early Flowers canvas, Queens, New York, 1964. ©2010 William John Kennedy,
Favorite American Artist: This was hard – my favorite artists are European, but if I had to choose an American then it would be Andy Warhol because he was a radical visionary who changed how our culture sees art. As someone who has always been compelled to make beautiful things, I can't help but feel the truth of his quote, "An artist is somebody who produces things that people don't need to have."
Heather D'Angelo, Founder and Perfumer, Carta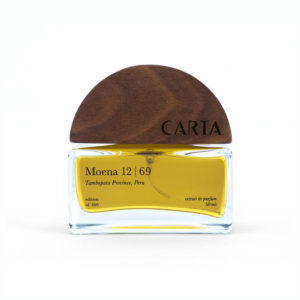 Thanks to Heather D'Angelo of Carta, there is a fantastic draw for two registered readers (you must be registered) in the US.There are two winners who will be chosen by random. One lucky winner will receive a full size 50 ml bottle Moena 12|69 $295, and another will receive two 2 ml samples. For Notes and composition please go to http://www.cartafragrances.com/ .To be eligible be sure you register here, you must be registered or your comment will not count. Tell us what you found fascinating about Heather's path to perfumery and why Moena 12|69 appeals to you. Draw closes January 5, 2018
Carta is also available at Tiger Lily in San Francisco and is a limited edition
Please like CaFleureBon Profiles in American Perfumery and your entry will count twice.
Heather D'Angelo is our 130th perfumer in our American Perfumer series and what a great way to start off the New Year!
Follow us on Instagram @cafleurebon and @cartafragrances.
We announce the winners on our site and on our Facebook page so like CaFleureBon and use our RSS blog feed…or your dream prize will be just spilled perfume.