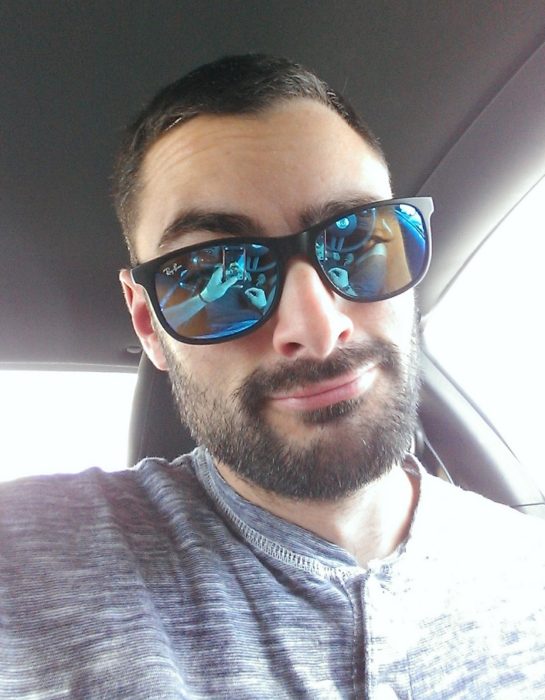 Daniel Gallagher of Gallagher Fragrances, c. 2015
Profile: I was born in Worcester, Massachusetts to a middle-class family of four. My father works as the foreman of a small town's water department and has been fortunate enough to be employed there for over 30 years. My mother was a stay-at-home mother for about the first eight years of my life, but was employed for several years at a financial institution that was a stone's throw away from the second of two childhood homes. I also have one older brother, Timothy, who is 2 years and 1 week my senior.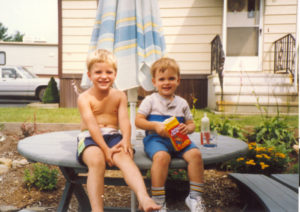 Daniel and his older brother, Timothy, c. 1991
The first of the two childhood homes was a two-story home with a basement. We lived there with my paternal grandfather's friend, George. He preferred to live in the basement, which was mostly renovated and like a second living space, so my family and I lived in the two top levels of the house. I recall vividly, the smell of the cigars that George used to smoke near-daily.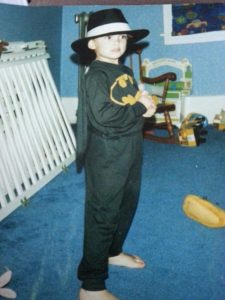 Daniel in his early years, c. 1993
When I was seven years old, we moved into a ranch-style home less than two miles from my first home. I spent the majority of my early years playing outside (which seems like a thing of the past now) with the local neighbor kids, who are all now in their 30s (as I will be in a few short months). I was also heavily into war memorabilia, focusing mainly on collecting artifacts from WW2. I still have this entire memorabilia tucked away in my closet. You can imagine that most of these items smell like an attic/basement/garage. However, the Colt 45 holster I have, still smells of leather (with hints of attic). A short few years later, in 2001, I joined the Junior Reserve Officer Training Corps (JROTC) program in high school. I ended up rising to be the top-ranking cadet, with ~160 cadets under my command. A mentor of mine all throughout high school was the Senior Aerospace Science Instructor, a retired US Air Force Colonel. He asked me if I wanted to pursue a career in the military and at the time, I didn't really have anything else in mind (but what 17-year old does?), so I said "definitely." The Colonel recommended one military college to me: Norwich University.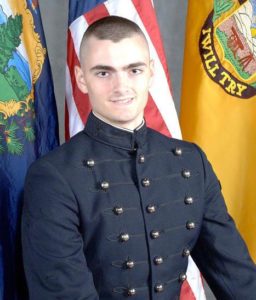 Daniel, 17, as a freshman at Norwich University in 2005
My life was turned upside down on August 20th, 2005, when I entered the oldest private military college in the United States of America (founded in 1819) at the age of 17. [The next four years of my life were four of the most memorable. In order to earn a commission while attending Norwich University, you had to be a member of the Corps of Cadets. The Corps of Cadets followed US Army regulations, so six days a week, I wore US Army regulation uniforms. Meanwhile, one day a week, I would wear US Air Force uniforms and attend Aerospace Studies classes. Norwich University is located in central Vermont, so I would get to witness the leaves changing and all of the scents that come with a northeastern Fall.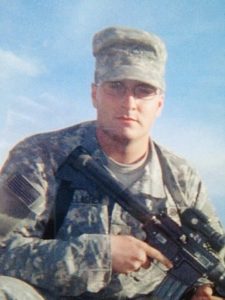 Daniel's brother Timothy at an undisclosed location in Afghanistan, c. 2006
One event that I will never forget occurred during the first quarter of my sophomore year. The school's commandant (a Major in the US Army) was standing outside my door, which normally didn't bode well for anyone. Instead, the Major told me that I had to call my mother as soon as possible. So, I called my mother and she told me that my brother had been wounded in action at an undisclosed location in Afghanistan, but that he was alive and in stable condition, and was being flown back to the now decommissioned Walter Reed Army Medical Center, in Washington D.C. Timothy had been shot just above his heart on July 27th, 2006, and subsequently received the Purple Heart.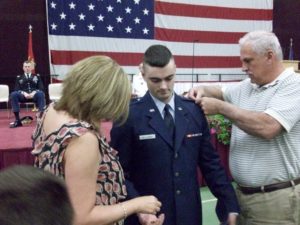 Daniel being pinned by his parents as a 2nd Lieutenant US Air Force
On May 9th, 2009, I graduated from Norwich University with a Bachelor of Science degree with a focus on Computer Security and Information Assurance.The following day, I commissioned as a 2nd Lieutenant in the US Air Force as a Communications Officer. Present-day, I am serving in the rank of Captain as an Air Force Cyberspace Defense Officer.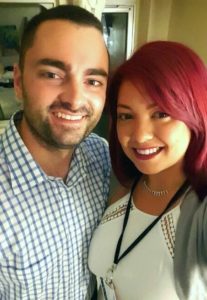 Daniel and Mindy on a cruise
A handful of years later, I actually earned a Master of Science degree with a focus on Cyberspace Operations. Several states later, I ended up in Texas, where I met my beautiful girlfriend, Mindy.
Truth be told, Mindy is the impetus for me becoming an artisan perfumer. The story goes… I had been wearing designer fragrances since high school (which seems so long ago, now), most of which were fairly common and inoffensive to the majority of people. Fast-forward a decade to present-day and I found myself at a fork in the road. I was wearing a designer fragrance and my girlfriend returned home from work one day and told me, without missing a beat, that her co-worker wears the same exact fragrance. Needless to say, this fragrance made its way to the back of the shelf.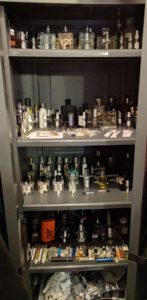 Daniel's Fragrance collection
At this point, I visited your normal fragrance shops that carry the normal crowd-pleasing designer fragrances, but I couldn't find any that really interested me. I began to branch out into indie/niche fragrances. After trying out a handful, I realized that these were quality products that had greater longevity, but more to my satisfaction, they were far more unique! But, something still wasn't sitting quite right. I had a creative itch one day and began researching perfumery and the rest is history, as they say.
Part of the fun for me is trying out all of the ingredients. The second that I get a shipment of new materials, I break out a stack of scent strips and close myself in the "lab" as I like to call it.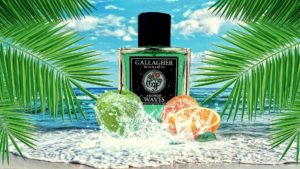 Amongst Waves artwork by Lathesh Suryakantha
The impetus for creating new scents comes from any and all inspiration. My most recent release, Amongst Waves, came to be after I had a sudden urge to create something that was a bit more fruity "aquatic" than the pre-existing "aquatic" fragrances in today's market. The name for the creation is derived from the song "Amongst the Waves" by Pearl Jam, one of my favorite bands. Arguably my favorite band of all time is BOSTON; ironic given I grew up ~1 hour away from the city of Boston. Perhaps a future release will be named after being inspired by a BOSTON song.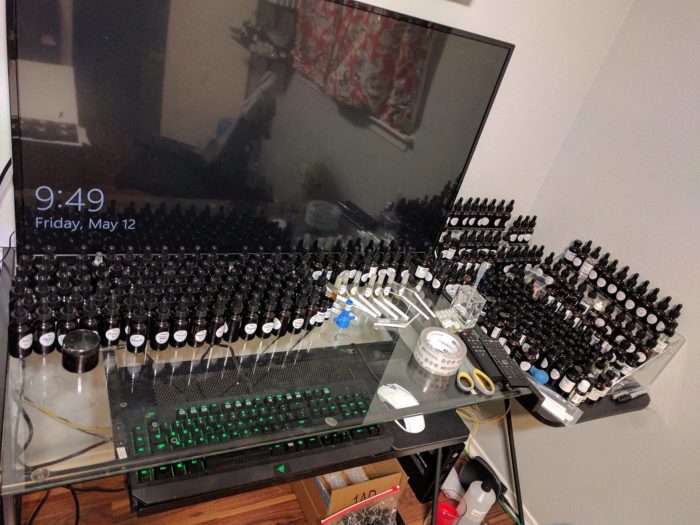 Just behind my makeshift workspace sits the staging area, which I set up less than two weeks ago. I'm thankful I did, because my new bottles, boxes, and all the other bits and bytes take up a lot of space.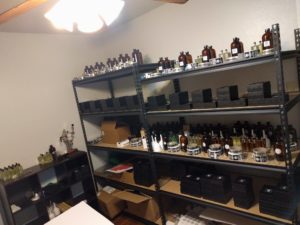 On American Perfumery: I think the one thing to remember is that a lot of artisan/indie perfumers are also avid collectors themselves. My collection is for my own pleasure, sure, but it is also a metaphorical library from which I learn. Clearly, the perfumers behind the fragrances in my collection created something that appealed to me, which led to me purchasing them. My goal is not to recreate something that I already own, but to create something that nobody owns, because it hasn't been done before. To me, this is what is means to be an American Perfumer; to be a pioneer.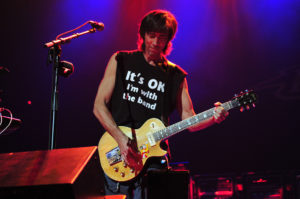 Tom Scholz of Boston
Favorite American Artist: Tom Scholz. American rock musician, songwriter, inventor, engineer, philanthropist, and founder of the rock and roll band BOSTON. If you tune in to any classic rock music station, you can be sure that you'll hear a BOSTON track eventually. Tom Scholz assembled his own recording studio in the basement of his house because he was unable to achieve the exact sound that he was envisioning in commercial studios. To achieve the exact sound he was going for every time, furthering his creative portfolio, Tom founded Scholz Research & Development, Inc., in order to develop and market guitar amplifiers and effects boxes. To this day, Tom records in his basement studio. This type of ingenuity is something that I try and emulate in the fragrance world. I do my best to create something that is genuinely unique to my knowledge, even if it is not largely popular in the flooded mass market. While books and lectures from successful professionals are undeniably (usually) good references, you will not learn how to invent something truly original unless you learn the hard way through trial and error. Accordingly, you will not learn through trial and error if you give up easily. To me, Tom Scholz emulates this pioneering, persevering spirit.
– Daniel Gallagher, founder, owner, and sole perfumer of Gallagher Fragrances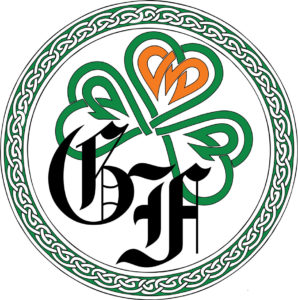 Daniel is the 123rd American Perfumer in our series. Yesterday, Saturday May 22, 2017 was National Armed Forces Day. Thank you Daniel for your service to this country. God bless you, Timothy and all our Armed Forces who put themselves in harm's way to protect America. Now go sell some perfume!-Michelyn Camen, Editor-in-Chief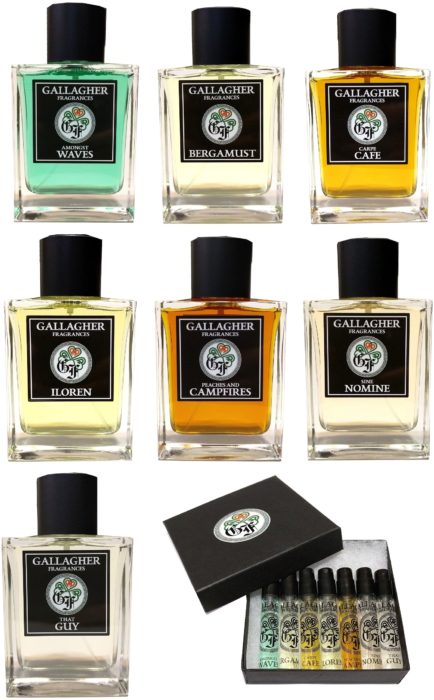 Thanks to Daniel and Gallagher Fragrances we have a worldwide draw for a registered reader for either a sample set of all 7 fragrances in Daniel's Core Series OR your choice of a 100 ml bottle from The Core Series Collection. To view perfumes and notes please visit https://www.gallagherfragrances.com/. To be eligible be sure you register here. Please leave a comment with what you found fascinating about Daniel Gallagher's path to perfumery, where you live, which fragrance you think you might love and your choice should you win. Draw closes 5/24/2017. Please like CaFleureBon Profiles in American Perfumery and your entry will count twice by clicking here.
Follow us on Instagram @cafleurebon and @gallagherfragances and check out Gallagher Fragrances on Facebook.
We announce the winners on our site and on our Facebook page so like CaFleureBon and use our RSS feed…or your dream prize will be just spilled perfume.