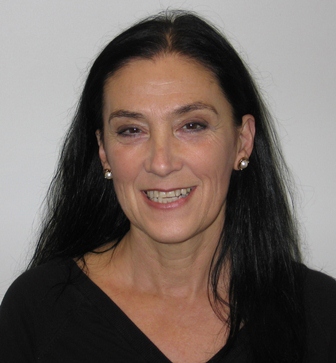 We called Guest Contributor Harper Hilton's review of three of Dr. Ellen Covey's Olympic Orchids fragrances (Arizona, Gujarat and Golden Cattleya) the thrill of discovery.In addition to being a perfumer, Dr. Ellen is a scientist, a scholar, a photographer and a thespian.
PROFILE: I was born in Chicago, but have lived in so many different places that I consider myself a true citizen of the world. My family moved to the East Coast when I was a toddler, and one of my first memories is standing in my room, on tiptoe, looking out the window over the turquoise-gray windowsill with tears in my eyes because I knew I was going to miss the way my room smelled. I spent a long time breathing in the familiar, comforting scent of that room, and can still smell it in my imagination.
I came to perfumery relatively late, in parallel with a career as a scientist, but have always been almost pathologically fascinated by scents. As a child, I stuck my nose into everything to experience its odor. My mother loved perfume, so a favorite activity was to sniff her perfume collection from the bottles. I didn't just sniff perfume or flowers from the garden, I sniffed everything in the kitchen, the trees, the ground, animals, objects, and even people. As soon as I had some spending money of my own, I started buying mini bottles of perfume and essential oils, just so I could sniff them. It's ironic that I've never been big on "wearing" perfume, I just like to smell it for its own sake.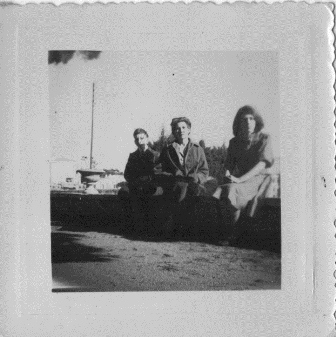 This photo was taken in the front courtyard at Villa Siam Proun. From left to right, my brother, my mother, and me. My brother's face looks a little strange because he scribbled out his face in the photo and I tried to partially restore it in Photoshop
My early years were spent moving from one European country to another, including Switzerland, France, Germany, and Italy, living in each for a few years as part of my mother's vague master plan of eventually ending up in Israel but seeing the rest of the world on the way. My perfume Siam Proun was made for her, as a memento of the Villa Siam Proun where we lived in the South of France. By the time I was an adult, my family moved back to the US, and I went with them, since I was curious to see the "New World" again.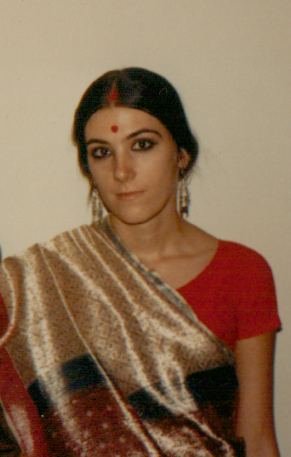 Random events in my life have ended up taking me to live in India, Spain, and both coasts of the US. I'm now established in the Pacific Northwest, in the Seattle area. I've been fortunate to have an amazing variety of scents to smell at every point along the way.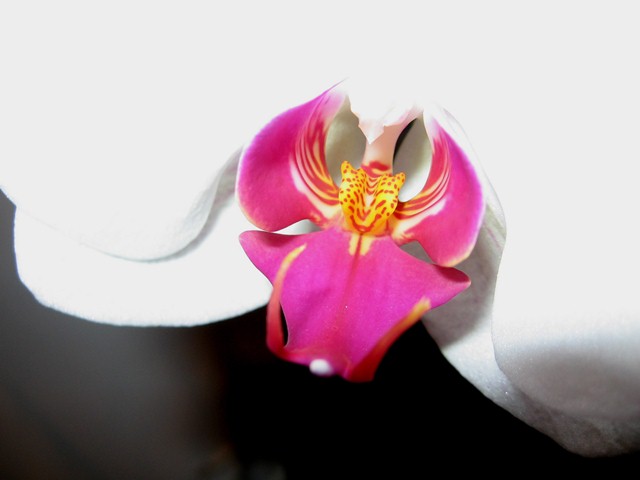 Photography: Dr. Ellen Covey
I came into perfumery through an unusual route, having studied the neural basis of chemosensory perception as a graduate student, and then gone on to an academic career. At one point I was given some orchid plants and fell in love with them, eventually establishing my own orchid nursery. The diversity of orchids is mind-boggling, and so is the diversity of their fragrances. I decided to re-create some of the orchid fragrances as perfumes, so embarked on a course of self-study, learning as much as I could about materials and techniques, and engaging in a frenzy of sniffing, learning about perfume composition through analyzing thousands of perfumes and experimenting with every material I could obtain. I started with natural materials, since I already knew those, but have slowly added a large variety of aroma chemicals to my palette. I prefer to work with high quality natural materials as the basis for my perfumes, and am constantly looking for new and unusual ones. However, I find that most natural perfumes can be improved immensely by the judicious addition of man-made materials, so my compositions are typically about 75-90% natural with some man-made embellishments.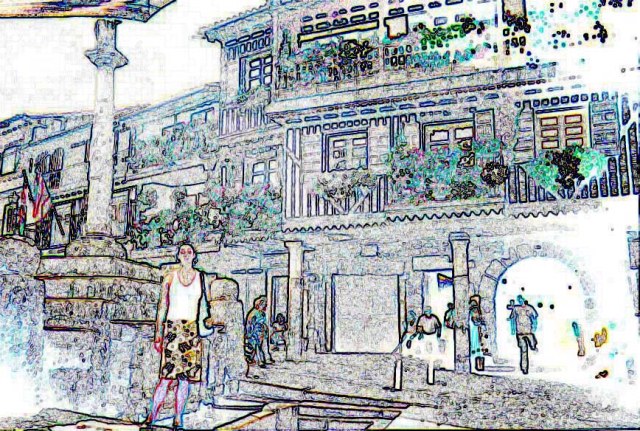 This is an adaptation of a recent, less than perfect, photo of me taken in La Alberca, Spain. I love to play around with digital artistic effects
ON AMERICAN PERFUMERY: I see myself as a prototypical 21st century indie perfumer who makes perfume as an art, not to please one demographic or another, but simply because it's one of those creative urges that I feel compelled to express. My perfumes are olfactory manifestations of my life and experiences. Like my life, they don't follow any standard formula, but rather are an eccentric, serendipitous, and joyful journey. The internet and social networking sites have made it possible not only to obtain all of the materials I need to give form to my visions, but to easily share this art with others. There is nothing more gratifying to me than to be able to bring people pleasure through my perfume creations.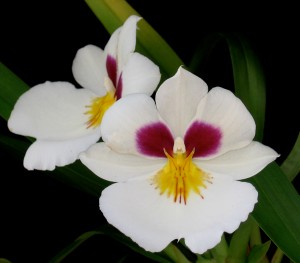 Dr. Ellen had many artists she admired but I chose to use her own photography and digital art instead. For our draw, we learn Ellen Covey has a high E.Q. as its a reader's choice of a FULL BOTTLE OF ANY ONE OF HER 15 PERFUMES. To be eligible: Please leave a comment on a quote you particularly like or what you found the most interesting.Creativity and depth count when making your choicewhich YOU MUST SPECIFY . Like Cafleurebon Profiles in American Perfumery which will continue throughout 2012 Draw ends Dec 20, 2011 EST
–Michelyn Camen, Editor-in-Chief
We announce draw winners only on site and on our Facebook page, so Like Cafleurebon and use our RSS option…or your dream prize will be just spilt perfume