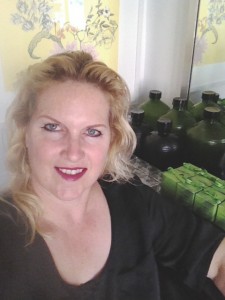 Dannielle Sergent
I am a California girl born to an intelligent, elegant, free spirited mother of Italian and Hungarian descent. I was shaped by a frugal Berkeley youth, a passion to create and an early subscription to Vogue. I have always been an artist; my medium has just varied over the years. As a painter, illustrator, architect, designer, and now perfumer, each required a distinct knowledge base, and provided unique opportunities to innovate.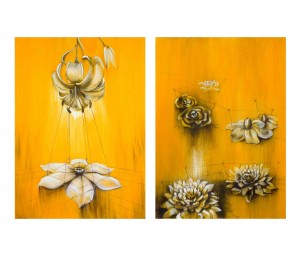 An example of Dannielle's Art
I realized early on that I needed to satisfy both the rational and creative parts of my brain to fully flourish. After studying painting at UC Berkeley for the first few years I turned my attention to architecture. I completed my graduate work in architecture and painting at Univ. of Texas at Austin, and returned to the Bay Area to start my career. My professional portfolio includes Residential, Civic, Interior and Retail projects. I found a real affinity for retail design, where the importance of the brand story called for something greater than a beautiful "box". This idea became very useful when starting COGNOSCENTI.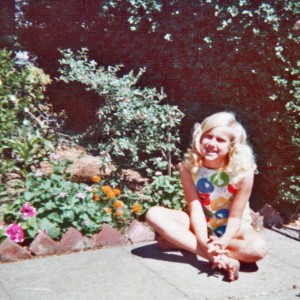 Dannielle at 9 years old
Although I have the smallest nose in the family, mine has always been the most sensitive. I remember lying in my bed as child and being able to tell what the weather was like outside by the smell of the room even before I opened my eyes. If it was foggy outside the dampness would enhance the ferns, the dirt would smell wet and slightly musty, and the small patch of concrete would be covered with snails that I thought from a distance smelled like fatty mushrooms. If it was hot and sunny, the ferns would be sharper and the pavement smelled hot. The lemons and the roses next door would come out making the air heavy in the freshest way.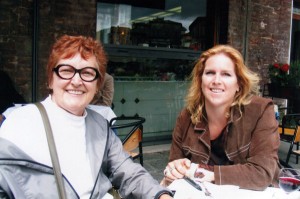 Dannielle with her mom
Although my mother was a bit of a hippie she wore Chanel No 5, and kept a full bottle in her leather clutch purse with a pack of cigarettes and Doublemint gum. I can't think of one without the other. It was an interesting mix: luxurious, accessible, fun and a bit tough. I started wearing perfume myself when I was 12: Hibiscus oil from the Body Shop (now Body Time), then Babe at 13 and Cristalle shortly after it was launched. I wore mostly Cristalle for 20 years but also wore men's fragrance too. Maybe it was the tobacco and leather scent from my mother's purse that made me want more than traditional women's fragrances could offer. It still influences my scent preferences today.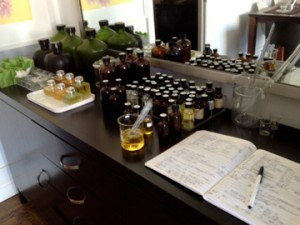 Dannielle's studio
I woke up one morning in 2010 and decided that was the day I was going to become a perfumer. I researched classes online and found one the next day with Yosh. There was one spot left and it was an enlightening experience. After that first class I threw myself into the world of perfume. I read everything: Aromatherapy, Botany, Chemistry, Perfume Criticism and Composition, articles, online blogs and fiction. I sourced materials from all over the world, smelling each regional variation and trying to train my nose. I started blending with naturals but the following year added a few synthetics to increase the palette of materials. It felt initially like I wasn't given all the colors I need to paint with. Yosh was kind enough to give interim feedback and continues to be a source of personal inspiration to me. She opened the door to perfume creation and I ran through it.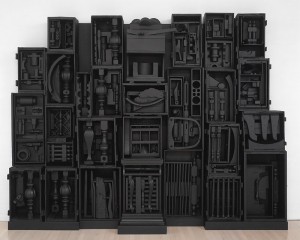 Louise Nevelson
Favorite American Artist: I have too many to count. The most influential to me early on were Helen Frankenthaler and Louise Nevelson. Both took simple materials and created beautiful and powerful abstract works of art. The passion of the turpentine saturated paint in Frankenthaler's work and the refined complexity of the scrap wood in Nevelson's taught me that luxury and elegance were not dependent on expensive materials.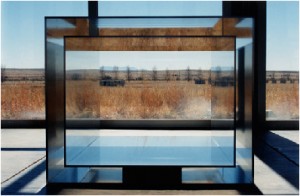 I visited Marfa, Texas in 1990 for Donald Judd's birthday party and fell in love with his work for the same reasons. Simple materials extremely well crafted define luxury. With COGNOSCENTI I seek to elevate the raw materials from simple to sumptuous.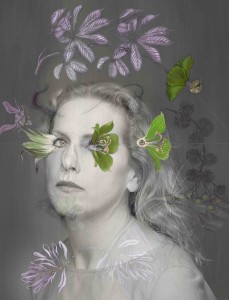 On American Perfumery: It's a unique and exciting time to be an American perfumer. Thanks to aromatherapy pioneers, small perfumers like me have access to knowledge and raw materials that didn't exist a decade ago. I love that the American perfumer is taking these tools and crafting unique blends infused with their beliefs, influences and personal history. They aren't working from a predetermined script; they are creating the path themselves. It's a pioneering spirit guiding each perfumer's distinct creative vision. And the stories behind their brands and the new scents they are creating are compelling customers to find their own paths and expand beyond their original scent borders. It's inspiring and I'm trying to smell them all.
–Dannielle Sergent, Perfumer and Founder of COGNOSCENTI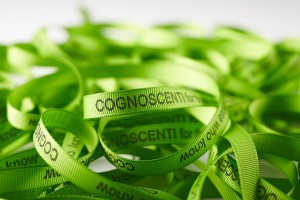 Until Senior Editor Tama Blough emailed me that COGNOSCENTI was a line to 'note', I had never heard of Dannielle Sergent. Tama reviewed her perfumes (read Tama's reviews here) after discovering them when they debuted at the First Artisan Salon in San Francisco, July 8, 2012. I wrote Dannielle and requested samples of her three fragrances. I called her immediately. We chatted and I learned we shared a common art and branding background as well as wearing Cristalle early on. Dannielle explained why she numbered her fragrances instead of naming them- so that the wearer would have no preconceived notion or expectation. Trying to capture the DNA of her brand, I used the word simplexity…they are at once complex, well structured yet easy to wear and adaptable. We are not the only ones impressed by this line…COGNOSCENTI won five gold medals including Best New Product, Best Ingredient Combination, Best Aroma, Most Unique, and tied for Most Seductive. COGNOSCENTI joined Yosh and 40notes as the three official fragrances of the 2012 Taste Awards (Best in Salon) and as the "Official Luxury Fragrances" of the 4th Annual TASTE AWARDS in Hollywood. –Michelyn Camen, Editor in Chief (I am wearing 19 as I am typing…)
Now, CaFleureBon readers are "in the know."
Thanks to Dannielle, we have a reader's choice of a 50ml of 1, 16, or 19 for a draw. To be eligible, please leave a comment with the fragrance you would like to win and what you know about Dannielle Sergent. (Currently, COGNOSCENTI is not available for sale on Dannielle's site or at any retailer, so the winner will really be in the know. Draw closes August 16, 2012
We announce the winners only on site and on our Facebook page, so Like Cafleurebon and use our RSS option…or your dream prize will be just spilled perfume