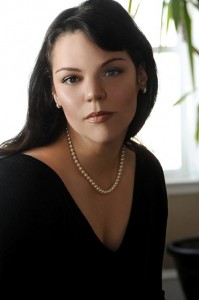 A year ago, before the Mystery of Musk project, we at CaFleureBon had no idea who Charna Ethier was. As it happened, I reviewed only one fragrance of all twelve…Musk Nouveau I
I I I. i knew i found a.
When i looked at Charna's website I noticed she dedicated Divine to her friend who never left the house without lipstick; I found the equivalent of my natural perfumer soul sista. Ida Meister, whose nose never lies recognized her as THE break out perfumer and named her the Rising star of 2010. We think she's going places and her fragrances are now in Whole Foods and most every SAVVY blog and online publication has written about Charna.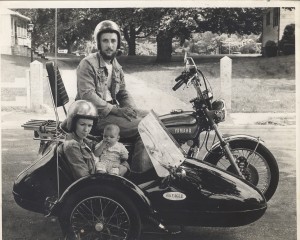 Profile: According to my mother, I was born on a cold winter day in 1975 after a treacherous drive to the hospital. At the time, My father drove a battered plumbing van spray painted an assortment of dizzying colors. The van with no shocks shimmied it's way to the hospital and my mother swore my father hit every pothole on the road on the way there. I come from a long line of storytellers, characters and raconteurs.My father was born in Blackstone, Rhode Island, the first child of Rena and Paul Ethier. My grandparents hailed from Canada and were French and Native American. They settled in the French enclave of Woonsocket, an old mill town populated with French Canadians who worked in the textile mills. My father only spoke French until he was nine and has bad memories of the nuns in his Catholic school powdering his cheeks with chalk dust, pounding the chalkboard erasers against his cheeks in punishment for not answering in English.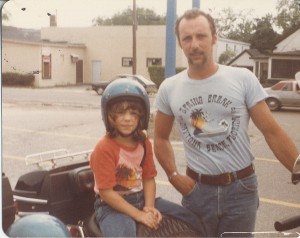 My mother hailed from Wayland Massachusetts, one of seven children born to Marjorie and John Cain. My mother's parents were English, Irish and Scottish. My grandfather was born on Prince Edward Island and emigrated to the U.S. as a child. He drove a tank in WW II yet was soft spoken and possessed infinite amounts of patience. My Nana was tough. A child of the depression, she scrimped and saved to feed seven children. A true gardener, she loved spending hours pruning and weeding and was famous for her blueberry pies. I have fond childhood memories of sitting at the kitchen table in a damp Wonderwoman bathing suit eating peanut butter and fluff sandwiches and Cape Cod potato chips with my Nana. She would chain smoke Carleton 100 cigarettes while working on crossword puzzles. Her conversations were peppered with comments about "those damn Kennedy's." We would watch Quincy M.E. on the television through a haze of smoke.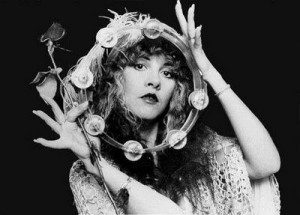 Charna grew up listening to Stevie Nicks and Fleetwood Mac
My parents were hippies who settled in rural New Hampshire. We lived on a farm (commune) in a tiny town called Unity. We had a large garden and barn filled with pigs, cows, goats, horses and chickens. Our closest neighbors, who were close to a mile away down a winding dirt road, were nudists named Sunshine and Sundance. The collective atmosphere was one of simpleness and minimalism. I have fond childhood memories of playing with my little brother outside. Always outside. We were farm kids. Kids who collected buckets of maple sap to turn into maple syrup. Kids who plucked warm eggs from the hen house. Kids who told our dinner guest which animal we were eating, by name . . . never noticing they turned pale and pushed their plates away at the thought of eating "Daisy." We would take rain showers, rushing outside with bars of soap in the pouring rain. There were parties, lots of people coming and going, animals and excitement.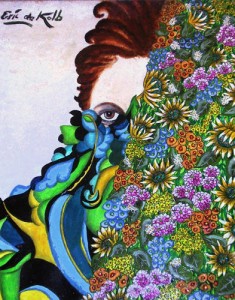 On American Perfumery–
I often think this upbringing has much to do with my love of natural perfumery. The smell of birch, hay, raspberry leaf, lilacs and basil trigger fond memories. These aromas smell familiar and comforting to me. My parents instilled in us a respect and love of nature. We never took more than we needed. When I create a perfume I draw inspiration from what is beautiful. To me, nature is most beautiful.
The transition from rumpled farm girl to fragrance fanatic happened in high school. My first job was working at the perfume counter at Macy's. The chance to sniff all day with wild abandon was intoxicating. I was thrilled to get to try all the perfumes that I devoured in glossy fashion magazines. My sense of smell had always been strong, but it got quite a workout during that time! I learned of top notes, commissions and flankers. I sold my heart out and my passion for perfume made me a successful salesperson. I went on to college, the first person in my family to attend where I studied English and concentrated on not cursing the Kennedy's nor making exclamations such as, "that was wicked AWESOME!" as this belied my background. After working for Lauder and Aveda for years, I became determined to create my own line of natural perfumes. I poured myself into learning everything I possibly could about natural perfumery and after years of study, research, and experimentation was accepted as a member to the Natural Perfumers Guild and Providence Perfume Company launched.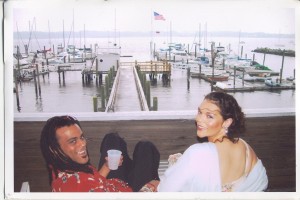 This passion, pluck and transformation strikes me as distinctly American. A place where a girl can grow up without a hairbrush, without money or status and pour herself into her passion. My husband Dan grew up in Manhattan often jokes he cannot believe my childhood. "Tell the truth Charna! You actually grew up on the Upper East Side–just admit it!" An ongoing joke regarding my demeanor and preference for the finer things. Things a farmgirl from NH might not be familiar with, such as Chanel glossimer lipgloss and Stag's Leap Chardonnay. I stick out my tongue and tell him I can make zucchini bread from scratch while applying lipgloss perfectly. In truth I'm a hodge-podge of things. A melting pot. And if anything, America is a great melting pot. My children are a perfect example of this melting pot. A hodge-podge of things, perfect just the way they are. Original and American.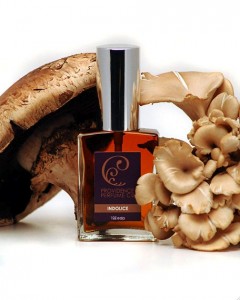 I create fragrances that I find interesting and appealing. This is one of the things I love about running my own business. I have the freedom to do what I want. I need not create what the market dictates. I create what I dictate. I create what inspires me. While my surroundings may no longer be idyllic New England farmland, I draw inspiration from the city of Providence. The culture of art and drama is explosive here. From the fashion and art of Rhode Island School of Design to the incredible restaurants and theater. For such a tiny state, Providence is incredibly diverse and culturally active. I find inspiration in the aroma of the ivy covered walls of Brown University. A mix of green grassy scents, old books, wet black soil and mineral notes. One of my first perfumes (and most controversial) Indolice was created after a walk through Federal Hill mid-summer. Federal Hill is Providence's "little Italy" and is packed with fantastic Italian restaurants and gourmet delicatessens.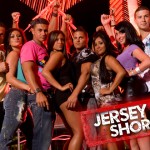 A large fountain plays Frank Sinatra tunes and a member of The Jersey Shore was rumored to have worked parking cars for a well-known restaurant here. A few years back as I walked along the sidewalk flanking the restaurants, I was hit with powerful aromas so strong I stopped in my tracks. I smelled fresh basil, tomatoes, a heavy narcotic floral, and salty mushrooms combined with the powerful scent of the city in the summer. I was intrigued by the combination of indole and fresh green notes and went home to create a scent that evoked these opposing aromas.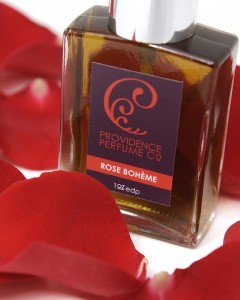 I adore what I do, and love that I can express myself and my vision through scent. I work independently to translate a memory, place or emotion into a scented snapshot. My most classically American scent is Rose Bohème. A nod to my bohemian parents, and a childhood filled with patchouli tamed with rich red rose and a touch of jammy green fir. It's rich and big and begs for cool weather wear. Chilly New England breezes and falling leaves not included.
–Michelyn Camen, Editor in Chief
Editor's Note:I had the opportunity to smell and wear Rose Boheme. This is what it smells like, it is not available on her website yet; it is first for a draw of a full size bottle for CaFleureBon.
Thanks To Charna there is a readers choice on any of her spray perfumes, including Rose Boheme. To be eligible, tell us something fascinating you learned about her and which spray perfume you would like to try and why. Draw ends August 31, 2011 PLEASE LIKE CaFleureBon Profiles in American Perfumery because this series will run throughout the remainder of the year; and your entry will count as two.