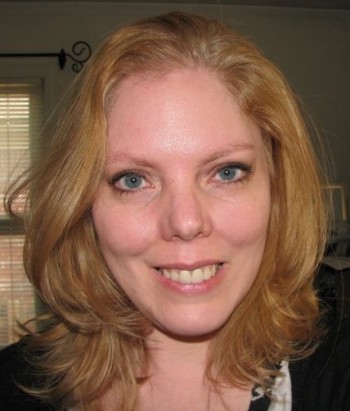 Candice Jurko of CJ Scents
Profile: I grew up in smaller towns not too far from Ann Arbor, MI. As a child, we moved quite often and learned at an early age how to adapt; whether making new friends or dealing with uncomfortable situations. By the time I was in high school, we had moved four times, by then I had a license which meant a longer drive through back roads to get to and from school every day. After I graduated, I went to college for business and math but I knew there was something else that I was destined for.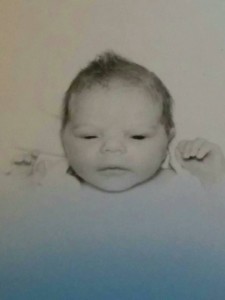 Candice's baby picture
I owe my love of perfume from my mother. She always wore scent and at an early age; I did too. I started with body sprays and by the time I was 13 had moved on to perfume. Some of my early loves were Dior Poison, Halston and Calvin Klein Obsession. Before I was a perfumer, I was a perfumista. In 2001, I started looking for less mainstream scents and began to buy and appreciate artistic fragrances, especially artisan fragrances. . I read so many reviews on Makeup Alley and the fragrance board. It was like the skies opened up. I could not believe there were others out there that shared the same passion for perfume that I did. I started to look into indie perfumers as I loved the thought of a single person pouring their heart and soul into a perfume. It was the more personal touch I had been looking for. It also started to inspire me.
I started to pick up oils little by little and started to dabble in blending. I began to include samples of what I had made in swap package on Makeup Alley and soon had people offering to buy bottles. Then the blogs. I loved the writing and styles of so many … of course CafleureBon is one of my favorite blogs and the go to for what is new in niche. From the blogosphere I learned about artisan perfumers; many featured in this series. Laurie Erickson from Sonoma Scent Studio, Dawn Spencer Hurwitz from DSH perfumes and Serena Ava Franco from Ava Luxe have been generous with their advice and became both my mentors and role models. I'll be forever grateful to them.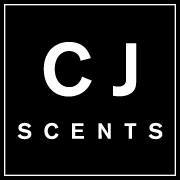 In August of 2008, I opened an Etsy store, but within a month or two wanted to have my own website and so it began. Over the years, I've created hundreds of scents. I go through stretches where all I want to do is blend. I also go through times where I can't seem to find the time. I used to feel guilty about those times, but have learned to accept that I am a mother, a wife and must juggle my passion for perfume with my family and "other" life. I work full time as well as operating CJ Scents as a restaurant manager. This business experience is invaluable. So, what's coming up next for CJ Scents? I'm working on fall and winter limited edition scents.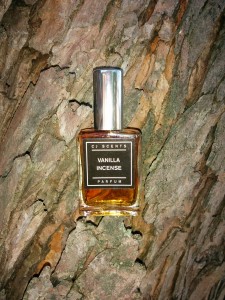 CJ Scents Vanilla Incense Perfume
I have an apple hookah scent that will be joining the regular scent list as soon as I tweak it a bit more. I'm working on some other darker scents for fall/winter which are my favorite seasons to create scents for. On my CJ Scents Facebook page people bounce ideas off of me all the time and love hearing from CJ Scents fans there.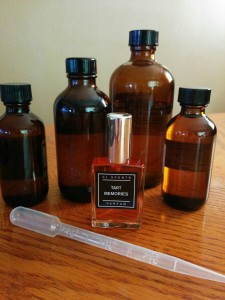 On American Perfumery: What does it mean to me to be an American indie perfumer? It means that at any time when I feel a void in my very large perfume collection, that I can fill it. There might be a day that I'm craving a scent that has amber and coffee and don't have anything that fits that, I can create it for myself. Most scents in my line have started just like that. I sometimes lay in bed thinking of scent notes (which I would not recommend as sleep is very important). A lot of ideas come from customers as well. I'm very open to new ideas for scents. If I believe I can do a good job on it, I'll take it on. I try to challenge myself as much as possible. I've had offers to create scents for other people's lines, but have not taken that on as of yet. I'm still too excited about my own line to take on someone else's dreams. I try to only go into something when I have the time and energy as I don't like to do anything at less than 100%.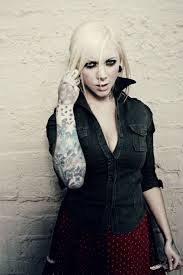 Maria Brink Rock Goddess
Favorite American Artist: If I had to choose what influences my work, I would say that music is my greatest muse. By looking at me, you probably wouldn't think I am a hard rock, heavy metal, concert kind of woman. Women rockers inspire me. Maria Brink is a rock goddess.
Candice Jurko, Perfumer and Founder of CJ Scents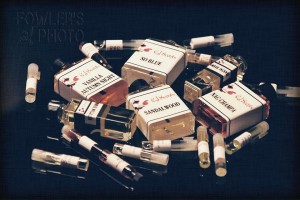 Thanks to the generosity of Candice, we have a worldwide draw for our registered readers only (you must do this folks) a choice of ANY 15 ml bottle (parfum or oil) of any scent in the CJ Scents line or a sample pack of 8 samples. To be eligible, please leave a comment with what you found fascinating about Candice's journey to perfumery, what your choice of fragrance is should you win and where you live. Draw closes 9/25/2015
Candice would love to hear what type scents CafleureBon readers are looking for right now and going forward. Nothing is too strange for her to try!!!
Candice is offering a discount code of 10% off any purchase of $10 or more for our readers. The special code is ThanksCFB
Please like CaFleureBon Profiles in American Perfumery and your entry will count twice.
We announce the winners on our site and on our Facebook page, so Like Cafleurebon and use our RSS option…or your dream prize will be just spilled perfume