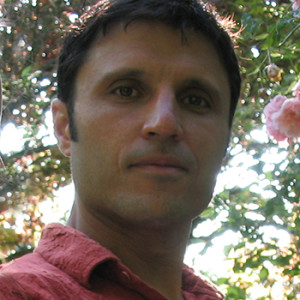 Bruno Fazzolari
Profile: I may have an Italian name, but my mother is French and I was raised bilingually and bi-culturally, speaking both French and English while growing up in both Arizona and France. As a child, the two cities I knew best were Tucson and Paris—a lively dichotomy. Tucson used to be a relatively small city and, in pre-internet days, was quite isolated, though surrounded by breathtakingly beautiful desert. Paris, on the other hand, was Paris: extremely sophisticated, rich in history and art, and very urban. At 13, I would take the Métro alone to run errands for my grandmother who lived just blocks from Notre Dame.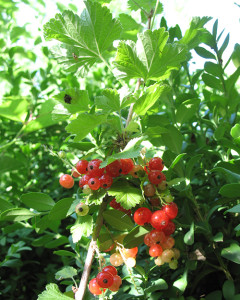 French berries (groseilles) Photo: Bruno Fazzolari
As a child, coming back to Tucson after a summer in France, I would carry intense scent-memories full of longing. France smelled completely different from Arizona: Foods, berries, and flowers, but also damp earth in the countryside and the smells of very old houses and chateaux. The comforting odors of the boulangerie with its baguettes and pains au raisin. And of course, perfumes that delighted and intrigued me. My grandmother was never without a huge bottle of 4711 (that she simply called "eau de Cologne.") She sometimes wore Éclipse, by Jacques Fath. My mother favored Hermès Calèche, now, sadly, reformulated beyond recognition.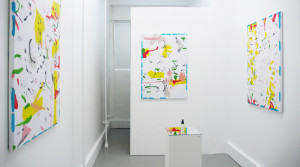 Brunon Fazzolari Exhibition- Mirror 5
I have always had a very vivid sense of smell. I began experimenting with making my own scents about ten years ago. At first, it was a curiosity, but by degrees, it became a sort of madness with hundreds of small bottles creating a whole new type of chaos in my studio. Three years ago, I finally had to admit that I had become a perfumer. I decided to combine my love of painting and scent. In my exhibition, Mirror 5, I showed paintings with a perfume. The paintings deploy very bright, slightly-off primary colors, painted wet-into-wet on a cold-white ground tinted with a hint of cobalt blue. They were shown in a gallery lit by bright fluorescent lights. I created a citrus scent, but one with an ozonic and mineral aura to reflect the whole installation. The gallery sold a lot more perfume than I expected.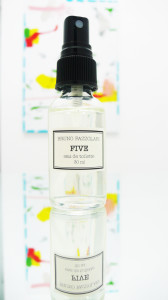 From Bruno Fazzolari's Exhibtion Five
Art is both a public and a private experience. People sometimes wear scent as a form of social communication, but perfumes are also a highly internalized experience. To wear a perfume is to carry a private artwork with you wherever you go, one that changes over the course of the day and sustains your attention.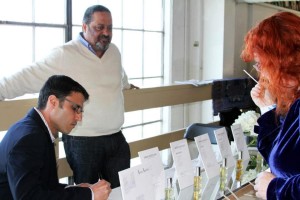 Bruno Fazzolari at the Second Annual Artisan Fragrance Salon, San Francisco
On American Perfumery: American perfumery right now is so wide open, particularly on the niche and artisan side. We have the legacy of trailblazing scents like Estee Lauder Youth Dew that reimagined what a perfume could be, but that reimagining is now happening on a grassroots level that is quintessentially American. There is a bold DIY ethos marked by independence, irreverence and a fresh perspective. There is also devotion to materials and quality. But most importantly, very small scale perfumers can make and maintain contact with an avid and educated audience. This is the best kind of art world.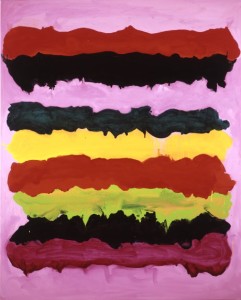 Mary Heilmann: Surfing on Acid
Favorite American Artist: Being a fine artist myself, I have a great many favorite American artists. Lately, I'm captivated and deeply inspired by the free-spirited and playfully radical work of Mary Heilmann. Over the course of a long career, she has made paintings (and sometimes ceramics and furniture) inspired by the simplicity of minimalism, but her simplicity has a home-made quality that is broadly inclusive as opposed to stark and exclusive. Everything becomes part of the mix: children's drawings, de Kooning, the colors of The Simpsons cartoons, memories and music.
–Bruno Fazzolari, Artisan Perfumer and Renowned Fine Artist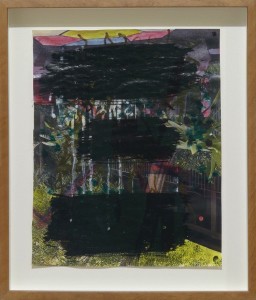 Lampblack 194 2012 – Bruno Fazzolari Ink on Found Paper
Editor's Note: Bruno Fazzolari was awarded a number Gold medals for his fragrances which debuted at The Taste T.V. Second Annual San Francisco Artisan Salon 2013, including Best New Product and Most Seductive Fragrance. Bruno makes paintings and perfumes;his paintings are represented by Jancar Jones Gallery, Los Angeles. His work has received attention in Artforum, Art in America, Art Papers, the New Yorker, the San Francisco Chronicle, Artweek and the New York Times.
Read Sr. Editor Tama Blough's reviews of the entire collection of Fazzolari Editions here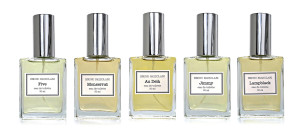 For our draw we have a reader's choice of 30 ml any of Bruno Fazzolari's fine art inspired fragrances: Five, Monserrat, Lampblack, Jimmy or Au Dela for one US reader. To be eligible, please leave a comment with what you found fascinating about Bruno's profile and your choice of fragrance. Draw ends April 30, 2013.
Please support American Perfumery and LIKE CaFleureBon Profiles in American Perfumery on Facebook. Your comment will count twice
We announce the winners on our site and on our Facebook Page Like Cafleurebon and use our RSS option…or your dream prize wil be just spilled perfume