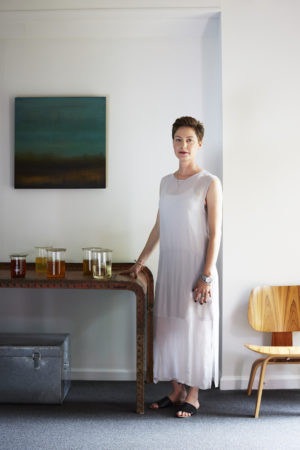 Anne Nelson Sanford of LURK
Profile: I was born in Chicago in 1973 and I am the youngest of 3 girls. When I was 4 we moved to Miami, FL and most of my early memories begin there. I still to this day find Miami to be a completely magical place. The climate, the energy, the ocean, the international vibe and the intensely fragrant side of living in such a lush, sub-tropical environment. Living there set the stage for my lifelong love of nature.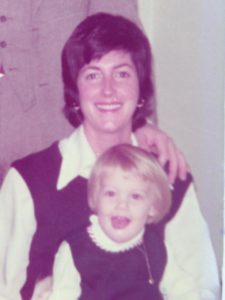 Anne with her Mom
In the early 80's my obsession with perfume began to develop.. The fragrances of the eighties were so intense and I was absolutely transfixed by the extreme nature of them, both linear and non-linear: Dior Poison, Giorgio Beverly Hills, Paloma Picasso (my first perfume) a complex aldehyde that has a lot of woody and masculine notes.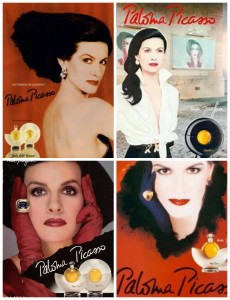 More than any other scent Paloma Picasso really started something within me. I can remember, like it was yesterday, finding the small sample of this perfume scattered among my mothers fragrances and beauty products when I was 11 years old. I had always loved to explore the bottles and jars she had in her bathroom and on that day that small vial caught my eye as it was new, something that wasn't there the last time I had rummaged her things. I honestly wasn't expecting much when I opened it, as I never really liked the fragrances she wore. They were beautiful, but not my thing and looking back they were so quintessentially 80's, loud and expansive.. (Which now I find amazing and nostalgic).. Until that day I figured perfume just wasn't for me. Most of the scents I had experienced were very floral, heavy and uber feminine. So I was more trying to figure it out, to somehow understand why people wore it. I was also a little mystified by it, how it became more than an accessory, and truly a part of a person.
How when I smelled certain fragrances they would immediately remind me of people, places, things, experiences etc.. But when I opened that sample I was riveted.. Literally. The scent was something that I immediately loved. It kind of confused me and drew me in at the same time.. and I couldn't get enough. It was dark and different, a bit masculine, intense and all over the place & I didn't know it could be like that.. From that moment on I loved fragrance and it started a journey for me to seek out that experience over and over and to find scents that were more androgynous, more mysterious and edgy so to speak.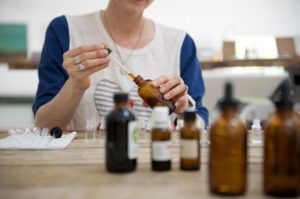 Anne blending
To this day I am still influenced and inspired by that experience and when I am creating fragrance I am, in a way, trying to re-create that moment for myself and hopefully others. I want to create a product that can provide a provocative, intense and surprising experience.. I think more than anything else that scent and the memory of it drives me to stay outside of the box and to push boundaries.. It definitely planted the seed that led me to perfumery.. I also think it still suits me which I love; a bit confusing, androgynous, all over the place, creative and maybe a little misunderstood.. And that makes me laugh.. I have so much gratitude for the artists that move, inspire and drive the rest of us to try and put something out there! Scent is an integral part of our history, our psyche, our soul and to be able to work in this medium is the most fulfilling endeavor I could imagine.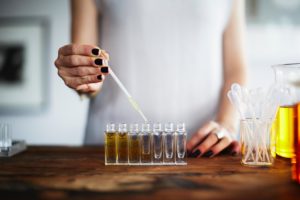 Anne Nelson Sanford
For me, the inspiration to work with naturals came from a long time fascination and love for essential oils and rare natural materials. I opened an apothecary in Florida in 2001 (before I moved to New York) and I sold only natural and organic skincare/body care products. The shop was the first of it's kind in Florida and it was during that time that I became interested in oils. I was always looking for natural fragrances to stock and the market was a bit limited at that time..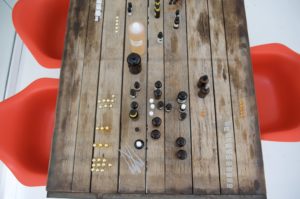 Anne's work table
I then started dabbling with my own scents and was inspired to create something sophisticated, modern and a little bit "out there". Many of my fragrances are androgynous by design; I aspire to cross boundaries and create a scent experience that is unexpected and imaginative. The scents are for the person who wants something original, authentic and/or appreciates nature, luxury and art.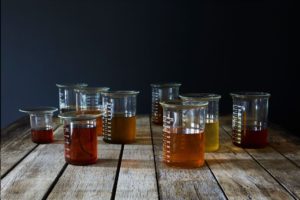 Natural Perfume Absolues
For me the quality of the oils, where they are sourced from, the carrier oils and the process are all core to LURK and to my creative vision. When I set out to do this I really challenged myself to find the most beautiful, pure and sustainable raw materials. I want to provide a perfume experience that has a modern edge and appeal to a wide range of scent enthusiasts and aficionado's. It's really a personal challenge and one born out of curiosity, love for the process and for the natural world.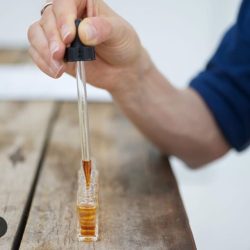 I am a self trained perfumer and this past year I became a certified natural perfumer through the Natural Perfumers Guild. This has been a tremendous honor for me and also continues to inspire me to hone my skills and push limits. Anya McCoy, founder of the Natural Perfumers Guild, is an ongoing source of support, inspiration and validation.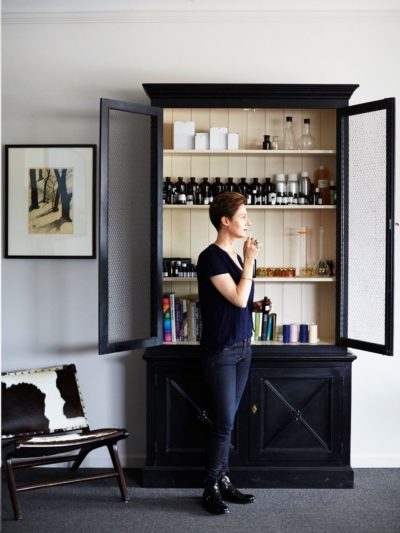 Anne Nelson Sanford of LURK
On American Perfumery:What it means to be an indie natural American perfumer: For me it means that I have a place to truly be myself, to experiment, to create, to be free and to be supported. It is a place that it outside of the lines and that speaks to me on a deep level. It is also a space that I can step into and be in the company of some of the most brilliant, inspiring artists working in scent and that in and of itself is extraordinary. We all have our own stories, individual vision and unique process. The wide open nature of it is very American and very "maverick". I love that.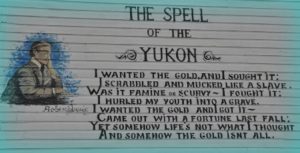 Favorite American Artist: Robert Service (Poet), my father used to read his poems to us when we were little to put us to sleep. His poetry is quite dark but the rhythm/cadence is so incredible that we never noticed until we were older (which is quite funny). The intensity of the words, paired with the beauty of the rhythm has a polarity to it that I gravitate toward (and shows up in my work). That contradictory nature provides endless interest and creative inspiration for me.
–Anne Nelson Sanford, Founder, Natural Perfumer, Creative Director LURK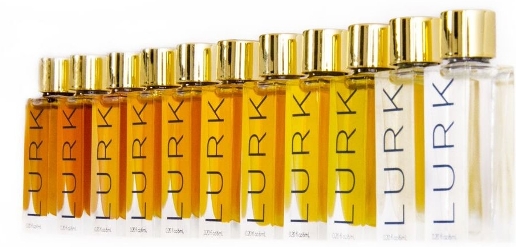 Thanks to Anne Nelson Sanford we have a Worldwide Draw for a registered reader for any of her perfume oils AS01 BB 11 BS003 CRG V9 NST V7 OM11 PRJV1 PRM016 RSW005 or TRNV4 To be eligible please leave a comment with what you found fascinating about Anne Nelson Sanford's path to perfumery, which fragrance you choose and where you live. Draw closes 5/21/2016
Editor's Note: Anne is our 101th American Perfumer
You can follow Anne on Instagram @lurkbeauty and follow us @cafleurebon
Please like CaFleureBon Profiles in American Perfumery and your entry will count twice.
We announce the winners on our site and on our Facebook page, so Like Cafleurebon and use our RSS option…or your dream prize will be just spilled perfume