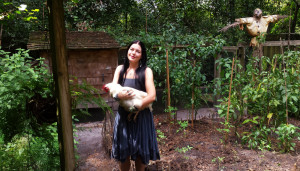 Angela St John of Solstice Scents
Profile: I was born in Naples, FL but grew up in north central Florida in the college town of Gainesville. My childhood home is located in a heavily wooded natural hammock which borders a state park full of wildlife. It was common to see multiple deer outside of my window. I spent my time communing with nature, exploring the woods, sinkholes, creeks and trails around my home. Growing up in a hammock was a stepping stone into my appreciation for plants and herbs of all kinds. Exploring the natural world led me to develop a strong interest in natural healing, aromatherapy, herb use and lore, Eastern medicine and other alternative healing modalities and practices. These studies led to an interest in handcrafted remedies and bath and body care including salves, facial care, soaps, bath salts, tinctures and much more.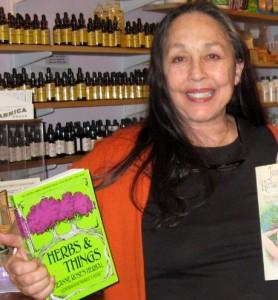 Jean Rose with her book Herbs &Things written in 1969
In 2004, Solstice Scents was born with a focus on bath and body products. The simple fragrances were intended to compliment these items but it wasn't for a few years that I started to experiment with perfume blends. The most influential person to my growth as a perfumer is the natural aromatherpist, perfumer and author,Jeanne Rose. When I became interested in herbalism, naturopathy and aromatherapy, I discovered and subsequently devoured her prolific works. She is a pioneer and her botanical knowledge is extensive. Her work was a part of my springboard into furthering my interest in essential oils and natural remedies that culminated in propelling me forward into perfumery. Over time, I began to construct more complex blends and delighted in presenting hyper-realistic atmospheres meant to capture the essence of specific places. Some of these atmospheres are more playful and nostalgic, while others are more reverent or introspective.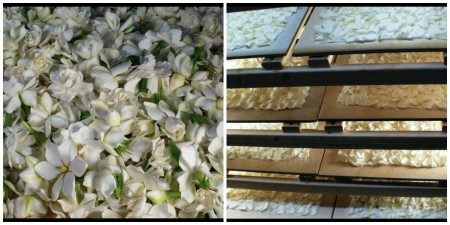 Angela St John Gardenias and Gardenia Enfleurage
I expanded my palette of naturals and synthetics over the course of a decade and delved further into teaching myself the art of perfumery. A budding interest transformed into a consuming passion that eclipsed the desire to craft bath and body goods. My heart belongs to perfume and I am committed to continuing my education and development in this exciting field. One of my more ambitious projects was to use the centuries-old practice of enfleurage in an attempt to capture the fragrance of the notoriously elusive gardenia. Gardenia cannot be successfully produced using steam distillation and the few essences available on the market are solvent extracted. In 2012, my husband and I set about to enfleurage our homegrown gardenia flowers. After processing thousands of petals, our efforts yielded the soul of the flower which we encapsulated in alcohol. We process a new batch every year during the short blooming season. It is an intensive 6 to 8 weeks and a true labor of love. This year, I added the gardenia enfleurage to a very special jasmine-heavy perfume called White Feather which features a strong incense base with loads of our Estate Vanilla (house vanilla), saffron, amber and spices.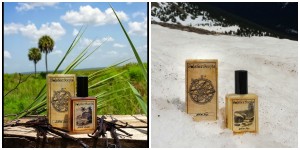 Two of Angela St John's personal favorites: Solstice ScentsEstate Vanilla Eau de Parfum and White Fox Eau de Parfum
My aim is to continue to bottle atmospheres and capture abstract concepts in innovative, inspiring and unusual ways. I especially love to work with resins, precious woods and attars. My personal preference for perfumes lies with resins, incense, leather, amber and tobacco centered blends and as a result, I tend to craft many unisex and masculine leaning perfumes. I enjoy juxtaposing pairings such as oud and woods with strong gourmand notes or candy floss with incense, moss and dirt.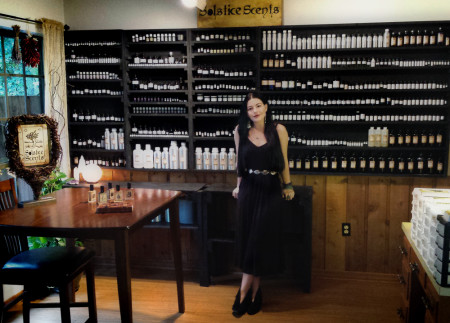 Angela St John at her perfumer organ and work space
On American Perfumery: I feel my journey into this profession is the archetypal example of what it means to be an American, carving your own way. I have the freedom to pursue my own interests and the abundant resources of other companies selling high quality natural, synthetic or artisanally produced essences necessary to my craft. We are in exciting times to be able to harness everything available to us to create whatever the mind can conceive of. American indie perfumery allows olfactive artists to use these resources and create innovative perfumes that are challenging, unique and that push the boundaries to offer the consumer something exciting and personal. Indie perfumes allow a person to journey to a specific destination or be lost in abstraction but they don't leave you smelling identifiable or predictable. Being a perfumer in America comes with the ability to be a sort of iconoclast, side-stepping the formulaic and reinterpreting the arrangement of notes or using more intense odors to achieve a specific emotional effect. Another interesting observation about American perfumery is that I've seen so many houses toeing the line of what is considered wearable. Risks are taken with aggressive notes like cade and birch tar and strange unconventional accords are created to sensational effect. These come together to produce some of the most interesting blends of our time and they make the wearer ask themselves, "Do I really want to smell like this?" The answer is yes. I think people are hungry for the imaginative and American indie perfumers are consistently on the forefront of the next "big thing". What is more American than chasing that?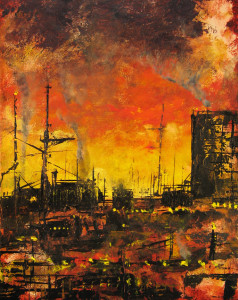 Battlefield Downtown 2023 by Gregory St John
Favorite American Artist: The American artist that has been most influential in my life is close to home – my husband, Gregory. We have spent the last 14 years growing together and I have learned a great deal from him. He has always encouraged me to be my best self. He is my muse and a constant source of inspiration. His dystopian cityscapes, still lifes and abstracts are at once challenging and thought-provoking, surreal and visceral. His imagery inspires me on a visual level where I hope to inspire others on an olfactive level.
–Angela St.John, Perfumer and founder of Solstice Scents.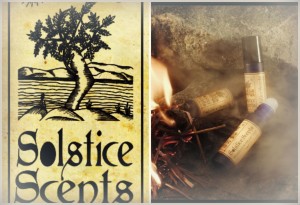 Thanks to Angela St John of Solstice Scents we have two fanstastic draws for two registered readers (you must be registered) : 3.3 ml EDP spray samples of: White Feather, Estate Vanilla, Manor and Library, a 1ml sample of a reader's choice of a recently added Solstice Scent (be sure to put in the comment).25 ml sample of Gardenia enfleurage and 1 ml samples of the following perfume oil extraits: Basilica, Night Watcher and Black Forest. This sampler will be offered to a US reader and an identical pack offered to a reader anywhere in the world. To be eligible please leave a comment with what you found fascinating about Angela's path to perfumery, where you live and if you have tried Solstice Scents or which ones appeal to you most. Draw ends September 3, 2015.
Please like CaFleureBon Profiles in American Perfumery and your entry will count twice.
Solstice Scents has a Facbook Community Group you can ask to join; be sure to LIKE Solstice Scents on Facebook and Twitter as well
We announce the winners on our site and on our Facebook page, so Like Cafleurebon and use our RSS option…or your dream prize wil be just spilled perfume