Aggie Sygnarowicz Burnett
Profile: I was born in communist Poland in 1985, in the coal mining town of Katowice, about an hour from Krakow. My parents had graduated from Silesia Medical School in Poland and had started their medical careers by the time I was born, when my father decided to uproot us and move to the United States for bigger and better opportunities; to live the American Dream. We escaped communism in 1986, and were lucky to be able to travel together as a family to our new country, the United States. We found a permanent residence in Oyster Bay, NY, which was 5 minutes away from the Atlantic Ocean. My first scent memories involve the Oyster Bay beach, which had a specific crisp and salty scent to it. The other vivid scent that is sharply stuck in my head is my grandfather's tulip garden. It was so lush and colorful, and as a child, I would pluck those tulips right out of the ground to smell them, to his dismay.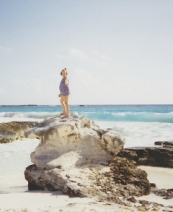 Aggie at Age 6
With our newfound freedom, my parents and I would take trips around the country at any chance we got. Our first destination came a few years after settling into our new life in New York – we traveled for a week to Miami Beach. It was a multi-sensory experienced we'd never had—turquoise-colored water, pristine white beaches, rustling palm trees, the sound of club music on Ocean Drive, and breathing in the smell of exotic flowers like ylang ylang, orange blossom, and jasmine with every step we took. It was spectacular, and would make the beginning of my love affair with travel-inspired scents.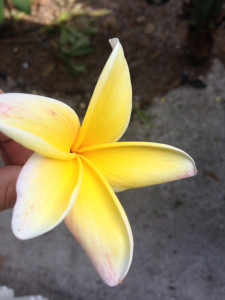 frangipani blossom Photo: Aggie Sygnarowicz Burnett
This trip also inspired our very first fragrance, Miami Orange Blossom. Washington, D.C. followed, with its scent memories of cherry blossoms in the springtime, as well as the grittiness of the streets at the time, and the freedom and awakening we felt being present in the independence capital of the World. In creating our DC Cherry Blossom scents, we capture that awakening with bright citrus top notes, the heart, of course, being composed of cherry blossom, and the grittiness of that time with spices and musk. My parents had put weight on the importance of discovery, curiosity, and openness to different people, cultures, and places, and so we'd set out with itineraries in hand to discover all parts of the States, from one of my favorite road trips along the coast of California, to camping in the Hamptons when that was still a possibility.
Beale Street at Night 2014, Memphis TN Photo: Aggie Sygnarowicz Burnett
I didn't know it back then, but I was capturing a scent journal with every location I visited, and would hold on to those memories with fondness and precision. I noticed an odd thing when I later, sometimes many years later, would return to a place, the first thing that would bring back my original memories would be the smell. Sometimes unexplainable but always present, each place had a very unique and distinctive essence to it.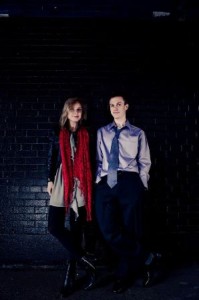 Aggie and Ben Burnett, founders of NomaTerra Fragrances
My husband and I founded Nomaterra Fragrances on this premise, that if we can essentially recreate the essence of a place using the ingredients indigenous to that place, we can always be taken back there. For him, the scent of the sand, cedar, marine plant life and ocean air of Ocean City, MD brings him back to carefree childhood summers with his family, each year returning to the same place, growing lifelong bonds with friends made there, eating Maryland crabs and eating Fisher's popcorn. For me, it was all those American Road Trips with my parents, summers in Europe, and backpacking adventures in off-the-beaten corners of the world, each place exposing me to different flora and fauna.
Aggie in transit at O'Hare airport
My background as a beauty editor under the direction of Felicia Milewicz allowed me the exposure to traditional, niche, classic, vintage, and trendy fragrances and everything else in between. My education in the sciences at Columbia University also played a vital part in the creation of Nomaterra…it is where I met my husband (and where I learned the chemistry to understand the slight nuances in fragrance composition). We were both in the same physics class and shared the same interests in entrepreneurship and exploring the possibilities that this world has to offer. I introduced him to adventurous travel and he taught me chemistry at a greater level. He is now a trained biochemist and makes our fragrances commercially viable.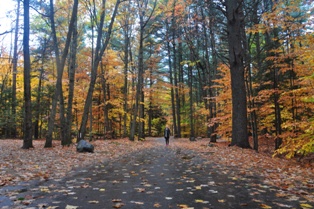 NewHampshire,WhiteMountain National Park 2014 Photo: Aggie Burnett
We started the brand to express our passion for travel, adventure, the sciences, and most importantly, for fragrance. Our mission is to marry travel with beauty through the art of perfumery, utilizing natural and organic ingredients hand-selected to represent a time and a place.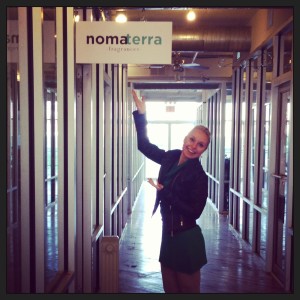 Agnieszka Burnett, NomaTerra 240 Kent Street, Brooklyn
On American Perfumery: American perfumery has a very special meaning to me, because I'm achieving the American Dream through scent by capturing the heart and essence of some of the most beautiful places in this country, while being given the freedom and opportunity to travel, explore and grow my fragrance business. Nomaterra truly encapsulated the essence of America and the heart of its cities with our first collection of scents. We create authentic scent representations of cities by doing extensive historical, geographical, cultural, and anthropological research on each location to discover the most indigenous plants, flowers, trees, and herbs that make a location special. Instead of creating an illusory composition based on feelings alone, I choose to dig deep to capture the heart of a place through its unique flora and fauna, which, I hope, will remind people of the beautiful and memory-filled places they have traveled or perhaps dream of traveling to, as I know it does for me.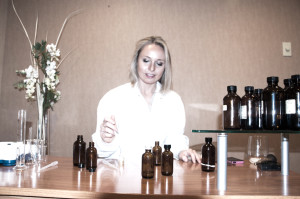 Aggie Sygnarowicz Burnett of NomaTerra Fragrances
With respect to American Perfumery as a whole, I see it as being more rogue and rebellious than the constraints instilled in traditional French perfumery. And this is a good thing. You find American perfumers as artists willing to push the envelope, to create perfumes that are unique and contrasting, not always following a ideal pattern. I see American perfumery as breaking the rules and confines of what traditional perfumery set out many years ago.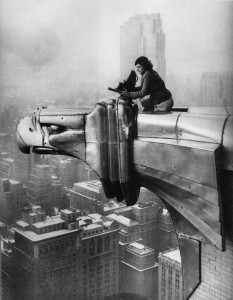 Photo: Margaret Bourke White Chyrsler Building
Favorite American Artist: As a former journalist myself, one of my favorite artists is the photographer and photojournalist, Margaret Bourke White. She's an inspiration to women because she was bold and adventurous at a time when women were considered delicate and incapable of doing the same thing as men. She was the first female war correspondent and first female photographer at Fortune and Life magazine. I love that her photographs were action-packed and captured the reality of the times. She traveled a great deal, from all over the USA, and to Russia, India and North Africa, and everywhere she went, she had the capacity to capture the complex emotions of the times in her human-interest war photos. However, my favorite photographs by her are her aerial and panoramic shots, especially shots taken in New York City. She was fearless in climbing atop a steel gargoyle jutting out from the 61st story of the Chrysler building, being capture atop it as well as capturing the detail of the gargoyle with the city skyline in the background. This photograph, as well as some of her other aerial shots in NYC are my absolute favorite.
–Aggie Sygnarowicz Burnett, Perfumer and Co-Founder of NomaTerra Fragrances
Editor' Note: We discovered Nomaterra at the Elements Showcase in New York City January 2013 and ÇaFleureBon was the first perfume blog to review these wonderful scents of place. Aggie and her husband live in Bushwick, Brooklyn; all NomaTerra fragrances are hand crafted in their studio in small batches. Aggie is an Artisan Perfumer who has a vision to chronicle the USA through scent. Her determination to create olfactive snapshots that would transport the wearer has brought the NomaTerra brand to Sephora. If that isn't an example of the American Dream, wake me up! – Michelyn Camen, Editor in Chief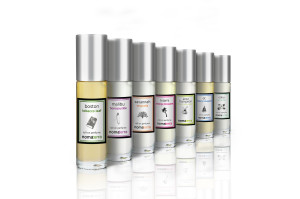 For our draw:
USA: A choice of any 10 ml rollon perfume oil Miami Orange Blossom, East Hampton Atlantic White Cedar, DC Cherry Blossom, Boston Tobacco Leaf, Savannah Magnolia, Malibu Honeysuckle, or Oahu Gardenia please specify your choice of NomaTerra's 7 perfume oil scents in your comments OR a sampler of all seven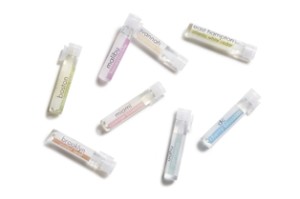 EU and Canada: A Sampler of all 7 NomaTerra perfume oils
Please leave a comment on what you found fascinating about Aggie, your favorite American city and why, as well as your choice (country restrictions as noted and where you live. Draw closes November 5, 2014.
Please like CaFleureBon Profiles in American Perfumery on Facebook and your entry will count twice.
We announce the winners on our site and on our Facebook page, so Like Cafleurebon and use our RSS option…or your dream prize wil be just spilled perfume