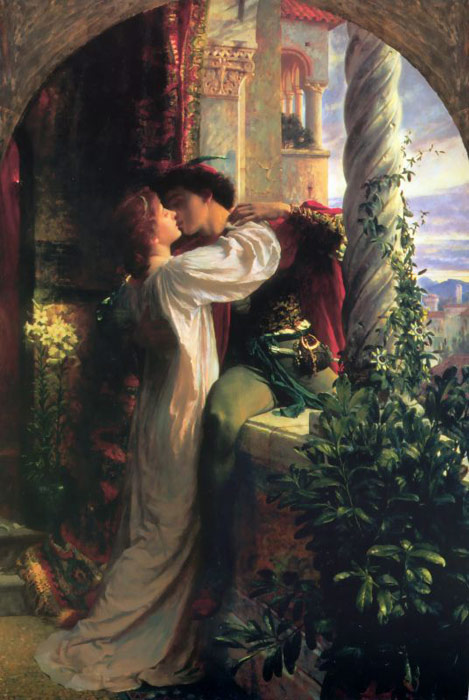 Romeo and Juliet by Sir Frank Dicksee, 1884.
In Shakespeare's play Romeo and Juliet, Juliet ponders the question "What's in a name? That which we call a rose by any other name would smell as sweet." In today's Perfumers Workshop, we ask this very same question. While perfumers' potions may not change if given a new name, would our impressions and appreciation for them be altered?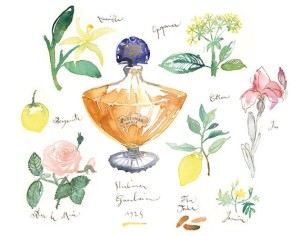 Shalimar illustration used with the permission of Parisian Artist Lucile Prache (Check out her art on Etsy)
Naming a perfume can happen in many different ways. In larger perfume houses, a brief is usually provided with the information and goals that will inspire the scent of the perfume. This brief may already contain a name, or the naming process may occur later with the assistance of a marketing department, test groups, and other input.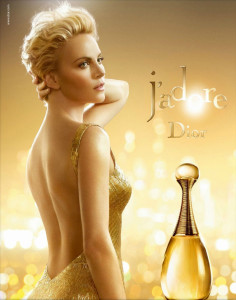 Master Perfumer Calice Becker created Dior J'Adore in 1999. Charlize Theron is now the scent's image in 2015
Advertising also influence how we may feel about a fragrance, especially if a celebrity is used. In smaller houses like our niche, indie, and artisan perfumeries, the path to naming often looks quite different. For these houses, the responsibility for naming often falls solely on the perfumer's shoulders.
Deciding on a name is very important. It can often times feel like naming a child. A name can make or break a perfume. It is usually the first thing you will see about the fragrance, making this first impression very formative of the memories you have of the perfume. When someone asks you what you are wearing, that is important as well. It needs to be accessible, desirable, enticing, seductive, inspiring, and most of all, memorable. These traits help make a successful perfume. The three perfumers joining us today for our Perfumers Workshop are artisan perfumers: Laurie Erickson of Sonoma Scent Studio Ineke Rühland of Ineke and Dannielle Sergent of COGNOSCENTI. While they each use different approaches all three have launched very successful lines of perfume that are impossible to forget.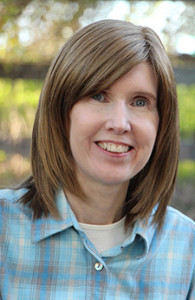 Laurie Erickson of Sonoma Scent Studio
Laurie Erickson of Sonoma Scent Studio, a house with a mix of both natural and mixed media perfumes, offers this advice about naming: "The best names are memorable and apt. Sometimes I have a name in mind from the start, but often I leave the final name decision until the formula is done. I try to pick a name that has not been used yet, though that gets harder all the time with the recent proliferation of perfume releases… Naming products requires practicality (can you fit it on a label?) as well as creativity (is it memorable and descriptive?). I'm still learning and developing my naming style as the years go by."

Laurie Erickson from Sonoma Scent Studio Yin and Ylang was based on photos of Monica Belluci sent by Michelyn and Laurie's desire to create a feminine floral
Laurie uses a few approaches in naming her perfumes. For some of her perfumes such as Amber Incense, Rose Musc, and Yin and Ylang (a collaboration with and named by our very own Michelyn Camen, Editor in Chief for CaFleureBon!), Laurie uses dominant notes that are featured in the perfume to tantalize our noses and give us a sense of what we may smell within. In Tabac Aurea and Ambre Noir, she pairs a note with a mood or direction the perfume takes. With other scents, including Jour Ensoleillé (sunny day) and Forest Walk, Laurie tries to capture a feeling or a moment in time. Laurie has also worked on collaborations and arrived at a name together with others, as with Yin and Ylang (Michelyn Camen). Rose Volupté was named by Elisa Gabbert during a blog post discussion on potential names.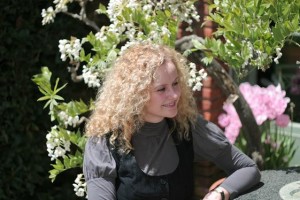 Ineke Rühland of Ineke Perfumer shares her thoughts about naming fragrances: "I've always been interested in perfume naming because I think it's important to enhance the olfactive experience with background information on the fragrance and its inspirations. I truly believe that a good name will make a good fragrance smell even better."
Ineke Balmy Days and Sundays and her collection After My Own Heart, Balmy Days and Sundays, Chemical Bonding, Derring Do, Evening Edged in Gold, Field Notes from Paris Gilded Lily and Hothouse Flower
And that she does with names such as Balmy Days & Sundays, reached after formulating her very green, fresh floral perfume that makes her think about "a relaxed day on the weekend, biking through the park, and smelling the grass, fresh flowers, leaves and dirt." Field Notes from Paris was a name picked at the beginning of the idea for the perfume. Ineke shares its story and inspiration: "When I studied perfumery at ISIPCA in Paris in the 1990's, we were constantly smelling vintage fragrances that our professors would bring up from the Osmothèque collection in the basement of the building. I wanted to do a unisex fragrance based on French men's fragrances from the 1950's, 60's and 70's, with warm natural materials like tobacco, beeswax and tonka bean. The "Field Notes" refers to my study notes, some of which I included on the fragrance carton. The "Paris" is obviously just from where I was living and working at the time, and I think it gives the fragrance a geographic context that makes sense when you smell the fragrance."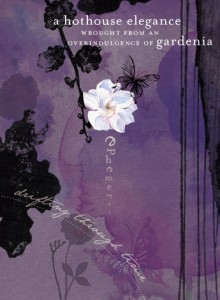 Ineke also uses an alphabetical sequence for her collections to guide their naming. "My overseas customers would generally refer to them as "A", "B" or "C". As a result, I've found myself drawn to shorter names like Gilded Lily and Hothouse Flower in more recent years. In fact, my upcoming "I" fragrance has just a one-word name."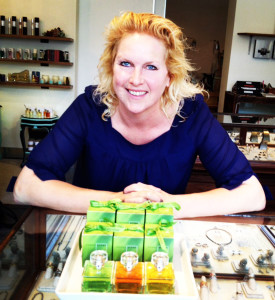 Dannielle Sergent of Cognoscenti
While some perfumers like to guide us by sharing notes or impressions, Dannielle Sergent of COGNOSCENTI , an artist and architect takes a different, if somewhat cerebral approach and prefers to let us be taken on our own journeys by her fragrances without any potential bias from their names. As such, she uses a numbering system to name her perfumes. Dannielle has released five fragrances under her brand COGNOSCENTI – for those who know: No.1, No.8, No.16, No.17, and No.19. For those readers whose brains are rebelling at only having a number to go by, or think CHANEL owns that genre, fret not. Dannielle understands this and offers us the following: "Before the launch of COGNOSCENTI I found that most people still needed a guide for the fragrances. So in addition to the number I added a two-word descriptor of the notes that were being explored: Tomato Leather, Aldehydic Oakmoss, Warm Carrot…etc. These even became to de-facto names for some."

COGNOSCENTI for those in the know, artwork for No 1, and bottles of Cognoscenti 1, 8, 16, 17, 19,
By granting us the freedom to experience the perfume through only our own lens, Dannielle has received some very interesting responses. "Scent No. 8 – Aldehydic Oakmoss, was described by one person as "a young Clint Eastwood meets Joan Jett". The same fragrance has also been described as reminiscent of Johann Sebastian Bach's Cello Suite No.1 in G Major. Both have musical references but are VERY different. I don't know that this would have been possible if I had named No.8 in the traditional way."
As for the gaps in numbers, Dannielle explains by sharing a bit about her creative process, a peek into her creative mind: "I have a little book that has the genesis of many fragrances to come. It started with my first class in 2010 and the fragrance that eventually became Scent No.1. It was an exploration of Bergamot and Sage, and although there were numerous iterations, the final was still the same core combination of notes and thus still No.1… I do not issue the numbers sequentially but according to whether I think they work together as a collection."
After gaining insights into "what's in a name" by these talented olfactive artists, we will leave you to reach your own conclusion about what is in a name. In our mind, we have decided that while the perfume might be just as sweet; it is a matter of preference to use numbers, names or notes..
–Michael Singels, Contributor
Editor's Note: please welcome Michael who will be writing for CaFleureBon. We are happy that Perfumers Workshop is back!!! In the past we have featured the art of Enfleurage, HydroDistillation, Tincturing and memes. Art direction MC.
Thanks to the generosity of our perfumers, we have a draw for a sampler set from each of our perfumers for 3 lucky CaFleureBon registered readers. You must be registered in order to be eligible, otherwise your entry does not count. Please leave a comment with what you enjoyed about the "name game" and if you prefer buying a fragrance with a number, notes or an evocative name, what you found interesting about the process of naming a scent,as well as your choice of sampler set should you win (keep in mind country restrictions). Is there one name that grabbed your attention while reading this? Let us know!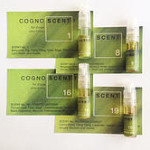 Danielle is offering world-wide a sample set of all five of the COGNOSCENTI perfumes.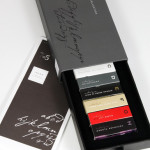 Ineke is offering world-wide a Deluxe Sample Collection from her line.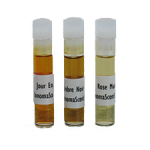 Laurie is offering 5 1ml dauber samples of the reader's choice. (Please specify which samples you would choose in your comment from Laurie's site here) Restricted to US only.
Draw closes July 18, 2015.
We announce the winners on our site and on our Facebook page, so Like Cafleurebon and use our RSS option…or your dream prize will be just spilled perfume