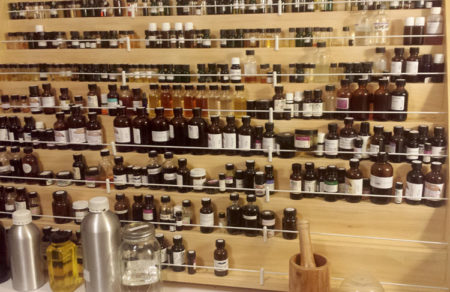 Tinctures, Essential Oils, raw materials and other ingredients in Elise's perfume organ. (Photo Elise)
Today's perfumers' workshop is exploring the art and science available to the perfumer, decoding terms and methodology … because there's nothing more scientific than Mother Nature. Techniques, whether ancient or brand new, that have changed the face of perfumery. Our six talented perfumers, some use only naturals and some use both natural and synthetics, and I describe some of these techniques.
Elise: Two old processes that are loved and re-invented by modern artisan perfumers are the art of infusion and tincture. It is a way to incorporate beloved and interesting botanical materials into a perfume when the commercial extraction may not be available. Tinctures are generally made using alcohol whereas infusions tend to use a fixed oil like olive oil or jojoba.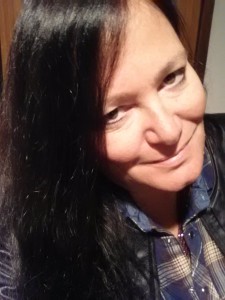 Libby Patterson of LPO Organics
Libby Patterson of Libby Patterson Organics
Libby: "Through a lengthy process of immersion of the botanical ingredients into the perfumer's alcohol, a subtle echo is built over many filtrations and immersions. This is a beautiful way to build a perfume and becomes very unique based on weather and soil each season, much like wine making, with changes in the scent profile with each small batch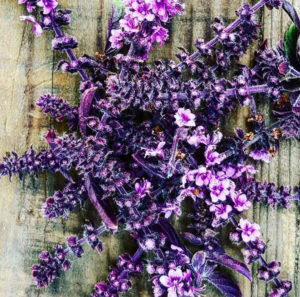 African Blue Basil with Salvia by Libby Patterson
.African Blue Basil is a strong Basil. The flowers are a bright magenta purple pink, and attract quite a few honey bees. I tincture the flowers. The scent is very earthy. Perfumers will appreciate this as a mash up between a dirty floral achieved by using the *wet dog* otherwise known as Costus and a flat Cistus, or Rock Rose Leaf. It's sexy, and dirty. It's a great foundation in an olive green hue, for any aphrodisiac".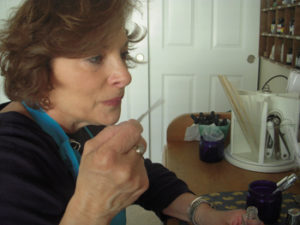 Jane Cate of A Wing and A Prayer
Jane: "Tinctures are by far one of the most interesting mixtures to use in perfumes. My adventure using these unique blends began in 2011 with Tonka Beans. The tincture process was fairly quick and easy, basically placing the Tonka Beans in perfumer's denatured alcohol and waiting, plus shaking the bottle on a daily basis, did help as well. Since then I have used the tincture process for Lavender using Lavender Seeds, Clove, Cinnamon and Rosemary, crushing the dried herbs and seeds into a powder with a mortar and pestle, then placing each in their own bottle with perfumer's denatured alcohol, turning the bottles every day and waiting. The waiting is the hardest part, and when the scent is strong enough usually 3 to 6 months then begin to use it in perfume blends"
Lavender Photo by Dr. Elise Pearlstine
Recently, I used the Lavender Tincture in my newest perfume Pan's Flute. The Lavender tincture mixed well with the violet leaf and gives the blend a rich smooth lavender rose scent. What I have found is that the aging process creates a better and stronger tincture. The 2011 Tonka Bean and Lavender tinctures are beautiful on their own, the newer herbal ones still need time to age to this type of perfection".
Elise: There are a number products newly available to the perfumer through the manipulation of the ancient distillation process. One beautiful example is co-distillation or the simple act of placing two or more botanicals in the still at the same time. Dawn Spencer Hurwitz explains the synergy beautifully.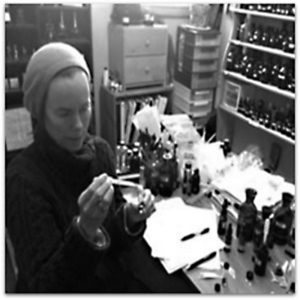 Dawn Spencer-Hurwitz An Art and Ofaction Finalist 2016 in her studio in Colorado
Dawn Spencer Hurwitz DSH Perfumes
DSH: "I really love many of the new co-distillates that have recently become available. They epitomize the concept of synergy perfectly. The unique way the original botanicals bond through the distillation process creates something much more interesting than if I had just mixed the two essential oils of the same botanicals together. This 'third' aromatic adds unusual elements and surprise nuances to final perfume designs in ways that make them a joy to work with".
Pine Tree with Resinous Cones by Dr. Elise Pearlstine
Elise: Many co-distillates are made using botanicals that are somewhat similar including resinous woods like pine, cedar, and frankincense. Or perhaps lavender and immortelle. Artisan distillers often experiment with a variety of materials to take advantage of the synergy that results.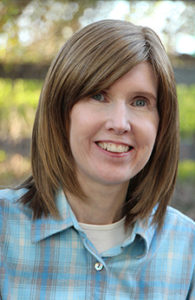 Laurie Erickson of Sonoma Scent Studio
Laurie Erickson of Sonoma Scent Studio
Laurie: "CO2 or SCO2 extracts are oils that are extracted from botanicals using carbon dioxide instead of the steam that is used for traditional EOs or the solvents that are used for absolutes (the CO2, water, or solvent used during extraction is removed from the final product). Each method of extraction produces oils with different chemical profiles and different scents. CO2 extraction does not expose the botanicals to high heat the way steam distillation does, and it often results in a more complete scent representation of the original material.
Oakwood CO2 by Laurie Erickson
The difference between steam distillation and CO2 is especially apparent with spices; for example, CO2 extracted cinnamon and Sichuan pepper oils are gorgeous and smell very much like the zesty fresh spices. The differences can be apparent in woodsy materials too; patchouli CO2 is generally greener and fresher than patchouli EO, and my oakwood CO2 is much more gourmand than my oakwood absolute (the CO2 is sweeter with prominent boozy rum topnotes and a creamy vanillic drydown). I choose to use CO2 oils on a case-by-case basis when their scent profile matches what I need for a particular composition, but I have switched to using some spice CO2 oils exclusively because I like them so much better than steam-derived EOs"
Elise: Both Shelley Waddington and Irina Adams discuss their use of isolates. This is another modification of the distillation process. To produce an isolate, a distiller/producer carefully manipulates the distillation process to separate a particular molecule from the hundreds that naturally occur in most botanical sources. By carefully timing the process and in combination with vacuum distillation, the aromachemical of interest may be captured as a separate product, providing a more pure note for the perfumer.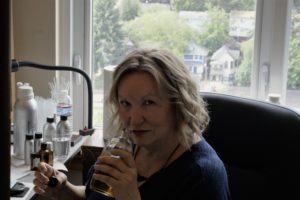 Shelley Waddington at her perfume organ
Shelley Waddington of En Voyage Perfumes
Shelley: Natural isolates exponentially increase the scope of natural perfumery. My favorite use for isolates is in creating floral fragrances. So often the essential oil or absolute of a specific flower can be a little disappointing, as some of the notes can be lost in processing. An isolated natural molecule is a simple thing, much less organoleptically complex than an essential oil or an absolute. Thus it can be used to restore some of the lost notes of an essential oil or an absolute, to provide a lovely, sheer floral nuance to an existing natural oil or accord, and it can add or emphasize a special note as well. By combining several isolates, one can build the smell of a specific flower, such as violet or heliotrope. Or, less specifically, there are isolates that can be used to floralize a blend in a less specific way.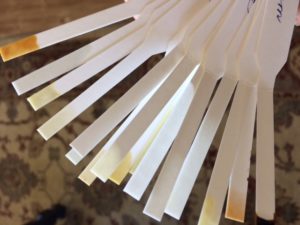 Evaluating Aromatics by Shelley Waddington
One of the isolates that I use in building my florals is geraniol. It's so useful! It's a rosy note that can be used as a blender and floralizer in all types of fragrances, but it's especially good with rose accords and other florals. It can be used in compounding a violet accord by combining it with the isolates alpha ionone and phenyl ethyl alcohol, as well as violet leaf absolute, cedarwood, cassie, rose, sandalwood and orris. Geraniol also useful in composing carnation, honeysuckle, and muguet accords. It's also good in building a good tuberose base along with the isolates methyl anthranilate and eugenol. And for a chypre/fougere-type accord, I suggest mixing it with citronellol natural, Oakmoss, Labdanum, a tad of Galbanum, Benzoin resinoid, Lavender essential oil, YlangYlang and Vanillin natural".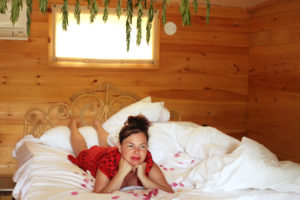 Irina Adam of Phoenix Botanicals An Art and Ofaction Finalist 2016
I use Vetiverol, an isolate of Vetiver essential oil, to strengthen and stretch out floral accords. In some compositions I want the lighter woodsy aspects of Vetiver and the tenaciousness but not the darker root-like heavier notes. It can act as a beautiful sheer bridge between florals and earthy base accords such as moss or oudh or even Vetiver root, helping smooth transitions".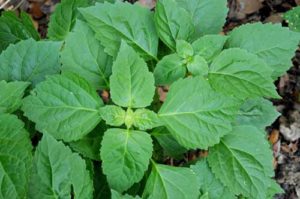 Patchouli plants by Dr. Elise Pearlstine
Elise: Lastly, we have one more product of distillation which is usually referred to as molecular distillation. This process has a bit wider scope than the production of natural isolates. The goal of molecular distillation is generally to remove a particular character or set of notes, leaving a subset of molecules (instead of just one as in natural isolates). A good example of this is patchouli essential oil which is often found as a molecular distillation. While many of us love all the aspects of patchouli, for some a more suitable product is free of some of the harsh iron notes carried over from a primitive still, has less color, or perhaps relatively more of the characteristic patchoulol notes. Or all three, giving the perfumer a more refined and light-colored patchouli. As with the production of isolates, the distillation is targeted, using careful timing and vacuum distillation to produce the molecular essential oil.
–Dr. Elise Pearlstine, Editor and Perfumer for Tambela
For our Decoding Natural Materials the art and science Draw: There are six perfumes that use techniques discussed by each artisan perfumer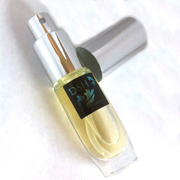 Worldwide: DSH Perfumes 10 ml spray of Seve de Pin Voile de Toilette for the drawing. Dawn uses frankincense/cedarwood and cedar/ponderosa pine distillations in this perfume. 99% BOTANICAL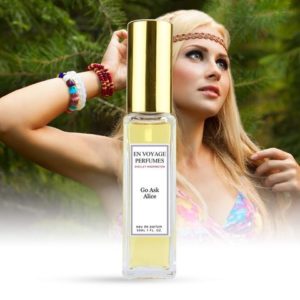 Worldwide: EnVoyage Perfumes 5ml purse spray of Go Ask Alice. Loaded with isolates! ALL NATURAL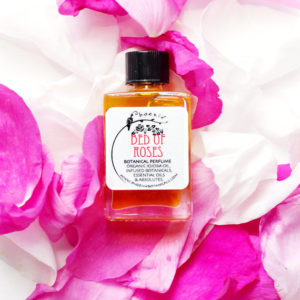 Worldwide Phoenix Botanicals 5 ml bottle of Bed of Roses Oil Perfume 5ml. Infused with Wild Rose petals. ALL NATURAL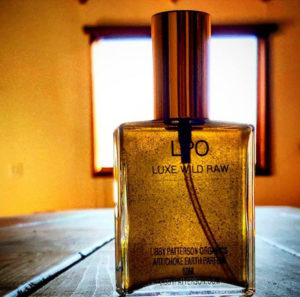 USA Only: Libby Patterson LPO Organics 5 ml bottle of Artichoke Earth which is made with Lemon Verbena, Artichoke Concrete, and Roses, Heart Notes with a Musk Dry Down to a Baked Earth. ALL NATURAL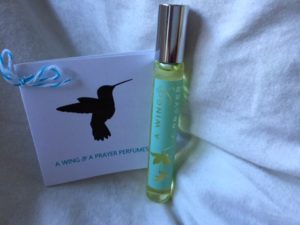 USA Only: A Wing & A Prayer ¼ ounce purse bottle of Lavender Fields perfume with tinctured lavender. ALL NATURAL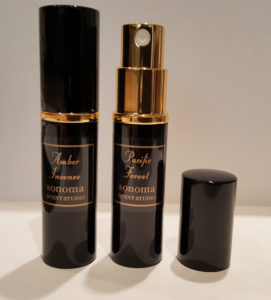 USA Only Sonoma Scent Studio 5 ml travel spray of Amber Incense. With Sichuan pepper and Oakwood CO2. ALL NATURAL

To be eligible you must be a Cafleurebon registered reader (register here). Please leave a comment with what you learned about decoding perfume ingredients,siting specifics, your choices should you win, and where you live. We congratulate Elise on a much deserved promotion Draw closes 9/30/2016.
We announce the winners on our site and on our Facebook page, so Like Cafleurebon and use our RSS feed…or your dream prize will be just spilled perfume