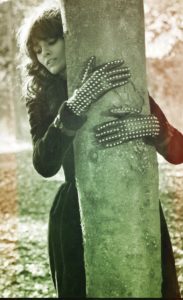 The Glass Magazine The Voice of Joy Winter 2012/2013 Model Melissa Stasiuk. Photographer Billy Nava (digitally apped MC)
It is the smell of the earth, of the stones and trees it grows on, it is intensely, richly green, woody and earthy with notes of ink, tar and seaweed. The dark browny-green absolute is like a forest in a bottle with hints of leather and undergrowth. Indispensable for adding body, tenacity and beauty to a perfume, its use is now strictly limited in many countries.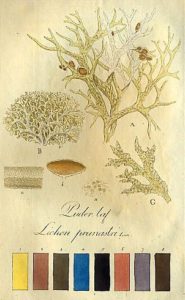 Oakmoss Botanical Print J. P. Westring, Stockholm, 1805.
Oakmoss, Evernia prunastri is the name for a certain type of reindeer moss that grows primarily on oak trees in Central and southern Europe. It is also called Mousse de Chêne'. Steffen Arctander in his seminal book on fragrance ingredients, Perfume and Flavor Materials of Natural Origin (Allured Publishing Corporation 1994) reminded us that this iconic perfume ingredient comes from organisms of the lowest order.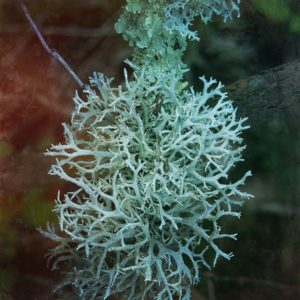 Wikipedia photo of Mousse de Chêne apped by MC
What he is referring to is the fact that oakmoss is not a moss but a lichen, a combination of an alga and a fungus living together in a sort of harmony. Each gives something to the relationship, the blue-green algae provides energy through photosynthesis and the fungus provides structure. Together they are more than the sum of their parts, making unique structures and chemicals not found elsewhere in nature.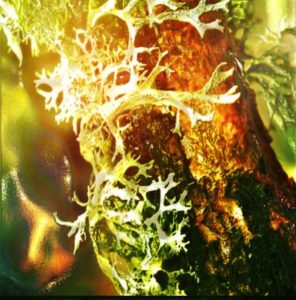 Wikipedia Oakmoss photo digitally apped by MC
Oakmoss for perfume use is collected from oak trees in Europe but also occurs in North America, in fact, throughout the Northern Hemisphere. Tree moss (Evernia furfuracea) and fir moss (Usnea rarbata) look similar but are different species with different aroma profiles, being more coniferous and less refined. Their fragrance is more dry and herbaceous with a hint of seaweed, but they also have great tenacity and value as a basenote or fixative.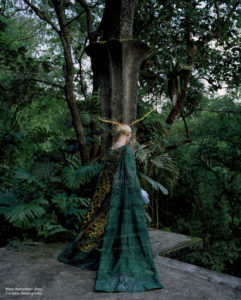 Tim Walker & Tilda Swinton for W Magazine May 2013
Oakmoss and the related tree moss types are free-standing structures that look like the antlers of reindeer sprouting from the branches of their host trees. Lichens are natural pollution indicators since they absorb moisture and dissolved minerals directly into their body which means that an absence or scarcity of lichens may indicate polluted air in the vicinity. Most lichens are slow-growing, and care must be taken to avoid over-harvest and depletion of valuable local sources. Although lichens may colonize nearly anything and survive in nearly impossible circumstances it is, somehow, the association of oakmoss and oak tree that is important here. So it seems that instead of a duo we need to consider the threesome of algae, fungus, and oak tree, a slightly more complex relationship. That intangible touch of the forest, indisputably oak-y, may come from the fact that the lichens absorb tiny bits of oak essence through their attachment to the tree. As well, the act of harvest itself may include bits and pieces of oak gathered along with the oakmoss for extraction.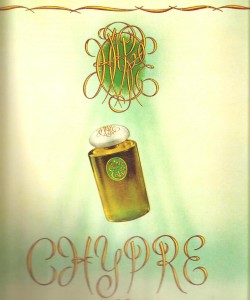 Coty Vintage ad Chypre which means Cyprus
First used in a chypre accords in Guerlain's Chypre de Paris in 1909 and defined as a fragrance family by Coty's Chypre in 1917, it is also indispensable in a variety of other perfume classifications including Orientals and Fougères.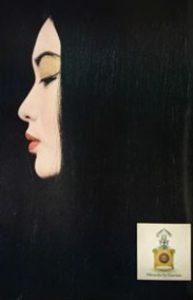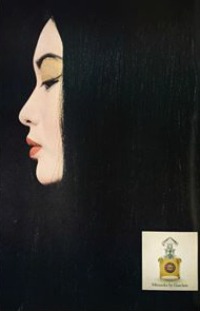 Vintage Ad: Mitsouko Guerlain, photo by Guy Bourdin in Vogue May 1965
Oakmoss in perfumes can be thought to act in the same way as savory or umami in cooking, it can balance the sweetness of vanilla or coumarin, and provide a beautiful counterpoint to fruity notes as in Mitsouko by Guerlain (1919). Those dry woody undertones with a bit of leather add, even at very small amounts, body and interest. Chypre perfumes are built on the relationship between bergamot, oakmoss, and labdanum with perhaps a bit of patchouli as well.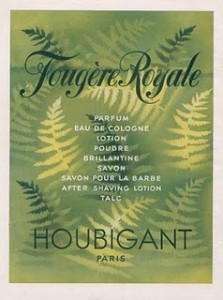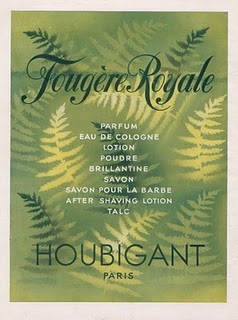 Houbigant Fougere Royale Ad 1950 (please read Rodrigo Flores Roux's article for CaFleureBon "Responsible Restoration" of Fougere Royale written in 2011 here
The magic of a fougère is achieved by the careful blending of lavender, oakmoss, and coumarin with the dark richness of oakmoss supporting the green, fruity, and herbal.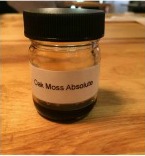 Vintage Oakmoss Absolue (photo Hernando) from Scent Tracking in Time with Christophe Laudamiel Osmocurator of the Osmotheque USA
The unique and tenacious fragrance of oakmoss has been a valuable ingredient in perfumes for a millennia, but now is now highly regulated and classified as an allergen by IFRA and the EU with restrictions on use in perfumes beginning in 2009 for new perfumes and for existing fragrances the . It has been known for some time that loggers would develop a sensitization reaction when working in areas where they come into contact with lichens such as oakmoss. Identification of specific sensitizing constituents followed as techniques allowed analysis of individual fragrance chemicals. There are two specific components in oakmoss that are identified as responsible for the purported adverse reactions—atranol and chloroatranol. If used in perfumes the amount of oakmoss should not exceed 0.1%. This limit includes the tree mosses as well.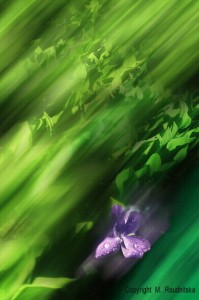 Photo for Fragrances of the World 2010 of Green Chypres by Michel Roudnitska
It is difficult if not impossible for a perfumer to compose a classic chypre fragrance without natural moss. The IFRA regulations, which according to an article in Reuters, came into full effect in 2015 is challenging large storied Houses such as Guerlain, CHANEL, and Dior. Osmocurator of the Osmotheque, Christophe Laudamieltold NYC Event Contributor Hernando Courtright, that he would "love to see Mistsouko restored to its former glory as it is a mystery and no longer recognizable". Reformulations are an extremely difficult equation because it is the complexity and uniqueness of oakmoss in Chypre perfumes that provides the earthy, grounding counterpoint to sparkling topnotes of bergamot and citrus. There are versions of patchouli that are low atranol and labeled as 'IFRA compliant' or perfumers have used substitutes like patchouli, vetiver, various woods, seaweed and algae. There are also synthetic substitutes that are used in its place, but do not match the aroma profile of true oakmoss.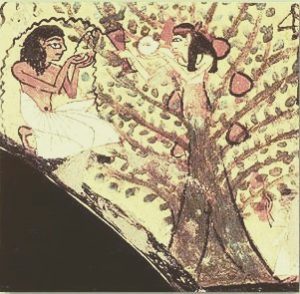 Tree Goddess from the tomb of Pashedu in the Valley of the Kings
Baskets of lichen, both treemoss and oakmoss, were found in in Egyptian tombs, perhaps for the fragrance but it was also used to make bread. In Turkey it was used to make jelly and in Europe as a substitute for hops in beer-making. Its fragrance fixing effect was valuable in making small perfume sachets and was used to powder wigs. As a dye, you could boil oakmoss with ammonia and achieve purple or red color. Some studies show oakmoss has antioxidant and antibiotic properties, something 15th century Europeans may have discovered when they combined oakmoss with two other lichens to formulate a popular drug called Lichen quercinus virdes. Oakmoss makes a great fixative for potpourri and according to folk lore; you can put a bit in your wallet for luck and money.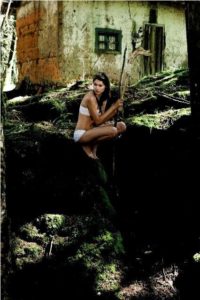 The Glass Magazine The Voice of Joy Winter 2012/2013 Model Melissa Stasiuk. Photographer Billy Nava
Oakmoss brings you the deep secrets of the forests absorbed and enhanced by the simple relationship between different organisms. Making the whole greater than the sum of its parts—complex, beautiful, and iconic.
Dr. Elise Pearlstine, Sr Contributor and Perfumer for Tambela
Art Direction: Michelyn Camen, Editor in Chief
For our Best Oakmoss Perfume Draw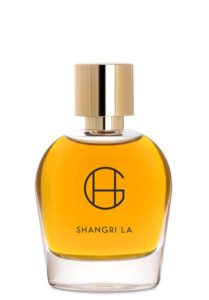 WOLRDWIDE: 30ml of Hiram Green Shangrila ALL NATURAL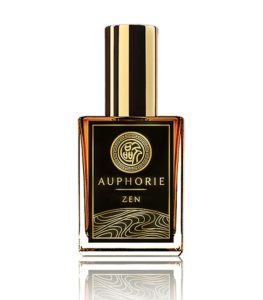 WORLDWIDE: 30 ml of Auphorie Zen a Limited Edition (Eugene and Emyrs Au Art and Olfaction Award winner 2016)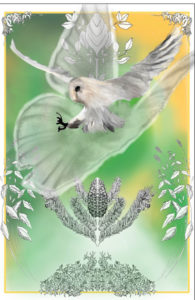 Illustration by Jasia Julia Nielson of Wild Chypre
WORLDWIDE: 7 ml of Tambela Wild Chypre by our Author Dr. Elise Pearlstine ALL NATURAL A classical floral chypre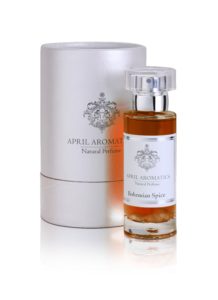 WORLDWIDE: 7 ml of April Aromatics Bohemian Spices (Tanja Bochnig, Art and Olfaction Award winner 2014) ALL NATURAL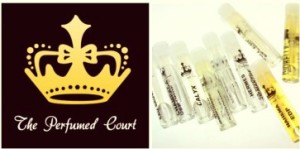 WORLDWIDE with the exception of New York State just for this from the Perfumed Court Guide To Oakmoss which includes eleven pre IFRA chypre samples including Mitsoukou and Coty Chypre. You must sign up for their newletter as well so please state that in your comment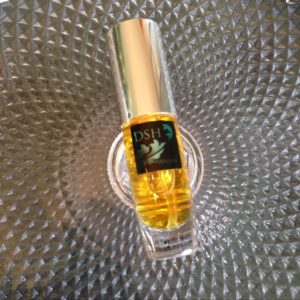 WORLDWIDE: 33 oz Essence Spray DSH Perfumes Twelfth Night Holiday 2 (Dawn Spencer Hurwitz) VERY high amount of oakmoss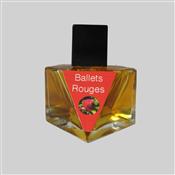 WORLDWIDE: 15 ml bottle Olympic Orchids Ballets Rouges (Dr Ellen Covey, Art and Olfaction 2016 Award Winner) classic chypre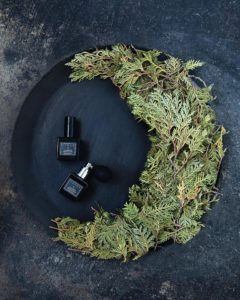 USA and Canada: 50mL bottle of LNVEA La Forêt Dormante (April Lea) ALL NATURAL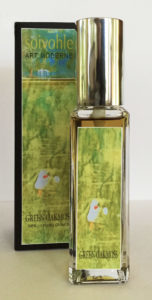 USA: 30 ml Soivohle Green Oakmoss (Liz Zorn)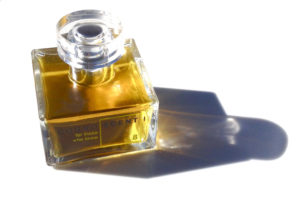 USA: Cognoscenti no 8 Aldehydic Oakmoss (Dannielle Sergent)
To be eligible for our Oakmoss in perfumery draw, please be sure to register if you have not done so. Also your choices must include at least one Indie and one natural Oakmoss perfume. You must be registered and you must use your user name or your entry is invalid. Please leave a comment with what you learned about oakmoss in perfumery along with your choices, and where you live. (welcome back Elise… the notes and ingredients series will resume monthly). Draw closes 10/23/2016