According to a survey from RetailMeNot 88% of all Americans will purchase a gift for Mother's Day (this year May 14th). If it was up to us, we think Mother's Day should be a national holiday. Not only do moms never get time off, their special day is always Sunday (usually a day of play for the rest of us). Were you planning on buying your mother a nice meal or flowers? According to this same survey more than half of all moms would love to receive something more sentimental. At ÇaFleureBon we believe she would love a gift that is SCENT-imental. Here are my suggestions and almost all are under $100: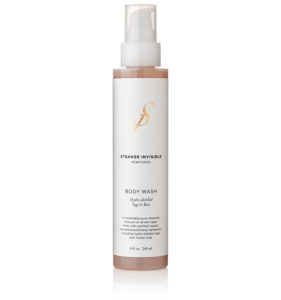 A bouquet of roses withers and fade, never mind it's the ultimate cliché, so if your mom loves roses, gift her with Alexandra Balahoutis' of Strange Invisible Sage and Rose Body Wash. The hydrating bath gel is also shower friendly. The ingredients of Turkish Rose and sage used are hydro-distilled, all natural, botanical, vegan and cruelty free. ($45) US Only.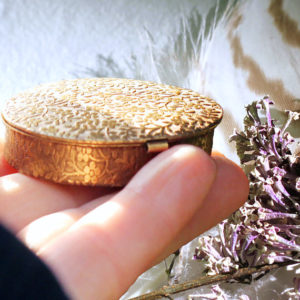 Mom may live in a high rise, but with Irina Adam of Phoenix Botanicals' Lilac Rain solid perfume compact, she can recreate the experience of a walk through a beautiful garden year round. It's extremely rare for lilac to be all natural, but Irina found a hand tinctured source, then worked her magic.The vintage oval compact case slips easily into her purse. Notes: yellow mandarin, lilac, jasmine, clove buds, spices, tobacco, mushrooms, vetiver, benzoin. Super limited edition WORLDWIDE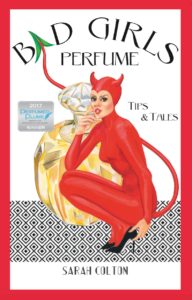 Scent has the power to seduce. You may not think of your mom as a bad girl, but she was (and still is). Let's say she wears Shalimar. Mom is classy, hot and in your face, according to Perfume Plume Award Winning Author Sarah Colton of Bad Girl Perfume Tips and Tales. The Baddest mother was the mother of us all…Eve. Poor Adam never stood a chance once he smelled that apple. A great gift and a great read. ($15). For our readers, Sarah will autograph two books, one for you and one for your bad girl mom, grand-mom, sister or best friend. EU, USA and Canada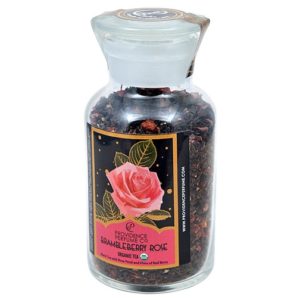 If your mom is always on the go remind her to slow down and smell the roses…or better yet, sip some Brambleberry Rose tea from Charna Ethier of Providence Perfume Company's A•POTH•A•CARE•TEA Organic, Fair Trade Certified, Perfumed Loose Tea collection. Brambleberry is a black tea that is delicious and beautifully fragrant with a touch of roses, berries and hints of vanilla and cocoa. The mason-style jar is reusable. I will let you in on a secret. I don't; drink tea. I fill little bowls of the loose tea and use it as potpourri on my nightstand. Hand blended: organic black tea, Rhode Island grown rose petals, raspberries, strawberries, cocoa nibs and madagascar vanilla bean.12 oz/$28.00 USA ONLY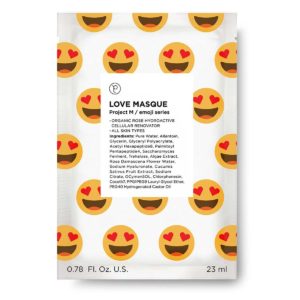 If your mom loves to be pampered, but if gifting her a full day at a posh spa is out of the budget, there's a soothing rosewater and pomegranate "facial" that is sure to put a smile on her face. She'll be the star of Instagram with The Love Emoji Masque I scouted on the Smallflower.com website ($10) #weheartthis USA ONLY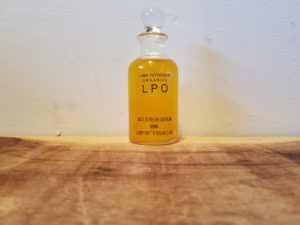 No one lives a charmed life; 2017 has brought political, personal and physical challenges that have caused many of us- moms- and otherwise, to feel super-stressed. Libby Patterson of LPO Organics Anti-Stress Serum was designed in response to the attack on 911, in NYC on the Twin Towers. Organic and wild crafted Essential Oils' in a base of organic jojoba oil with Coriander, Clary Sage, Bergamot, Benzoin Resinoid, Cedarwood, Litsea Cubeba, Mandarin / Sweet Orange, Geranium, Cypress (allows us to let go of trauma, ptsd), frankincense, Nutmeg and Vanilla. Calming and centering (10 ml/$40) USA ONLY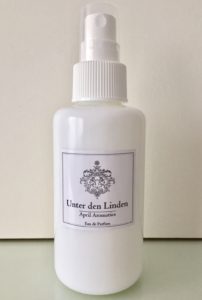 Hair mists are having a moment, and are an extremely popular way to wear fragrance. I asked super-mom and Art and Olfaction award winning natural perfumer Tanja Bochnig of April Aromatics to create something special for this Gift Guide. One of my favorite of her perfumes is Unter den Linden. I grew up in Brooklyn, on a tree lined street and every spring the smell of linden blossoms filled the air. In this bespoke Hair Mist, which adds lustre without drying out your hair. The beauty of the perfume is captured in a lighter, water base and emollient concentration. Approximately 4 oz WORLDWIDE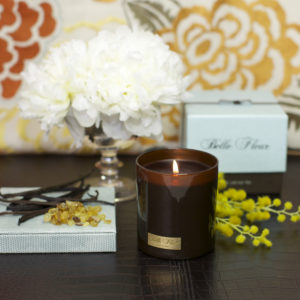 Everyone likes candles; but not all candles are created equally. My go-to gift is from Belle Fleur Home Fragrance. Tony and Meredith Perez are husband and wife and couldn't have more different backgrounds. Tony was an architect and Meredith a renowned floral designer. They pooled their collective talents and offer "perfumes" for the home. Their candles actually "waft" due to the perfume concentration, are created in small batches and composed by Master perfumer, Jerome Epinette. Mimosa Magnifique has a floral oriental scent which opens with a beautiful violet note then is surrounded in the lightness of mimosa with an interesting contrast of exotic resins and mossy woods (7.5 ounces/$96) 55 hours burn time. USA ONLY
Every Mother's Day I try to buy my mom a perfume and only once did I get it right. But when I get it wrong, she smiles, says its lovely and I think she sprays it in the bathroom as room freshener. If you have had similar experiences, you'll love the next five Perfume gift ideas.
Some moms aren't perfume people. Or work in a fragrance-free office. Or are new moms. DSH Perfumes' Dawn Spencer Hurwitz's Special Formula X Extreme is truly a skin scent. It enhances your own natural smell or can be layered with other fragrances. The pulse roll-on is my favorite, because I can slip it and apply it anywhere. (See above Bad Girl Perfumes) $33 one dram WORLDWIDE
Three luxe brands that offer beautiful feminine fragrances are Amouage, Tonnati Profumi and M. Micallef. If you are reading this guide you know these Houses. Your mom, however, most likely has not heard of them, unless she is as obsessed with perfume as you.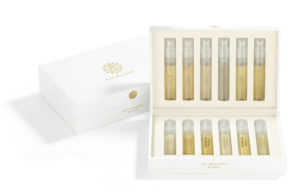 From Amouage, please her with the House's Greatest Hits for women 12 x 2ml of Beloved, Dia, Fate, Gold, Honour, Interlude, Memoir, Reflection, Jubilation 25, Epic, Journey, and Lyric Woman. You know you will be tempted to keep these for yourself. ($100) Available on Europerfumes.com USA ONLY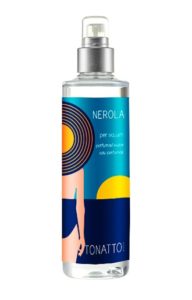 Treat your Mom like Royalty. Tonnato Profumi offers a wide variety of ways to wear fragrance. Particularly lovely are their Perfumed Waters, which use a high percent of natural ingredients so that the skin benefits from the scent. The formula is extremely light, with the toning and moisturizing benefits of organic ginseng and Aloe Vera extract. One of my favorites is Nerola, homage to the Duchess Anna Maria Orsini of Bracciano, Princess of Nerola. Notes: Italian neroli, bergamot and orange blossom, vetivert and patchouli. 19,00€/200ml EU, Canada and US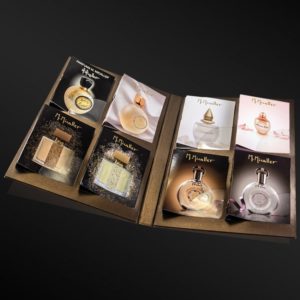 Another great gift is the M.Micallef Fragrance Discovery Booklet that includes 8 x 1.2ml of their most iconic Feminine perfumes: Ananda, Mon Parfum, Watch, Ylang, Royal Muska, Royal Rose Aoud, Pure Extrême and Ananda Dolce. As always with M.Micallef the presentation is gorgeous, each sample individually carded AND if she (you) love a perfume or two, within 30 days of purchase the 19,00€ is deducted when you buy a 100 ml bottle. Available on M.Micallef.com WORLDWIDE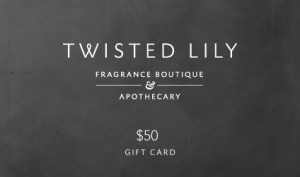 If you have a picky picky picky perfumista for a mother, the best advice is a gift certificate. This way she can shop for perfume, beauty and other lovelies at her leisure. A $50 Gift Certificate to Twisted Lily is a great way to subtley say "I love you Mom, but pick your own perfume" USA ONLY.
All thirteen gifts are for draw thanks to incredibly kind sponsors; quite a few are mothers themselves. To be eligible please leave a comment with what you admire most about your mother or a mom you know, as many of the above you would like to win, and where you live by May 8, 2017. We will announce all the winners May 10th, so you can show your mom this article and let her know her Mother's Day gift is on its way. To be eligible you must be a registered reader , click here.
We announce the winners only on site and on our Facebook page, so Like Cafleurebon and use our RSSFeed …or your dream prize will be just spilled perfume