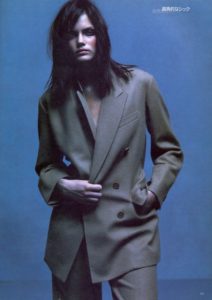 Hermes Martin Margiela, Mini Anden photographed by Jacques Olivar for High Fashion Magazine 10 October 1999
In 1997 Jean-Louis Dumas wanted to relaunch the Hermès house on the catwalks by choosing Martin Margiela as creative director. As Martin Margiela's design style focusing more on cuts and fabrics rather than on embellishments was a perfect match for the true spirit of Hermès: excellence in sourcing noble raw materials, the attention to details and yet an effortless elegance fostered by a nonconformist spirit. Now this deconstructed nonchalant beauty needed an olfactory equivalent. Where the 1960s woman found it in the androgynous combed perfection of Calèche, in 1999 they decided to collaborate with a young perfumer whose name was already known for creations for L'Artisan Parfumeur (DZING!, Diptyque Philosykos are both CafleureBon Modern Masterpieces) and Guerlain to shape a modern one, Olivia Giacobetti.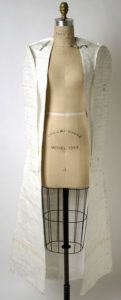 Margiela Hermes Coat on a Mannequin 1999
Which material better than iris (another Deity of Olympus) could conjure up a refined intellectual woman who's far from excesses and display?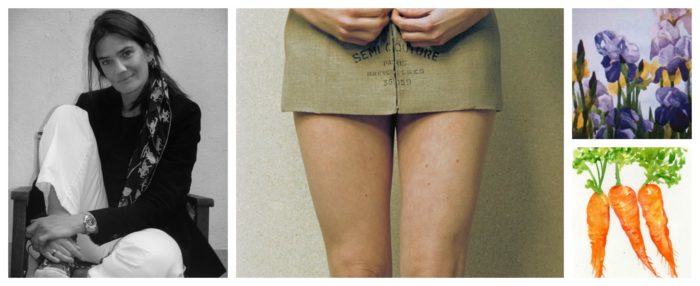 Olivia Giacobetti,Martin Margiela 1999 Dress, Iris and carrot Watercolors
So Hiris was born: a fruity-aromatic iris with muted florals where the iris pallida chalkiness is remastered to smell like a flawless vicuña dress. This Olivia Giacobetti's masterpiece happens also to be the brightest example of her often sheer, watercolor-esque signature.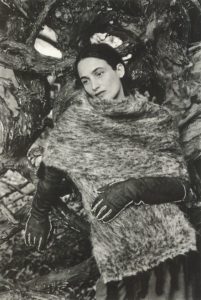 Marie-Ann photographed by Joanna van Mulder wearing Hermes designed by Martin Margiela for Le Monde d'Hermes, No. 35, 1999 Vol. II, FW 1999
The idea of basing the smell of a fragrance using a particular fabric as inspiration is no new, as perfume history is full of fabric references, even before Edmond Roudnitska's Chiffon (1946) later named Rochas Mousseline , Geoffrey Beene's Grey Flannel (1975), and Maurice Roucel's Faubourg 24 (1995) evokes the silk twill of a carre. What's really groundbreaking about Mme Giacobetti's treatment of the concept is that Hiris is it is modern, feminine yet strong bringing to mind that opaque, lightweight and matte rendering of pearl grey wool just out of the dry cleaner's. Forget about nostalgia and shy jeune filles en fleur with rosy powdered cheeks.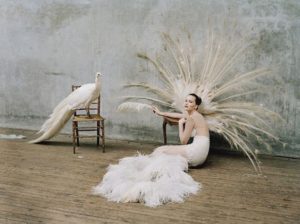 Jennifer Lawrence photographed by Tim Walker for W Magazine, October 2012.
Less rooted in the woody iris cliché that began with Coty's Iris in 1912, Mme Giacobetti's composition takes the carrot vitaminic fruitiness introduced by Maurice Roucel's Serge Lutens Iris Silver Mist and plants it in a 21st century century musky garden populated with irises, fountains and elegant yet silent white peacocks.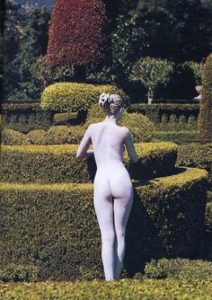 Herb Ritts, 1996
A touch of tangy neroli and pepper tinged morning dew brightens up the opening and the gauzy jasmine breeze of hedione makes it even more cool and diffusive. The iris butter is fine quality and has a detectable creaminess in the heart. The honeyed rosiness is masterfully balanced by the grassy coriander revealing hints of androgynous leather. You don't see her, but you can smell her unmistakable presence. You can guess you saw far away her mauve lean silhouette in the shade: walking aloof a nude statues that cherishes her undisclosed desires under the white marble.
–Ermano Picco Contributor and author of La gardenia nell occhiello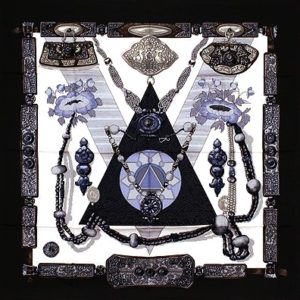 Jean Louis Dumas, the last of the Hermès family chose this scarf for Michelyn
Art Direction Michelyn Camen and note regarding Jean-Louis Dumas. I met M. Dumas quite by accident while I was in the Hermès botuique when it was located on East 57th Street between Madison Avenue and Fifth in the summer of 1999 when Hiris debuted. It was for me seeing a rock star. I introduced myself and when I asked him if he wouldn't mind chossoing as scarf for me, he was so gracious and plucked Tibet from behind the glasscase. I loved that scarf on sight and even the more because he chose it for me. I was heartbroken when I moved from downtown to uptown and lost it.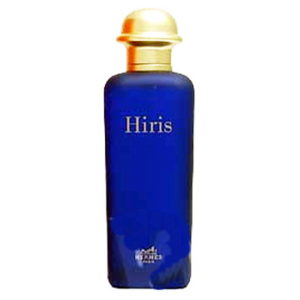 Thanks to Fragrancex.com we have a 100 ml bottle of Hiris for a registered reader in the USA. To be eligible please leave a comment with what you enjoyed about Ermano's review of Hiris and if you have a favorite Hermès perfume. Draw closs 7/6/2016.
If you LIKE CafleureBon Modern Masterpieces on Facebook your comment will count Twice
We announce the winners on our site and on our Facebook page, so Like Cafleurebon and use our RSS option…or your dream prize wil be just spilled perfume