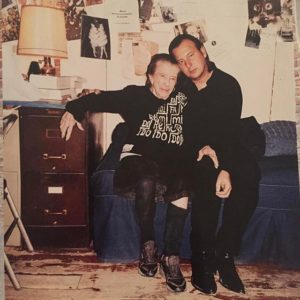 Louise Bourgeois with Helmut Lang by Juergen Teller©
At the end of the1990s, perfume was completely different than the decade before. Minimalism had swept away every trace of the hedonistic enjoyment the previous era exuded. In fashion, Minimalism spread across Europe like a cold wind blowing from the North, bringing a completely new aesthetic boosted by radical new creators. Austrian born, Helmut Lang was the most forward-thinking of deconstructivist designers who truly articulated an underground movement and his perfumes line makes no exception: the introduction of Velviona in 2001 is the founding statement of molecular perfumery.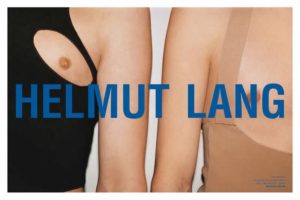 Helmut Lang SS2003 by Juergen Teller
Nowadays when every perfume claims itself to be Art while moving into what's the most profitable and predictably boring direction (even the revamped Lang fashion house itself), it is hard to believe in 1999 at the apex of his success, Helmut Lang sold 51% stake in his company to the Prada Group company to Prada. Lang left his label in 2004 almost without a word (he was never big on words: "It is dangerous to become over-exposed," he once said) to become a visual artist.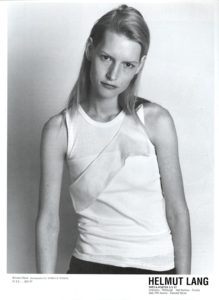 Kirsten Owen x Helmut Lang SS1997 US Vogue March 1997 by Robert Mapplethorpe + Bruce Weber
Lang's career was full of excitement and you should understand just how cutting-edge the man had been.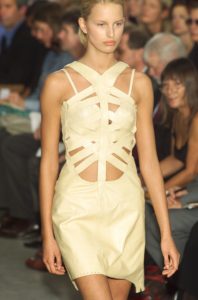 Helmut Lang SS2001
Not giving a damn for the market, in the late 1980s, he designed fashion with razor-sharp lines and played with technical fabrics, superimposing sheer materials or bondage elements . He established a new asethetic for a new era in fashion. He was one of the first designers to break away from the 1980s opulence, and in 1998 he was the first to ever stream his collection online.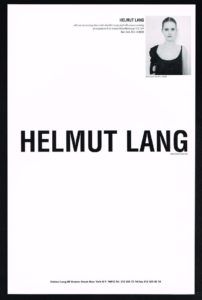 Helmut Lang FW1999 by Juergen Teller
He actually hated the word "defilé" (catwalk) and renamed them as "Séance de travail" (work session). His fashion was so deeply connected to art that illustrious collaborations with artists like Jenny Holzer or Louise Bourgeois have made fashion history.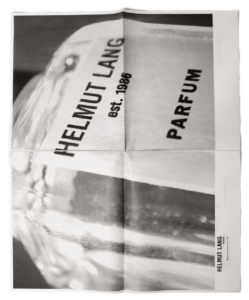 Helmut Lang Perfumes by Marc Atlan 2000
His subversive and disruptive ad campaigns were shot by Robert Mapplethorpe, Bruce Weber and Jurgen Teller and influenced the next generation of advertising. How could a genius like Lang jump into perfumery without leaving his groundbreaking footprint?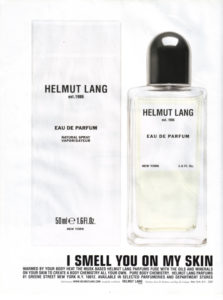 Helmut Lang edp ad 2001
In 1998 while working with Master perfumer Maurice Roucel to recreate "the scent of his lover's sweat …erotic, musk, skin", the designer fell in love with the musky floralcy of Givaudan's Velvione©, that was profusely poured into the base of Helmut Lang eau de parfum and cologne, both launched in 2000.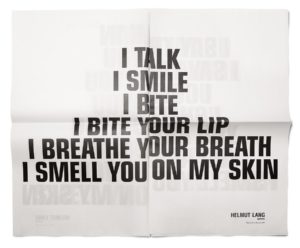 Jenny Holzer x Helmut Lang NYC Boutique 2001
Maurice Roucel, in his 2015 interview with Editor in Chief Michelyn Camen, wrote " Helmut Lang Eau de Cologne is one of the muskiest perfumes on the market and is my musk masterpiece." In 2001, Helmut Lang launched Velvion asa 500 pieces limited edition, the pure synthetic molecule bottled in a small dark glass apothecary eye droplet vial with a simple black label bearing the brand name and a few more technical details. It was sold exclusively in his 81, Greene St. flagship store in SoHo. The move was brave, a new perfume solely out of the lab, yet it exuded power and the idea that a perfume could be boosted by "layering" a few drops from this little mystery vial.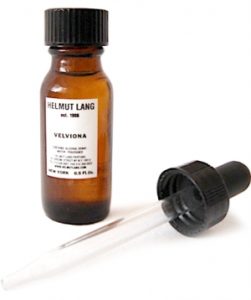 Helmut Lang Velviona
Industrial-chic and perfectly matching the sharp style code of the designer, it set the bar for collections, such as Le Labo translating to perfumery deconstructed fashion that was a new breed of luxury. It was all the process of unfinished rather than the final design. That's why Velviona is a Modern Masterpiece, venturing into the anti-perfume direction started by Comme Des Garçons Odeur 53 in 1998 with its hedione overloaded brief formula and helping to pave the way for Geza Schoen who successfully established his Molecule 01 line in 2006.
But how does Velviona smell? A macrocyclic musk developed in the Givaudan labs, velvione© is inexpensive, alluring and above all musky in the best possible way. Think of that addictive baby skin scent everybody loves. Moreover velvione© is only barely animalic and favors a petal velvetiness that blends well in floral bouquets adding a captivating glow, so it perfectly fits the '90s cerebral clean vibe in fragrance. The prominent powdery radiance has a vintage connection, close to the retro elegance of nitromusks like must ketone (think of vintage a sheer Chanel No. 5 muskiness) which is an extension of Lang's sober palette.
This review was based on a sample of Velviona issued from my personal collection.
-Ermano Picco, Contributor and author of La gardenia nell occhiello