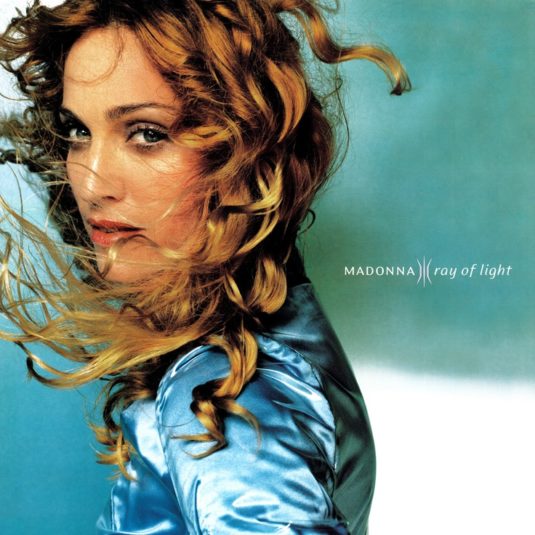 Madonna's Ray of light cover
"I traded fame for love
Without a second thought
It all became a silly game
Some things cannot be bought"
In 1998, Madonna glamorously wrapped in a Dolce&Gabbana plastic coat released her best album. That same year, perfumery found its "Substitute for Love"– Bulgari Black. After soaking for a decade in aseptically marine concoctions and sanitized urban-tribe musks the need for a new, more ergonomic sensuality was palpable. Only three years after being appointed Fine Fragrance Perfumer at Firmenich, the talented Cannes-born Annick Menardo brilliantly understood that it was the right time to push the boundaries with a fragrance that was far from the conventional ambers of the time, but still cozy. The genius of Bulgari Black was the shifting of what sexiness could be… away from iconic fumes like opulent Shalimar and dandy Knize Ten to the cruel darkness of zen-chic black tea and industrial-fetish rubber, a degree away from raw skin contact to something kinky.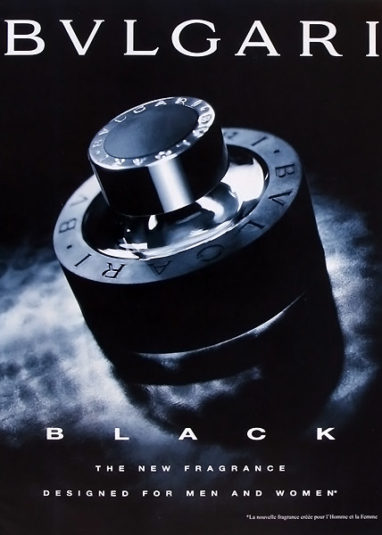 Bulgari Black original advertising
Opening with the luminous floralcy of hedione and just a hint of bergamot, Bulgari Black takes inspiration from the roasted notes of Lapsang Suchong and quickly develops into a powdery, rubbery, smoky cake that to this day is "a love or hate " fragrance. When I first smelled it back in 1998, I thought this is what a Replicant's skin might smell like (it settles as a very human skin scent).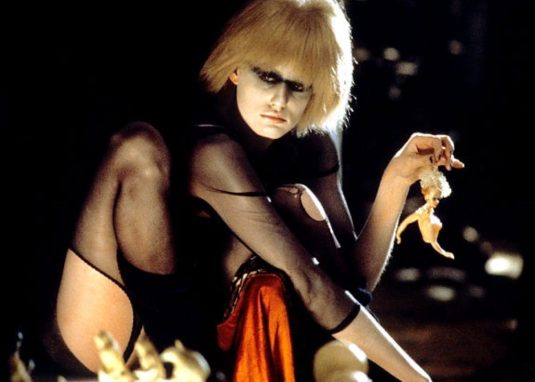 Pris in Blade Runner 2049
The burnt plastic smell of guaiacol and pyrazines (naturally occurring in black tea), is masterfully blended here with vanilla to get a captivatingly sweet new tires smell conveying naughty games wearing neoprene apparels or playing with erotic toys, which in a way was a scent forecast of today's internet cyber-sex as a substitute for love. It's not diffiuclt when you inhale it to imagine that it could be the smell of a replicant from Bladerunner, like Pris.
Lapsang Souchong leaves are traditionally dried over pinewood fires imparting its distinctive smoky aroma via flickr©
While this smoldering, distinctive rubber character is never lost (thanks to the soupçon of impalpably seamless woody vapors), Blugari Black has a smooth ambreine-like oriental trail revealing the cinnamon warmth of styrax. Initially conceived as a men's fragrance, it was and is perfect on both men and women; it is quirky and stands out from the rest of the wispy Bulgari "teas" collection. Whereas Bulgari Black immediately gained appreciation among connoisseurs, its unique sweet rubber accord took some years to become an acquired taste.
Darryl Hannah as Priscilla Stratton, a Replicant in the Original Bladerunner 1982
Ahead of its time, Bulgar Black never reached today's demanding sales targets and the brand sadly discontinued it in 2017, even though its influence is unmistakable in niche perfumes notably the sooty Le Labo Patchouli 24.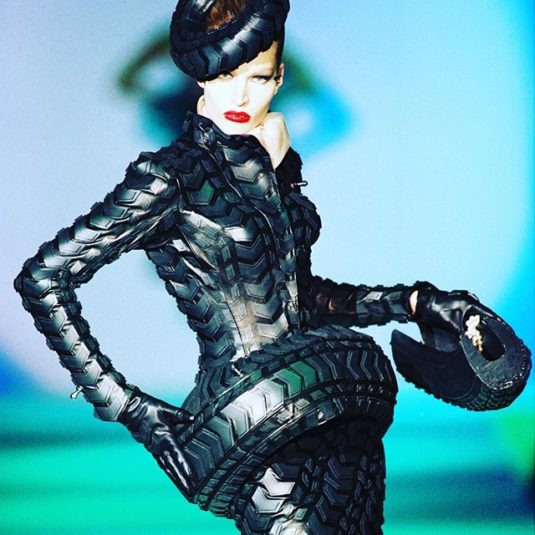 The "tire suit" from the Thierry Mugler Spring/Summer 1997 Haute Couture
Bulgari Black, the "supreme exponent of the metropolitan concept", a cutting-edge oriental, needed a flacon that conveyed the same bold statement. Thierry de Bachmakoff, who already dressed the minimal-chic Eau Parfumée au Thé vert, drew the same sleek metal design and added the fetish-like matte rubber from their watches collection. That's why he designed a soft-touch rubber wrapping around the short and wide cylindrical bottle, boosting coherence between the metropolitan mood and the fragrance into an unexpectedly glamorous industrial gadget.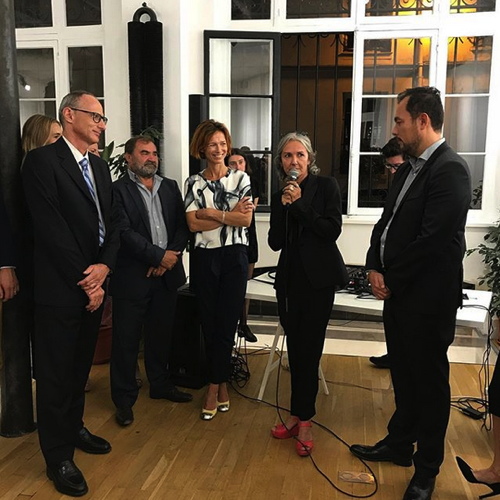 Ricardo Omori, Senior Vice President Global Fine Fragrances welcomed Maitre ParfumeurAnnick Menardo to the Symrise team (including Maurice Roucel and Emilie Coppermann) photo credits Le Musc et la Plume
After signing Bulgari Black, Lolita Lempicka, Christian Dior Hypnotic Poison and other impressive commercia, luxury and niche creations (Guerlain Bois d'Armenie, Eau d'Italie Morn to Dusk and Olfactive Studio Close-up), Annick Menardo has left Firmenich after 27 years and recently joined Symrise. The Company is pursuing innovation and daring creativity with new perfumers. I can't wait to smell Mme. Menardo's next creation and look forward to a new Modern Masterpieces.
Notes: bergamot, black tea, jasmine, cedarwood, sandalwood, leather, amber, musk, vanilla, resins
Ermano Picco, Editor (with contributions from Michelyn Camen, Editor-in-Chief)
Editor's Note: Bugari Black is available at fragrancex.com for under $27 USD.
Follow us on Instagram @cafleurebon and @magnifiscent