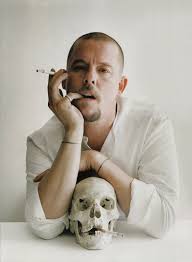 Alexander "Lee" McQueen Tim Walker
In December 2000, the Gucci Group bought the 51% of the Alexander Mc Queen brand and this came with a plan for opening stores in London, Milan and New York and the establishment of the Alexander Mc Queen Parfums. Being a huge fan of this disruptive genius, I remember I welcomed the opening of his store downtown in Milan as a breath of fresh air in the aftermath of 1990s jaded minimalism.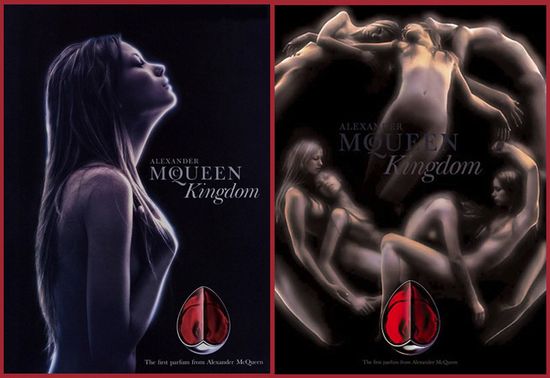 Alexander McQueen Kingdom ads
It was not long after this I smelled Kingdom for the first time back in December 2003 and I still remember it as it was totally different from most of the mainstream offerings. It was the time when most of the perme and-mullet '80s scents had been toned down by a decade of galaxolide soapiness. So it's no wonder it smelled odd and sometimes disturbing. Unlike the more conservative new Mc Queen gaudy floral housed in the black'n gold feathered bottle, Kingdom was indeed the perfect match to the polarizing creations the "enfant terrible" of Brit fashion was releasing on his catwalks.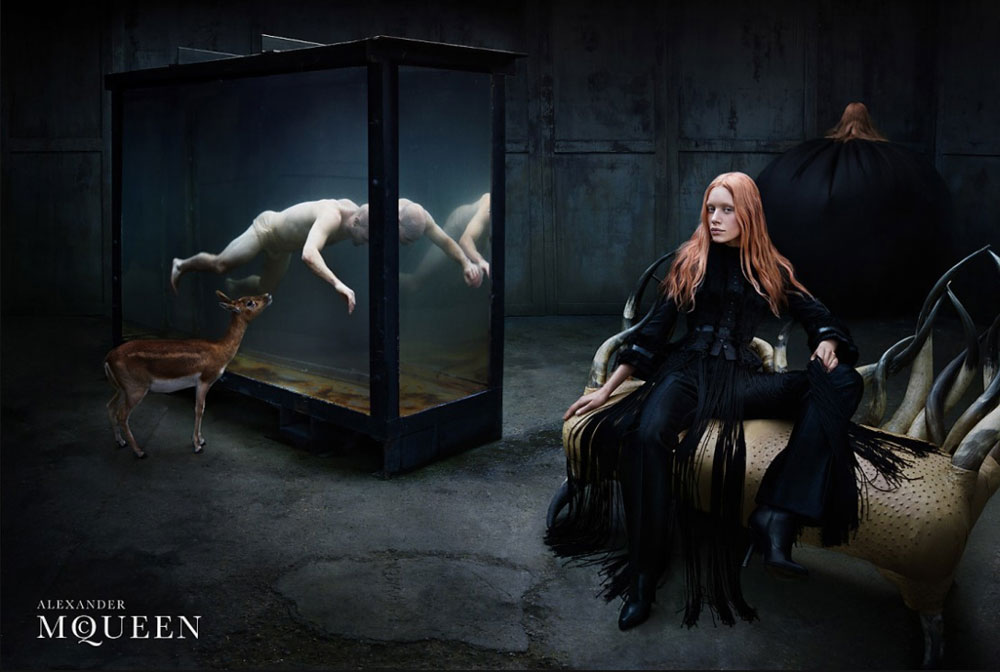 Alexander Mc Queen FW 2002 collection Ad by Stephen Klein
While closely collaborating with master perfumer Jacques Cavalier-Belletrud (who was working for Firmenich at the time),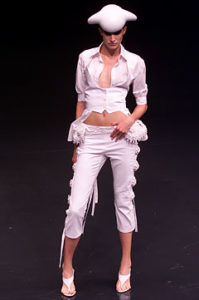 White toreador from the McQueen SS 2002 "The dance of the twisted bull" collection
Alexander McQueen was in the midst of a glorious period full of artistic collaborations, accolades and releasing the amazing collection "The dance of the twisted bull" all tinged in silver grey, red, black and white. Put in the midst of this creative team a young Kilian Hennessy who just joined the Gucci group back then and you'll swear nothing less than dangerous could come out of this liaison.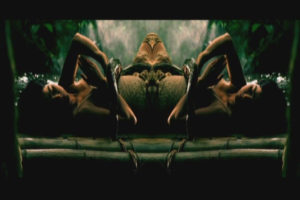 Alarm Call" Bjork video (1998) directed by Alexander Mc Queen (from the Homogenic album)
The sincere friendship and artistic collaboration between musical artist Bjork and Alexander McQueen was a key ingredient of their mutual influence since the album Homogenic styled by a young Mc Queen himself was released. They both were interested in the relationship between technology, nature and the decay the British fel since the Victorian Empire crumbled. Back in 1997, Bjork told the Chicago Sun Times "I explained to Lee that the person who wrote these songs is someone in an impossible situation, so impossible that she had to become a warrior, but a warrior who had to fight with love, not weapons".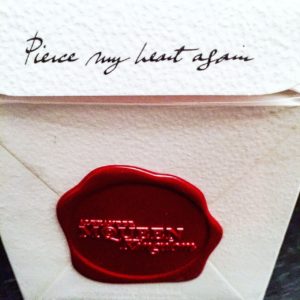 Pierce My Heart Again from Ermano's original bottle
I can't help but feeling this struggle between love, resilience and decay upom opening the rough white paper box of Kingdom, reading the headline inside "Pierce my heart again". The bottle itself looks like a high-tech steel heart armor sliced to expose the red throbbing muscle, and thus the fragrant liquid itself.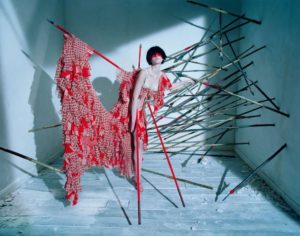 Dark Angel, by Tim Walker for Vogue UK, March 2015 featuring a dress from the Mc Queen SS 2002 ©
As you spray it on skin, the topnotes are fresh with citrus and an unusual, slightly astringent angelica-grapefruit bitter greenness. Just in case this androgynous overture isn't polarizing enough, the warmth of a floral bouquet of jasmine and above all rose that to some is redolent of Christian Dior's Dune, here is empowered by a load of cumin and burnt hints of clove.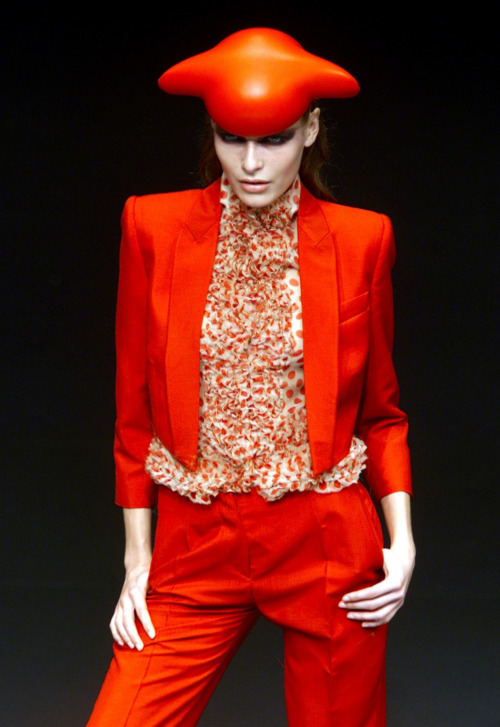 Red toreador dress from the Mc Queen SS 2002 "The dance of the twisted bull" collection
This decay redolent of a dance with the twisted bull, of neroli-sprinkled Victorian posies and heated body groves takes the center stage on my skin joining the savory, spiced rose trend launched a while before by Jean-Claude Ellena's Rose Poivrée. The best is yet to come though as the basenote grows more and more around sandalwood creaminess and romance: less powdery and tonka-laden in guerlainesque style, it's nature winning over technology, blood and skin over steel. Leaving behind the surgical calone era, Kingdom was a gamechanger reconnecting the woody-oriental feminines family to the trail of Jean-Paul Guerlain's Samsara and giving this marvelous failure, this "impossible situation" a second chance. The mainstream tastes of the time and the suits in big offices doomed it to fail not understanding its such savage beauty. Pierce my heart again, for where there's taste there's no damage.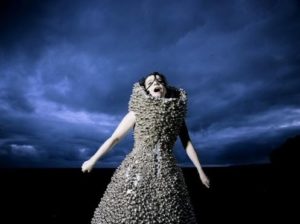 Bjork wearing the famous Alexander Mc Queen "Bell Dress" for the video of "Who is it" (2004, from the Medulla album)
Writer's Note: Kingdom was first released as an edp and sold in Alexander Mc Queen stores and few selected retailers. Various limited edition of the scent came in the next years and also a Kingdom parfum was released. The McQueen Parfums was later acquired by P&G that reproposed the perfume in a smoother edt version. This smelled brighter, less complex and yet its infamous cumin note set it still far from being a crowd pleaser.
Notes include: Calabrian Bergamot, Sicilian Mandarin, Orange , Tunisian Neroli, Rose, Indian Jasmine, Cumin, Ginger, French Vanilla, and Indonesian Myrrh
This review was based on the original edp (2003) issued from my personal collection.
–Ermano Picco, Contributor and editor of La gardenia nell occhiello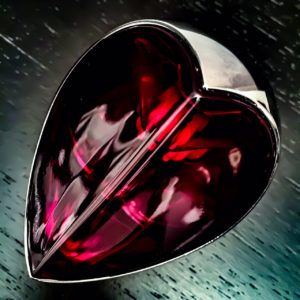 photo: Ermano's 2003 EDP for CaFleureBon Kingdom byAlexander McQueen
Thanks to the generosity of Diane of the The Perfumed Court we have a 3ml glass sprayer of Kingdom ($30.00) value) for 1 registered reader anywhere in the world (don't know how to register? click here). Please sign up for their monthly Newsletter here also to enter. To be eligible, please leave a comment regarding uour feeling about the demise of Kingdom, what you learned about this fragrance, where you live, and why you would like to win. RIP Alexander Lee McQueen (March 17, 1969 -February 11, 2010) Draw closes 6/15/2017.
Please LIKE CaFleureBon Modern Masterpieces on Facebook here and your entry will count twice.
Editor's Note: It is near impossible to find a bottle on eBay for less than $200. I also have a bottle and purchased it for $60 at the time. It is one of the long lost masterpieces that, like Alexander McQueen himself,was so ahead of its time. Pulling it off the shelves so early due to poor sales shows the difference betwen MUGLER who in 1992, gave Angel (which had dismal sales at first) a chance to become the cult favorite it is today. RIP Alexander "Lee"McQueen (March 17, 1969 -February 11, 2010)
We announce the winners only on site and on our Facebook page, so Like Cafleurebon and use our RSS FEED…or your dream prize will be just spilled perfume.