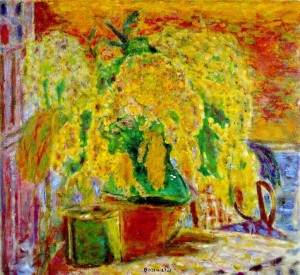 Bunch of Mimosas Pierre Bonnard 1945
Golden puffs of fragrance amid tiny green leaves and thorny branches, the flowers of mimosa and cassie evoke both Egyptian gods and European Sophistication. A perfumer's mainstay, the powdery violet aspects of both mimosa and cassie unify a perfume. With soft tones of wood, mimosa absolute is also sweet and rich—a nearly perfect floral. Absolute of cassie is more complex, a bit spicy and balsamic on a background of leather and wood.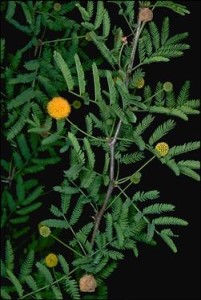 Photo Credit: Seedman.com
Both mimosa and cassie are in the acacia family, a large family of thorny, tiny-leaved plants that inhabit very warm and/or tropical areas of the world. The name mimosa is given to both species because of the similarity in flowers, both being soft and spherical. The flowers of acacias have five very small petals with many long stamens making up the flower. Also known as the thorn tree the name acacia comes from the Greek word akakia meaning thorn.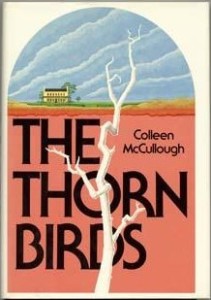 First Edition The Thorn Birds
In Celtic mythology, there is a a tale about a bird that sings just once in its life. From the moment it leaves its nest, it searches for a thorn tree and when it finds it the bird sings sweeter than any other creature on the face of the earth. And while singing, it impales itself on the longest, sharpest thorn and dies; this legend was the underlying theme of the novel The Thorn Birds by Colleen McCoullough which the 1983 TV mini series The Thorn Birds, starring Rachel Ward and Richard Chamberlain was based. .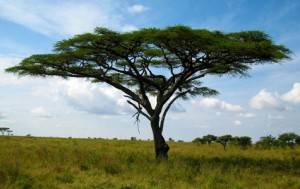 Thorn Tree aka Acacia Tree
Many acacia trees are high in tannins and are used for tanning leather. The mimosa tree is sometimes grown as an ornamental and has attractive silvery leaves and bright yellow flowers. The spiny trees also provide home security if planted under windows and near drainpipes or may be used as fences and walls. Because they are slow-growing, acacias may produce a dense, beautiful wood. Australians burn the leaves of various acacia plants as 'smoking medicine' in which they inhale the smoke to treat illnesses. Because some acacia species contain hallucinogenic chemicals, they seem to be associated with visions and sacred ceremonies.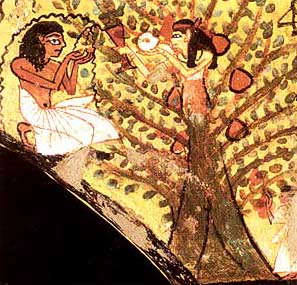 In Ancient Egypt Mythology, Isis and Osiris emerged from an Acacia Tree which in their mythology is The Tree of Life
In addition to being associated with Isis and Osiris, Egyptians would use acacia to make a wine called Yrp that they would drink to assist in bringing forth the goddess Lusaaset. In some religions, the smoke from acacia incense was thought to put the gods in a good mood; it may also be used to enhance psychic ability and allow communication with the sacred.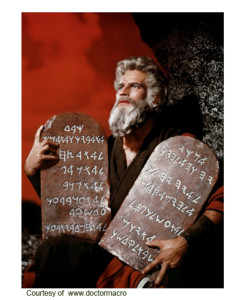 Charloton Heston as Moses in the 1956 movie The Ten Commandments
Acacia was often burned for incense and is featured in the Bible as the possible wood used to build the tabernacle; it was commanded to build an altar of made of acacia wood for incense rituals. The burning bush that Moses saw may also have been an acacia tree. There is a controversial theory that Moses was "high"and was hallucinating when he saw the burning bush and possibly when he went to the mountain top where G-d gave him the Ten Commandments. According to a psychologist Professor Benny Shanon, the acacia tree, frequently mentioned in the Bible during the Book of Exodus, contains one of the most psychedelic substances known to man. The professor experienced firsthand the effects of a hallucinogenic concoction using acacia bark used in religious rituals in Brazil, and claims the story of Moses and the burning bush has the hallmarks of a psychedelic experience.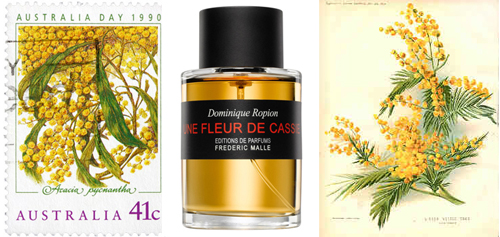 Mimosa (Acacia dealbata or A. decurrens var dealbata) is native to the far southern hemisphere and comes from Australia where it is called Silver Wattle; it was depicted on a stamp in 1990 to celebrate Australia Day. Many parts of the plant are edible, including flowers that are used in fritters and an edible gum used in the production of fruit jelly. The frothy golden mimosa flowers sold in late winter and early spring in Europe are often this species. In Russia and Italy it is customary to present women with these flowers on International Women's Day. Editions de Frederic Malle Une Fleur de Cassie Dominique Ropion (2000) is a hallmark mimosa fragrance. In spite of its name it cites mimosa absolute as one of the floral ingredients. (Know your notes: Cassie, cassia and cassis: The perfume notes from Frederic Malle, the publisher of Une Fleur de Cassie, also list cassia which is in the cinnamon family and not to be confused with cassie. The notes do not list cassie, a conundrum illustrating the subtle differences between mimosa and cassie. To further add to the general confusion there is also a cassis note in perfumes which evokes berries and blackcurrant).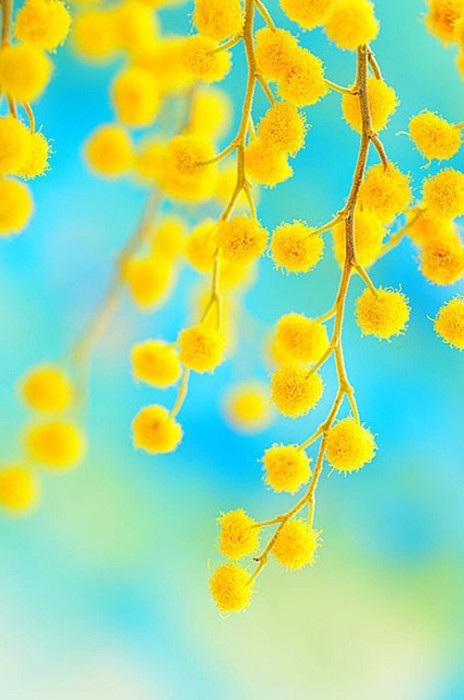 Mimosa Flowers
For perfumery, a concrete of mimosa is produced by solvent extraction from the flowers and twig-ends which is further extracted by alcohol to make the absolute of mimosa. There are also absolutes from just the flowers that are richer, more floral-sweet and true to the flower. Extractions are made in the south of France where the trees are most abundant and consist of flowers and twig ends. Floral with a bit of green, with natural flower and wood notes, mimosa absolute can add a beautiful radiance to a fragrance and smooth the rough edge that synthetics can give a perfume.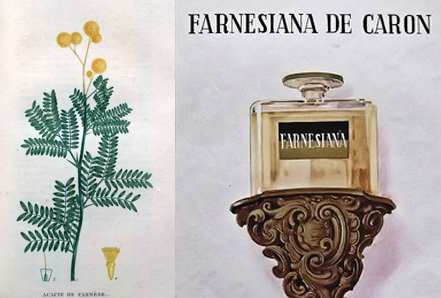 Cassie, A.Farnesiana and a vintage ad for Caron Farnesiana
Cassie, A. farnesiana, is likely from the Western hemisphere but is found around the world in warm areas where it is sometimes considered a pest. This species was named after the gardens at the Palazzo Farnese, in Rome where it was first cultivated in 1611. Cassie is grown in Lebanon, Morocco, Egypt, and the south of France for fragrance extraction. In India, flowers are collected on a commercial scale to make a local pomade called "attar of cassie". In very small amounts cassie absolute can be used in raspberry flavors to give body and 'naturalness'. In addition to its sweet violet-leaf notes, cassie is warm, herbaceous and floral all at the same time with a touch of cinnamon and balsam in the drydown. Cassie may also add a subtle leather note to a perfume. The gorgeous Farnesiana was created by Michael Morsetti (the former Assistant to Ernest Daltroff who fled Nazi Occupied France in 1941) in 1947 for the House of Caron, one of the first modern perfumes inspired by this flower. The name Farnesiana evokes both the species used and the Palazzo Farnese for its refined Mediterranean way of life.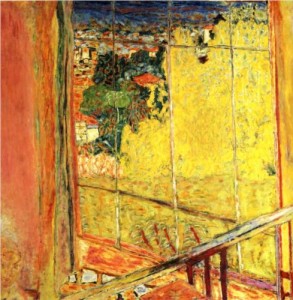 Atelier Au Mimosa Pierre Bonnard 1935
The golden flowers of acacia grow in abundance in the French Riveria where the winters are mild. Even so, spring is welcome and one of the first flowers of spring appears on the local mimosa trees. It is said that Captain James Cook the British explorer, brought the mimosa plants to the south of France in the 18th century. Wealthy aristocrats with second homes in Cannes soon adopted the fragrant sunny plant for their landscapes. There is a route, called the 'mimosa trail', from Bourmes-les-Mimosas in the south of France through Provence and ending in Grasse. The city of Tanneron is on the route and, in February, turns golden with thousands of tons of flowers. They are exported mainly as cut flowers.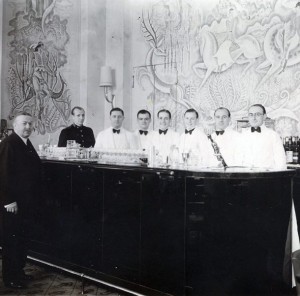 Hotel Ritz Paris in 1925
The popularity of this golden flower gave birth to the famous 'Mimosa' cocktail, invented at the Hotel Ritz Paris in 1925. Or perhaps the recipe was stolen from an English pub where they made a similar drink called 'Buck's Fizz'? Somehow an elegant champagne drink at the Ritz seems a much more fitting tribute to the fuzzy yellow blooms that are so popular in Europe.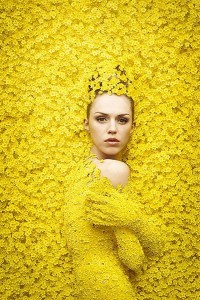 Soft and fuzzy and yet thorny and resilient, flowers of the acacia provide intense pleasure with a unique floral note. Both the soft floral notes of mimosa and the more edgy, powdery, spicy notes of cassie enhance a perfume and make it memorable, smooth, and sophisticated.
–Elise Pearlstine, Contributor and Natural Perfumer for Tambela, (with contributions from Michelyn Camen)
Art Direction- Michelyn Camen, Editor in Chief
For our Mimosa, Cassie and Acacia in Perfumery draw:
WORLDWIDE ALL NATURAL A rare opportunity from the beautiful Ayala of Ayala Moriel Natural Perfumes, the VERY last bottle 15 ml EDP Les Nuages de Joie Jaune with notes of cassie and mimosa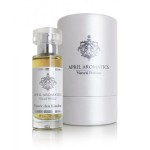 WORLDWIDE ALL NATURAL We can call Natural perfumer, Tanja Bochnig the "Giving Tree" as once again she is sponsoring 7ml April Aromatics Under den Linten (2011) with ACACIA DECURRENS, Mimosa absolute from France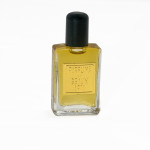 WORLDWIDE Another beautiful giving tree, Dawn Spencer Hurwitz of DSH Perfumes 1 dram mini flask or rollerball of MIMOSA, with acacia, cassie flower and mimosa absolute (this will be depending if you live in USA where you can have the option of the EDP or the oil)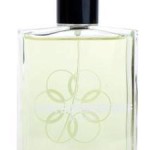 EU, USA AND CANADA With gratitude to Camille Henfling of Von Eusendorf of Von Eusersdorff New York 100ml Classic Mimosa (2011) available at Jovoy Paris. Tama's review here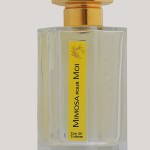 USA, France, UK and Canada From our wonderful friends at L'Artisan Parfumeur 100 ml Mimosa Pour Moi (1992) Ann Flipo perfumer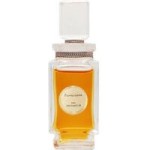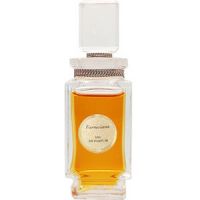 USA Only Courtesy of the lovely Diane Haska "The Caron Perfume Ambassador", from the NYC Caron Boutique, 7.5 ml of the iconic Caron fountain fragrance Parfum extrait Farnesiana with sweet acacia, Perfumer Michel Morsetti (1947) Live in the USA, you can reach Diane at 877-888-CARON. (you can read Steve's perfume review of Caron Farnesiana on TheScentedHound here)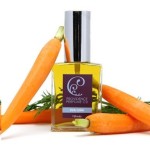 USA ALL NATURAL From the amazing and talented Charna Ethier of Providence Perfume Co. 15 ml of Eva Luna (2011) with pure mimosa (acacia decurrens) absolue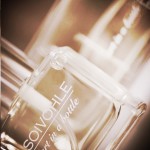 The Lovely Liz Zorn of Soivohle is offering 11ml Night Jar (2010), with mimosa absolue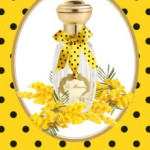 USA only 100 ML Annick Goutal Le Mimosa (2011) sponsored by the nice people at Fragrancex.com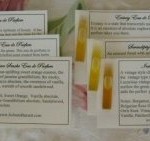 USA ONLY ALL NATURAL: From natural perfumer JoAnne Bassett (a Professional Perfumer in The Natural Perfumer's Guild) The More Life Collection Sampler which includes Serendipty Eau de Parfum with Cassie Absolute from Egypt
To be eligible for our Mimosa, Cassie and Acacia perfume draw, please leave a comment with what you learned about their use in perfumery or whatever struck you as interesting about Elise's beautifully written and researched article. Please note country restrictions and please list all perfumes (YOU MUST INCLUDE AT LEAST ONE ALL NATURAL MIMOSA PERFUME TO BE ELIGIBLE) you would like to win by July 3, 2014.
Editor's Note: I am taking this opportunity to bring to all our readers attention BLATANT PIRACY of our content by DOLCA VITA DIAMOND MAGAZINE UK who plagiarized Contributor Elise Pearlstine's article CaFleureBon Musk in Perfumery Of Skin and Skank word for word in their opening paragraph of Musk the Odor of Attraction. I have contacted them and tried phoning repeatedly, I have posted it on facebook and on twitter and they are SHAMELESS and leave it up. We do not have the funds to sue an international company.
Dear Readers: If you appreciate the hard work all the staff of CaFleureBon put in posting every day 365 days a year, please do the following: Please Tweet @LDV_diamond STINKS http://tinyurl.com/m9atyya @fifthsensenyc http://tinyurl.com/lrhjcnr #CONTENTTHIEF. I hate giving them page views, but we are entreating you to help us… you can also email them here-Michelyn Camen, Editor in Chief
We announce the winners only on site and on our Facebook page, so Like Cafleurebon and use our RSS option…or your dream prize will be just spilled perfume