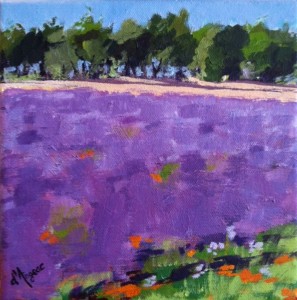 Lavender in Provence II used with permission of artist Karen D'angeac Mihm
It is the scented soul of Provence, the gift of the limestone hills, and the heart of scent. It is lavender, giving and comforting, fragrant and fresh. The gray green plants with their gorgeous blooms in all shades of lavender, blue, and purple dress the hillsides and fragrance the air. Throughout history lavender has been associated with comfort, cleanliness, good health, and perfumes both fresh and aromatic.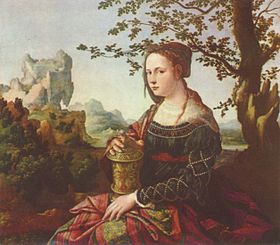 Mary Magdelene (maria magdelena) by Dutch painter Jan Van Scorel
The Romans used it freely in their baths and probably named it from their word lavare or "to wash. They also used it as a perfume, insect repellent, and a flavoring, even going so far as to incorporate it into their smoking blends. The ancient Greeks called it nardus, nard, or spikenard and used it to cure everything from insomnia to aching backs. It is mentioned many times in the Bible. In the Old Testament, Adam and Eve took a lavender plant from the Garden of Eden when they were cast out. (Note: May 24, 2013 This is anecdotal, however in Song of Solomon 4:14 There is a reference to mint and lavender). In The New Testament, there is a reference to Mary Magdelene using the essence of Nard (spikenard/lavender) as she annointed the feet of Jesus at Bethany.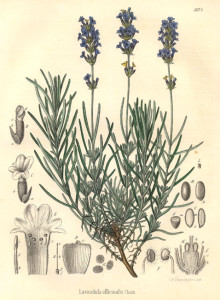 Botanical illustration: Lavandula augustfoila
Lavender is a member of the mint family along with other herbs such as peppermint, rosemary, Melissa, thyme, basil, sage, marjoram, and others, all rich in healing essential oils. The plant prefers dry, well-drained sandy or gravelly soils with full sun and good air circulation. High quality lavender will have a sweet floral-herbaceous odor that is refreshing, is grown at a high altitude and has a slight sweet woody undertone. There are many names for lavender and 'true' lavender is usually the English type, Lavandula angustifolia also known as L. officinalis. The names French and Spanish lavender sometimes refer to L. stoechas which is native to coastal regions around the Mediterranean and has a more herbal, rosemary-type fragrance. In spite of the name, it is English lavender that is grown in France as well as England and marketed as true lavender essential oil. This is the type most commonly used in perfumery and aromatherapy. Spike lavender or L. latifolia is highly aromatic and is used to produce Lavandin. Lavender can be extracted with a solvent to produce lavender absolute, a dark green liquid with a soft, green, lavender aroma.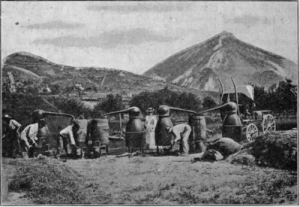 Distillation of lavender in South of France
The height of the lavender season in the south of France is from the end of June through August when it is harvested. Towns like Grasse and Luberon celebrate lavender during these months. Traditional harvests were by women using sickles and gathering the blooms in their aprons which they would take to the distiller or "apron broker." Distilleries were, and still are, often located at higher elevations because they could be run at lower temperatures to preserve the full range of aromatic compounds. The presence of a running stream nearby would guarantee a source of fresh cool water to run the still.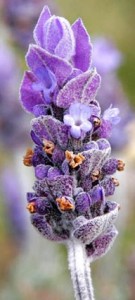 From the earliest time, lavender plants and the extracts were known to have health benefits and the plants have long been treasured. During wartime before the advent of antibiotics, lavender essential oil was an important tool for controlling infections. It may be that some doctors used a blend of antiseptic oils to treat their patients who probably also benefitted from the calming effect of the fragrance as well.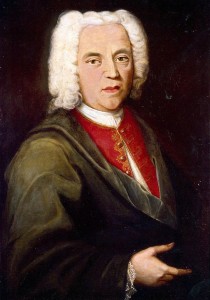 Jean Marie Farina
An Italian barber named Gian Paolo de Feminis created a blend similar to those medicinal 'waters' that he called Aqua Mirabilis. It became very popular very quickly and he called upon his nephew Jean Marie Farina to help market the blend. A few tweaks to improve the aroma and it soon became Kolnische Wasser or Eau de Cologne after its origin in Cologne, Germany. Napoleon was said to use quarts of it each month to freshen up and for rubdowns. Soon thereafter the famous 4711 cologne was formulated and named after the location of production, 4711 Glockengasse, also in Cologne. A classic early cologne composition contains bergamot, lemon, neroli, clove, rosemary, and lavender.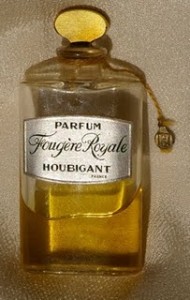 Fougere Royal 1882
Lavender is also an important ingredient in fougere colognes and fragrances and was a key note in Fougere Royal 1882 created by Paul Parquet of Houbigant. Fougere Royale is believed to be the first modern perfume with its inclusion of synthetic molecule of coumarin in the formula. It was a huge success and was followed by others including Guerlain Jicky 1889, another famous perfume in the fougere family that remains a classic.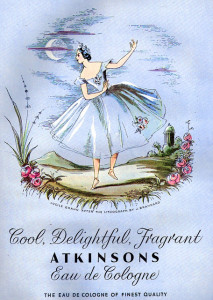 Atkinson's English Lavender 1910
The lavender waters used in many English country houses in the sixteenth century were later re-created by perfume houses and have long been a popular ingredient in male fragrances. Atkinson's English Lavender 1910 was in fact the first eau de toilette for men, and was followed by Yardley's Old English Lavender in 1913. This scent was an essential accessory to the tweed suit of the era. Yardley's also sold lavender grown in Norfolk macerated in bear grease for dressing men's hair by 1817.
Before its very popular use in aromatherapy, lavender was an important ingredient in the famous "Thieves Blend" used by grave robbers during the plague. According to the story the four thieves would use a blend of lavender, rosemary, peppermint, citrus and spices to prevent infection. They rubbed it on themselves and on any items they managed to take from the graves. When caught they revealed their secret in exchange for a lighter sentence.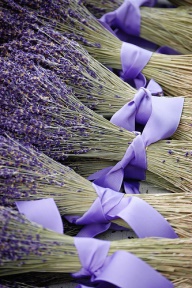 Lavender is closely tied to the origin and history of aromatherapy through the father of aromatherapy, a man named Gattefosse. One day when he was working in the lab he burned his hand and plunged it in the only liquid available, a vat of lavender. To his amazement his hand healed very quickly and with little scarring. For aromatherapists since, lavender is probably the most frequently used essential oil and is used for a wide variety of complaints from relaxation to skin care. In one experiment testing lavender and memory, it was found that lavender did not improve memory but that the people having their memory tested were more content if lavender was diffused into the air during the process.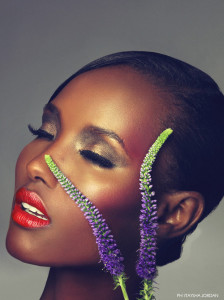 There are many scientific studies that show that lavender oil is one of the most effective homeopathic treatment for anxiety and depression with documented efficacy. In a study comparing lavender oil with the anti-depressant lorazepam, lavender was comparable in relieving symptoms of GAD (General Anxiety Disorder). For cheering up on a blue day, for assistance with symptoms of insomnia, for soothing the spirit, or helping with a headache, lavender can be infused into a room, sprayed on linens, dropped onto a handkerchief, or incorporated into a soothing massage. It is also a great disinfectant for use around the house and especially in the kitchen – try a lavender and orange essential oil spray on your counters.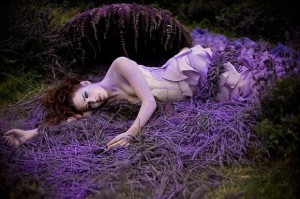 Show me the Lavender!
Early Christians believed that lavender at the entrance of a home would repel ghosts and protect against the evil eye.When mixed with rosemary it will strengthen a woman's chastity by reminding her of her partner's love. But in spell casting it is thought to attract men and loosen their hold on their money while causing women to think of romance. It is the perfect material to scent paper for writing a love letter or a spell.
The history of lavender combines home and hearth, warriors and wounds, aromatherapy and fine perfumes. This beautiful plant and unforgettable aroma is highly valued in all these worlds.
-Elise Pearlstine, Monthly Conributor
Art Direction- Michelyn Camen, Editor in Chief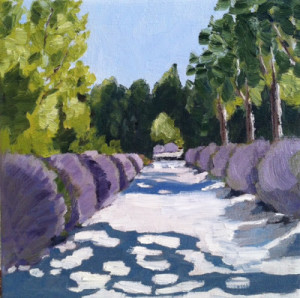 Path of Lavender used with the permission of Artist Karen D'angeac Mihm
For our lavender perfumes draw, which is the largest we have ever held on CaFleureBon we feature Fougeres, Aromatic, Chypre, Soliflores, Florals and Oriental fragrances where lavender is a key element of the composition, as well as luxe home fragrance.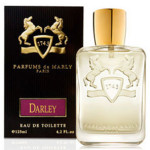 4.3 oz Parfums de Marley Darley composed by perfumer Francis Deleamont. Courtesy of Parfumerie Nasreen USA only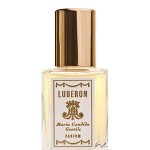 Thanks to the only Italian Maitre Parfumeur Maria Candida Gentile and the U.S distributor Sens Unik: Maria Candida Gentile 30 ml Luberon Parfum Extrait contains Bulgarian Lavender, maillette lavender (one of the most precious) and matherone lavender. Available at Indiescents.com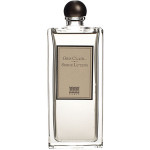 50 ml Serge Lutens well known lavender perfume Gris Clair thanks to Stamatis and Eric of Parfum1.com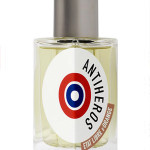 Merci to EuroScents the US distributor of Etat Libre D'Orange 50 ml Antiheros composed by Antoine Maisondieu available at Luckyscent.com USA only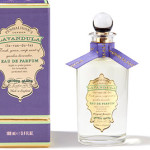 The ever generous folks at Penhaligons London 50 ML Penhaligons London Lavendula which contains English Lavandin available at Penhaligons.com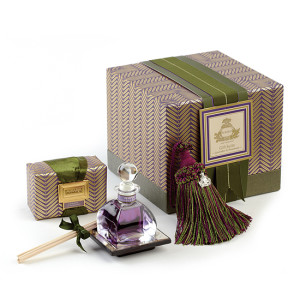 Agraria San Francisco is offering Agraria Lavender & Basil Gift Suite which includes Tasselaire, Petit Essence Diffuser and luxury 8.2 oz bath bar. Available at Agrariahome.com USA ONLY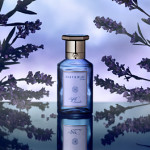 Thanks to Dom DeVetta of Shay & Blue 100 ml Suffolk Lavender composed by Julie Massé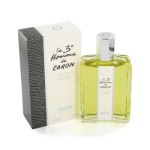 6.7 oz Caron Pour Homme is Caron's first fragrance created for men in 1934 by Ernerst Daltroff. Courtesy of FragranceX.com USA only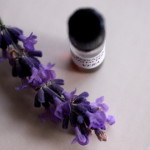 Thank you to Natural Perfumer Roxana Villa of Illuminated Perfume 1 gram of Vera an ode to the Lavender farmers of Ojai, California-Organic USA only ALL NATURAL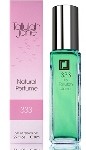 8 ml Tallulah Jane 333 perfume oil by Natural perfumer Eleanor Nuttall made with Wild Lavender, high elevation lavender and French lavender (thus the name 333) ALL NATURAL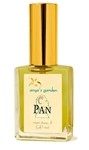 Courtesy of Natural Perfumer Anya McCoy of Anya's Garden 15ml S of Pan which uses Lavender Seville and Lavandula luiseri –ALL NATURAL USA ONLY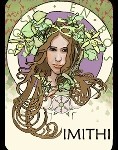 From South African Natural Perfumer Emily Pienaar of Rose en Bos 10 ml of Imithi (which has triple meaning in Zulu- medicine,tree and bark) and is composed with lavendula augustifolia which comes from Bulgaria and Franschoek. ALL NATURAL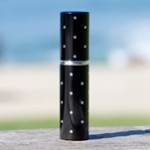 URAL Courtesy of Natural Perfumer JoAnne Bassett 5ml of Indulgence, which is composed with high altitude French Lavender. USA ONLY ALL NATURAL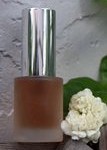 And from our author, the ever generous Natural Perfumer Elise Pearlstine of Tambela Natural Perfumes 15 ml of Wild Chypre, which is composed with wild grown French Lavender and Lavandula Augustifolia. USA ONLY ALL NATURAL
Editor's Note: Special thanks to Artist Karen D'angeac Mihm for the use of her Lavender paintings and to Agraria San Francisco which is quickly becoming one of my favorite home fragrance brands-MC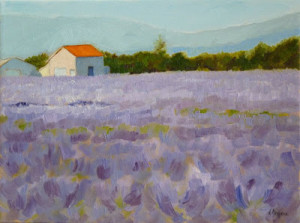 Karen d'Angeac Mihm House in Lavender Field (which was shown at the Richeson Gallery in Wisconsin as part of its first annual Woman's Art Liberation 2012)
To qualify for our draw, please leave a comment with what you learned about Lavender in perfumery and any or all fragrances you would like to win (country restrictions) by May 24 2013.
YOU MUST INCLUDE AT LEAST ONE 100 PERCENT NATURAL FRAGRANCE TO BE ELIGIBLE. Please be sure to list all the names of the lavender perfumes you would like to win; we cannot guarantee your selection, but we will try to make sure that winners will be happy.
We announce the winners only on site and on our Facebook page, so like Cafleurebon and use our RSS option…or your dream prize will be just spilled perfume