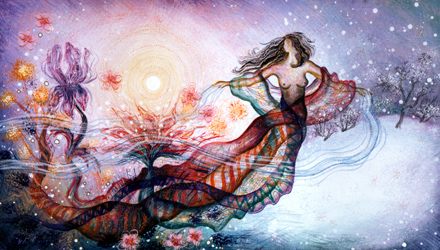 Iris, the goddess of the rainbow and harbinger of Spring
Iris the Greek Goddess travels on rainbows and flowers grow where she walks. Iris the goddess acts as a messenger of the gods, linking them with humanity and traveling with the wind through the world, the sea, and the underworld. In some legends she has wings of gold and carries a winged staff and a pitcher. Iris also refers to the eye and the word 'iridescence' is derived from her name. Iris leads the souls of women to the Elysian fields and rainbow-colored flowers appear in her footprints as she travels. She heralds the arrival of Spring. In the language of flowers iris symbolizes eloquence and the colors have different meanings: purple symbolizing wisdom and compliments, the blue is faith and hope, the yellow is passion and the white is purity.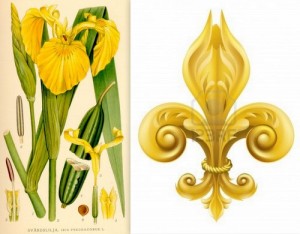 The fleur de lys is not a lilly; but an iris
The three petals of the iris flower symbolize faith, wisdom and valour. It has appeared on the sceptres of pharaohs, on the forehead of sphinxes, on the ancient heraldic arms of Florence, and was the original scepter. As the 'fleur de lys' it was a symbol of French royalty, a name that refers not to the lily but the abundant irises that grew along the river Lis. The ancient heraldic arms of the city of Florence were a red iris on a white shield. In France, the fleur-de-lys became unpopular after the revolution and many of its representations were destroyed. Its presence in North America usually indicates the presence of French settlers. In New Orleans, Louisiana, the fleur-de-lys has become a symbol of community support for the citizens following Hurricane Katrina and is the official symbol of Louisiana.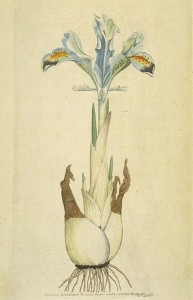 Iris originated in the Mediterranean extending into Northern Africa and India. As a perfume ingredient the root is harvested and carefully dried for at least three years and up to five. However, it is not the flower of the iris that gives us the delicate floral aroma but the rhizome or root. The species used for their fragrant rhizomes are Iris Florentina, Iris Pallida, and Iris Germanica. The tough and hairy rhizome, which is bitter with an earthy smell when harvested, yields the prized ingredient – orris. Patience and meticulous technique are required to obtain orris butter and the nearly perfect scent of violet. It is then peeled, powdered, dissolved in water and distilled. A good orris powder will have the texture of talcum powder and will be pale in color. Because the starchy root also contains myristic acid, a fatty substance, the result of distillation is a very thick substance sometimes called orris butter or concrete. The large amount of starch and fat mean that yield of the pure scented material is very small, the cost of labor is very high, and since one ton of the rhizome produces just two kilos of essential oil, it is one of the most expensive perfume ingredients in the world (one world renowned fragrance expert claims just one kilo is worth 100,000 euros).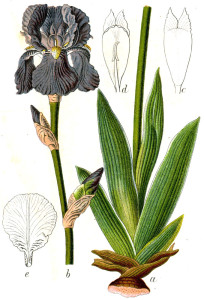 Iris Pallida
The essential oil is sometimes called a "concrete" due to its solid, fatty nature. Further distillation of the butter under vacuum produces a pale yellow or white absolute that is very sweet, delicate, and floral and just a bit woody. Its true beauty and diffusiveness are apparent when it is diluted. Orris butter is sold with various percentages of irones, alpha-irone being the molecule that produces the characteristic odor of violets. The butter may have a very slight fatty note but also has the ethereal floral, woody, slightly berry-like, true orris scent. Orris is long-lasting and often acts as a fixative in perfumes. It blends very well with carrots (think of Olivia Giacobetti's masterful use of carrot in the classic Hermes Hiris perfume), patchouli, oakmoss, ambrette seeds, roses, cedar; Iris is at the heart of many florals and can be quite versatile depending on the perfumer and the other ingredients.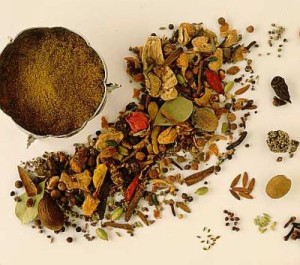 Ras el Hanout
Orris is also used as a flavor and, although bitter, 1 part is perceptible in 100 to 200 million parts of sweetened water and provides a raspberry-like flavor. It is an ingredient in many brands of gin and was once used in Russia to flavor a drink of honey and ginger that was sold in the streets. Orris is used in cooking to make Ras el Hanout, an exotic blend of up to 30 spices used in Middle Eastern cooking. The name means top of the shop and Moroccan spice sellers price themselves on the quality of their spice. Orris root adds a floral fragrance to this spicy mix.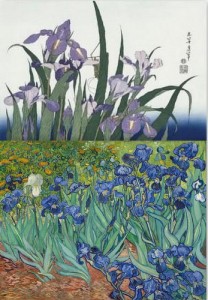 TopTIris Ukiyo-e by Japanese artist Katsushiko Hokusai 1830 (top)
Vincent van Gogh Irises 1889 bottom (bottom)
Theophrastus, Discorides and Pliny appreciated its medicinal qualities. The root has uses both earthy and ethereal. It was used as a snuff to clear the head and as a powerful laxative. When the fresh root is 'bruised with wine' it is effective with dropsy and may also be used as a cosmetic for the removal of freckles. It is diuretic, emetic and cathartic. If given in too large a dose can cause nausea. The powder was used in the past for talcum and face powders, however orris can cause skin sensitization and should be used with caution. Dried rhizomes can be placed in drawers to freshen clothing and linens or as a fixative in potpourri. Orris root was mixed with anise for a perfume in England as early as 1480 and was mentioned in association with Edward IV. Roots may also be turned into beads. Pieces of Verona Orris may be shaped into chewing toys for babies.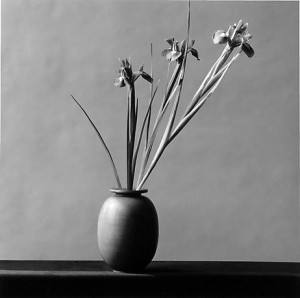 Iris, 1982 Robert Mappelthorpe
The sensuality and beauty of iris flowers has inspired many artists including Vincent van Gogh. Joseph Mason, a friend of John James Audubon, painted a precisely detailed Copper Iris to which Audubon added a pair of warblers. Georgia O'Keefe's Black Iris showed the dark beauty (the painting is a metaphor of women's sexuality) and photographer Robert Mappelthorpe included a moody photo of irises in his flower portfolio. Japanese artists used the artist frequently in wood block paintings, often near a zigzag wooden bridge and warriors would wear images of irises and dragonflies stamped into tanned deerskin when going into battle. In fact, Vincent van Gogh may have been inspired by Japanese paintings of irises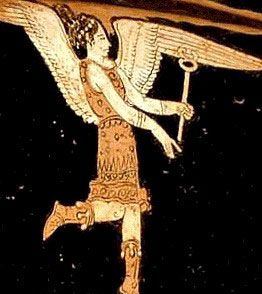 Thou art the Iris, fair among the fairest,
Who, armed with golden rod
And winged with the celestial azure, bearest
The message of some God.
– Henry Wadsworth Longfellow, from Iris
Iris/orris may be thought of as a moon plant for digging into the subconscious or it may be useful for divination and dreamwork. However, in its role as a scepter it is also associated with dominion and war. Generally used in love potions for attracting love: if you blow the powder onto clothes, sheets, and other objects you will get love returned from the owner. With rose oil it can be used to cast love spells – put a tiny amount on your finger and touch the object of your desire. A bit of cinnamon will increase the strength of the spell. Spicy and sweetly floral does the deed.
Like the myths and legends surrounding it, the iris plant is full of contradictions. Feminine and passionate, masculine and warlike, bearded and delicate with a fragrant root that is both bitter and ethereally floral. Orris requires patience and diligence to reap its reward but it is oh so worth it.
–Elise Pearlstine, Monthly Contributor
–Michelyn Camen, EIC and Art Director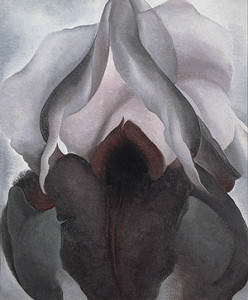 Georgia O'Keefe Black Iris, 1926
For our draw, we have chosen our favorite Iris perfumes and two naturals with strong Iris nuances.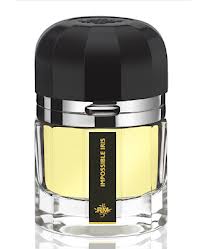 1.7 oz of Raymon Monegal Impossible Iris – Italian Iris Concrete (iris florentina) thanks to Eric and Stamatis Parfum1.com– (do you think they know their fleur de lys logo is an Iris)? USA only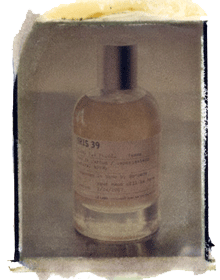 50 ml Iris 39 from Le Labo by Frank Voelkl with lris Florentina concrete and a proprietary iris molecule to make it "modern and airy"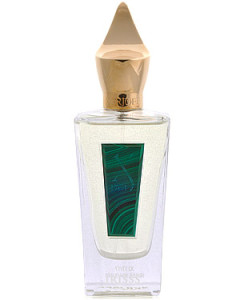 15ml of Xerjoff Irisss with Florentine orris butter (travel spray not as pictured) Russia excluded ($250 value in special travel size)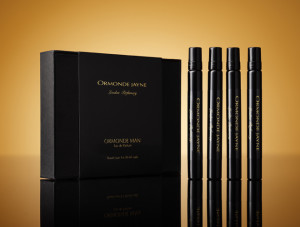 4 x10 ml Orris Noir from the lovely Linda Pilkerton at Ormonde Jayne- It smells like the O'Keefe painting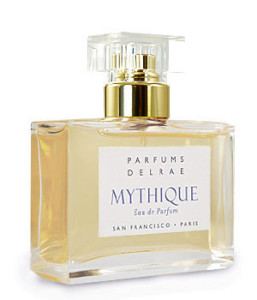 Mythique by Parfums DelRae created by Yann Vasnier- Florentine iris butter and according to DelRae Roth, "Mythique has the highest percentage of iris pallida of any other fragrance on the market". USA only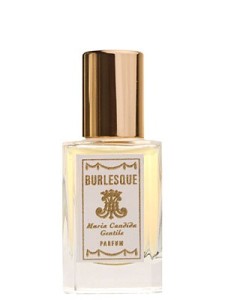 From Maria Candida Gentile 15 ml of Burlesque( from the Exclusive Collection; special travel size) Florentine orris butter- This according to our reader Holly F is sexy and sophisticated available at Parfumerie Nasreen ($100 )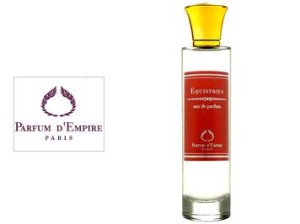 50ml of Equistrius from Parfum d'Empire (Iris Pallida, Iris Florentina)created by Marc-Antoine Corticchiato thanks to Polina, owner of Fragrance & Art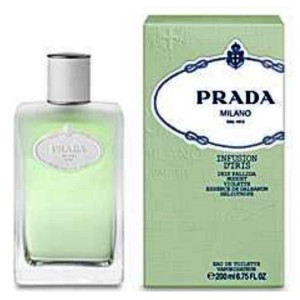 Prada Infusion d'Iris Eau de Parfum 200 ml/6.5 oz with Iris Pallida from 99perfume.com USA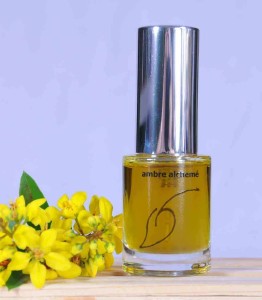 From our wonderful author, Elise Pearlstine 100% NATURAL 15ml Ambre Alcheme (who has changed her Company's name to Tambela) – iris palida orris as a base note USA only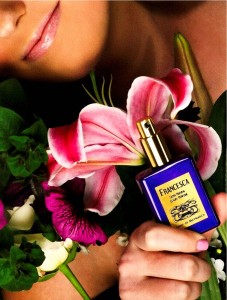 Christi Meshell of House of Matriarach 15 ml of Francesca ($133 value) at 33 percent concentrate, orris at the base. USA only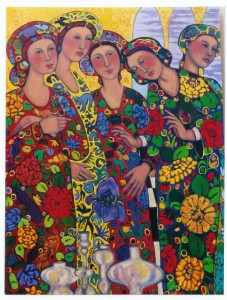 Five Women and the Iris by marilene sawaf
To be eligible for our Harbinger of Spring draw you must leave a quality comment with something interesting you learned from this article about Iris in perfumery AND AS MANY PERFUMES YOU WOULD LIKE TO WIN IN YOUR CHOICES . If you live in the USA you must include a natural perfume.
IF YOU ONLY WEAR NATURAL PERFUMES THOSE CAN BE YOUR CHOICES.
This time, one commentor will be judged on the originality and quality of their comment (Elise and Michelyn will judge) and that poster will automatically win one of their choices. DRAW ENDS March 21, 2013 (the day after first day of spring).
We announce the winners only onsite and on our Facebook page, so Like CaFleureBon and use our RSS option…..or your dream prize will be just spilled perfume.