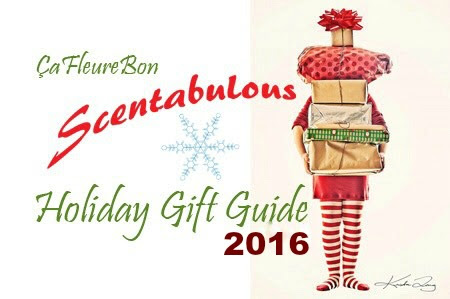 Black Friday seems to be hanging on through cyber-monday and we hope you #shopsmall. If you are a regular reader of ÇaFleureBon you know I don't believe in blind buying perfume as a present unless it is a much-wanted bottle and I have reservations even then. Even if you think you know what they want, true perfumistas are likely to spring for that bottle without telling you it's off of their "Must…Have…Now" list and they are already onto the next acquisition, most likely something unobtainable, a limited edition of 20 and found only in Dubai. It is time to think outside the flacon. This year's 2016 Holiday Gift Guide includes over a dozen scented treats that will please even the pickiest perfume peeps. It will take two posts to fit all the glorious gifts into our guide.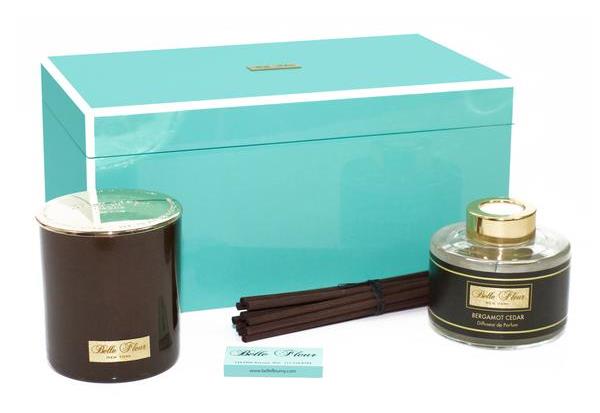 Belle Fleur Deluxe Fragrance Coffret
Perfume Gifts that aren't Perfume
There are scented candles and then there are candles scented by a Robertet perfumer. Belle Fleur, one of New York's toniest (no pun on Tony Perez, co-owner) florists, also produces some of the most lush, evocative and stunning candles on the planet. Created in partnership with perfumer Jerome Epinette, who has developed perfumes for Atelier Colognes, Byredo and Jovoy amongst others, Belle Fleur's candles are exceptionally elegant. Each candle burns for 50-55 hours and comes in Belle Fleur's signature aqua/brown packaging. There's a reason this small business won The Fashion Group Rising Star 2014 award.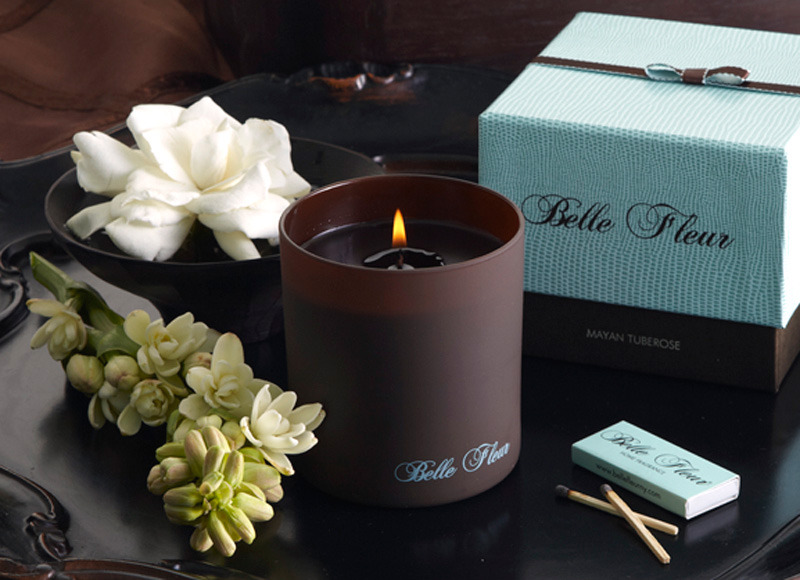 Belle Fleur has combined their beautiful packaging (which made them our choice for Best Booth at Tranoi last September) with a jewel box featuring a mirror, and 2 removable trays in the limited edition Belle Fleur Deluxe Fragrance Coffret. In addition to the candle and diffuser, each Coffret comes with reed sticks, a story card and a matchbox. My top picks among these beauties: Mayan Tuberose is a gorgeous, almost edibly creamy tuberose made lush and sultry by ylang ylang and vanilla. Burn this to channel your inner Rita Hayworth. Beyonce is such a fan that dozens are delivered to her hotel rooms; Bergamot Cedar smells like spiced oranges and bitter chocolate mulling over a wood fire. This is a perfect chilly evening scent, with a crackly sandalwood, almond pastille note of frangipani and resinous, disheveled cistus. This is the candle I'd light while snuggling up with a mug of cocoa while imagining I was in a log cabin in the woods.
$365 available at https://www.bellefleurny.com/collections/ Instagram @bellefleurefragrances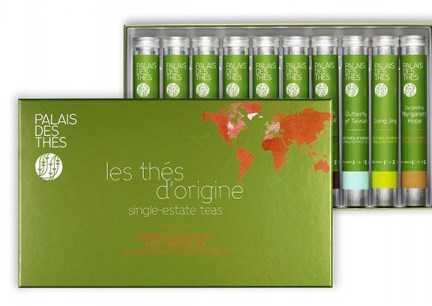 The soignee Parisian tea shop Le Palais des Thés has been included in our holiday gift guide several times for good reason: their teas are consistently high quality, carefully chosen and blended by their in-house perfumer. While there are a number of tempting offerings including a sampler for herbal and green tea lovers, the true tea connoisseur will appreciate the Essentials Tasting Set which features a selection of 10 single-estate black, green and oolong teas along with an introduction guide to tastings. Standouts in the set include the earthy Pu-erh Imperial, an unusual black tea that with a woody, wild mushroom bouquet and savory-sweet flavor. Taiwan is rightly famous for its Oolongs, and Butterfly of Taiwan, with its amber color, smooth taste and mild astringency, is a classic example.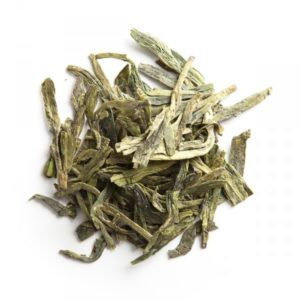 LONG JING green tea
If you are a green tea drinker, Chinese Long Jing has a mellow, delicate nuttiness and an aroma of sweet chestnuts. For black tea lovers, the Grand Himalaya is a blend made with the best Darjeeling from the First Flush 2013. Also included are: Grand Yunnan Impérial, a flowery and mild Chinese black tea; Genmaïcha, a unique mix of Bancha tea and roasted rice; Sencha Ariake,​ a grassy Japanese green; Margaret's Hope, a fruity Darjeeling; Assam Hattiali, a high quality black tea from India with a spicy and full-bodied liquor and Saint-James, a Sri Lankan black tea. The Essential Tasting Set includes 10 whole leaf tea tubes of 12 g each, which is enough tea to brew a 6- to 8-cup pot – although Pu-erh teas can stand two steepings.
$55 http://us.palaisdesthes.com/en_us Instagram @palaisdethes —Lauryn Beer, Editor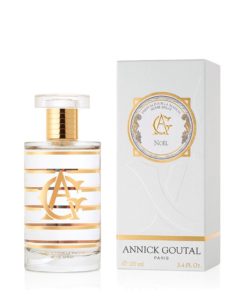 Even when you can't deck your halls (folks in tiny studios in the city or those who live in the high desert know what I mean) with boughs of holly, it still can smell like Christmas 365 days a year. Annick Goutal's Noël 3.4 oz home spray brings back treasured memories of picking out that perfect evergreen and hanging orange pomanders studded with cloves from its branches. Buy one, give one.
$55 http://us.annickgoutal.com/ Instagram @annickgoutal_official ––Michelyn Camen, Editor-in-Chief.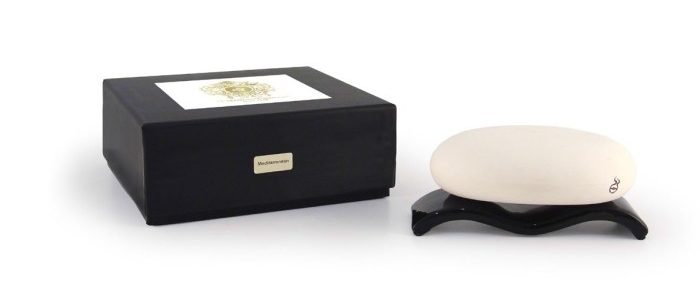 One of the most memorable perfumers I have met is Paolo Terenzi of Tiziana Terenzi, a third generation chandler- utterly charming, modest, politically incorrect. Along with his sister Tiziana, he creates complex and musical scents that seem to magically float in the air. One of the most unique gifts in this holiday guide is the Ambience Stone diffuser, handmade in porcelain, which as Paolo poetically told me, contains the "breath of the stone." Spicy Snow is redolent of cool spices and warm gourmand notes and is my personal favorite. Paolo also mentioned that this particular scent has aphrodisiac effects for those who are near it, so skip the mistletoe and go for the stone.
$100 at www.thefragrancegroup.net Instagram @fragrancegroup –Michelyn Camen, Editor in Chief
Perfume Gifts that are actually perfume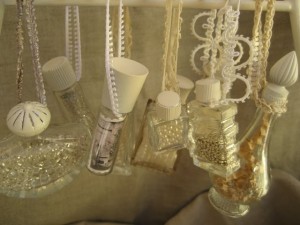 Lauryn is whispering "But Michelyn, ÇaFleureBon is a perfume blog, and you HAVE to put in perfume." She may be right, since according to a study in Cosmetic Monitor, 65 percent of all holiday gifts are fragrance. No studies have been done on how many have been regifted.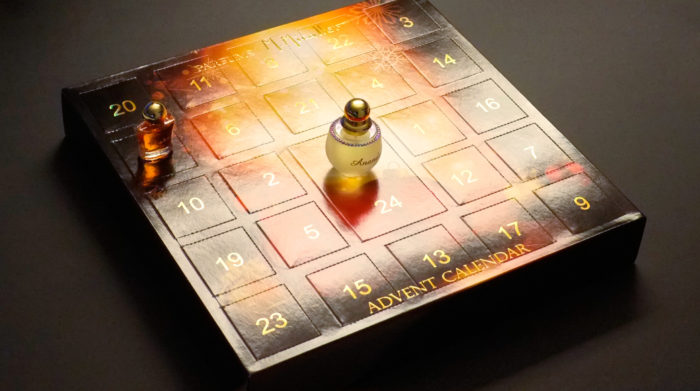 Parfums M.Micallef Advent Calender
Let the countdown to Christmas begin. Many Christian families keep an Advent calendar from December 1 to Christmas Eve, and each day the children open a flap and voila, a trinket or a toy appears. The best Advent calendar for any perfumista is from Parfums M.Micallef, where 23 x 5ml sample flacons of perfumes await you …leading to the grand reveal… 30 ml of Ananda perfume, composed in 2005 by Geoffrey Nejman and Jean Claude Astier. Ananda is Sanskrit for "bliss", which is what the recipient of this perfume will feel on Christmas Eve. The opalescent white crystal-studded bottle holds a soft, sheer feminine floral that is elegant and as classic as a perfect strand of pearls.
23 x 5ml samples + 30ml miniature $95 available at Luckyscent.com Instagram @parfumsmicallef -–Michelyn Camen, Editor-in-Chief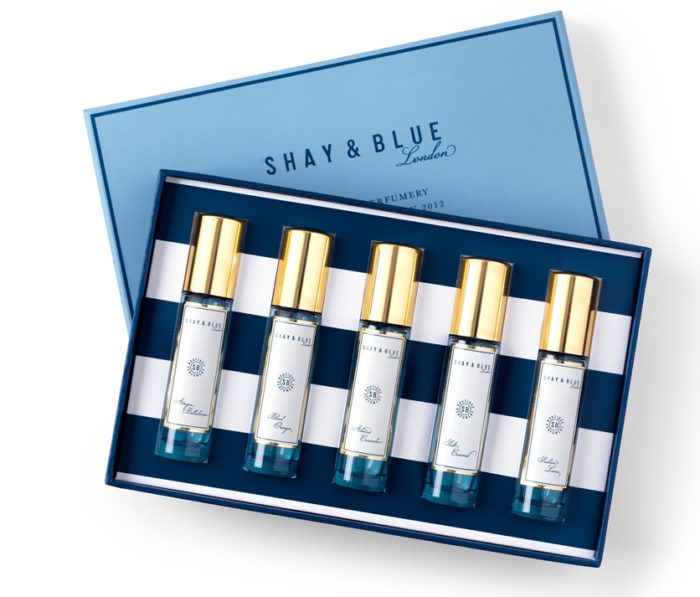 Great things come in small blue boxes. No, this perfume pick is not from Tiffany's but for fragrance lovers, it's the next best thing. Shay and Blue Limited Edition Precious Miniatures are 5 x 10 ml gems in five luxe scents: Salt and Caramel, Framboise Noir, Watermelons, Attropa Belladonna and Blood Oranges. Creative Director Dom De Vetta, (perfumer Julie Massé), formerly of CHANEL and Jo Malone, knows that a true perfumista changes fragrance on a whim. You can wear Attropa Belladona, a seductive heady floral, to a gala Christmas party and the next day snuggle up with that special someone, enveloped in Salt and Caramel, a scent so yummy its lickable.
$106.00 http://www.shayandblue.com/ Instagram @shayandbluelondon –-Michelyn Camen, Editor-in-Chief
We continue tomorrow with Part 2, featuring fragrant gifts from Parfumerie Generale, Caron, Michael Edwards "Fragrances of The World", Maison Gabriello Chieffo, Nishane Istanbul and Fumerie Parfumerie.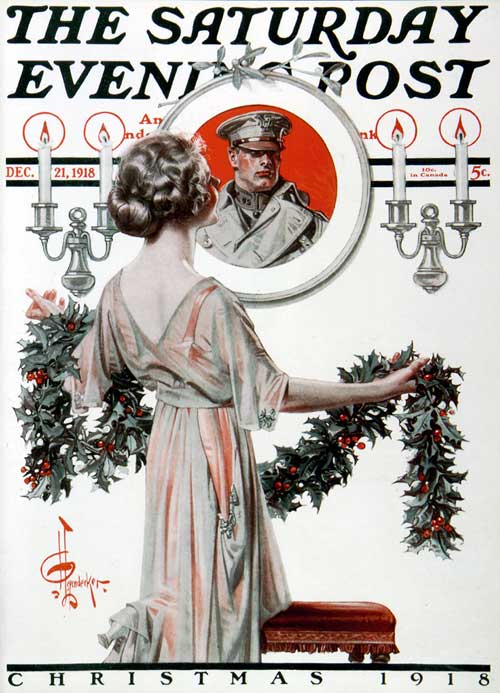 Saturday Evening Post-Christmas1918-JCLeyendecker
We have a draw for EVERY scented gift we are offering today and tomorrow to twelve registered readers… you must do this or your comment won't count.
WORLDWIDE: Courtesy of The Fragrance Group distributors of Tiziana Terenzi Ambience Stone diffuser in Spicy Snow
WORLDWIDE: From my friend Dom and all the team at Shay & Blue Limited Editions Precious Miniatures
WORLDWIDE: Merci Martine et Geoffrey of Parfums M.Micallef, for the Advent Calendar 23 x5ml +30 ml of Ananda
USA Only: We just love Tony and Meredith Perez for offering Belle Fleur Deluxe Fragrance Coffret in your choice of Mayan Tuberose or Bergamot Cedar (please specify in your comment)
USA ONLY: With gratitude to Le Palais des Thés for the Essentials Tasting Set
USA ONLY: Thanks to the generosity of Françoise Allesi, the Retail Manager of Annick Goutal in New York City, (located at 955 Madison Avenue/ P (646)964-4795) for sponsoring Annick Goutal's Noël 3.4 oz home spray
To be eligible for our scentabulous 2016 best fragrance gifts please leave a comment with someone in your life who really deserves a great holiday gift and why, (it can be you) where you live and as many you would hope to win over the next two days. Creativity and heart felt comments count, so one reader who leaves the comment that represents the true spirit of the holiday will win one of their choices. If you don't feel comfortable with sharing, just wish everyone a Happy Holiday season. Two members of the CaFleureBon team will judge the one guaranteed winner from the twelve gifts that will be offered. So what do you think of our selections? The draw closes December 2, 2016
We announce the winners on our site and on our Facebook page, so Like Cafleurebon and use our RSS option…or your dream prize will be just spilled perfume