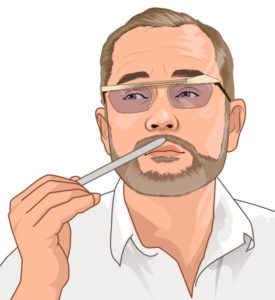 Paul Kiler of PK Perfumes (illustration courtesy of Paul)
Four years ago I made the transition from commercial to niche fragrances when I decided I wanted to study fragrance design and see if I could make something one of a kind for myself. As a painter, writer, and musician I'm a natural creative and assumed that I could make something more to my liking and much more original than the endless amount of clones that littered the fragrance sections of department stores. Since I had no chemistry background to apply to any perfume schools I came up with the idea to learn about the art as much as I could through online research, playing with aroma chemicals and making my own small blends, and reviewing fragrances from perfumers that I crossed paths through social media. Needless to say I underestimated the dedication and skill required to design a fragrance, but within my journey I was introduced to some of the most amazing fragrances I've ever set my nose upon, one of those fragrances was Dirty Rose by American artisan perfumer Paul Kiler of Pk Perfumes. Shortly after I emailed Paul a request for samples the package arrived on my door step, by that time I had become familiar with the richness and decadence of niche fragrances compared to most commercial perfumes but I surely wasn't prepared for what laid inside the tan bubble wrapped envelope that I so eagerly opened.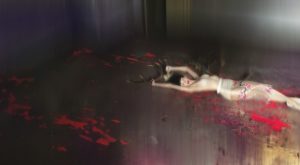 Isabella Blow photo Nick Knight
I received samples of every fragrance in his collection at the time, but out of them all Dirty Rose called my name the loudest and commanded that I introduce myself; it was love at first sniff. I knew from reading the description of the fragrance on his webpage that I was in for a far different experience with rose than I ever had before, but I was not ready for the erotic twist on the often demure floral that it's named for.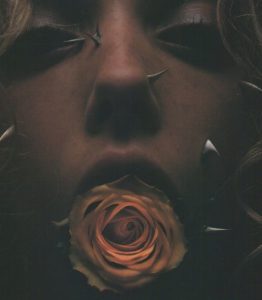 McQueen Of England' by Nick Knight for The Face November 1996
The opening begins with the crisp freshness of bergamot, but even from the onset the dirtiness of the fragrance is apparent with the addition of black spruce and cherrywood smoke, a little overwhelming at first but equally addictive. Once the top notes began to settle I was introduced to a note that I heard much about but never smelled before-oud. The way Paul blended oud in the heart of the perfume with rose and tobacco as well as a little bit of mahogany was breath taking to me, I was blown away by the fact that a perfumer could take such a sweet and sometimes cloying note like rose and give it a dirty and erotic twist. Far from a rose that clutter the market, it was dirty indeed and the tobacco and leather in the base of the perfume made sure you never forgot the sinister flower that you just encountered; this was the first true niche perfume I had ever experienced, vastly different from what one would find at a department store both in originality and quality of ingredients.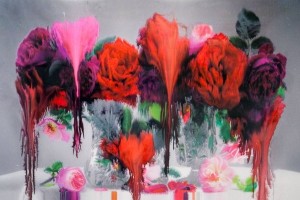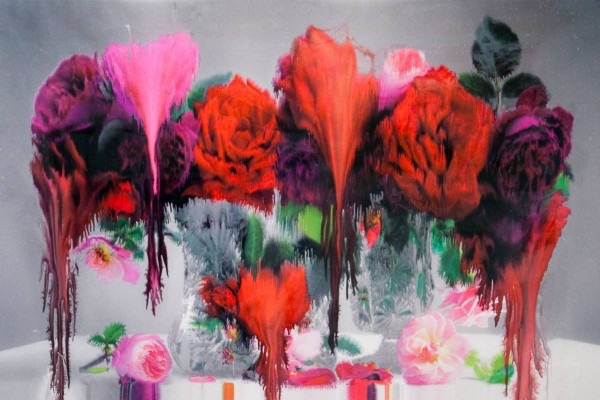 Nick Knight Melting Flora
Never before had I known that a fragrance note could be stretched, bent, altered, and manipulated and from that day forward I developed a great appreciation for niche fragrances and the creative minds that design them.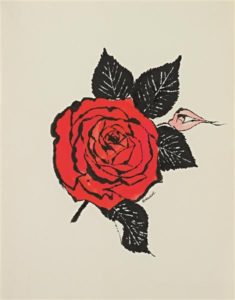 ANDY WARHOL Untitled (Red Rose), c. 1955
Although my dream of creating a fragrance for myself is still but a dream I'm for ever grateful for this journey, I learned that fragrance design is truly an art form and I cherish each bottle in my collection like a rare Warhol that I personally received from the artist himself.
—The Nosey Artist, Guest Contributor
Art Direction: Michelyn Camen, Editor-in-Chief
Editor's Note: The Nosey Artist was a bi monthly contributor to ÇaFleureBon and was on hiatus; we are happy to have him return to CaFleureBon. He has a memorable writing style that is a literary blend of poetry and rap that is unique to his fragrance reviews. Let's welcome hime back!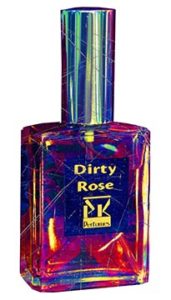 Dirty Rose PK Perfumes illustration courtesy of Paul
Thanks to Paul Killer we have a worldwide draw for a registered reader (you need to do this or you are ineligible) for 15ml bottle of Dirty Rose EDP in the USA and a 4 ml sprayer for a reader anywhere in the world. To be eligible, please leave a comment with what you enjoyed about The Nosey Artist's Fragrant Awakening and review, where you live and if you have a favorite PK Perfumes Fragrance. There will be two winners. Draw closes 2/24/2016
Follow us on Instagram @cafleurebon @thenoseyartist and pk_perfumes.
Please Like CaFleureBon Fragrant Awakenings on Facebook here and your comment will count twice
We announce the winners only on site and on our Facebook page, so Like Cafleurebon and use our RSS Feed…or your dream prize will be just spilled perfume.