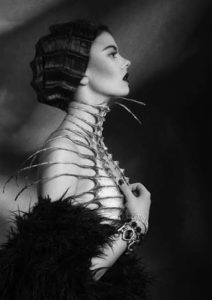 Skeletal Caged, Nina Danielska, 2013
"I am made and remade continually. Different people draw different words from me". Virginia Woolf.
So it is with Fragrance welded to Skin. Reach into definitions of Awakening and words such as engender, trigger, inspire, kindle, fire and rouse can be found, is it a single moment? Sometimes. On a very personal level I am constantly being awakened, shedding a skin and relishing the feel of the new one as it stretches over me, taut and fresh. The quest for fragrance is no exception.
Fabio Interra, 3 Rivers Deep
Time as a child of the 1960's in the elegant company of my maternal grandmother, I was enveloped by Lanvin and Lubin and classic Dior, highly respected French houses of longstanding. Lanvin Arpege and Lubins Idole, fragrance foundations along with a fragranced garden full of roses, lilac, and lily of the valley. I inhaled deeply all year long, aware of the changing seasons from a change in the fragrance around me even before visible signs of season change, this nose accompanies me now as a Winemaker and a devout Perfumista.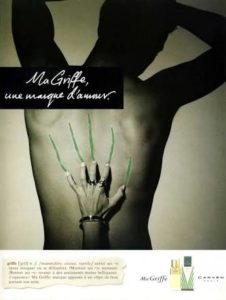 Ma Griffe, Carven, vintage advertisement, 1969
Ma Griffe, 1946, Carven, perfumer Jean Carles, was a first personal gift for a young girl yet in her pre-teen years. I devoured it and was captured by thoughts of France and Paris, immaculate, understated, stylish French women who dallied by day and were another force all together at night. Subsequent reading of reviews of this fragrance do not surprise me when they refer to it as bright and edgy, soft and comforting and yet slightly dangerous, all aspects of fragrance that draw me. Firm loyalties to Yves St Laurent fragrances defined my teenage years and early twenties, embracing the feminism that had emerged from the sexual revolution of the preceding decade.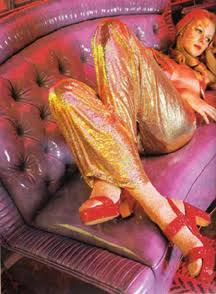 Vogue, 1977
Along line of feminist aristocracy had graced my maternal line, from the Suffragette movement to the marches of the late sixties and early seventies. Rive Gauche, 1970, and the original formula of Opium 1977, spoke of an independence and of a woman who was a force in the world. Avant Garde, the left bank and the artistic, intellectual, bohemian. Certain themes already prevalent in my preferences.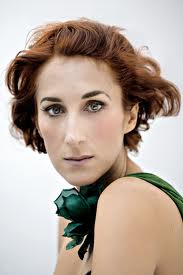 Mona Di Orio 2011 (courtesy of Mona di Orio)
Early 2012 and the exquisite old town of Nice became my home I read an article revealing the story of an exceptional woman, who had sadly passed away only a few months before. Mona di Orio, a pupil of Edmond Roudnitska, Mona created exquisite, precise, fluid, alchemical compositions, infusing traditional fragrance with an interplay of a clarity and that new skin I spoke of earlier, revisioning harmonic compositions that stripped us of preconceived notions of the components.I began to find the heart of myself, the Francophile who had devoured all things French as a young woman, inhabiting and discovering that city, and walking her streets, a la Flaneur.
It gave me relief and peace from what was a difficult personal situation. In turn, discovering Mona's Nombres d Or collection, where immediately I was drawn to 3-4 fragrances, the one however that delivered me and inspired me to begin inquisitive exploration of artisan perfumery was Cuir.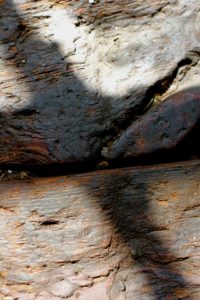 Shadows and Dust, Andi Garbi, Composer and Visual Artist
A curling, smoky, pungent leather that is so much more, fine tooled with peaty, animalic instincts, heated leather of ridden saddles and warm animal coat, conjuring smouldering dampness and sensuous havoc. Ash from the demise of a thousand books upon the pyre. There is nothing hidden or murky here, it's clear and direct and speaks to me of the piercing, balance of light and dark for which she has become well known. Reminding me that in light is dark and in darkness is light.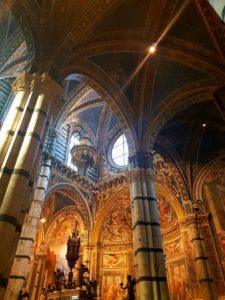 Siena Cathedral, 2016, (D Seith-Fyr)
Cuir composed of Cardamom, Absinthe, Juniper, Leather, Cade, Castoreum and Resinoid Opoponax rises off the skin as a sacrilegious paradox. Wild and devout, the consummate solitude in the rear of the Cathedral amongst the lingering scent of incense ash and spluttered wax, a threshold that is a liminal space urging you to independence and strength yet unfolding to something of simple, elegant surrender. Simultaneously it is pristine, glass water, impinged upon by cedar, birch, larch and poplar bud, taking an inhalation of pure, crisp, oxygen rich air infusing me with purpose, a cathedral in another guise.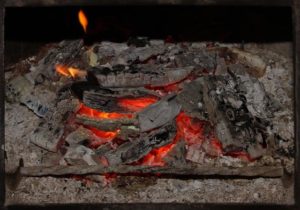 Ash and Fire, (D Seith-Fyr) 2015
A lonely time in my life was suddenly enlivened by the igniting of that passion for fragrance I had held all along yet for years had been subsumed. A dry-down of extended longevity yields at last to richness, a scent creamy and full of aromatic warmth like a good Highland Single Malt.
Cuir and Mona di Orio marked a returning, a remembering of my inner resources, solitary and strong.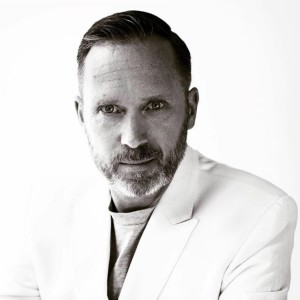 Jeroen Oude Sogtoen (2016)
I cannot remember my time on the Cote D'Azur without the memory of Mona di Orio and it is her body of work and my discoveries at that time which prevail and inspire me. A Legacy continued by her partner, Jeroen Oude Sogtoen, Fredrik Dalman and Maison Mona di Orio.
–Danu Seith-Fyr, Contributor
Disclosure: Samples my own collection, opinions my own.
Thanks to the generosity of Maison Mona di Orio we have a 75 ml bottle of Mona di Orio Cuir for a registered reader anywhere in the world. To be eligible please leave a comment with what you enjoyed about Danu's Fragrant Awakening, if fragrance was light in the darkness at a difficult time in your life, where you live, and if you have a favorite Mona di Orio Perfume. If you would like your to count twice PLEASE LIKE CAFLEUREBON FRAGRANT AWAKENINGS ON FACEBOOK HERE. Draw closes 2/2/2017
We announce the winners only on site and on our Facebook page, so Like Cafleurebon and use our Rss Feed or your dream prize will be just spilled perfume