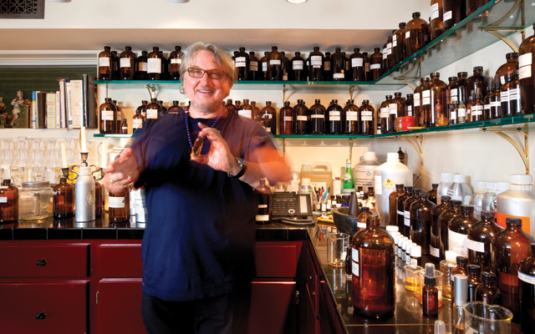 Photo of Horst Rechelbacher via mpsmag
The 80s were a time of big, moussed- often technicolor hair (again… the mousse), big shoulder pads and big synthetic fragrances. Being a small boy who preferred texturized protein instead of Big Macs, aroma was a bit of an issue for my very serious dedication to vegetarianism, animal rights and and a budding fear of synthetics on all levels. Tired of telling people Drakkar Noir is not what lavender smells like, nor does orange soda taste like an orange- I could not find a commercial cologne nor perfume which was not what we would eventually term as aromatherapy; which led to countless hours blending essential oils (some of dubious nature) into jojoba. Unable to source the requisite alcohol which would transform dense plant oil into ethereal aromatic dilutions- my education in product perfuming came early and anarchistic. Our family move from Washington state to South Dakota- driving distance from Minnesota and the eco-preneurial genius of Horst Rechelbacher and the Aveda Corporation– and teenage acne, an increasing obsession with essential oils and if I am honest, a burning desire for technicolor hair which eluded the carob crowd, would officially imprint my life. A foreshadowing of formal education in aroma through the then local-to-Minneapolis company (also technicolor hair, thanks to Color Fixatives (colored hairsprays). This experience is the foreshadowing of my Fragrant Awakening: Aveda Equipoise PureFume©.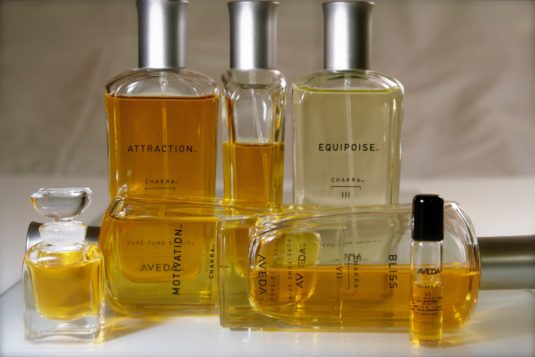 Aveda Chakra Collection® (photo property of Daniel Krasofski©)
In those days, Horst Rechelbacher, through Aveda, was busy changing the direction of the entire beauty industry to a more wholistic, plant based perspective and product, reintroducing the art and science of touch-based, unsurpassed customer service. To be included in this Herculean task, Horst had every intention of changing the perfume industry as well- reintroducing the beauty, functionality and somewhat lost art of botanical perfumery.To achieve this end, Aveda released a seminal collection of PureFumes™, encompassing global cultures and aromatic anthropology and indigenous botanicals. These would comprise almost every aroma family, from chypres to resinous oud based compositions owing to the mastery of the late George Chapoulie; perfumer behind the commercial versions of the Aveda Chakra Collection® and the Aveda Esthetique PureFume Collection©.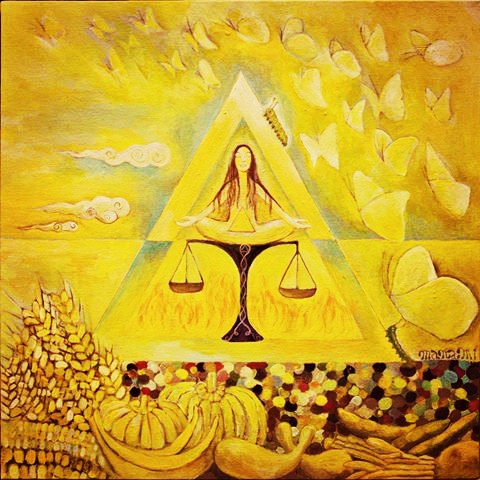 Self-esteem Painting – Solar Plexus by Manami Lingerfelt©
Briefly, Aveda Equipoise PureFume© represented the third chakra, 'manipura' which governs our intentions, interactions and our "gut instincts" as well as digestive processes. As Aveda states, "Equipoise, the condition of equilibrium. A state of balance between or among opposing forces..." in eloquent, elevated ways, Aveda Equipoise PureFume and the entire PureFume© collection , as part of intention and function, are olfactive devices meant to illicit states of being as well as physically purifying.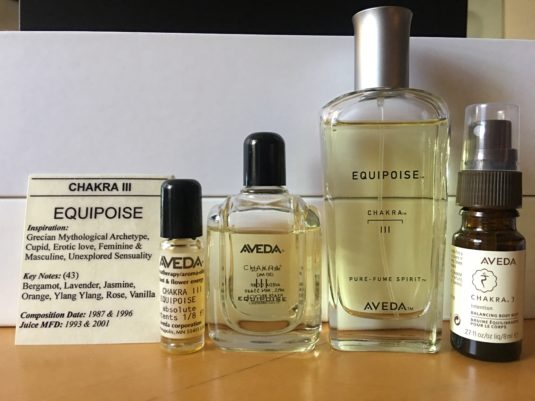 Aveda Equipoise PureFume© Chakra III ingredients 1980- 1996 (photo property of Daniel Krasofski©)
This description of Equipoise concludes, "...With a sense of composure and symmetry, the notes of Chakra III are characterized by an unusual vitality." Translated into haute perfumery, this esoteric concept becomes concrete in Aveda PureFume© Equipoise's citrus floral advanced eau de cologne aroma (alongside years of synthetic weary noses pronouncing I smelled of Pledge- their nearest aroma association, common for an introduction to real lemon and grapefruit. Unfamiliar limbic systems may scramble for an association: real citrus essences are most commonly found in household cleaning supplies, even in deep dish synthetic 1980). A staple of refreshment and resetting the body and mind, pure flower and plant essences such as bergamot and orange also satiate the manipura chakra in the tonic properties of Equipoise.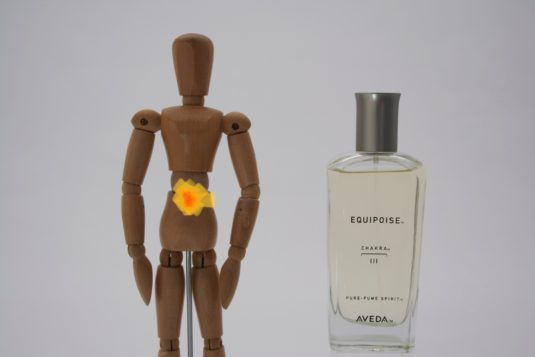 Aveda Equipoise PureFume© (photo property of Daniel Krasofski©
While the PureFumes themselves would undergo many discontinuations and reformulations as Aveda evolved, most notably in the quest for organic raw materials and new ways of introducing aroma were conceived- The Chakra Collection remains; albeit no longer the original therapeutic blends offered in Horst Salons, nor the iconic Chapoulie work- they are singularly identifiable with the Aveda brand.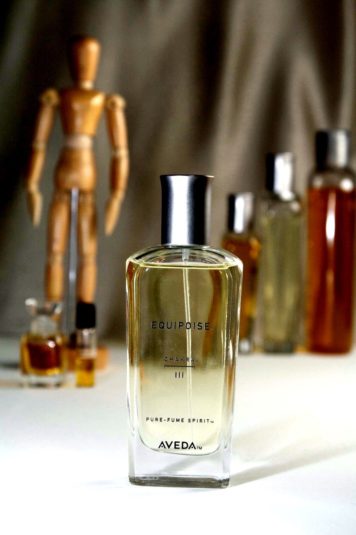 (photo property of Daniel Krasofski©)
Aveda Equipoise PureFume©, along with the six other Chakra aromas have undergone further reformulations by Koichi Shirozawa (think silver capped versions) and now remain in the Aveda lexicon with a completely organic and ayruvedic overhaul. Aveda Equipoise became a signature of sorts, a daily ritual which, I am delighted to discover, I shared with another future figure in my life: Michelyn Camen, our Editor-in-Chief.
Notes: lemon, bergamot, grapefruit, jasmine, rose, ylang ylang, mitti attar, lavender, vanilla
(all opinions immeasurably loving and my own.)
–Einsof, Monthly Natural Perfume Contributor :For the record, the very first PureFume™ or natural perfume I bought, coveted and eventually lost to the whims of discontinuation was Parisi by Chapoulie for Aveda.
Art Director: Michelyn Camen, Editor-in-Chief. I wore Aveda Equipoise PureFume© Chakra III for a few years in the mid 90s which I purchased at the Aveda salon and Boutique on Fifth Avenue in New York City. It was my first natural perfume, although I did not have that awareness at the time. I was there to buy Aveda Color Enhance Clove shampoo and my nose led me to the small display of perfumes. I didn't buy it because it was natural, rather it smelled amazing on me and had a definite calming effect (which was much needed during the beginning of my career in "Corporate America"). Thank you Einsof and Daniel for bringing Equipoise back to me! George Chapoulie was a classicaly trained perfumer, who spent 17 years at Lever Brothers and ended his career as the in-house perfumer at Aveda. Sadly he is not known outside of the industry and passed away in 2006.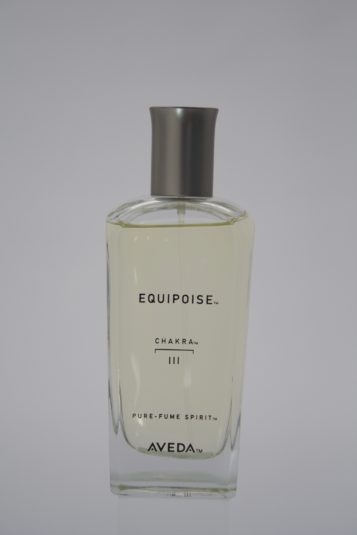 Aveda Equipoise PureFume© (photo property of Daniel Krasofski©)
Long discontinued, a sample of Aveda Equipoise Purefume from 1996 for two registered readers one in the USA and one anywhere elsewhere in the world*. Be sure to register or your comment will not count. To be eligible for the draw, please tell us if you have ever tried any Aveda perfumes or products before, what you learned from Einsof's Fragrant Awakening and where you live. Draw closes Draw closes 2/20/2018
We thank LABdk's Daniel Krasofski, Einsof's long standing friend, and former massage school roommate at Horst Education Center for Beauty Fashion Wellness and Art (now Aveda Institute Minneapolis) & coworker at Aveda Spa Osceola for these rare samples. Daniel has one of the most extensive personal collections of the Aveda work by M. Chapoulie of which Einsof's is aware. Stay tuned for a retrospective of this personal collection at an LA museum later in 2018.
We announce the winners only on site and on our Facebook page, so Like Cafleurebon and use our Blog feed…or your dream prize will be just spilled perfume.